Myers acquisition a coup for Rays
December, 9, 2012
12/09/12
11:46
PM ET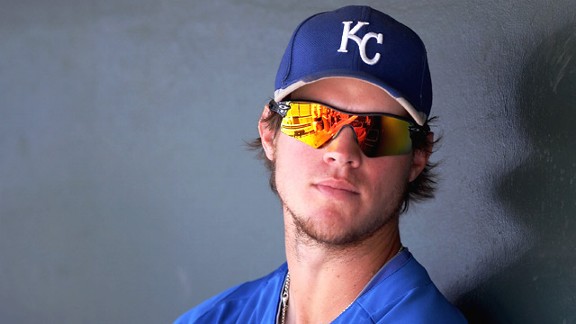 Christian Petersen/Getty ImagesMyers hit 37 homers with a .987 OPS between Double- and Triple-A in 2012.
The Kansas City Royals' main goal this offseason had to be to make the club into a potential 85-win team, at a minimum. In a desperately weak AL Central, an 85-win baseline puts you within variance of contention -- a little luck, a breakout or two, some ill fortune in Detroit or Chicago -- and that's about the best GM Dayton Moore could reasonably have accomplished in one winter.
The best path to do that was to try to max out the lineup, adding top prospect Wil Myers in right field in place of Jeff Francoeur and all the outs he makes, letting new hitting coach Jack Maloof try to fix Eric Hosmer by getting his hands down, and adding starting pitching whenever possible. Instead, the Royals traded Myers for pitching help in a deal with the Tampa Bay Rays featuring James Shields that might make them slightly better in the short term but at a severe long-term cost. And it's quite possible they don't even sniff 80 wins with the pitching they just acquired, unless there's another substantial deal coming.
Royals get help at a cost
The Royals did get pitching help for 2013, clearly. They had no one on their 2012 staff who was close to as valuable as Shields was -- using Fangraphs' WAR, for one quick reference point, Shields' total of 4.3 was more than double that of any Royals' starters. Kansas City used a lot of replacement-level arms in its rotation this past season and might have done so again, so Shields really could add 4-5 wins to the Royals' win total by adding 220 of his usual innings and ridding the team of the need to use guys the caliber of Nate Adcock and Vin Mazzaro. Shields has plus command with an out-pitch changeup and an above-average curveball, but can be homer-prone because his fastball isn't that hard and is a little true. His contract will pay him more than $22 million over the next two years, making him a good value but not an outstanding one.
Kansas City also got Wade Davis in this deal, and I'd like to see him given another shot in the rotation even with his newfound success in relief, where his stuff got dramatically better and his strikeout rate spiked. It could be a spring training experiment in which the team stretches him out and sees how his arm responds. If he's back down to 2011 levels, they scrap it and put him in the pen, but when he was coming up as a prospect he threw harder and had better bite on his curveball.
At 92-95 mph on his fastball with a curveball around 80-82, which is what he was in the minors but less than what he showed in relief this year, he'd have a chance to be a league-average starter, especially given his size and capacity to handle 200 innings. Even a 2-WAR guy is helpful to a team that just nonsensically guaranteed it will pay Luke Hochevar about $5.5 million to post a 5-plus ERA, and Davis could be better than that if his stuff holds up in the rotation. At worst, he returns to the pen where he was excellent in 2012, but only provides about 70 innings of work.
[+] Enlarge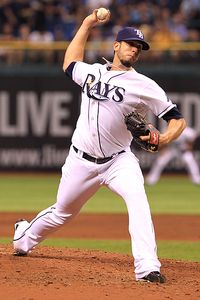 Kim Klement/US PresswireA workhorse, Shields has thrown more than 225 innings in each of the last two years.
The net result for the Royals, assuming that the player to be named later is not significant, is that they probably added 3-4 wins for 2013 with this trade, and that's just not enough to get them into contention, or to justify giving up one of the top two pure hitting prospects (along with Oscar Taveras of the St. Louis Cardinals) in all of the minors. The deal reeks of a GM feeling pressure to improve short-term performance to keep his job, which is a terrible situation for any executive both personally and for the way it can inhibit his ability to make rational decisions.
Unfortunately, as with former Seattle Mariners GM Bill Bavasi and the Erik Bedard deal, trades made under those circumstances often come back around to be the cause of a change in leadership. This looks very much like the deal that, barring something completely unexpected, will be the move that brings Dayton Moore's tenure in Kansas City, one marked by massive improvement in the team's farm system, to an end.
Rays cash in
For Tampa Bay, this is a heist, a potential franchise-making deal that should allow the Rays to continue their run of contention on a dime for several more years as they acquire a centerpiece bat in Myers, a potential mid-rotation starter in Jake Odorizzi, and two other prospects, none of whom has more than a few days of major-league service -- meaning the Rays get six years of club control of each of them.
Myers is by far the most important name here, a top-five prospect in all of baseball who has raked at every level and should have debuted in the majors this summer but was blocked by the Royals' Francoeur fetish. His swing is very simple and he has quick wrists to generate bat speed; he has lengthened his stride at the plate, giving him a longer finish for more power with the slight downside of some collapse on his back side, which probably explains the high strikeout rate in Triple-A. I could see him debuting this year with a modest average but strong power numbers, only to bring the average up in time because he's a smart, patient hitter who'll also increase his bat control as his body matures. In the long run, he's a potential top-five overall player in the league, and you don't get guys like that just any day.
Odorizzi finished strongly in Triple-A for the Royals this year and is major league ready, or close to it. The righty is a former high school wide receiver who's very athletic with a clean, repeatable delivery -- maybe too clean as he doesn't have a ton of deception and his 90-94 mph fastball is straight, making him a touch homer-prone. He has a four-pitch mix, led by a solid-to-average changeup that produced a reverse platoon split for him across Double- and Triple-A this year. I'd like to see him scrap one breaking ball, more likely the curve, to see if committing to one such pitch makes it more effective, but even without that I like his athleticism and fastball command even if he's not more more than an emergency call-up in 2013.
Lefty Mike Montgomery has the widest range of possible outcomes of the four players in the deal, because he has the stuff of a No. 2 starter and the command of the little kid down the block who aims for the living room window and breaks one on the second floor instead.
He's had minor elbow issues but never had a serious injury; he was struggling with his landing in spring training, a relatively minor thing to fix, but was worse in 2012 than he had been the year before.
Montgomery will touch 97 and sit in the low to mid-90s with an above-average changeup and a big, slow curveball that looks pretty but isn't hard or sharp enough to be more than a third pitch in his arsenal. He has had disputes with the Royals' player-development people over aspects of his between-outings regimen, and perhaps he just needed a change of scenery. His arm is live enough that he's absolutely worth taking a flier on even though there's a fairly high chance he ends up in the pen or as nothing at all.
The Rays also got short-season outfielder Patrick Leonard, who has plus raw power from a somewhat uphill swing and a plus arm, although he's probably headed for first base in the long run and will have to show real improvement in his hit tool to profile there.
The Rays still have a surplus of starters, with David Price the ace, Matt Moore not far behind, and Jeremy Hellickson, Alex Cobb, Jeff Niemann and Chris Archer all candidates for the other three spots, while Odorizzi himself is probably ready for a major league role. More importantly, Myers could be their second-best hitter at some point this year, behind only Evan Longoria, given a mildly optimistic forecast for a guy who has always hit when healthy.
Myers also gives them the impact hitting prospect they haven't had since Longoria -- their best position-player prospects, such as Desmond Jennings, Hak-Ju Lee, and even Tim Beckham before his fall from grace -- have all been up-the-middle guys with more defensive value and less bat. Myers should be a good defensive right fielder in time, as he's a good athlete with very good instincts, but his value is going to come on offense, and that's something the Rays lack, even in the upper levels of their system.
He alone, for two years of Shields and three years of Davis (who has club options beyond that), would have made sense. To get Myers plus a likely mid-rotation starter, plus a lefty with arm strength, plus a low-level hitting prospect, makes this an outstanding day for Rays fans.