CARDINALS @ ASTROS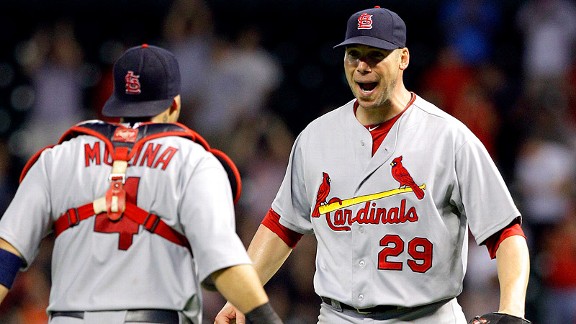 AP Photo/David J. Phillip
Carpenter's Gem
• The Situation: The St. Louis Cardinals trailed the Atlanta Braves by 10½ games for the NL wild-card-spot on Aug. 25, but the two teams entered the night with 89-72 records.
• The Outcome: On J.D. Martinez's comebacker, Chris Carpenter finished off a complete-game, two-hit shutout and struck out 11 as St. Louis routed Houston, 8-0.
• The Impact: The win gave the Cardinals a half-game lead for the NL wild-card spot pending the outcome of the Phillies-Braves game, which had gone into extra innings.
• The Quote: "We had nothing to lose. People were telling us we were done. We played ourselves back into it." -- Carpenter