With free agency right around the corner and plenty of trades and signings to follow, it's time for a snapshot of each franchise. As in past renditions of the MLB Future Power Rankings, we've asked three of our top baseball analysts -- Jim Bowden, Keith Law and Buster Olney -- to rank all 30 teams across five categories (see corresponding table) in an attempt to measure how well each team is set up for sustained success over the next five years.
Some things have changed drastically since we last did these rankings in March -- uh, like the Houston Astros jumping from 19th to fourth -- while many other things have remained the same (the top three teams remain the top three teams, though the order has changed). To show you what's changed, we compare the updated rankings to the March version for each team.
The better a team's rank in a given category, the more points it gets, and the average point scores from the three voters are available in the bar graphs accompanying each team's section, rounded to the nearest integer. We weighted the categories and then gave each team a score on a scale of 1 to 100, with the score representing a team's percentage of total possible points. (For a detailed breakdown of the methodology used for the Future Power Rankings, click here.)
With each team's ranking, you'll also get an overview from Bowden on where each team is right now and what could change their course, while Law highlights a prospect facing a make-or-break season.
With that, let's get to where each ranks for success over the next half-decade.
Cubs win in a landslide
The team atop our Future Power Rankings heading into this offseason is already a trendy pick to win the 2016 World Series, and there is a good reason for that kind of optimism, as the Chicago Cubs are loaded in every respect. One of the game's most highly regarded front offices is in the catbird seat right now, even in the majors' toughest top-to-bottom division, thanks to a potent young offense, two aces already in its rotation and the resources to add another, and a still-strong farm system.
The Cubs' arrival in 2015 was "ahead of schedule," but the schedule has a habit of changing without warning, as it did when Addison Russell and Kyle Schwarber became productive major leaguers a year ahead of expectations or when Jake Arrieta, already good in 2014, became Cy Young-worthy in his second full season on the North Side of Chicago. There's a lot of faith in Theo Epstein & Co. in those World Series predictions, and in our rankings here, but objective projections say a lot of the same things: The Cubs are stacked and will be dangerous not just in 2016 but for the remainder of the decade. -- Keith Law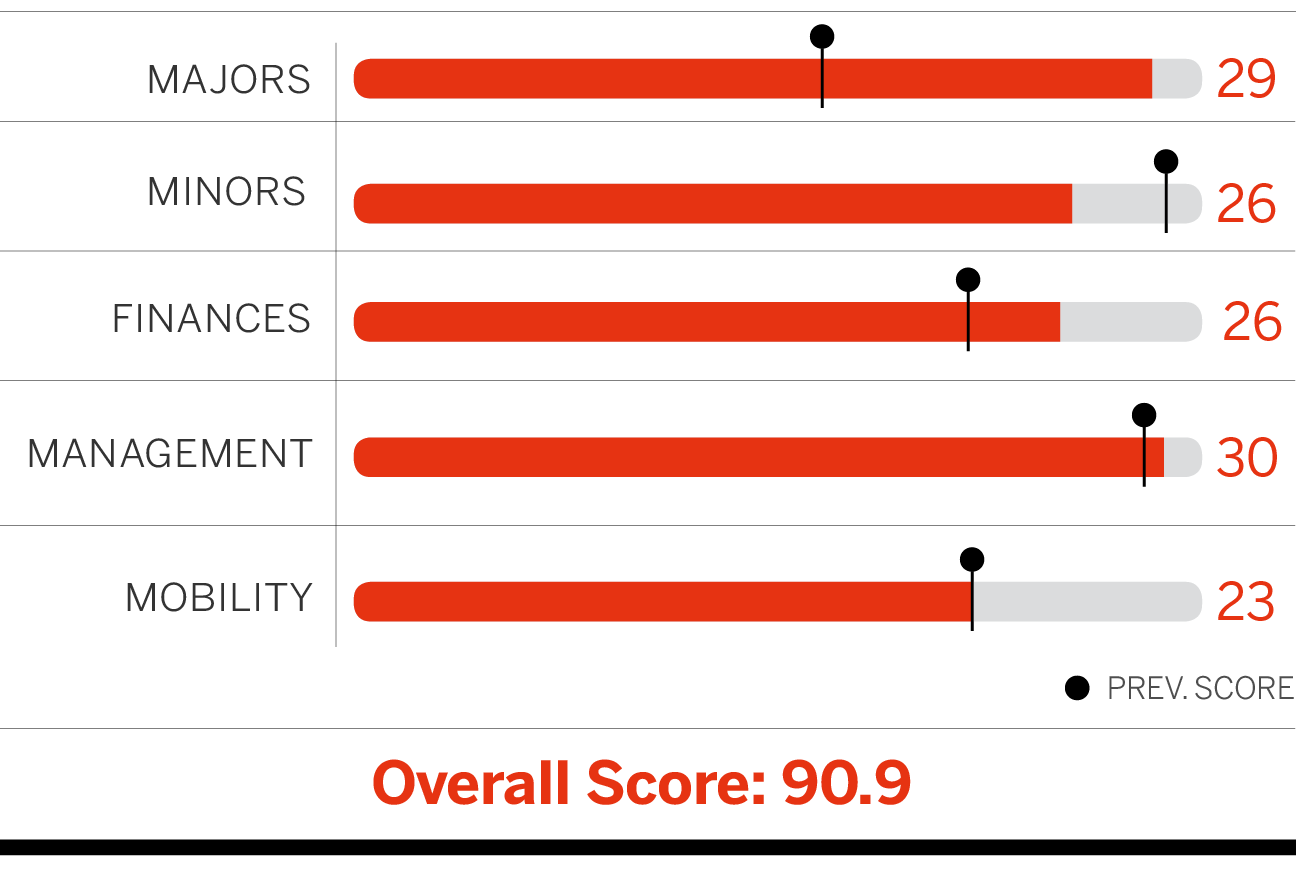 The overview
The Cubs arrived a year earlier than expected, and they're not going away any time soon. This offseason they'll put the finishing touches on what should be a championship-caliber club in 2016. Team president Epstein and GM Jed Hoyer are committed to building a strong rotation after Arrieta and Jon Lester this offseason to improve their playoff chances, and I expect them to be players on the top free-agent pitchers. If they don't get one, I wouldn't be surprised if they traded one (or more) of their many highly touted prospects to get a top-of-rotation type of guy. Either way, they're positioned for a nice run of winning seasons. -- Jim Bowden
Impact prospect
Catcher Willson Contreras broke out across the board in 2015, hitting .333/.413/.478 in Double-A with nearly as many walks as strikeouts. The 23-year-old showed he has enough defensive ability to stay behind the plate and a simple, steady swing that explains all of that hard contact. -- Keith Law
March rank: 3

(overall score: 80.9)