The Nicaraguan pitcher with a Jamaican inflection and British surname sat in his airy Toronto five-star hotel room this past September, took a deep breath and looked down at his dark, flexed forearms.
"A Pearl Lagoon boy is here," Red Sox pitcher Devern Hansack said. "I can't believe I'm here."
You can't fault his amazement, since the past year lifted Hansack from obscure pitcher playing pro ball in Nicaragua to major leaguer on the last day of the season at Fenway Park, no-hitting the Orioles for five rain-shortened innings.
It was Craig Shipley, Boston's vice president of international and pro scouting, who spotted the 27-year-old Hansack in the fall of 2005 in Holland pitching for the Nicaraguan national team. Hansack had been released by the Astros in 2003, and went unsigned until Shipley gave him a $3,000 bonus. Hansack went on to become the Red Sox's Double-A pitcher of the year while living in a Dominican fan's basement apartment in Portland, Maine.
Now Hansack, at 29 and with a wicked slider and a mid-90s fastball, has got an outside chance of winning the closer's job for the Red Sox. It might be a long shot, but so is Hansack.
"Boston signed me and gave me a second chance," Hansack says. "I can tell any young guy who wants to do something, there's a second chance. Just put your mind to it."
In late January Hansack invited The Magazine on a wild trip back to his hometown, where most people speak English with a Jamaican lilt. "I think he lives in the middle of nowhere," Red Sox PR director John Blake told me when I asked in early January about finding Hansack. "It may be difficult."
It was. From Cessna airplane to motorized canoe to Pearl Lagoon, the journey isn't for the weak.
**********
Not many make it out of Pearl Lagoon, a town of over 7,000 whose ancestry is a mix of Jamaican and African slaves, British occupiers and indigenous tribes that inhabit the surrounding cays on Nicaragua's Atlantic Coast. For people in the second-poorest Latin American nation (Haiti is first), money and commerce are sparse.
The people of Pearl Lagoon are extremely poor, but they, unlike their inland countrymen, are people of the sea. The water is the lifeline in this fishing community, where most men begin fetching lobster, shrimp, snapper, catfish and shark, among others, when they are young boys.
They are proud too, of their heritage. Inherent racism thrives in all Latin countries, but the language difference and remote locale of Nicaragua's Costa Atlantica adds to the segregation. The Coast traditionally has been exclusively black; only recently, pockets of Mestizo and Spanish-speaking people have migrated from interior parts of the country.
Hansack's agent, Evelio Areas -- who is from Managua, the country's capital -- quips that Hansack speaks Spanish "with a gringo accent." But Areas is serious when he says that Pearl Lagoon, "is a whole different country. I'm Nicaraguan and it was a foreign land when I went."


Hansack isn't sure from whom he descends, but his roots are firmly ensconced in baseball. Situated right behind the scoreboard in center field is Hansack's house. He was born next to the baseball field, and lived it his entire life. He still hasn't left.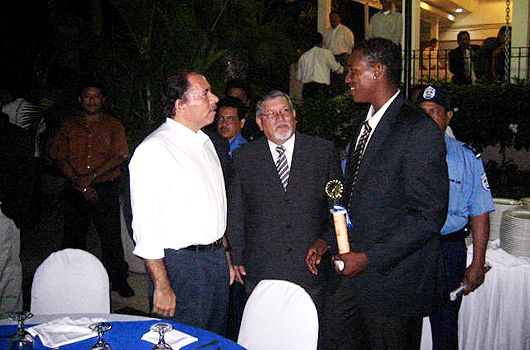 The handprints from the 1980s civil war are fresh, and its past was revisited when former president and Sandinista Daniel Ortega was re-elected in 2006. The first night I meet Hansack is Jan. 27, when he was honored at an awards ceremony in Managua as one of the country's top athletes. The significance of Hansack meeting Ortega (pictured above (left), wearing a white shirt) is magnified the next day when I arrive at Pearl Lagoon and see ALN (Alianza Liberal Nicaraguense) -- one of the opposition parties -- spray-painted everywhere. "Thank you for mentioning the Coast," Hansack says in Ortega's ear as they hug one another after the president's speech. "We need the help."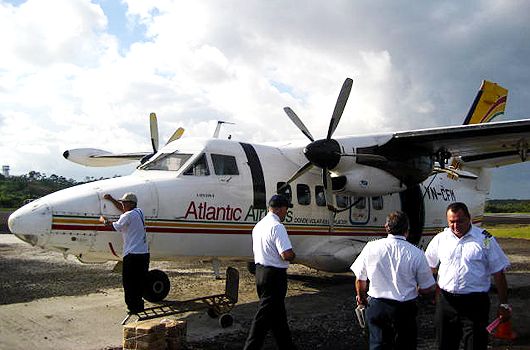 The journey begins at 6 a.m. Sunday morning when we purchase $60 one-way tickets from Managua International Airport to Bluefields, the Coast's main hub. Normally before boarding, passengers must step on a scale with their bags. But with the plane half-empty, we breeze through security and embark on the hour-long flight. With little wind, the trip is fairly pleasant. Upon return, however, the gusts whipping through the hot Managua air make the plane's safe landing debatable.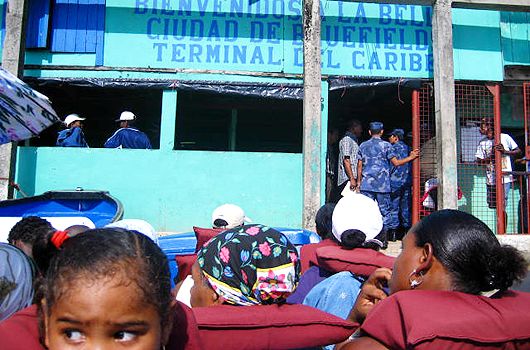 We arrive at the boarding dock at port city Bluefields for our panga, a fiberglass canoe with a motor attached to the end. In the taxi from the airport, Hansack, his brother Dennis and cousin Delmer yell to friends from the car windows. They know everyone. Because the government hasn't built passable roads, the panga is the lone option when traveling from Bluefields to Pearl Lagoon. There are plans under way for a road to be built, but it may be years. Each panga hold 22 adults -- and various children are plopped into the boat. We wait 45 minutes for a clipboard list to fill up before we can depart. Strapped in with our life vests, police in blue army fatigues come to inspect; Hansack takes this opportunity to inform me that a panga crashed two days prior so they are enforcing capacity rules.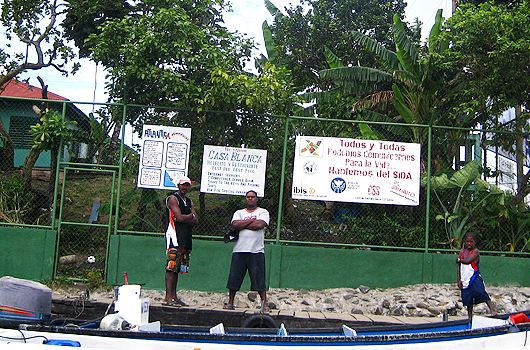 Two men and a boy await our arrival at the Pearl Lagoon dock, where two pangas float below. The scent of burning wood floats through the air as Devern, Dennis and Delmer walk down the dirt-packed road. Children join in for parts of the journey before trailing off. As people pass Hansack, they usually utter a Jamaican intoned, "Hey, Deverrrrn." Hansack knows everyone; it's a small place, a communal isolated land. "See where I live," Hansack says as we walk down a long road littered with trash, "the people are happy. We don't have much, but we're happy. We live ree-eel eeas-ay."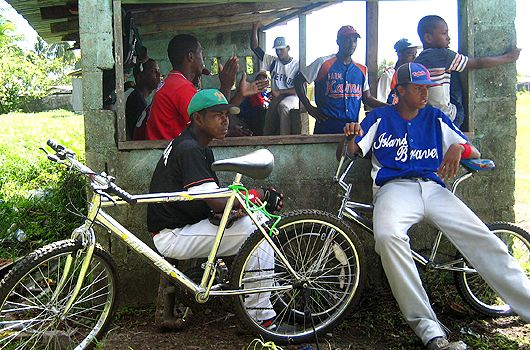 Sundays are reserved for church and baseball. Hallelujahs and prayer readings reminiscent of African-American hymns echo from a church next to my small hotel. Dennis, one of Devern's nine siblings, is playing today for Pearl Lagoon, one of several Atlantic Coast teams that play each other. The boys pictured here sit in their dugout, and when a run is scored they all bang loudly on the top of their tin roof. Reprimanded by the apparent keeper of the park, they knuckle a quick few raps and as the man turns around, and all of the boys break into laughter. Some play in cleats, others in bare feet. Hansack first started playing when he was nine; he had cleats three years later. "He was always so skinny as a kid," Delmer says. "The skinniest one."
Amy K. Nelson is a reporter for ESPN The Magazine.