SCOTTSDALE, Ariz. -- Adam Dunn leaned over the skybox at the raucous 16th hole during the recent FBR Open and yelled out to PGA golfer and friend Steve Elkington, rousing him into making his putt. Elkington playfully acknowledged Dunn's taunts and then sank the 8-footer while other major leaguers shared in the moment, happy to spend one of their last free weekends amid the revelry of Super Bowl week just before reporting to spring training.
One look around the box that the Legacy Sports Agency provided to its clients like Dunn, Orlando Hudson, Travis Hafner and C.C. Sabathia, and one person was noticeably absent that Friday afternoon: Where was Carl Crawford?
In the past, that question usually didn't concern most outside of the Tampa Bay area, but this year Crawford's presence is relevant more than ever. Although he lives in suburban Phoenix and has been training there in anticipation of this season -- the first one in his career that may actually inspire a bit of hope -- during the week of Super Bowl parties and social appearances Crawford was nowhere to be found.
Carl Crawford, Left Fielder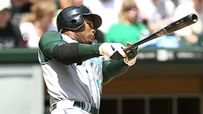 Actually, he was, it was just at his in-home gym, where he's been spending most of his free time this winter before he begins his seventh major league season. It's hard to believe that at just 26, Crawford's been in the league that long. Often overlooked (except, perhaps, by fantasy owners), Crawford has built himself a nice résumé having led the league in stolen bases in four out of his five full seasons (including an AL-high 50 last year), and joining Rogers Hornsby as the only two players to improve their batting average and home runs in five straight seasons.
Yet Crawford's tenure has included few highs (two All-Star appearances) and mostly lows, especially a woeful .394 team winning percentage since 2002, the year he debuted.
"I'm 26, and I feel like I'm 36," Crawford said, then softly laughed. "I don't feel 26, I ain't gonna lie."
He usually never does, and it's why the local media corps has long sought out Crawford. It's a role he's accepted but does not particularly appreciate. For Crawford, a second-round pick out of Houston in 1999, he'd much rather be left alone to play baseball. He'd much rather work out in his newly-built home gym, or at the Athletes Performance Institute, than partake in a day of leisure in a skybox. He'd just rather think about … this season.
"It's just going to be about playing baseball again, that's what I'm really excited about this season," Crawford said at his offseason home. "With all the B.S. that was going on last year, I think we lost focus on the task at hand."
Crawford refers to the ongoing soap opera that featured Elijah Dukes and Delmon Young. Both of the enormously talented players couldn't stay out of trouble; Dukes with his off-field issues, and Young with his me-first attitude that resulted in him at first walking out on manager Joe Maddon on the second-to-last day of the 2007 regular season. Crawford calls last season a year "he never wants to remember," and the distractions, at times, were almost unbearable.
The organization clearly decided that the culture needed to change, and they shipped Dukes to the Nationals and Young to the Twins, in exchange for young right-hander Matt Garza. Along with Scott Kazmir and James Shields, Garza will fill out a young, promising top-of-the-rotation trio the Rays have always lacked.
"That move, for Garza, spoke volumes," Crawford said. "For the first time I felt like this organization was serious about winning. That's the reason why I think everybody is excited because everybody sees that."
The addition of savvy veterans Cliff Floyd and Troy Percival will inject an immediate level of professionalism into the clubhouse and hopefully for Crawford, a slight reprieve as de facto team leader.
"He's been around so long," said Andrew Friedman, the Rays general manager who engineered the trades, "sometimes you lose sight of how young he is."
At times, it seems as though Crawford is a bit of an old soul. His year-round training regimen is more old school than most players his age; his television habits are more "Sanford and Son" or "Good Times" than "American Idol"; and he said he's had his fun and prefers to spend time alone and just think. Usually it's about baseball, and how he wants to correct the myriad of flaws in his game.
It's motivated Crawford enough to make two major changes in his life this winter. The first was when his cut out of his diet dairy and wheat products, after a battery of tests determined he was allergic. That meant the requisite stops to Taco Ball were out the door, so, too, were most salad dressings, milk and certain types of bread he was accustomed to eating.
"I feel more alive more than any other year," said Crawford, who plans on getting organic meals shipped to him throughout the season. "This new regimen, it's been having me feeling like I have more energy."
The next move was one he was reluctant to reveal. Crawford takes his preparation so seriously and is so private, he was at first hesitant to open the doors of his newly finished home gym. Crawford poured in a huge chunk of his savings into a converted car garage and furnished it with state-of-the-art exercise equipment and free weights ranging from 5 to 90 pounds.
Crawford thought if other young players heard about his investment, they might catch on and build their own gym, getting the step up that he hopes he's already achieved. His typical day begins by rising at 5 a.m. and the rest is spent at API with morning and afternoon workout sessions, where he's often working in a group of other big leaguers like Brian Roberts, Andre Ethier and Michael Bourn. The weekends are usually for rest, though he can be spotted regularly at the batting cage in his backyard and, of course, in his new gym.
His goals are to build strength in his legs (the daily toll of the Rays' home turf forces him to ice both legs after every home game) and to play a full season. He wants to put to rest "any doubts" people might have about his longevity.
"Out of all the athletes I've trained, he's definitely in the top 5," said Craig Friedman, Crawford's trainer at API the past five years. "It's because of how professional he is and his approach. He takes it very seriously."
Friedman, no relation to Crawford's general manager, was suffering from extreme food poisoning on the day of this interview, but said he came in because of how much he appreciates Crawford. He's worked with the left fielder to make Crawford's legs stronger and cut down his body fat. Crawford practically skipped out of the room after his body composition test revealed he had gone down from 12 percent body fat to 8 percent since the start of December. Crawford beamed, saying he'd love to get down to five.
"He's a fierce competitor," Craig Friedman says. "I can't imagine what it's been like for him to lose."
Crawford, with three years left on his contract, hopes that will soon change.
Craig Friedman then mentioned that Crawford said something to him no other athlete had said at such an early stage in the offseason workout. It was late December, and after an incredibly intense and successful session, Crawford turned to Friedman and said something sweet to the ears of any fantasy owner and certainly to anyone in Tampa: "I can't wait to get to spring training."
For the first time in Crawford's career, the anticipation might be justified.
Amy K. Nelson is a staff writer for ESPN.com. She can be reached via e-mail at amy.k.nelson@espn3.com.