Albert Pujols played for a fourth-place team, but that didn't deter the voters from making him the National League Most Valuable Player for the second time. The Cardinals' slugger earned 18 of the 30 first-place votes, with the other 12 going to the Phillies' Ryan Howard.
Below, check out the top candidates. Then see the choices of ESPN's baseball analysts and contributors, both individually and collectively. Whom did you choose?
ALBERT PUJOLS, 1B, ST. LOUIS

It was another typically stellar season for Pujols, whose OPS and slugging percentage were the best in the majors.
---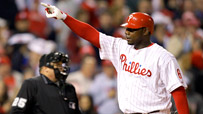 RYAN HOWARD, 1B, PHILADELPHIA

Howard led the majors in home runs and RBIs. The last time he led both categories? His MVP season in 2006.
---
MANNY RAMIREZ, LF, L.A. DODGERS

Once he joined the Dodgers, Ramirez went on a tear and never let up, propelling Los Angeles to the NL West title.