Aroldis Chapman about to frustrate NL hitters

By Buster Olney
ESPN
Archive
Aroldis Chapman
was clocked at 103 mph in the ninth inning the other night -- twice -- as he closed out Columbus on behalf of the Reds' Triple-A affiliate. And what should concern National League hitters is that Chapman is throwing that hard while throwing strikes. His streak of scoreless outings out of the bullpen for the Louisville Bats has reached 10, and in that time he has allowed just six hits and four walks over 11 1/3 innings, with 16 strikeouts. Cincinnati general manager Walt Jocketty said Wednesday evening that he probably will have a discussion with Reds manager Dusty Baker this week about whether and when to promote Chapman -- but clearly, he has moved onto the Reds' radar. "I see him at some point, if we decide to pull him up, helping us late in ballgames," Jocketty said.
[+] Enlarge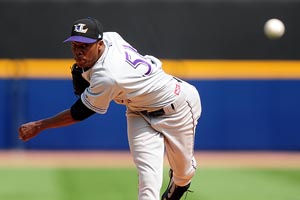 Andrew Weber/US PresswireThe Reds realize they have something special in Aroldis Chapman. They just have to decide the right time to unleash him on the NL.
If Chapman -- who defected from Cuba last year, and was the target of a bidding war among the Reds, Toronto, Oakland and other clubs -- continues to throw strikes with his fastball and slider, he probably will overmatch hitters. Like
Stephen Strasburg
, he is almost without peer in his talent. Chapman opened the year as a starting pitcher, and after throwing well initially in Triple-A, he began to struggle with his command. But about a month and a half ago, Louisville pitching coach Ted Power and Reds special assistant Mario Soto met with Chapman about altering his delivery. What the left-handed Chapman had done in the past, at the outset of his motion, was take a big step backward toward third base, with his weight shifting almost completely onto his right leg, and then he would stride forward, his weight swinging back toward his left leg. What Chapman began to do, at the behest of Power and Soto, was keep his head centered over his left leg as he took that stride back, so his weight shift wouldn't be so dramatic and he would have better balance. They also asked Chapman to keep his eyes locked onto the catcher's glove as long as possible. And Chapman was switched from starter to reliever. "I think the relief role has been a lot less stressful," Power said Wednesday evening. "Maybe that's what has been needed to get him acclimated to pro ball." Power has never worked with anyone who throws as hard as Chapman -- few, if any, have -- and he has been impressed with the left-hander's athleticism and his ability to make plays on the mound. "He just turned 22," Power said. "I would say this guy could be a superstar [eventually]." Eventually, Chapman will transition back into a starter's role -- perhaps in the Arizona Fall League, as Jocketty mentioned, or next spring. But in the not-so-distant future, he probably will create problems for NL hitters. "He's throwing strikes with all of his pitches," said Jocketty, who, like Power, has never seen anyone with an arm like Chapman's. "Never," the GM said. "Not with the consistency of velocity he has or the slider he has. He has the makings of being a really good pitcher. He was 96 to 102 mph the other night, and he did hit 103 mph a couple of times. The other thing about that is he is so free and easy. He's throwing hard, but he just looks free and easy."
Buster Olney is a senior writer for ESPN The Magazine and an analyst for "Baseball Tonight." Read his daily ESPN.com blog here.
Baseball Tonight Live
"Baseball Tonight" analysts, ESPN.com writers and SweetSpot Network bloggers chatted and gave their in-game opinions throughout the day's games -- all in Baseball Tonight Live.
Touch 'Em All

Who went deep? Keep track of all the home runs hit each day on "Baseball Tonight" and the Baseball Tonight Clubhouse page. For more, check out the Home Run Tracker page.
| NAME | HR | OPP | SITUATION | Pitcher |
| --- | --- | --- | --- | --- |
| Ryan Dempster, CHC | 1 | CHC | Bot 6: 1-1, 2 Outs. 2 on. | Coffey |
| Troy Tulowitzki, COL | 10 | SF | Bot 6: 2-2, 2 Outs. None on. | Bautista |
| Alex Rodriguez, NYY | 17 | TOR | Bot 1: 2-0, 2 Outs. 1 on. | Marcum |
| Chipper Jones, ATL | 9 | NYM | Bot 3: 0-1, 2 Outs. None on. | Pelfrey |
| Pedro Alvarez, PIT | 8 | CIN | Bot 9: 1-2, 0 Outs. None on. | Masset |
BASEBALL TONIGHT ON THE AIR
THURSDAY
9:30 p.m. ET on ESPN
Host: Karl Ravech
Analysts: Tim Kurkjian, Dave Winfield, J.P. Ricciardi
12 a.m. ET on ESPN
Host: Steve Berthiaume
Analysts: Dave Winfield
WEB GEMS LEADERBOARD

This season, "Baseball Tonight" will be tracking Web Gems. Points will be calculated by awarding five points for the night's top defensive play, four points for second, three for third, two for fourth and one for fifth. Scoring will be based on fan voting of the previous night's gems (from the last "Baseball Tonight" each night).
WEDNESDAY'S BEST AND WORST
BEST
Vicente Padilla, RHP, Dodgers

Padilla
Padilla flirted with a no-hitter, taking one into the seventh against the Padres. He didn't finish the no-no, but he did toss a complete-game, two-hit, nine-strikeout shutout in the Dodgers' 9-0 win.
---
WORST
LaTroy Hawkins, RHP, Brewers

Hawkins
Hawkins' time pitching for the Cubs wasn't all that pleasant. This experience at Wrigley Field, with the Brewers, wasn't pleasant, either. In relief, he recorded one out but gave up four hits, three runs and one homer in Milwaukee's 15-3 loss to the Cubs.
THURSDAY'S BEST MATCHUPS
Twins at Rays, 12:10 p.m. ET


Rays starter Wade Davis has been, well, a bit streaky. After losing all five of his starts in June, Davis enters this outing having won four in a row. Kevin Slowey has won his past two starts and in fact has not lost since June 25, going 3-0 in seven appearances. Mark Buehrle, meanwhile, is coming off his best month of the season -- he went 3-1 with a 3.00 ERA in July.
---
Giants at Braves, 7:10 p.m. ET


The Giants have won five in a row with Tim Lincecum on the mound; the righty himself picked up three of those victories, with the bullpen taking the other two. Jair Jurrjens feels quite a bit more comfortable at home, where he is 3-0 with a 1.71 ERA. Away from home, he is 0-4 with a 7.63 ERA.
---
Phillies at Marlins, 7:10 p.m. ET


Roy Oswalt and the Phillies hope his second start with the club goes better than the first. He gave up seven hits and five runs over six innings in an 8-1 loss against the Nationals. Oswalt's last start with Houston was even worse; he gave up nine hits and six runs in five innings of a 7-0 defeat against Cincinnati.
The rest of Thursday's schedule »