Astros poised for big year in 2011
The
Houston Astros
will win the NL Central in 2011. I'm calling it right now -- Astros '11 division champs. Houston has had a very intriguing summer. What began as a lost season for the Astros instead became a midseason remodeling job which has seen Houston proactively transform from a top-heavy disappointment bloated with big salaries to a competitive, cost-effective contender, which in an arguably weak NL Central could establish the Astros as a 2011 front-runner.
[+] Enlarge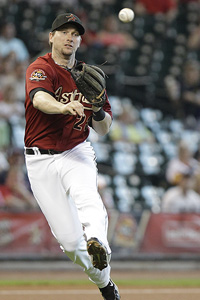 AP Photo/Pat SullivanChris Johnson is just one of the reasons the Astros are already looking forward to next year.
This was a bad team that began the season 0-8. The low point came May 31, when the Astros, with ace
Roy Oswalt
on the mound, were pummeled at home by the lowly Nationals 14-4. The loss dropped Houston, which had spent all but four days of the season to that point in sixth place in the six-team NL Central, all the way down to 17-34. Astros general manager Ed Wade went to work. Older players, with whom Houston clearly wasn't going to win, were jettisoned one after another so younger prospects could be brought in and developed. The face of the Astros' youth movement is
Chris Johnson
, a fourth-round pick by Houston in the 2006 draft who was recalled June 22 and given the third-base job when veteran
Pedro Feliz
was benched. Johnson has become an under-the-radar rookie of the year candidate. He's currently second only to
Buster Posey
among NL rookies with a .322 batting average. He's third in slugging at .503. In fact, since the All-Star break, Johnson is hitting a sizzling .336. Feliz was eventually sent to St. Louis. Johnson could be at third base in Houston for years to come. Kaz Matsui was released May 24, and while second base is still a concern for 2011, this year's new full-time face at second,
Jeff Keppinger
, hit .353 in July, is hitting .310 in September and .288 for the season. June 22 was also the date rookie
Tommy Manzella
suffered a broken finger that cost him all of July and much of August. Manzella, a third-round pick by the Astros in 2005, was handed the shortstop job to begin the season, but hit just .212 in his 56 starts before the injury. Wade moved catcher
Kevin Cash
back to Boston for young infielder
Angel Sanchez
on July 1, and Sanchez has filled in admirably at short, hitting .279 in 58 games. He is now splitting time with Manzella, who has hit .246 since returning Aug. 20. If you're looking for a flaw in my Astros division title theory, it's middle infield … but stay with me, here. The trade deadline is when Wade made his most significant moves toward changing the face of the franchise. He changed the two most noteworthy faces remaining from Houston's 2005 World Series team, Roy Oswalt and
Lance Berkman
. There would be no going down with the ship or keeping the organization's most identifiable names in the interest of selling tickets or marketing whatever remained of a dead season. The Astros instead kept remodeling. Oswalt was dealt to the Phillies and Berkman to the Yankees. Yes, Oswalt has been nothing short of brilliant in Philadelphia -- 7-1, 1.94 ERA in 10 starts since the trade. However, the moves cleared $16 million in salary from Houston's books and brought in several other key pieces for the future. One was first baseman
Brett Wallace
, who has hit just .207 with two home runs in 44 games since coming to Houston. Wallace often sits against left-handed pitching with
Carlos Lee
moving to first base, as the Astros did Sunday against
Travis Wood
and the Reds. But Wallace may just simply need a place where he can finally settle in and feel at home after being moved between four different organizations in the two years since he was drafted 13th overall in 2008. Just ahead of Wallace in that '08 draft was catcher
Jason Castro
, taken by Houston at 10th overall out of Stanford. Castro turned 23 earlier this season and was the Astros' No. 1 prospect when he was called up in late June. After a slow start offensively, Castro has hit .258 in September. That's an entirely new infield given the summer to develop together. Even with the trade of Oswalt, Houston's starting rotation has come together and become its strength. Arriving from Philadelphia was 27-year-old lefty
J.A. Happ
, who has gone 5-2, 3.63 in 10 starts with the Astros, including a two-hit shutout of the Cardinals on Aug. 30. Monday's starter against Washington will be
Bud Norris
, just 25. Norris is 6-3 in 15 starts since coming off the disabled list in June. The Astros have gone 9-1 in Norris' past 10 starts. Two of Houston's best moves at the trade deadline were ones the Astros didn't make. Despite plenty of interest from other clubs, Houston kept
Wandy Rodriguez
. Since June 24, Rodriguez is 8-2 in 16 starts with a 1.93 ERA, which is the lowest among all NL starters over that span. Last Friday, Rodriguez recorded 10 strikeouts for the second straight start; he was the first Houston lefty to record at least 10 K's in consecutive starts since
Randy Johnson
in 1998. The Astros' biggest rotation success story has been
Brett Myers
. Not only did Wade not deal Myers at the deadline, he signed him to an extension. Myers will make $7 million in 2011 and $11 million in 2012. The Astros hold a $10 million option for 2013. Myers has been pitching's untold story in the year of the pitcher. He's gone at least six innings in all 31 of his starts this season, a franchise record and the longest such streak to begin a season since
Curt Schilling
went at least six innings in his first 35 appearances in 2002. Myers is only the third starting pitcher since 1980 to begin a season with at least 31 straight starts of at least six innings. This season, he's 8-0 at home with a 2.01 ERA. Houston's 2011 rotation -- built around Myers, Rodriguez, Happ and Norris -- is enough to win the NL Central. Houston has a bullpen, as well.
Mark Melancon
, a 25-year-old who at one point was being discussed as a possible heir apparent to
Mariano Rivera
, came from the Yankees in the Berkman deal. Melancon is 2-0 with a 1.84 ERA in 16 games with the Astros. Plus, he averages a strikeout per inning.
Wilton Lopez
has appeared in 62 games this season and stranded 29 of his 30 inherited runners, the best ratio in the majors. At one point Lopez went 18 straight outings without allowing a run.
Matt Lindstrom
has 23 saves this season, but has yielded the closer's role to
Brandon Lyon
, who since Aug. 1 leads the majors with 17 saves. Lyon has not allowed a run in 29 of his past 32 appearances. Since the All-Star break, Houston relievers have stranded 57 of 66 inherited runners, the best ratio in baseball. The Astros already had a competitive outfield. The last big salary left is Carlos Lee, who is owed $18.5 million in each of the next two seasons. Despite a down season this year, Lee will still hit 25 home runs.
Michael Bourn
is leading the National League with 52 stolen bases and again is playing Gold Glove defense in center field.
Hunter Pence
has already set a new career high with 85 RBIs. Now, exactly how much progress has been gleaned by all these midseason personnel changes? Let's get back to that 17-34 mark. Since then, the Astros have gone 55-43. From starting 0-8 and 17-34, Houston has scrambled back to within five games of .500. It's been a steady progression: 14-14 in June, 13-11 in July, 17-12 in August and now 11-6 in September. The Astros have pulled off a major, midseason remodeling job. And, looking ahead to next year, they will have less than $40 million committed to payroll for the 2011 season. So there is room to add talent to the mix this winter. Make room in there somewhere for a division title. Don't forget, you can follow me on Twitter. I'm
@SBerthiaumeESPN
, tweeting about all things baseball with our entire "Baseball Tonight" staff.
Steve Berthiaume is a host for "Baseball Tonight."
Baseball Tonight Live
"Baseball Tonight" analysts, ESPN.com writers and SweetSpot Network bloggers chatted and gave their in-game opinions throughout the day's games -- all in Baseball Tonight Live.
Touch 'Em All

Who went deep? Keep track of all the home runs hit each day on "Baseball Tonight" and the Baseball Tonight Clubhouse page. For more, check out the Home Run Tracker page.
| NAME | HR | OPP | SITUATION | Pitcher |
| --- | --- | --- | --- | --- |
| Dan Uggla, FLA | 31 | CHC | Bot 4: 1-1, 0 Outs. 1 on. | Samardzija |
| Jayson Werth, PHI | 24 | WAS | Bot 9: 3-2, 0 Outs. 1 on. | Storen |
| Jim Thome, MIN | 24 | OAK | Bot 6: 1-2, 2 Outs. None on. | Cramer |
| Derrek Lee, ATL | 18 | NYM | Top 7: 3-2, 2 Outs. Grand Slam. | Acosta |
| Victor Martinez, CLE | 18 | TOR | Bot 4: 0-2, 1 Out. None on. | Marcum |
BASEBALL TONIGHT ON THE AIR
MONDAY
10 p.m. ET on ESPN2
Host: Karl Ravech
Analysts: John Kruk, Nomar Garciparra, Bobby Valentine, Tim Kurkjian
WEB GEMS LEADERBOARD

This season, "Baseball Tonight" will be tracking Web Gems. Points will be calculated by awarding five points for the night's top defensive play, four points for second, three for third, two for fourth and one for fifth. Scoring will be based on fan voting of the previous night's gems (from the last "Baseball Tonight" each night).
HUNT FOR OCTOBER
NATIONAL LEAGUE WILD CARD
| Team | W-L | GB | POFF |
| --- | --- | --- | --- |
| Atlanta | 86-64 | -- | 87.6 pct. |
| San Diego | 83-66 | 2.5 | 32.4 pct. |
| Colorado | 82-67 | 3.5 | 22.9 pct. |
SUNDAY'S BEST AND WORST
BEST
Jon Lester, LHP, Red Sox

Lester
The lefty tossed seven shutout innings against the Blue Jays, scattering four hits to go with four strikeouts. It was Lester's fifth consecutive win and seventh in his past eight starts. He has given up two or fewer runs in six of those eight outings.
---
WORST
Drew Storen, RHP, Nationals

Storen
The Nationals' bullpen had a three-run lead in the ninth inning against the Phillies. Storen couldn't make it stick. He did not get an out, but gave up four hits and four runs as Philadelphia turned a 6-3 deficit into a 7-6 home win. The final blow came when Storen served up a game-ending two-run shot to Jayson Werth.
MONDAY'S BEST MATCHUPS
Rays at Yankees, 7 p.m. ET


The Rays trail by a half-game in the AL East race, but still hold a 6½-game lead over the Red Sox in the wild card. Matt Garza has been knocked around by the Yankees this year, which included his most recent start when he gave up nine hits, six runs and two homers in 4 2/3 innings.
---
Braves at Phillies, 7 p.m. ET


The Phillies can either put away the Braves in the NL East or Atlanta can draw even. Philadelphia, which holds a three-game lead in the division, sends Cole Hamels out for the opener. How good has Hamels been lately? He has won each of his past four starts and has allowed only one run in that stretch, which spans 29 2/3 innings.
---
Reds at Brewers, 8:10 p.m. ET


The Reds' Homer Bailey lasted only three innings in his most recent start because of a bout of dizziness. Cincinnati would probably like to close the month a bit better than it started it. The Reds have won just one series this month, and that was against the Pirates.
The rest of Monday's schedule »