Editor's note: Projections and tiebreakers from ESPN Insider Dan Szymborski. Contribution age is a team's average age, weighted by 2015 projected wins above replacement (WAR). The more a team is fueled by younger players, the lower the contribution age will be.

Projected Record: 91-71
Contribution Age: 27.59
---
Chiefs of staff
Tanner Roark (15-10 last season) projects to have a 3.46 ERA in '15, surely starter-worthy. So why will he spend most of his time in the pen? Because the five starters ahead of him, including Max Scherzer, who minted a seven-year, $210 million deal, project to a combined 3.02 ERA. Third baseman Anthony Rendon, 24, boasts power and speed (21 HRs, 17 SBs in '14) and is already an MVP candidate (projected .807 OPS). Bryce Harper, just 22, is primed to make "the leap" this season -- ZiPS projects a huge jump in slugging (.423 to .494). Anything less than an NL East crown will qualify as a big disappointment.-- David Schoenfield
The top dogs
With Atlanta rebuilding and the Mets and Marlins still short of the elite teams in the NL, the Nats have clearly become the top dogs in the division after adding Scherzer to a team that took the division by 17 games. Not only are the Nationals good -- ZiPS projects the team with the most wins in baseball and the easiest path to the playoffs -- they're not even old, being slightly younger than average in contribution age. What's scary is how good this team is even without a full breakout by Harper, still just 22 for the 2015 season. -- Dan Szymborski
---
Value Judgment*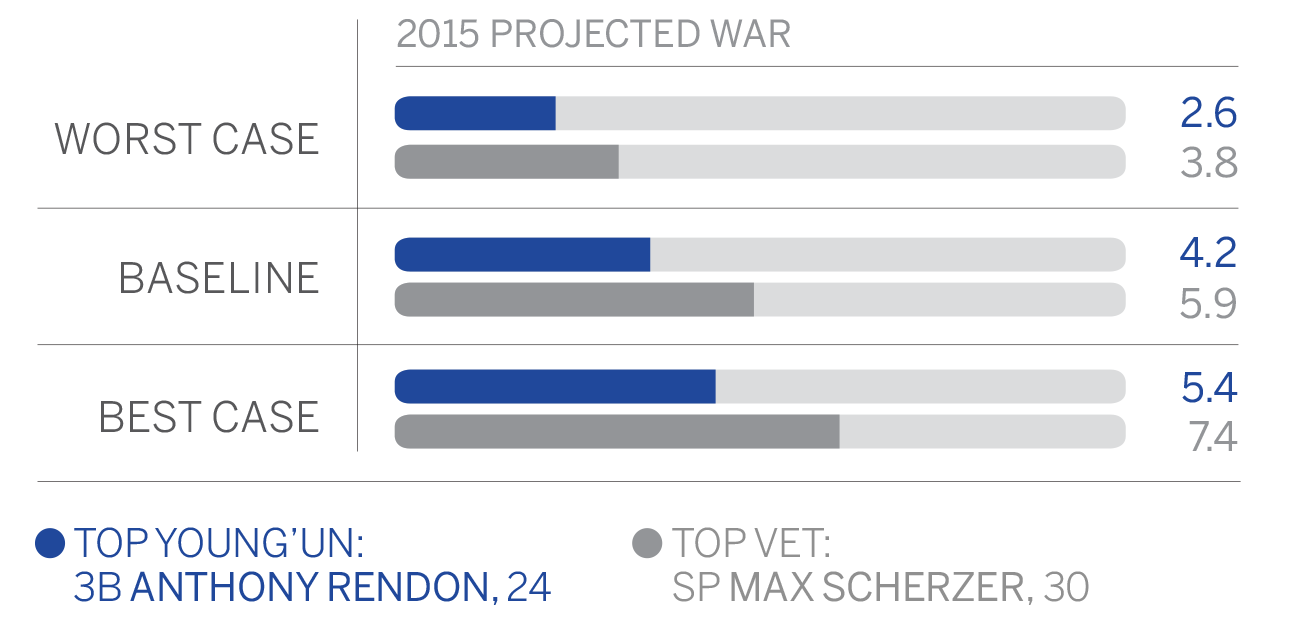 *Young player (25 or under) and vet (30 or older) with team's highest projected WAR.
---

Projected Record: 80-82
Contribution Age: 27.01
---
Look familiar?
After signing Michael Cuddyer, 35, early in free agency, the Mets ... did nothing, leading to more backlash from their disgruntled fan base. Three big reasons for optimism, though: a healthy David Wright, who couldn't drive fastballs in 2014 (.374 SLG versus .536 the previous five seasons) due to a shoulder issue; Juan Lagares, 25, who emerged as the best defensive center fielder in baseball (28 defensive runs saved); and the return of starting pitcher Matt Harvey, who tops a rotation stacked with talent. Reigning NL rookie of the year Jacob deGrom surrendered a .228 batting average to opponents in 2014. If the bullpen stays healthy, the Mets could contend for their first postseason since 2006. -- Schoenfield
Youth movement
The Mets are one of three teams in the NL East to be among the eight youngest by projected contribution age in 2015. While much of the team's fan base was perturbed at the lack of significant offseason signings outside of their curious attempt to sign an aging de facto DH to play in right, the best parts of the team in the next few years are likely to come through the system. In all, ZiPS places seven Mets prospects in its top 100, with Keith Law adding another three, and the team's near future depends on just how good players such as Noah Syndergaard, Steven Matz and Rafael Montero get, and how quickly. The Mets didn't land Troy Tulowitzki from the Colorado Rockies, but the team's stable of prospects gives it flexibility to trade players such as Jonathon Niese to remedy weaknesses. -- Szymborski
---
Value Judgment*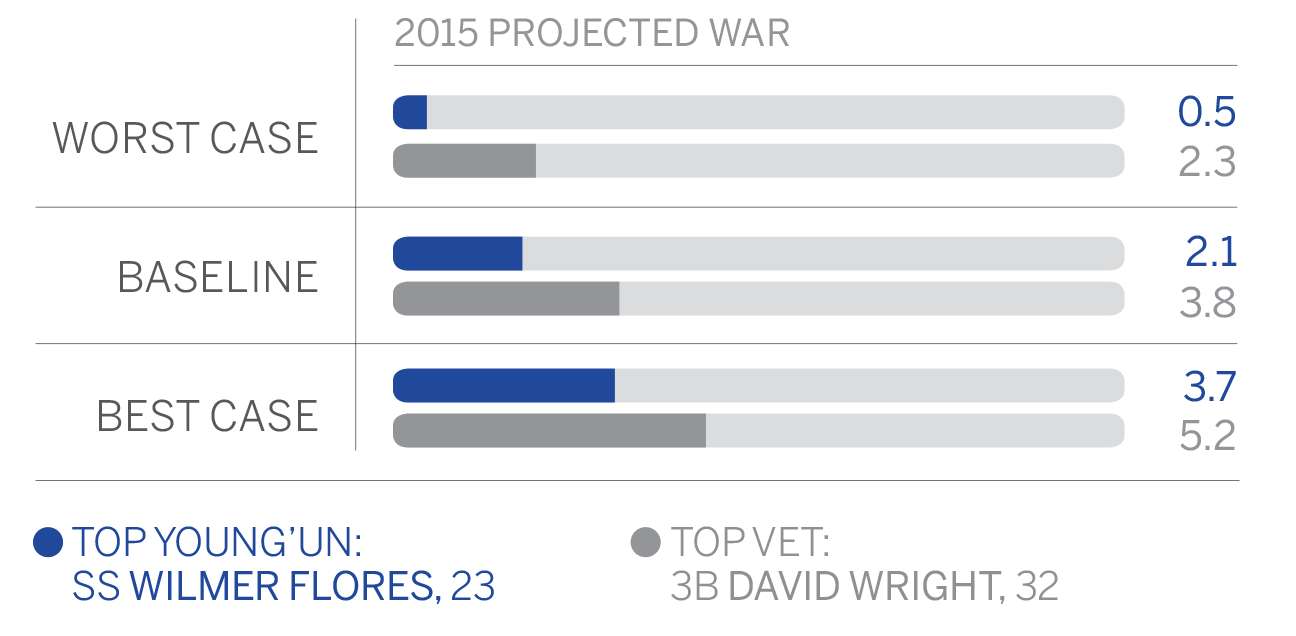 *Young player (25 or under) and vet (30 or older) with team's highest projected WAR.
---

Projected Record: 78-84
Contribution Age: 26.37
---
Hooked the big one
The historically stingy Marlins shocked baseball by giving right fielder Giancarlo Stanton (NL-high .555 SLG) the sport's first $300 million contract, keeping the MVP candidate in Miami for at least the next six years. The team made some other splashy moves too, but those didn't make it better. New second baseman Dee Gordon doesn't get on base enough to lead off (projected .326 OBP), and starter Mat Latos is an injury risk after multiple elbow ailments the past two seasons with the Cincinnati Reds. Still, Miami's good (and young) core -- center fielder Marcell Ozuna (24), left fielder Christian Yelich (23) and 22-year-old phenom Jose Fernandez (12.2 K/9 in 2014, expected to return from injury in July) -- provides plenty of long-term hope.-- Schoenfield
A bright future?
The Marlins still find themselves struggling as a team without an identity outside of the organization's regular series of fire sales. While the Marlins have added payroll with additions such as Dan Haren, Michael Morse and Martin Prado, the team's primary contributions come from players on the young side, led by a tremendous young outfield anchored by one of baseball's premier pure sluggers in Stanton. There's also that Fernandez guy you might have heard of. In other words, this is a young team, and if it fails to grab a wild card, it will still have future opportunities.-- Szymborski
---
Value Judgment*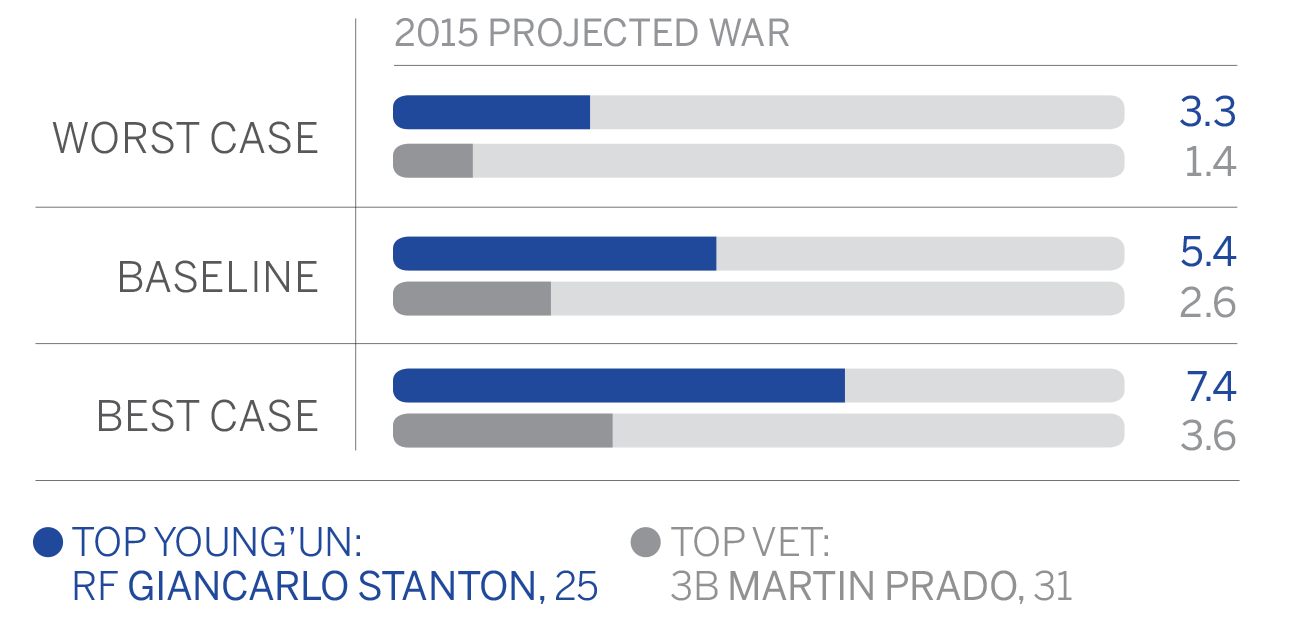 *Young player (25 or under) and vet (30 or older) with team's highest projected WAR.
---

Projected Record: 74-88
Contribution Age: 26.09
---
Reconstruction era
The Braves scored the second-fewest runs in the NL in 2014 and then curiously traded away three of their four best hitters in right fielder Jason Heyward (25), left fielder Justin Upton (27) and catcher Evan Gattis (28). But fear not, Atlanta fans. The team did receive an elite-level arm in return: Prized young pitcher Shelby Miller, acquired from the St. Louis Cardinals for Heyward, joins Julio Teheran (1.13 projected WHIP), Alex Wood (1.20) and a hopefully healthier Mike Minor (shoulder) to cement an already good rotation. Sure, the Braves project to have the league's worst offense, and they're headed for their first consecutive losing seasons in 25 years. But they carry the league's youngest contribution age too.-- Schoenfield
Rebuilding process
Make no mistake about it, despite a lineup in which five of the eight non-pitchers on the field are 30 or older, the Braves are a team that has started a rebuilding process with the hope that their return to the top of the division will coincide with the opening of their new park in 2017. Players such as Nick Markakis are only really complementary talent at this point, holding down the fort, with the players on the roster of significant value (Freddie Freeman, Andrelton Simmons, Teheran, Miller, Wood, etc.) all several years away from completing their third decade.-- Szymborski
---
Value Judgment*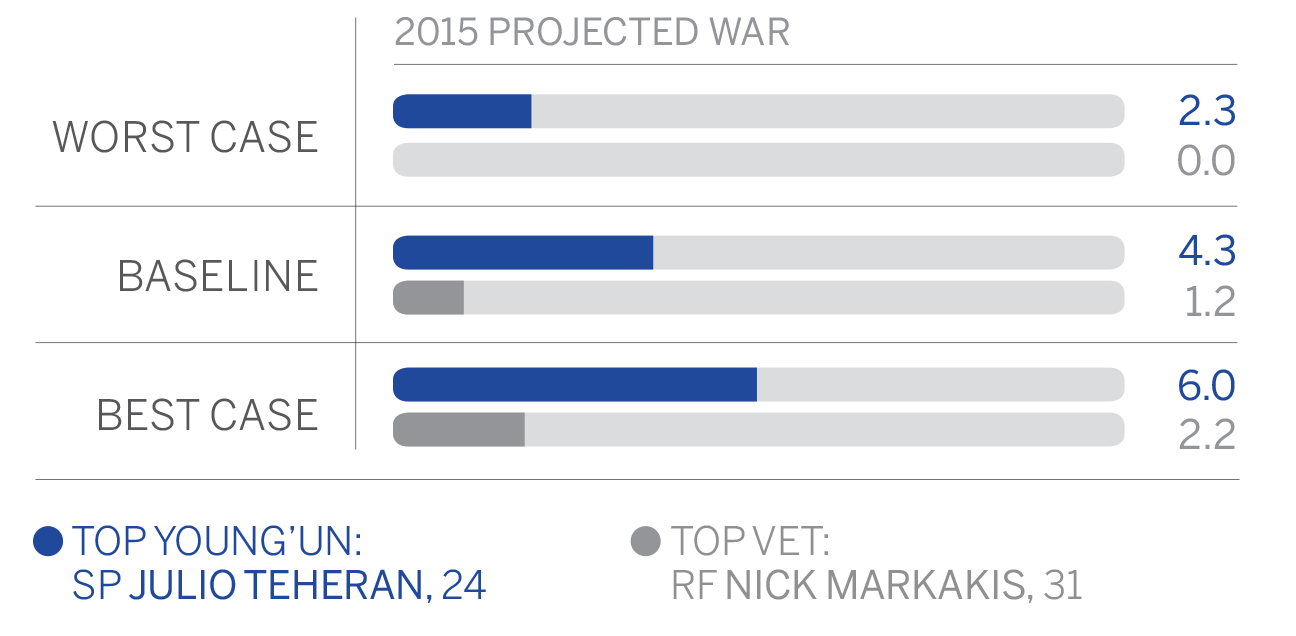 *Young player (25 or under) and vet (30 or older) with team's highest projected WAR.
---

Projected Record: 70-92
Contribution Age: 28.41
---
Slow and low, let yourself go
Well, this is awkward: The Phillies have the fifth-oldest contribution age and project to be MLB's worst team. Old and bad. Quite a combo. Everyone, of course, saw this coming years ago -- except general manager Ruben Amaro Jr., who famously hates statistical evaluation. But the GM finally, mercifully committed to a rebuild, trading longtime Phillie Jimmy Rollins, but he hasn't found a taker for first baseman Ryan Howard and is still looking to deal Cole Hamels. In the meantime, 2015 feels like the 39th and final chance for "top prospect" Domonic Brown (.235/.285/.349, 10 HRs) to show he belongs. The Phils haven't lost 90 games in a season since 2000. But this team? All but inevitable.-- Schoenfield
Prospects for success?
While the team has belatedly come into contact with reality and realized it needs a total rebuild, the contributors in 2015 are still the older players, leaving the Phillies with the seventh-oldest true age in baseball. Most of the older teams are all playoff contenders, with Philadelphia's contention likely limited to a competition for the No. 1 pick in the 2016 draft. Philly's success in 2015 will be based not on its win total, but whether it can come up with more prospects such as J.P. Crawford.-- Szymborski
---
Value Judgment*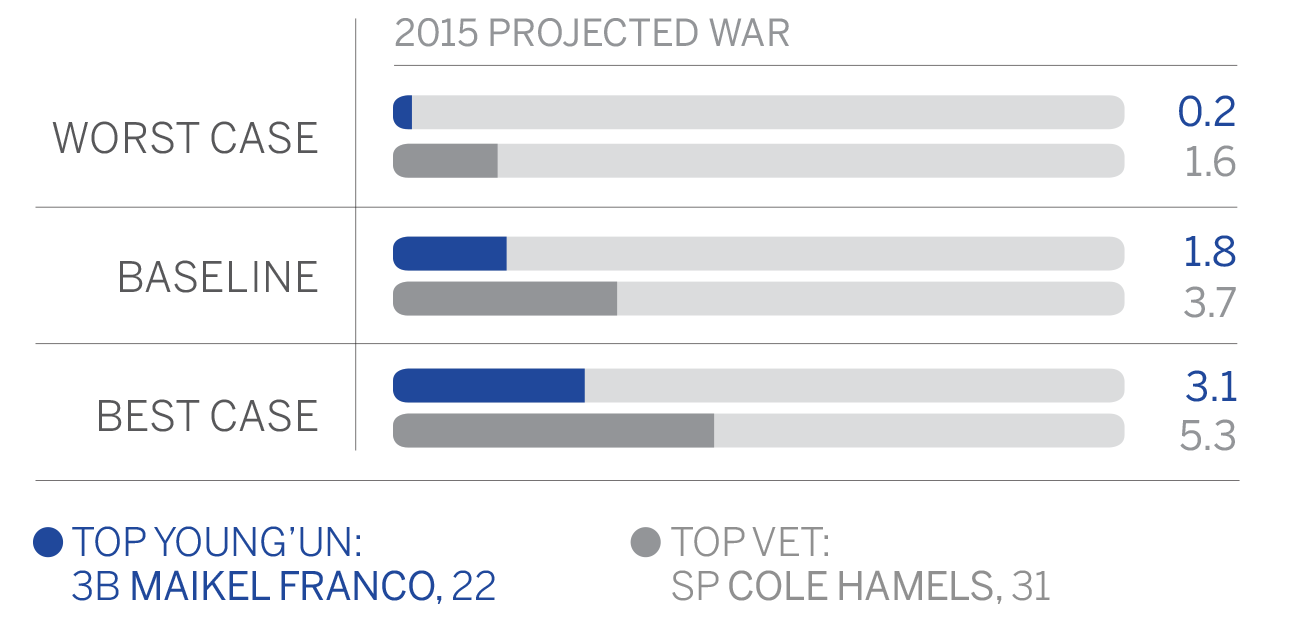 *Young player (25 or under) and vet (30 or older) with team's highest projected WAR.
---