Editor's note: Projections and tiebreakers from ESPN Insider Dan Szymborski. Contribution age is a team's average age, weighted by 2015 projected wins above replacement (WAR). The more a team is fueled by younger players, the lower the contribution age will be.

1. Seattle Mariners
Projected record: 86-76
Contribution age: 28.19 (see note at bottom)
---
Mmm, mmm ... not bad
Even after Seattle's best season since 2009, the M's needed more offense (they ranked 25th in OPS in 2014) and power from the right side (28th in home runs by right-handers). So they added the trio of DH Nelson Cruz, OF Justin Ruggiano and 2B Rickie Weeks. One problem: Cruz, the best of the group, is a career .234/.309/.440 hitter at Safeco. But 2B Robinson Cano, 32, remains one of the game's best, and Felix Hernandez is as dominant as ever, projecting to an elite 1.04 WHIP this season. If James Paxton and Taijuan Walker develop into reliable back-end starters, Seattle's 13-season playoff drought will end. -- David Schoenfield
Still not elite
Seattle made the stretch run interesting, falling short of the playoffs in the last week of the season. Although the 2013-14 offseason featured the splashy signing of Cano, this past winter was quieter with the signing of Cruz and the acquisition of Seth Smith from the Padres. Unfortunately for the Mariners, the team can acquire only Cruz's 2015 season, not his 2014 season, and while he hit 40 homers, he's also a one-dimensional 34-year-old who put up a total of 4.3 WAR from 2011 to 2013. Still, as part of the yearly ritual of the Mariners accumulating designated hitter types, he's their best one yet. But the team needed a little more to step into the AL's elite. -- Dan Szymborski
---
Value Judgment*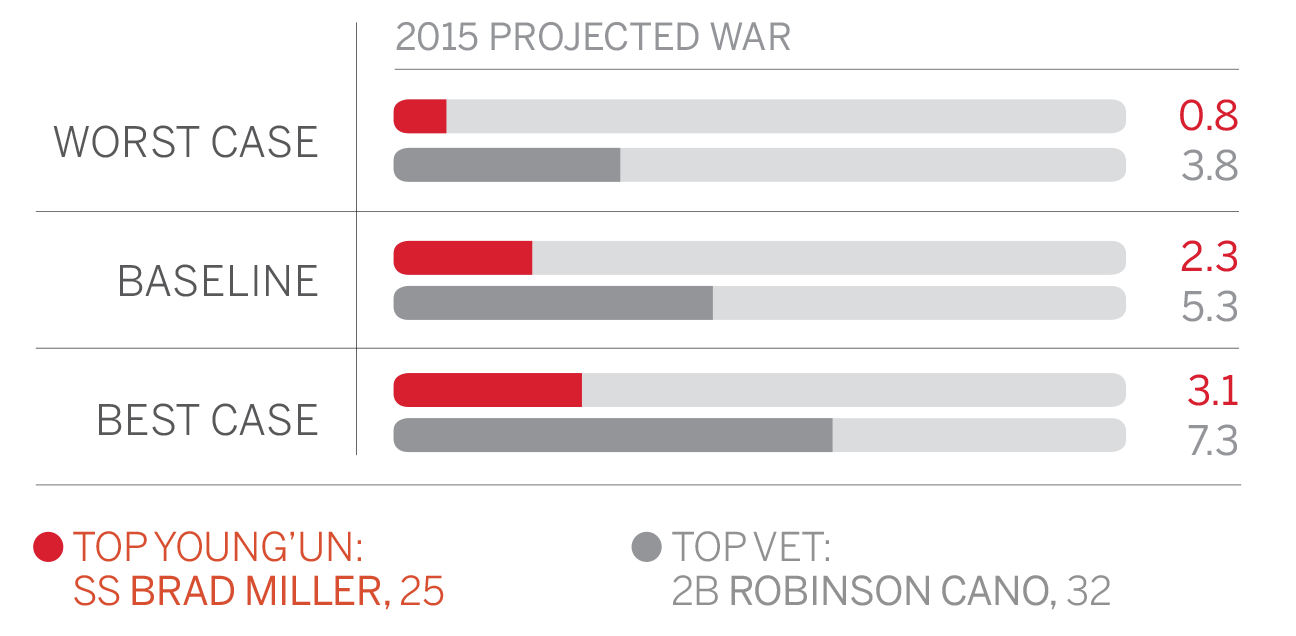 *Young player (25 or under) and vet (30 or older) with team's highest projected WAR.
---

2. Oakland A's
Projected record: 85-77
Contribution age: 28.27
---
A's good A's new
After the team faded down the stretch -- 10 wins in the last 30 games -- and blew the wild-card game, GM Billy Beane did what he does and worked the wires: He traded Oakland's best player, 3B Josh Donaldson, as well as SP Jeff Samardzija and 1B Brandon Moss, and brought in utility man Ben Zobrist, 3B Brett Lawrie, 1B Ike Davis, RP Tyler Clippard and DH Billy Butler to replace them. The A's are without their top three home run hitters from 2014 (a combined 71 jacks); the trio of Zobrist, Butler and Davis project to hit only 45 homers. So young rotation arms -- including Jarrod Parker, a year out from Tommy John surgery and still recovering -- must step up behind Sonny Gray and Scott Kazmir, who combined for 409⅓ innings. -- Schoenfield
A lot of new faces
David Copperfield became famous for making the Statue of Liberty disappear, but Beane makes an entire roster disappear each offseason. Oakland remains on an eternal shoestring budget, but baseball's greatest magician keeps tinkering with the roster and keeping the team relevant. The A's won only 88 games last season, but they had a 99-win Pythagorean record and the nice thing about underachieving is that it doesn't tend to be predictive. The team's losses from 2014 hurt, but the A's managed to add enough talent back in players like Zobrist and Lawrie that they remain relevant in 2015. But, similar to the Angels, Beane will have to remain adept at bailing water from the organization's leaky boat. -- Szymborski
---
Value Judgment*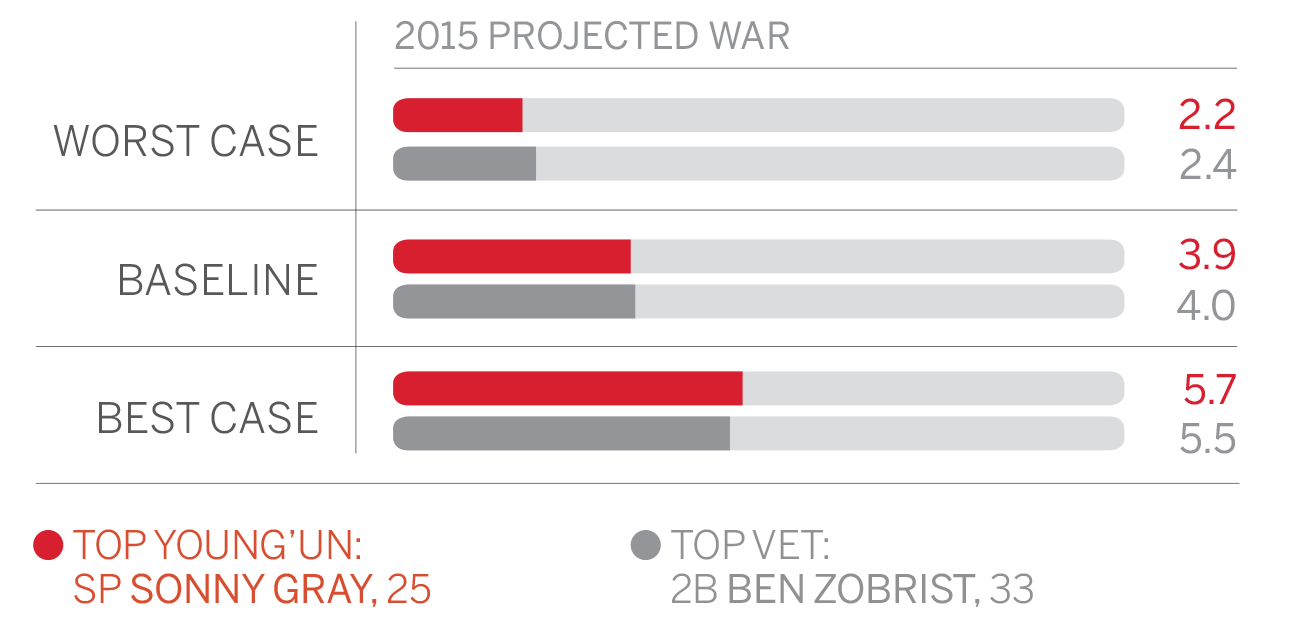 *Young player (25 or under) and vet (30 or older) with team's highest projected WAR.
---

3. Los Angeles Angels
Projected record: 84-78
Contribution age: 27.60
---
One-man show
After finally winning his first MVP in 2014 (he deserved the award the previous two seasons), Mike Trout again projects as the best position player in the game. But pitchers discovered a weakness last year: Trout hit .097 against high fastballs, and his first-half numbers slid from .310/.400/.606 to .257/.347/.502 in the second half. Something else to worry about: SP Garrett Richards, who hurt his knee in August, and Matt Shoemaker went a combined 29-8 with a 2.81 ERA last season. The duo project to regress (24-14, 3.21), which will force the team to rely on its aging lineup, including rapidly declining Albert Pujols and Josh Hamilton, who is facing the prospect of a suspension. -- Schoenfield
Hanging on
With a weak farm system and an aging but talented roster, the Angels are in win-now mode. And win they did in 2014, winning 98 games, the most in baseball. The Angels were the only team in baseball that didn't sign a free agent to a major league contract this offseason, and they waved farewell to incumbent second baseman Howie Kendrick. At this point, the Angels are simply trying to fill enough holes to keep the boat from sinking, a task made easier with the emergence of Richards and Shoemaker the past two seasons. -- Szymborski
---
Value Judgment*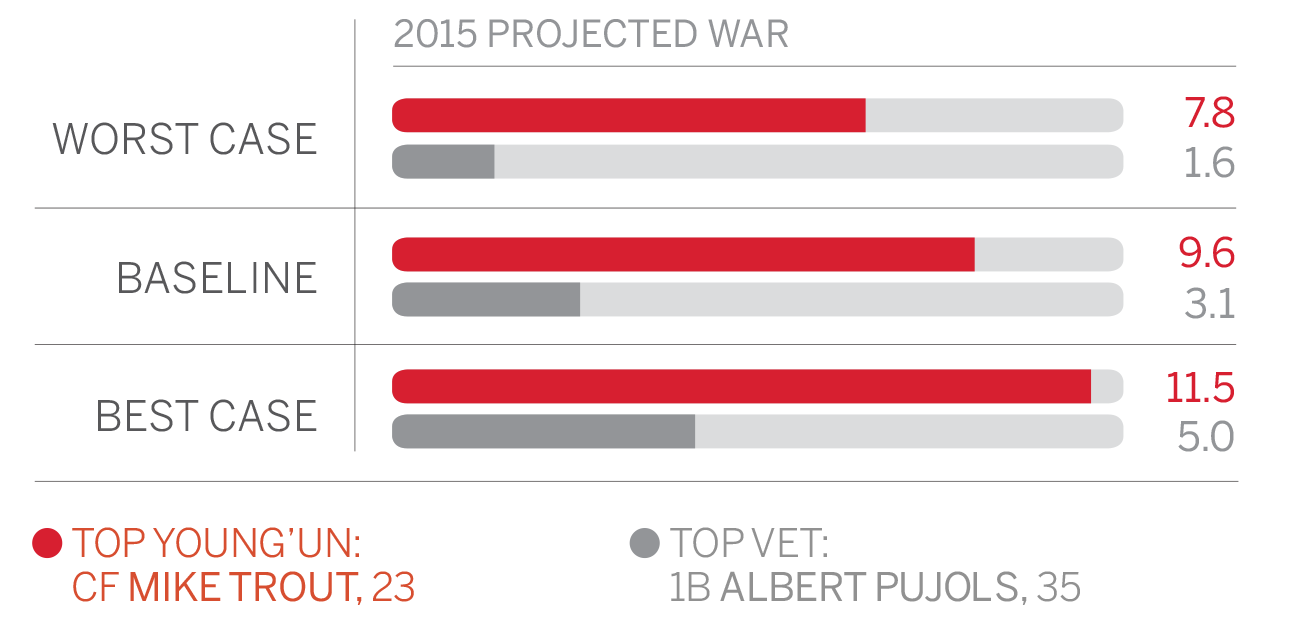 *Young player (25 or under) and vet (30 or older) with team's highest projected WAR.
---

4. Houston Astros
Projected record: 77-85
Contribution age: 26.50
---
It's called asset-building
Further evidence that tanking works: The Astros' 70-win season in 2014 was a 19-game jump from the previous year. This season? We see another seven-game bump, and don't be shocked if Houston flirts with .500. Dallas Keuchel and Collin McHugh, both 27, were a surprise one-two punch in the rotation and project to pitch 354 innings with a combined 3.76 ERA in 2015. RF George Springer, 25, showed serious power as a rookie (.468 SLG), and newcomers Jed Lowrie (SS), Luis Valbuena (3B) and Evan Gattis (LF) will fix some holes on offense. Then there's Jose Altuve, who led the AL in average, hits and steals. With P Mark Appel and SS Carlos Correa in the pipeline, Houston's tank is filling up. -- Schoenfield
Still work to do
Nobody in baseball has had a tougher job than GM Jeff Luhnow. Taking over an organization that was devoid of major league talent, minor league talent and money, Luhnow has patiently built the Astros up from bottom to top. After Houston improved by 19 wins to 70 in 2014, the team's best finish since 2010, many people are expecting a similar jump in 2015. That would be a bit hasty, with the Astros still having a number of holes on the major league roster in a tough division. Be patient; most of the team's best prospects are still in the minors. -- Szymborski
---
Value Judgment*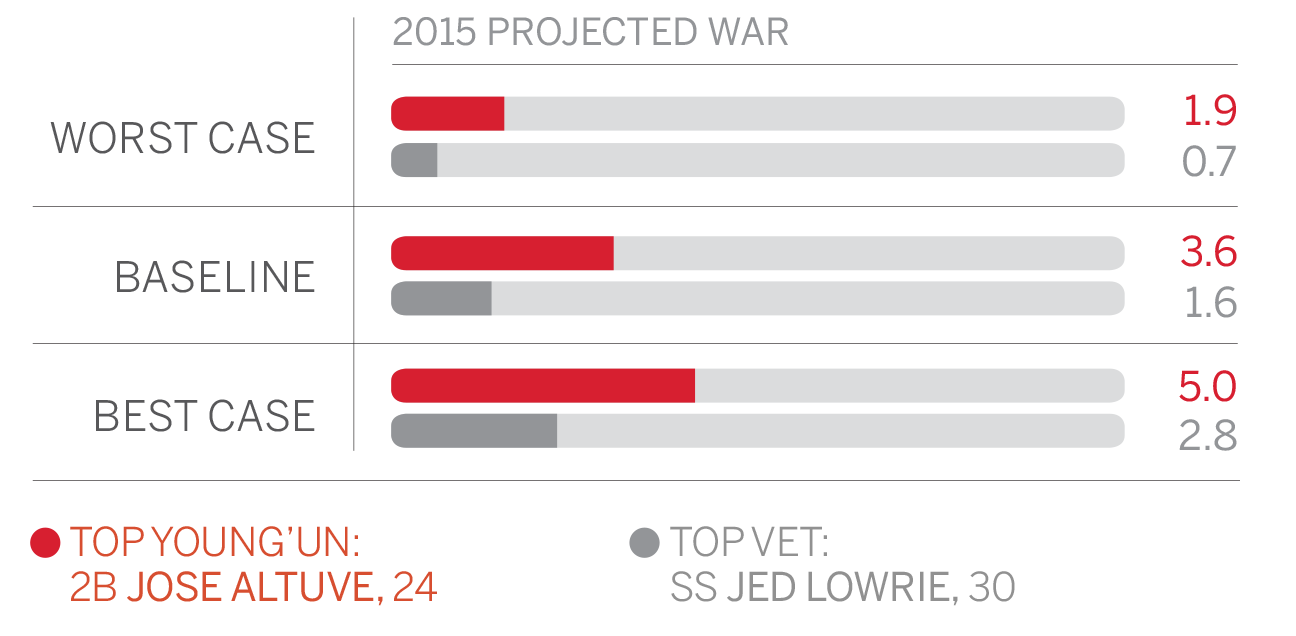 *Young player (25 or under) and vet (30 or older) with team's highest projected WAR.
---

5. Texas Rangers
Projected record: 76-86
Contribution age: 27.74
---
Progressing to average
Injuries marred the 67-win disaster that was the Rangers' 2014 season, as Texas used the DL more than any other team in the majors. This year's nine-game projected upswing is based on a healthy Prince Fielder, who played just 42 games last season, and a resurgence from RF Shin-Soo Choo, who signed a $130M contract after a .423 OBP with Cincinnati in 2013 but saw that stat dip to .340 in 2014. The duo project to hit for a combined 35 homers and a .366 OBP. Meanwhile, Yovani Gallardo, 29, joins Derek Holland in trying to make up for the loss of Yu Darvish to Tommy John surgery. That void and a middling offense will limit the team's improvement. -- Schoenfield
Ready to rebound?
In the life cycle of a major league team, the 2014 Rangers were applying for Medicare. Almost literally, as most of the team expected to compete in the AL West saw a lot more doctors than wins. Although one could say that the Rangers were phenomenally unlucky with injuries -- they were -- that's always the risk with older players. Fielder is 31 this season, Choo has had injury issues in the past, and the Rangers have a number of pitchers who could probably perform their own arthroscopic surgery at this point. The good news is that the Rangers still have a great deal of talent and, with a bit of luck, could put up an impressive bounce-back campaign. They're no longer a team on the ascent like the 2009-2011 squads, and any success this core has will be in the near future. There's also a bit more good news in that the team hasn't gutted its farm system like most teams past their peak do, which means a retool/rebuild may not be as painful as it will be for teams like the Tigers. -- Szymborski
---
Value Judgment*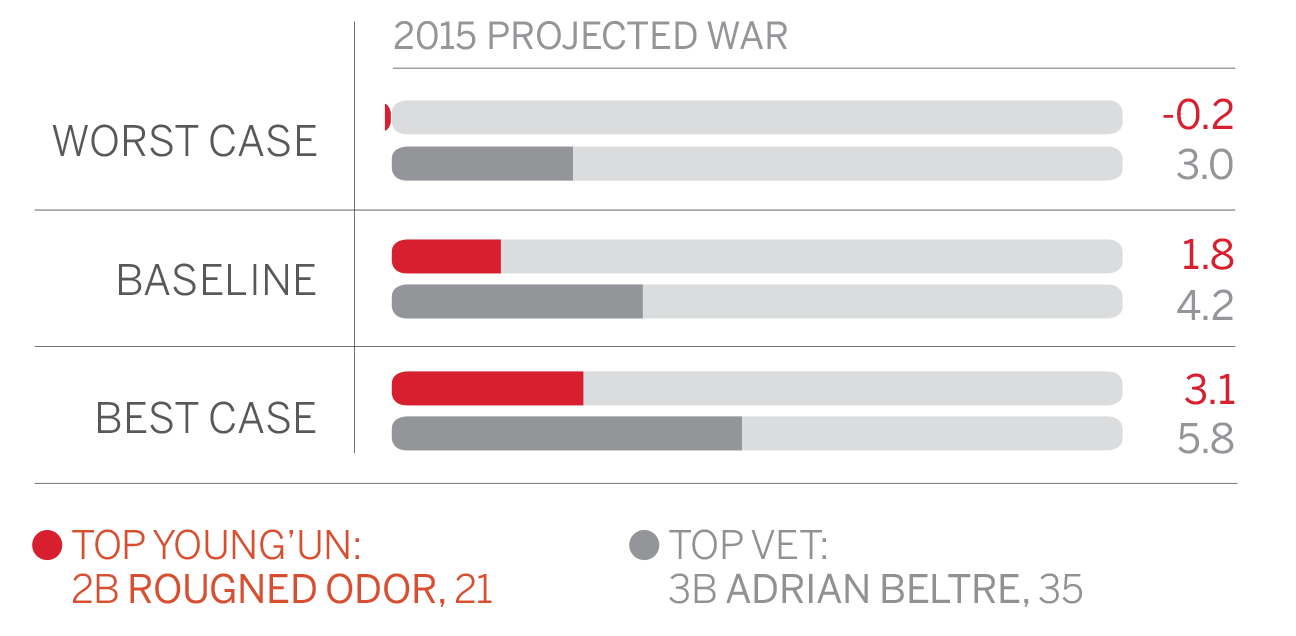 *Young player (25 or under) and vet (30 or older) with team's highest projected WAR.
---