As city after city built ever more lavish, gorgeous and expensive new baseball stadiums, my friend Scooter and I would speculate about which team's ownership group would be the first to complain that its $200 million-$1 billion cathedral is no longer adequate. I usually picked the White Sox and their new Comiskey Park, while Scooter tabbed the Diamondbacks and Arizona's stadium.
We were both wrong. Turns out, it was Atlanta and Turner Field, a park barely old enough to drive and too young to vote.
Turner Field was the main stadium for the 1996 Summer Olympics, and then it was quickly converted to baseball for the 1997 season at an estimated cost of $209 million (significantly higher in today's dollars). After just 17 seasons, Atlanta announced last week that a stadium good enough for John Smoltz, Tom Glavine, Greg Maddux and Chipper Jones -- as well as Carl Lewis and Michael Johnson -- is no longer adequate for B.J. Upton and the Tomahawk Chop. The team plans to move to a proposed new stadium 14 miles away in Cobb County in 2017.
The projected cost of that new stadium is $672 million, but anyone who has ever dealt with a contractor for a kitchen or bathroom remodel can assure you the actual cost will be substantially higher. Just how much taxpayers will be forced to fund is still unclear.
Why, after just 17 years, do Atlanta's owners say the team needs a new stadium? Part of their reasoning is that the new stadium will put the team closer to its fan base. Another reason is better transportation to the new location, which pretty much ignores the fact that Atlanta's rapid transit system -- MARTA -- doesn't service Cobb County.
And yet another reason is that just playing in a great ballpark apparently isn't enough for owners these days. The team must also benefit financially from surrounding entertainment, drinking and shopping centers. You know, just in case fans have any money left over after paying for $50 tickets, $10 beers, $6 hot dogs and $30 parking spaces to watch a ballgame.
I can imagine a team owner looking at the Taj Mahal or St. Peter's Basilica and saying, "Yeah, it's nice. But we need more parking and a piece of the sports bar revenue."
That the franchise wants to move to an area where it believes it can create a neighboring entertainment and shopping district is ironic, given that Turner Field has generated no such businesses in 17 years. One of the few notable establishments near the current ballpark is a hospice care facility, which seems fitting since so many Atlanta fans' hopes and dreams have died in Turner Field each autumn.
This is nothing new. For years, teams blackmailing communities into publicly funding new stadiums have claimed these very facilities would spur development in the neighborhood and create jobs. As promises go, this claim holds as much validity as any made by the Cubs that a World Series is on the horizon.
For example, Minnesota's Metrodome opened 31 years ago and will be destroyed after the final Vikings game this December so that a $1 billion football stadium can be built in its place. But in those 31 years -- even when it was home to record-breaking crowds in baseball and the NBA, as well as the NFL -- the only surrounding business the Metrodome generated was Hubert's sports bar.
Seattle's $517 million ballpark opened in 1999 but few new surrounding businesses have prospered in the area. Meanwhile, the once-thriving Pioneer Square neighborhood has fallen on hard times since the Kingdome (which was closer to Pioneer Square than the new stadium is), was destroyed. There is little beyond the Mets' $800 million new stadium in Queens than car repair and salvage shops.
These cities and stadiums are not the exceptions. The exceptions are the facilities that actually do generate significant surrounding business. Most facilities have not done so, and that includes Turner Field.
This is why new stadiums should not be viewed as economic drivers or as guaranteed ways for teams to become "competitive." Only five teams have won the World Series while playing in a stadium built during the retro-park era that began in 1992 with Baltimore's Camden Yards. Meanwhile, the Red Sox have won more World Series than anyone else in the past decade while playing in 101-year-old Fenway Park.
Ballparks are not financial game-changers for a city. They are where we gather together as communities to support our local teams and cheer our heroes. That in itself is a significant and wonderful thing. If a stadium provides anything more than a home for our team -- rich memories, proud feelings of community, comfortable seats and some minimum-wage concession jobs -- well, that's just a bonus.
What happens inside the ballpark is vastly more important than whether new sports bars or a hotel open outside its walls, especially since any new business would simply be taking revenue away from competitors in other locations.
Atlanta is the first team to say it is leaving one of the incredibly expensive stadiums built during the retro-park era -- but it won't be the last. The ballparks built in the past two decades are almost all superb places to watch games. But owners are insatiable for more money. No matter the extreme public costs for these stadiums, and no matter how beautiful these stadiums are, eventually the team owners will demand either an overwhelmingly expensive remodel or an entirely new ballpark in a new and supposedly more favorable location.
We can only hope that most owners will wait substantially longer than 17 years before making their inevitable demands.
CSI: Box Score
Each week, I provide a fragment from an old box score and challenge you to determine what game it is from and why it's significant. I give this one a difficulty rating of 8. Answer below:
Baseball Card of the Week
In recognition of this week's 50-year anniversary of the Kennedy assassination, here's a card (2011 Topps) showing JFK throwing out the first pitch at the 1962 All-Star Game.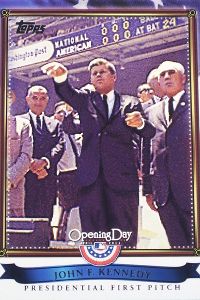 Kennedy threw out the first pitch at four games while president and was the first president to throw out the first pitch in two games in one season: the Senators' 1962 season opener as well as the '62 All-Star Game. It was a different era back in those Camelot days, when Washingtonians didn't pay so much attention to pitch counts. After all, in addition to the two games "started" by Kennedy in 1962, the Senators let Tom Cheney throw more than 200 pitches in a 16-inning, 21-strikeout game that season.
Yeah, Well, That's Like, Just Your Opinion, Man
The Easiest Vote Cast Outside Of A Presidential Year. Dec. 1 is the voting deadline for the Baseball Writers' Association of America's Spink Award, given annually to a baseball writer who deserves recognition at the Hall of Fame. This is vastly different from being elected to the Hall of Fame. Hall of Fame players are immortalized with plaques on a wall in the Hall's main gallery, while the Spink winner has his or her name added to a display of previous recipients in one of the museum's less-visited rooms. Still, it is a considerable honor, and I was happy to see Roger Angell's name finally placed on the ballot this year.
Angell never covered a team as a beat writer or wrote more than a couple stories a year about baseball for The New Yorker magazine. But for nearly half a century, he wrote many of the finest baseball essays the game has ever enjoyed. His 1981 piece after watching a College World Series regional game pitching matchup between St. John's Frank Viola and Yale's Ron Darling while sitting with Smokey Joe Wood is simply magical. (Here's a quick excerpt and a way to subscribe to get to the full story.) Beginning with "The Summer Game," Angell's many collections line the bookcase behind my desk, and they remain a wonderful source of baseball history as well as brilliant prose. He has written far too many marvelous stories to mention, but the closing essay in "The Summer Game" includes perhaps the best and most famous passage ever written about baseball. "Since baseball time is measured only in outs," Angell wrote, "all you must do is succeed utterly; keep hitting, keep the rally alive, and you have defeated time. You remain forever young." My friend Jordan first read that to me in college, and I have been a fan of Angell ever since. Here's hoping he wins this year's award. The Spink award is meant to honor baseball's best writers, and Roger Angell is the greatest there has ever been.
Compared To Jonathan Martin's Rookie Hazing, A Hot Foot Doesn't Sound Bad At All. The Miami Dolphins' Richie Incognito scandal is just one more reason parents should encourage their children to play baseball instead of football. In addition to baseball being much safer than football (the Broncos' John Moffitt just walked away from about $1 million so he could retire and preserve his health rather than play in the NFL ), MLB doesn't foster an environment in which emotionally abusing a rookie and calling him racist names is considered acceptable behavior by some teammates and coaches. Baseball rookies might be the brunt of the occasional crude practical joke or be forced to wear a ridiculous costume to the airport one day a season, but that's nothing compared to the abuse Jonathan Martin reportedly received.
If Only Panda Sandoval Would Go On The McConaughey Diet. David Ortiz might have been named the World Series MVP, but the greatest performance of the autumn is Matthew McConaughey in just "Dallas Buyers Club." McConaughey portrays Ron Woodroof, a homophobic electrician/rodeo buff/drug abuser who contracts the HIV virus (probably through intravenous drug use) in the mid-1980s. Unable to obtain experimental AIDS drugs, he smuggles in other drugs the FDA has not approved and distributes them to fellow AIDS sufferers through a barely legal "buyers club." Based on a true story, the movie is gripping with a surprising amount of humor. It's a tad longer than necessary, but McConaughey is absolutely amazing. He reportedly lost 50 pounds from his normal 6-foot, 185-pound frame for the role and appears so emaciated that Chris Sale looks like Prince Fielder in comparison. Yet his performance is still so lively and powerful that he is an even stronger candidate for the Oscar than Max Scherzer was for the AL Cy Young. Highly recommended.
CSI: Box Score Answer
There were a couple clues here. The names of the players -- Dawson and Wallach; Murphy, Oberkfell and Horner -- should have zeroed you in to the teams (Montreal and Atlanta), as well as the era (mid-'80s). Next, the numbers beside Horner's name -- 5 4 4 6 -- might have prompted you to remember when Bob Horner hit four home runs back at Atlanta-Fulton County Stadium on July 6, 1986.
But that four-homer game, as great an accomplishment as it was, is not the only item of interest in this box score fragment. That's because the same day Horner hit those four, Al Newman hit the first home run of his career. "Newmie" batted 1,971 more times in the majors but never homered again, and because his one career home run was hit the same day Horner hit four, well, no one paid any attention to it.
A four-homer game and Newman's only home run? There was a reason they called Atlanta-Fulton County Stadium "The Launching Pad."
Horner, meanwhile, didn't get as much highlight time as you might expect, either. TBS did not show that four-homer game live because it was busy airing the Goodwill Games. Timing, as they say, is everything.