We baseball writers don't always get things right. After all, just last year, we didn't vote Craig Biggio into the Hall of Fame despite his 3,000 hits. And don't get me started (again) on our inconsistency regarding possible PED users.
But this week, we did get one right. We corrected a great injustice when we voted to give the annual J.G. Taylor Spink award for "meritorious contributions to baseball writing" to the greatest baseball writer of them all: Roger Angell.
"I was surprised to find how much I secretly hoped this would happen because I was very moved and dazzled and extremely pleased," Angell said after learning of the award. "I didn't think it would happen because I'm not a member of the baseball writers, which is nothing against the wonderful baseball writers association, but I was hoping to somehow become a member for many years but it never seemed to be within reach."
Angell, 93, is the first writer to win the award who isn't a member of the Baseball Writers' Association of America. He isn't in the BBWAA because, generally, membership is for writers who either cover baseball full time or write extensively about the game for a newspaper, news service or major website. In reality, the membership includes everyone from general columnists who rarely write about baseball to assistant editors who never write about or attend games.
But not Angell, who began writing his long, beautiful essays on baseball for The New Yorker magazine more than 50 years ago. No one wrote more gracefully about the game, but he did not meet our eligibility requirements. It says much about him that he bears us no ill will for this restriction.
"I was a drop-in writer; I wasn't there every day," Angell said. "If I wrote about some player, I would always go to the daily guys and ask questions, and almost everyone was generous with what they knew and what to ask the players and help me out. For all those 50 years, the beat writers were just terrific to me."
And he was terrific for us. Angell was a tremendous influence on my career. I began devouring his work around the same time I started writing about sports to pass the time as a night watchman at the Seattle Tennis Club. Early on, I modeled my writing after his style, before eventually finding my own voice. Had it not been for him, I might never have gotten into the business. (Yes, you can blame Roger Angell.)
When asked about his influence on baseball writers, Angell said he hadn't given that idea any thought. Then he named two writers who influenced him most. The first was his stepfather, the great New Yorker writer E.B. White, who is probably best known for "Charlotte's Web" and "Stuart Little."
"He always wrote so beautifully and his copy always read so easily, like there was nothing involved," Angell said. "I used to watch him every week, up in Maine, write the Comment page, the first page of The New Yorker, which he wrote every week. And he would be locked up in his room all morning long and he would come to lunch and he would be totally pale-faced and then mail it off. And then he would say it was no good and try to call it back.
"I saw that writing was hard, and the hard part was making it look easy."
The other influential writer was New York columnist Red Smith.
"He was literate and didn't mind using metaphors or long words," Angell said. "The enjoyment of the game was always there. It was always fun. No matter what the story was, Red's pleasure of the game came through. I hoped someday I could do that."
Angell did. And, like his stepfather, Angell also made it look easy.
Asked to cite some of his favorite stories, Angell named his piece on Steve Blass and his sudden loss of control, an essay on a semi-pro pitcher and his girlfriend, and a 1981 account of watching Yale's Ron Darling pitch against St. John's Frank Viola while he sat with former Red Sox pitcher/outfielder Smoky Joe Wood.
Angell says the quality of baseball writing is much higher than when he started. "It really is. It's immensely better. There are some great writers out there who do really first-rate work. There is a greater appreciation and knowledge of baseball now because of television and replay and old players coming back and telling us how the game is really played. I think [the writers] know the game better. …
"The thing about baseball is it has this capacity to utterly surprise us, over and over again. It never fails. It's just astonishing. It just takes our breath away."
As does his writing.
"Baseball is perfectly suited for writing because of the pauses," he said. "A baseball game has a novelistic quality to it. One thing happens, then another thing happens, then another thing happens. That's true of all sports, but they're not linked together in a narrative flow like baseball. A lot of it is boring -- a lot of passages in books are boring. There are books that are boring from cover to cover. But then good books and ballgames come along and surprise you, and you are glad you're there, and you go, 'Wow.' And you come home feeling grateful for baseball again."
I wrote last week about several new baseball books that would make good Christmas presents. But the best baseball books of all are still the collections of Angell's writings. Whether it is "The Summer Game," "Five Seasons," "Late Innings," "Season Ticket" or any other of his works, they will bring pleasure to any fan for decades to come. And perhaps inspiration to a few writers.
CSI: Box Score
Each week, I provide a fragment from an old box score and challenge you to determine what game it is from and why it's significant. I give this one a difficulty rating of 6. Answer below:
Baseball Card of the Week
Nelson Mandela (2013 Topps Allen and Ginter "Peacemakers"), who died last week at the age of 95, drew one of the largest crowds in Yankee Stadium history back in 1990. After being released from prison, Mandela toured the United States and spoke at Yankee Stadium in front of an estimated crowd of 78,000.
"You know who I am," Mandela told the crowd. "I am a Yankee."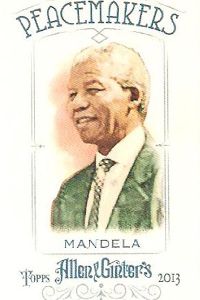 Mandela later wrote of the day in his autobiography, "A Long Walk to Freedom."
"I spoke to a great crowd at Yankee Stadium," he wrote, "telling them that an unbreakable umbilical cord connected black South Africans and black Americans, for we are together children of Africa. There was a kinship between the two, I said, that had been inspired by such great Americans as W.E.B. Dubois, Marcus Garvey and Martin Luther King, Jr."
We lost a great man last week. Even if he did consider himself a Yankee.
Yeah, Well, That's Like, Just Your Opinion, Man
Meanwhile, Bowie Kuhn Is In The Hall, Which Would Be Like Putting The Astros Into Last Year's World Series Instead Of The Red Sox. The Spink award is not equivalent to being elected to the Hall of Fame -- it's a separate honor with mention in another room of the Hall entirely. The main Hall of Fame should be restricted to only players and managers, such as the newly elected Joe Torre, Tony La Russa and Bobby Cox. That said, if the Hall is going to induct executives, it is indefensible that Marvin Miller was not elected yet again this week. As head of the players union, Miller had more impact on the game than anyone else. He helped players get the contract freedom that should be their right (just like everyone else in America).
"It's ridiculous, all these years," Angell said of Miller's continued exclusion from Cooperstown. "He changed the game for all of us. Whether you like the way he changed it or not, he's one of the most significant figures in the history of the game." Angell is right. And if we're going to keep honoring executives in Cooperstown, we need to induct Miller.
Also, congratulations to Mariners media director Tim Hevly for winning the richly deserved Bob Fishel award this week. (And fingers are crossed that the Robinson Cano's signing means Hevly's team will provide happier moments in the coming years.)
Either Way, He's Probably Not Going To Sign With Houston. The proposed new posting system with Japan is more beneficial for the players. Before, players were restricted to negotiating exclusively with the team that won the posting bid. Now they can negotiate with any team that bids the maximum $20 million limit. But that limit also means that Japanese teams might be more reluctant to post their best players. The financially pressed Rakuten Golden Eagles, for example, probably could have commanded $50 million for Masahiro Tanaka. Now, the most they can get is $20 million, and they might decide it makes more sense to keep the ace who went 24-0 with a 1.27 ERA last season. A better solution is to let all MLB teams bid as much as they want and let the player negotiate with them all. The player benefits from a fairer form of free agency and the team benefits by not having a limit placed on how much it can receive.
CSI: Box Score Answer
This was a tricky one, unless you kept in mind the reference to Joe Torre making the Hall of Fame this week. You might then have noticed his name in the Mets' box score. But from what game is this fragment? The answer: This was the final time Torre inserted himself into a game while managing.
People often forget that Torre was very briefly a player-manager. He was the Mets' third baseman when the team named him manager on May 31, 1977. Torre's career as a player-manager was short and undistinguished. He used himself as a player in only two games and didn't get a hit in either, including this one on June 17 when he pinch hit and flied out in the ninth inning.
Interestingly, two other future Mets managers played in that game. Yes, that's Bobby Valentine and Art Howe in the box score fragment.
Torre is richly deserving of his election to Cooperstown, mostly based on his superb managerial record. But he also was a deserving player, making nine All-Star teams (five times as a catcher), winning the 1971 MVP (when he hit .363 with 24 home runs, 137 RBIs and 97 runs), finishing with 2,342 hits and compiling a lifetime WAR of 57.4.
Anyway, congratulations to Joe, Tony and Bobby. Hopefully, they will be joined by several players next summer on a very crowded stage at Cooperstown.