Baseball is filled with music being played as a hitter walks to the plate or a closer comes out of the bullpen, but most of what you hear then is songs that are soon-forgotten current hits or eardrum-damaging heavy metal. They have nothing to do with the game beyond the intent to pump up the players and, perhaps, the fans.
True baseball music can stir memories of our greatest game and produce goose-bumps the size of Bruce Bochy's old batting helmet.
Rather than "Enter Sandman" or "Hell's Bells," I'm talking about anthems such as "Take Me Out to the Ballgame" and "Centerfield."
"Those are great baseball songs," the Tigers' Torii Hunter says. "You hear those and you're like, 'I'm at a baseball game.' Fans walk in and hear that and they're like, 'Wow, I need peanuts.'"
What are baseball's best songs? Other people have ranked them in the past, so to add a twist, I asked assorted players, managers, broadcasters, etc., for their input. The only caveat is the song must make the listener instantly think about baseball. For example, I'm not including "Mrs. Robinson" even though its most famous lyric is "Where have you gone, Joe DiMaggio? A nation turns its lonely eyes to you." That doesn't make me think about DiMaggio and baseball. It makes me think about Dustin Hoffman and "The Graduate."
So here we go, a little something in these cold dark offseason months to remind us that pitchers and catchers report in 56 days. Warm up your vocal cords and check out the links as we begin with …
THE HONORABLE MENTIONS
"That's the Way Baseball Go" by Merle Haggard: At the request of the Rangers, Haggard did this take on his hit "That's the Way Love Goes," with Texas Rangers co-chair Bob Simpson subbing in lyrics inspired by manager Ron Washington's familiar phrase. "That's my favorite," Washington says. "Ownership put that together and they did a great job. And I'm glad they stopped playing that in the ballpark because it makes me blush."
"Joltin' Joe DiMaggio" by Les Brown: We don't have hit songs written about ballplayers today, which might be a good thing. After all, who would want to hear a song about A-Rod? "I always like the Joe DiMaggio song," Colorado's Michael Cuddyer says. "You'd go to Fenway and they'd play it. Go to Yankee Stadium and they would play it. It just made me feel like in the old days and how they were walking into Yankee Stadium on a Saturday afternoon with the crowd buzzing."
"You Gotta Have Heart" by Richard Adler and Jerry Ross: The Washington Senators sing this to fire themselves up in the superbly named baseball musical "Damn Yankees." Not surprisingly, modern players do not fire themselves up by singing this song in the clubhouse. As Hall of Famer Paul Molitor says, "I saw it on the stage many years ago. It plays better in the theater than on the radio."
"I Am the Greatest" by Kenny Rogers: Several players named this as a favorite, though that's probably because they're more into country music than I am. "It's a slow country song about a kid who's tossing the ball up to himself and hitting it," Tampa Bay's Ben Zobrist says. "And he takes his last swing and misses, and he's like, 'I didn't realize I'm such a good pitcher. I'm the greatest pitcher of them all.'"
And now …
THE TOP 10
10. "A Dying Cubs Fan's Last Request" by Steve Goodman:
The late Steve Goodman, who also wrote the Arlo Guthrie hit "City of New Orleans" (which should occasionally sub for "God Bless America" during seventh-inning stretches), penned this playful, affectionate song about the joys and pains of being a Cubs fan. I'll say this for Cubs fans: Based on the work of Goodman and Eddie Vedder (see No. 5), they at least write some good music about their misery.
9. "My Oh My" by Macklemore and Ryan Lewis:
Macklemore, whose "Thrift Shop" and "Ceiling Can't Hold Us" were monster hits, is a Seattle native and passionate Mariners fan who produced this stirring tribute to Dave Niehaus after the Hall of Fame broadcaster died in 2010. Macklemore and Lewis performed it at every stop on their recent world tour, including their final dates in Seattle last week. "This is for the greatest broadcaster who ever, ever, ever EVER called a game," Macklemore said when introducing the song.
I had tears in my eyes through the entire song at last week's show, and nearly was sobbing at the end when he said, "My city, my city, childhood, my life, Niehaus, my, oh my. Rest in peace."
8. "Did You See Jackie Robinson Hit That Ball?" by the Count Basie Orchestra:
This a wonderful song about Jackie Robinson that deserves to be heard more often these days. "I love it and I wish more people were exposed to it," Mariners broadcaster Dave Sims says. "It's a great song. It's a great arrangement. And it says something."
Of course, the way players swing the bat today, if there was a song named in tribute to a modern All-Star, the title might be "Did You See Adam Dunn Miss That Ball?"
7. "Glory Days" by Bruce Springsteen:
This 1980s hit begins with Springsteen singing about a former high school pitcher recalling his glory days on the mound.
"It's the only karaoke song I'll do," Molitor says. "I like it, for one, because Springsteen is one of my favorite artists. I remember when the video came out way back when and the picture of him out on the sandlot pretending he's pitching to Graig Nettles -- it just stirs up some good memories. And for a retired guy, the cliche is so true that your perspective on your time in the game certainly changes as you get older. It's very humbling. So that's a good thing.
"The song is definitely more than just baseball; it's about chapters of your life."
It is a fantastic song and would rank higher if only the Boss hadn't used "speedball" in the lyrics instead of "fastball." Springsteen is a big baseball fan, but c'mon. Speedball? Does Justin Verlander touch 100 miles on his speedball? Did Mariano Rivera throw a nasty cut-speedball?
"I guess poetically, it must have sounded better to him," Molitor says. "Because you do not hear people say 'That guy had a really good speedball today.'"
6. "Gathering Crowds" by Mike Vickers:
As the closing theme music to the old "This Week in Baseball" show, this song features soaring violins. The opening theme music isn't bad, either. As Molitor says: "'This Week in Baseball' was a big deal way back when. It was before there were so many televised games and you needed to stay connected throughout major league baseball. That was a distinct sound and you knew it was connected to baseball."
Interesting trivia: Vickers also led the orchestra for the Beatles' live televised recording of "All You Need is Love."
"That's a very strange link," says Molitor. "I don't know what miles are between those two links, but there are many of them."
Naturally, listening to this stirring piece of music makes me think that Lennon and McCartney classic should really have been titled "All You Need is Love -- And Baseball."
5. "All the Way" by Eddie Vedder:
A huge Cubs fan who has sung "Take Me Out to the Ballgame" during the seventh-inning stretch and thrown out the first pitch at Wrigley, Pearl Jam's Vedder sings about how his team will one day end a century of misery by winning it all. So yeah, it's kind of his version of John Lennon's "Imagine."
"I love 'All the Way.' It's like an anthem of hope," Raul Ibanez says. "I know Vedder had spoken to Ernie Banks and Ernie suggested he write a song. Ernie Banks is one of his heroes. It's an inspirational song."
Vedder sang "All the Way" at his concert in Wrigley Field in July -- with Banks joining in. Alas for Vedder and fellow Cubs fans, that might be the best performance in the entire first century at the Friendly Confines.
4. "Talkin' Baseball" by Terry Cashman:
This ode to the game and its familiar nod to 1950s New York baseball -- "We're talkin' Willie, Mickey and the Duke" -- was so popular that Cashman recorded multiple versions for individual teams.
"It was very catchy," Molitor says. "I know the Brewers did it. … Somewhere in the verse, Molitor and Yount are connected together. Anything that connects Robin and me is probably a good thing."
3. "The Natural" theme by Randy Newman:
Forget steroids. Listening to those blasting oboes when Roy Hobbs connects at the end of "The Natural" is the greatest performance-enhancer there is.
"I love the theme to 'The Natural,'" R.A. Dickey says. "I remember a long time ago when I had my first laptop. When I opened it up, instead of that Chuhhhhhhh! sound, I programmed it to play the theme to 'The Natural.' So when I opened it up, it played that. I had that for like two years. It was great."
2. "Take Me Out to the Ballgame" by Jack Norworth:
With all due apologies to Francis Scott Key and "The Star-Spangled Banner," this is our true national anthem. "I don't think you could replace it," Cuddyer says. "It goes with baseball the way baseballs go with baseball. You have to have it."
The 105-year-old song famously includes the line "I don't care if I ever get back." Of course, when the song was written more than a century ago, every ballgame was played during the afternoon and generally over within two hours. Were this same song written today, the line might be, "I don't care if it's only the seventh inning -- I'm going home! For crying out loud, it's already 10 o'clock and I gotta work in the morning!"
And finally …
1. "Centerfield" by John Fogerty:
Fogerty told me a couple of years ago that he considers center field to be "this mythical place … where all the greats played." He's right. And this song is a glorious and catchy salute to that.
"That's my favorite," Cuddyer says, "because that's what I was saying every day my first three years in the majors: 'Put me in, Coach.'"
"I think of all the great players he was talking about in that song; and going through my career, every time I heard that song, I thought that song was made for me," Johnny Damon told me in 2010. "It's one of those songs that just sticks with you. Any kid who grows up playing center field, when they hear that song, they get that chill."
This song is the perfect tribute to our national pastime, a baseball anthem that should be played -- and frequently is -- when the gates open before every game. The opening riff will put a smile on the face and a spring in the step of even a Marlins fan.
CSI: Box Score
Each week, I provide a fragment from an old box score and challenge you to determine what game it is from and why it's significant. I give this one a difficulty rating of 2. Answer below:
Baseball Card of the Week
We return once more to the time machine that is the 1988 Topps baseball card set.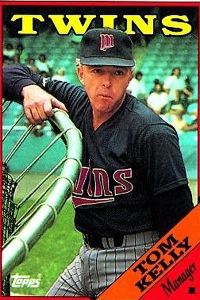 This card (1988 Topps No. 194) perfectly captures former Twins manager Tom Kelly, with a tobacco chaw pressed against his cheek and a "Now what?" expression on his face. It's as if I just questioned him about his use of the bullpen.
When the Hall of Fame announced that it will induct ex-managers Joe Torre, Tony La Russa and Bobby Cox next summer, I soon thought of Kelly. "TK" didn't manage as long as those three, but when you consider the extraordinary talent advantage they almost always had over him, he deserves some sort of props for taking Minnesota to two world championships, including the first worst-to-champs in baseball history.
Yeah, Well, That's Like, That's Just Your Opinion, Man
It Probably Will Be A Little More Risque Than "The Sound of Music." "Damn Yankees" is the best musical about baseball -- as well as perhaps the only musical about baseball. For now. It will soon get some competition, though, because "Bull Durham" is being made into a musical next summer with the intent for it to play on Broadway. Seriously. It's true. Here's hoping they do a better job with this than Bono did with "Spider-Man." I can't wait to see Nuke lead his teammates in a rousing, dancing-bus version of "Women, They Do Get Wooly."
If Would Be Even Better If He Could Also Play Basketball For An NBA Team In Seattle. Did the Rangers make a shrewd pick when they selected Seahawks quarterback and former minor league second baseman Russell Wilson in the Rule 5 draft? Wilson told me during Seahawks training camp last summer that he would like to be a two-sport player but just doesn't have the time. "I always wanted to be like Deion and Bo," Wilson said. "I wanted to do that two-sport thing. But playing quarterback is a little different than playing running back or defensive back. It takes more time. … I've always had that dream of playing two sports. That's never really faded away from me, but at the same time I love my job so much I wouldn't change anything." If Wilson ever did want to give it a try, he likely would have to play for teams in the same city, and hopefully that would mean the Seahawks and Mariners rather than the Cowboys and Rangers.
CSI: Box Score Answer
You should have been able to guess this one from the single biggest clue -- the attendance of 86,563. This fragment is from the Sept. 12, 1954, game when Cleveland drew the largest crowd for a regular-season game in major league history. Given that no current ballpark has that capacity, it likely will stay the record for quite some time. Or at least until teams start demanding that taxpayers build them much larger stadiums.
By the way, that huge crowd was for a pennant-stretch doubleheader against the Yankees, who would win 103 games that season but still finish eight games behind Cleveland, which won 111. Yes, 1954 was a good year in baseball.