Attendants were fiddling with the old gal's life support system when I visited her for the final time. "They're getting ready to take me off the respirator in a couple days," the aging Metrodome said.
It's true, and I'd come to say goodbye. After 32 years as the site of everything from the World Series to religious revivals and monster truck shows, the Hubert H. Humphrey Metrodome will have her Teflon roof deflated this weekend. Soon, the stadium that was the longtime home to Kirby Puckett, Kent Hrbek, Joe Mauer and countless other athletes in multiple sports – and something of a mother to my own career -- will be nothing more than a memory.
You probably won't see a lot of tears shed for the Metrodome, which never got the respect it deserved. Three years after she opened, Billy Martin said: "This place stinks. It's a shame a great guy like HHH had to be named after it."
"Awww, who gives a crap what Billy thought?" the Metrodome said when I brought up that quote. "Besides, like most things, Billy had it wrong. I was named after Humphrey, not the other way around. That's because I opened my revolving doors in 1982, back when you could still honor a great American rather than sell the naming rights to some damn corporation that can't even protect its customers' credit card information."
That was an obvious dig at Target Field, where the Twins moved in 2010. I pointed out that the Metrodome was officially re-named Mall of America Field a couple years ago, but she was having none of it.
"No one calls me that -- I've always been the Dome," she snapped. "And it's not like they needed the money, anyway. I cost just $55 million. And look at what all I gave them for that money. During one stretch, I was the home stadium for the Twins, the Vikings, the Timberwolves and the Gophers. Three pro teams and a major college football team! Name another stadium that could match that!
"Crap, the combined cost of the stadiums and arenas for those teams to replace me is almost $2 billion! Why, the Wolves already want another $100 million renovation -- their second in the past decade."
I agreed. The taxpayer cost of modern stadiums is obscene. And it just keeps getting worse.
"We were more sensible with our money in those days," the Metrodome said. "Rather than spend $2 billion building multiple stadiums that are used only part of the year while school systems desperately search for funding, we saved our money and built one stadium that was used year-round.
"I mean, they're spending $1 billion for a football stadium to replace me, and it doesn't even have a roof to keep the fans warm. And for what? To play eight regular-season NFL games a year? There was a time when I held close to 150 major league, NFL, college football and NBA games a year, plus concerts and tractor pulls. I sometimes held games in two sports on the same day!
"I also hosted the World Series, the Super Bowl and the Final Four. I'm the only stadium that has ever done that, and the only stadium that will ever do it. And I hosted them all within a six-month span."
But, I told her, you have to admit, these new stadiums are beautiful. The concourses are wide, the concessions are plentiful and the seats are comfortable. Not like your tight plastic seats that caused frequent neck strain because they didn't face the mound. And don't make me bring up how hard it was to get in and out of your incredibly long rows of seats.
"Oh!" she practically shouted back. "Is that how you judge a stadium? By the width of the concourses rather than what happens on the field? What kind of logic is that? Who outside of the Kardashian family judges their friends by their appearance? Or by the Zagat rating of restaurants where they leave you to pick up the bill? No, you judge them by the good times you have together, the memories you share, the support you can count on from them. And for three decades, I provided a Teflon roof over the heads of Minnesotans while giving them some of their most cherished memories.
"I'm where 'Puck' turned the world on with a brighter smile than Mary Tyler Moore. Where hometown heroes Kent Hrbek hit his Game 6 grand slam, where Jack Morris stomped stubbornly to the mound for the 10th inning of his Game 7 shutout, where Paul Molitor hit for the cycle, where Dave Winfield singled for his 3,000th hit and where Joe Mauer won three batting titles -- and also quarterbacked his high school team to the state championship. Where Tom Kelly guided the Twins to their only two world championships.
"And talk about providing a sense of community! I'm where more than 50,000 Minnesotans spontaneously gathered to welcome home their heroes after the Twins upset the Tigers in the 1987 ALCS."
She was the start of some beautiful relationships. I told her she's where I talked to my wife for the very first time when I asked her out on a date from the press box phone. She's the reason we're together.
"That's what I'm talking about!," she said. "Memories. Connections. Emotions. Fans hugging themselves in joy and consoling themselves in sorrow. That's what stadiums are for! You want great architecture in the Twin Cities? Then go visit the St. Paul Cathedral. But if you want a good time at a price everyone can afford, then you come here. Or at least, you could until now."
Suddenly, some attendants interrupted to take the Dome's vital signs. They shook their heads and frowned as they wrote the figures on their charts. It was time to leave. I took one last look at the roof that had covered my head while I covered so many games -- and which I once bounced atop -- and said my last goodbye.
The Metrodome had a great career. A career that no modern, single-purpose stadium will ever match. I will miss her -- and so should every other fan who appreciates that stadiums are like people:
It's what goes on inside them that counts.
CSI: Box Score
Each week, I provide a fragment from an old box score and challenge you to determine what game it is from and why it's significant. I give this one a difficulty rating of 6. Answer below:
Baseball Card of the Week
The Metrodome, pictured vibrantly in this card (2009 Topps Team Edition No. MIN15), has received more than its share of insults over the decades.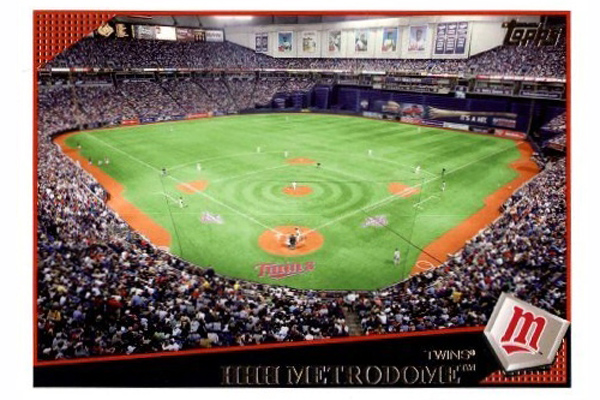 Thankfully, I'm not the only one who appreciated the stadium. After all, I still remember the sign that used to hang in the right field upper deck:
"WE LIKE IT HERE."
Yes, we did.
Yeah, Well, That's Like, Just Your Opinion, Man
Though Considering The Cubs Pitching, Maybe He Would Help The Rotation. I don't get all the hating on Clark, the Cubs new mascot. Sure, he is not a very creative mascot design. But it's just someone in a bear costume, folks, not an insult to the game's tradition. Get over it already. He's going to visit hospitals and pose for photos with kids, not tear down the ivy or take the mound every fifth day. And as colleague Dave Schoenfield wrote, it could be much worse.
Just When You Thought A-Rod Could Not Possibly Make Himself Look Worse . . . Given that the punishment for getting caught taking PEDs a first time is supposed to only be a 50-game suspension, I think baseball went overboard in punishing Alex Rodriguez. But at this point, he's only making it harder to feel any sympathy for him. Lashing back at the league is one thing. So, too, is proclaiming your innocence. But suing the players union and attacking the reputation of Michael Weiner is simply beyond the pale. Weiner, who died of brain cancer in November, was a good man and a tremendous union leader who, as is now clear, devoted too much of his final days to defending Rodriguez.
And Another Sad Farewell. Best wishes to Dallas Braden, who announced his retirement this week due to his shoulder injury. When healthy, Braden was a very good pitcher and remains a very funny guy.
CSI: Box Score Answer
This one would have been more difficult had it not been for the overall theme of this week's column. One big clue you should have spotted right away is that this game was played in Minnesota. The names of the players (Cano, Pettitte, Pavano, etc.) in the lineup should have further indicated that it was played a couple years ago. The HR totals and W-L records should also have told you that it was played either very early in the season or early in the postseason. Put it all together and you might have correctly guessed this was from the last baseball game ever played at the Metrodome -- the final game of the 2009 division series between the Twins and the Yankees.
The loss ended the Twins' season. Immediately afterward, the stadium crew began removing the mound and home plate to prepare for the next night's football game. And I recall that as I walked out of the Dome that night, snow was just beginning to fall.
There is a reason some stadiums have roofs.