David Raymond is not the least bit surprised to see and hear the negative reaction to Clark, the Chicago Cubs' new mascot.
"The first thing we say to people [getting a mascot] is they should expect there to be a loud negative reaction," Raymond says. "And it's going to be a little bigger in a major market, especially a baseball-crazy town like Chicago. … If you expect it and are ready for it and you say, 'It doesn't matter, we are sticking to our guns, we are developing young Cubs fans' -- then it works."
Raymond knows what he's talking about. He owns Raymond Entertainment Group, which produces mascots for teams and colleges nationwide. He also was the original Philly Phanatic, which is so famous and so beloved that he is in the Mascot Hall of Fame while his costume is on display in the Baseball Hall of Fame.
Why do people get so upset about a mascot designed to entertain children? Raymond says that negative voices are always the loudest; but when it comes to mascots, they also are in the minority.
"The baseball purists have always been against this added value entertainment aspect," he says. "They say, 'We don't need that. I score games. All we need is a championship team.' But that voice is just a small one. It doesn't reflect the majority of fans."
What can the Cubs do to make sure fans like Clark (or at least not hate him)? Wayde Harrison has been asked about what makes a good mascot many times. He and his wife, Bonnie Erickson, own Harrison/Erickson, a Brooklyn company that has created mascots for almost four decades. Bonnie used to work for Jim Henson -- she created Miss Piggy -- and also created the Phanatic, Youppi!, Dandy (more on him later) and many other mascots.
"Quite frankly, it's simple to say and not so easy to do," Harrison says. "One, you need a good costume design that you can perform in. Two, you need a good performer. And three, you need the support of the team. What I mean by that is that they are not embarrassed to have a mascot. They put it out there and let it perform."
The first rule is very important. Otherwise, you'll wind up with something that looks as hideous as the London Olympic mascots, who frightened not only children but adults as well. No need to worry about that with Clark, who is as benign and inoffensive a bear as any this side of Pooh, Fozzie or Boo-Boo. He will be Chicago's least menacing bear since Cade McNown.
The second rule -- "You need a good performer who can really bring that character to life," Raymond says -- is also important because Clark will have a hard time matching up against baseball's already-existing bear mascot, the Minnesota Twins' TC Bear.
The Twins regularly hold Saturday batting contests between guests and TC. TC usually kicks their fannies, smashing softballs into the seats. He's among the very few hitters to ever reach the curtain in the upper deck of the dearly departed Metrodome. Granted, TC hits from second base rather than home plate, but he's also wearing a large, furry costume.
"Best hitter I've ever seen," 2013 batting champ and former Twin Michael Cuddyer says. "You heard about visiting teams watching Bonds and Big Mac take batting practice. Well, both teams would get out early to watch TC hit. I don't think I ever saw him lose a match in my time with the Twins. Maybe once."
"Since he seems to out-homer almost everyone, I would put him in the class of Jim Thome because TC bats left-handed," Hall of Famer Bert Blyleven says. "I would pitch him the same way I pitched you: Hit him in the hip. Then I would run because, remember, he is a bear."
.
By the way, TC Bear writes this in an email: "For the record, there is no relation. Clark is not my long lost child or anything. I hope the Cubs use Clark in the right setting to where he can grow and win the hearts of the Cub fans over."
Which brings us to the third rule -- the support of the team. That's crucial. Keep in mind what happened when the Yankees failed to embrace their long-forgotten mascot, Dandy.
Dandy was another creation of Bonnie Erickson, but also a victim of bad timing and poor team backing. Harrison says that just a week or so before Dandy was to debut in 1979, Yankees outfielder Lou Piniella got into it with The Chicken at a game, prompting George Steinbrenner to say mascots didn't belong on a baseball field.
"So they limited Dandy to the upper decks, where pretty much only the rowdies could see him," Harrison says. "He appeared for three years; and at end of the three years, there was a renewal up. The performer was a young man and his mother called and said, 'I don't want him doing that anymore. They're going to take away his security and I don't feel comfortable with him not having security around.'"
Perhaps the Cubs should go the route Japan's Orix Braves did with Osamu Shimano.
Shimano was the Yomiuri Giants' first-round pick in 1968 but pitched in only 24 games, going 1-4 with a 5.02 ERA before Tokyo traded him after the 1975 season to Orix (the team for whom Ichiro Suzuki eventually played when they were known as the Orix Blue Wave). He spent the next three seasons in the minors before his playing career ended in 1978.
His on-field baseball career, however, did not end. That's because Shimano took the job as the Orix mascot, Bravie. (The Braves were an earlier iteration of the team now known as the Orix Buffaloes.) Yes, a former first-round pick became a mascot. And he was a good one, performing as Bravie at 1,175 games.
So maybe Alex Rodriguez should apply for the Clark job. He has the power to challenge TC and he doesn't have anything else to do next year.
Whomever the Cubs hire, he should heed the advice Raymond received from then-Phillies president Bill Giles before he performed for Philadelphia fans infamous for booing Santa Claus and the Easter Bunny.
"My advice from Bill Giles was to go have fun," Raymond says. "If you're not having fun, then the Phanatic won't be funny; and if the Phanatic isn't going to be funny, then it's not going to work. They removed all the concerns we're talking about by not mentioning anything to anybody."
So good luck, Clark. Have fun. Wiggle your belly. Dance. And connect with the kids. They're the reason you're there. Your job is to create new young fans who grow up to be old fans who will be rooting for the Cubs a half century from now when they still are trying to get to a World Series.
"This is not for baseball purists," Raymond says. "Don't worry. Clark won't be standing in your way, but he will be entertaining kids for 50 to 60 years."
CSI: Box Score
Each week, I provide a fragment from an old box score and challenge you to determine what game it is from and why it's significant. I give this one a difficulty rating of 7. Answer below:
Baseball Card of the Week
Any discussion of mascots is not complete without mentioning baseball's first mascot (Topps 2013 Opening Day, M-1).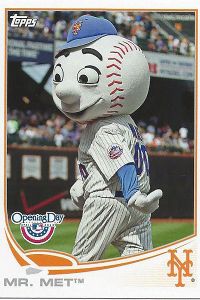 Mr. Met turns 50 years old this season, but I'm happy to say he still looks every bit as ridiculously goofy as the day he made his debut.
Yeah, Well, That's Like, Just Your Opinion, Man
Of Course, Now Your Team Will Get Screwed Over When A Mistaken But Favorable Call Is Reversed. I would prefer if the new instant-replay changes allowed umpires themselves to call for a review; but overall, I give the new policy a thumbs-up. Yes, there will be plays that are not reviewed. But you can't review every single play without dragging the games out longer than a PBS pledge week -- or worse, a Red Sox-Yankees doubleheader. Umpire mistakes, like bad throws, are always going to be part of the game, but they are a small part that will now get smaller. You can't avoid every missed call, but at least this will keep teams, fans and umpires from agonizing over the worst ones.
Meanwhile, Cubs Fans Wish The World Series Could Have A Football Connection With Chicago Pitcher And Former Notre Dame Receiver Jeff Samardzija. The Super Bowl not only matches old AFC West rivals Seattle and Denver, it also features players with baseball backgrounds. Seahawks quarterback Russell Wilson played minor league ball for two summers for the Colorado Rockies, while Broncos receiver Eric Decker played baseball at the University of Minnesota and was drafted by the Milwaukee Brewers in 2008 and the Minnesota Twins in 2009.(He didn't sign with either.) And Denver Broncos quarterback Peyton Manning also has a baseball connection. In addition to playing the sport in high school, he is good friends with Todd Helton from their University of Tennessee days, has taken BP with the Rockies and also briefly had a locker in their clubhouse while he worked out there during the 2011 NFL lockout. "I was here for a week. I was truly a Rockie for a week," Manning said during a visit to a Colorado game in 2012 . "I had my own locker. [Michael] Cuddyer is using my locker now. He didn't ask for my permission, but I guess it's OK. It was a great week. I'm indebted to the Rockies because I needed a place to work out during the lockout."
Sylvester Stallone, However, Better Not Say He Got Snubbed For "Grudge Match," "Escape Plan" Or "Bullet To The Head." I like most of the Academy Award nominees last week, but a couple of movies and performances got overlooked. "Before Midnight" and "Fruitvale Station," two of the best films of the year, deserved Best Picture nominations, while Tom Hanks ("Captain Phillips") and Ethan Hawke ("Before Midnight") deserved best actor nods. "Somm" also deserved a best documentary nomination. Not having any of those movies or actors nominated is like leaving Craig Biggio off your Hall of Fame ballot.
CSI: Box Score Answer
There were a couple of clues here. That the two teams playing were Toronto and Providence should have been an indication that this is a minor league game. That the pitcher was named Ruth and that this same Ruth also hit a home run should have been strong indications that this is a minor league game from early in the Babe's career. And yes, it is. This was the game from 100 years ago when Ruth hit his first home run as a professional player back in 1914.
Wonder what that ball would be worth today.