I went to bed Tuesday night to the sound of rain pounding on the rooftop and woke up Wednesday morning to yet more rain. It was a dark, ugly, wet and chilly winter day. Or at least it was until I opened the single greatest cause of global warming outside a century of carbon emissions.
A pack of Topps baseball cards from the newly released 2014 set.
Mike Trout is on the Series One wrapper, an image that stirs more warmth and pleasant anticipation than a Hawaiian travel brochure with hula dancers performing under palm trees by the Pacific.
Hey, a Hawaiian steel guitar is a wonderful thing to hear; but when it comes to lifting the cold gray of winter, it simply can't compare to the sound of ripping open your first pack of the season.
Here's what I found inside mine:
No. 251, Sergio Romo. The first card I saw after opening the pack was this one, picturing Romo pointing to the sky. Now, that's an image guaranteed to produce a smile for an old Giants fan on a wet, chilly winter day. Unfortunately, this photo was not taken after Romo closed out the 2012 World Series or a postseason game last year. Instead, it probably is from some meaningless save last season when the Giants were already 15 games back of the damn Dodgers. Oh, well. This year is going to be different!
No. 289, Matt Thornton. Thornton is one of my favorite players, even though he signed with the Yankees this winter. That's not just because he has always been friendly and helpful, but because he made it possible for me to say that I once batted off an All-Star pitcher. Sure, he struck me out, but it took him four pitches, not three.
Thornton was the Mariners' first-round pick in the 1998 draft and is one of their few first-rounders in the past two decades to achieve any success. Naturally, most of that success came after Seattle traded him to the White Sox for outfielder Joe Borchard. Borchard had all of nine at-bats before the Mariners put him on waivers. Thornton, meanwhile, pitched 512 games for Chicago, the most ever by a White Sox reliever, and was a 2010 All-Star.
But hey! The Mariners signed Robinson Cano over the winter! This year is going to be different! Just so long as they don't trade Taijuan Walker for Joe Borchard.
No. 36, Billy Hamilton. Appropriately, Hamilton is pictured running between bases, possibly during one of his 13 stolen bases in 14 attempts for the Reds. Prior to that, he stole 395 bases in five minor league seasons, including 155 in 2012. I enjoyed the little write-up on the back of his card: "Billy says he honed his amazing speed as a tot, fleeing from potential maternal punishment after he misbehaved. 'She has to catch me to whoop me,' he jokes. Catchers appreciate Polly Hamilton's frustration."
Can't wait to see new manager Bryan Price give this swift young Red the green light in October.
No. TM-33, Dustin Pedroia mini card. I'm guessing this miniature card is a part of a sub-series for top players and not a snide comment on Pedroia's height. Regardless, Boston fans hope they will be standing tall to see over their fellow fans at cramped Fenway once again this autumn.
Shelby Miller. This card is part of a special "The Future Is Now" subset. Let's hope that Miller's future includes getting to pitch for more than one inning this October.
No. 177, Esmil Rogers. How's this for some great trivia from the back of the card? "Wanting the ball in any role, Esmil was the sole pitcher in baseball last season to make at least 20 starts and 20 relief appearances." Of course, none of those were in the postseason, just as has been the case for every Toronto pitcher over the past 20 years. But this season is going to be different, Blue Jays fans! Right? Right? C'mon, be optimistic! You're tied for first place right now!
No. 34, Buddy Boshers. What a great name, huh? Buddy Boshers! That's up there with Boof Bonser, Stubby Clapp, Coco Crisp, Orval Overall, Tuffy Rhodes, Shooty Babitt and many more. Still, it won't sound as good to Angels fans as whoever replaces Tim McCarver saying, "And that brings Mike Trout to the plate with the bases loaded … "
No. 11, Mike Carp. Damn. Yet another reminder of a bad Seattle deal. After the Mariners designated Carp for assignment last spring, he hit .296 with an .885 OPS and had almost as many RBIs in 86 games (43) as Justin Smoak in 131 games (50) to help the Red Sox from last place to the World Series. Oh well. Just keep thinking Felix and Cano, Felix and Cano, Felix and Cano …
No. 137, Boone Logan. Logan is pictured pitching in Yankees pinstripes, but he will be in Rockies pinstripes this season. Which means I will be delighted to see him in the postseason now!
No. 97, Alex Gordon. Great. Now I get Gordon's baseball card, rather than in 2006 when his errant rookie card was selling for $2,500. This one is going for 99 cents.
But hey, there are many packs to go and an entire summer of possibilities ahead. And if your city's winter is making that summer seem as distant as the Cubs' World Series hopes, then grab a pack of cards. It will leave you feeling even warmer and more optimistic about your team's season than if you were on a Hawaiian beach drinking a piña colada.
CSI: Box Score
Each week, I provide a fragment from an old box score and challenge you to determine what game it is from and why it's significant. I give this one a difficulty rating of 7. Answer below:
Baseball Card of the Week
With the Super Bowl this weekend, here is the Russell Wilson card that Topps will release in a limited edition this year.
As you can see, Topps placed Wilson in a Rangers uniform after Texas picked him in the Rule V draft in December. (The Seahawks quarterback played in the minors with the Rockies organization in 2010 and '11 before committing to football.)
You have to admit, photo-shopping has come a long way since the 1960s and '70s, as this card of Manny Mota (1969 Topps, No. 236) shows.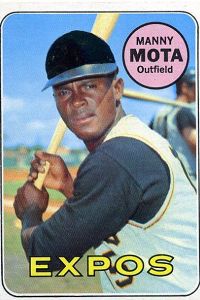 Yeah, Well, That's Like, Just Your Opinion, Man
Or Maybe They Could Compromise And Have Maddux Wear A Dodgers Cap. As I wrote a couple weeks ago, the great thing about baseball's Hall of Fame is that people care so passionately about it. We will argue over everything, including what cap a player should have on his plaque. Last week, the Hall announced that neither Greg Maddux nor Tony La Russa will have a team logo on their plaques, which, of course, was considered a crime against humanity by many. Hey, I get the uproar. Chicago fans want Maddux in with a Cubs logo while Atlanta fans want him in with theirs, which is understandable.
But this is not unprecedented. Yogi Berra's plaque, for some reason, shows him in profile so that you can't see the front of his cap. And there are many others in the Hall without logos. My two cents? If the player has a preference and the Hall doesn't have an issue with it (such as it would if a player was being paid to wear a certain logo), then let him be portrayed the way he wants. This isn't the DMV, where they stick you with the ugliest, most embarrassing photo possible for your driver's license. This is the Hall of Fame, a player's highest honor. Let him make the call on what team he wants to be associated with -- or not be associated with -- if he had sterling careers with two or more clubs.
This Will Be A Much More Popular Souvenir Than A Mark McLemore Bobblehead Ever Would Have Been. The best news when the Mariners held their annual media day last week? Not the addition of Robinson Cano, whose name was barely mentioned. Nor the news that Lou Piniella will be inducted into the team's Hall of Fame. No, the best news was that the Mariners will honor Seattle's Macklemore with a special night this season. That night includes a Macklemore bobblehead doll giveaway, which is a way, way cooler honor than the four Grammy awards he won over the weekend. This won't be the first appearance at a Mariners game for Macklemore -- he sang his tribute song to Hall of Fame broadcaster Dave Niehaus, "My Oh My," before the 2011 home opener. Macklemore's night isn't until June 9, but the line outside the stadium is probably already halfway down the block.
CSI: Box Score Answer
The two biggest clues were the non-baseball terms, "Receiving" and "Interceptions." Clearly, this fragment is from a football box score. But why? And from which game? Well, the name "Sanders" should have clued you in to both. That's Deion Sanders, and this was Super Bowl XXIX when he became the first -- and still only -- player to have been in both the World Series and the Super Bowl.
Enjoy the game on Sunday, and then get ready for spring training. Pitchers and catchers report just five days later. At least, the Diamondbacks do because they open the season in Australia against the Dodgers in late March. Other teams report the next week.