With the Dodgers and Diamondbacks opening in Sydney, Australia, the season starts in less than three weeks. That means you've got a lot of baseball news to catch up on in a very short period of time. Fortunately, Off Base is here with its annual spring training notes ...
LOS ANGELES DODGERS: After getting hit in the head by a foul ball from Andre Ethier, drilled in the privates with a ground ball from Matt Kemp, smacked in the nose by a throw from Hanley Ramirez and spiked on the left foot by Adrian Gonzalez, pitching adviser Sandy Koufax opted to leave Dodgers camp -- and was promptly rear-ended in the parking lot by Yasiel Puig. ... Due to his strained right calf, Zack Greinke will not travel to Sydney for the season opener, nor will he join Russell Crowe, Hugh Jackman, Nicole Kidman and Cate Blanchett in a Baz Luhrmann film project that had been tentatively titled, "Crocodile Greinke: Australia Doesn't Excite Me."
BOSTON: The Red Sox announced that in a pregame ceremony at the home opener, they will pay tribute to all New England children born since Oct. 31, 2013, who have suffered as many as five agonizing months since Boston last won a World Series at Fenway Park.
PHILADELPHIA: In addition to reporting unsigned draft pick Ben Wetzler to the NCAA for using an agent, the Phillies also said that the Oregon State pitcher lifted two sentences from Wikipedia without attribution on a Political Science 351 term paper, glanced at a neighbor's test paper during a Psych 202 exam, used a housemate's milk for his cereal one morning without asking for permission and, worst of all, cheered for the Oregon Ducks during the 2011 BCS Championship Game.
TEXAS: After bringing Seahawks quarterback Russell Wilson into camp for one day this week to show the team how to be a champion, the Rangers will bring in Cowboys quarterback Tony Romo next week to demonstrate how not to be one.
SEATTLE: The Mariners say that the tightness in RHP Taijuan Walker's shoulder is nothing to be concerned about at all and that the arm is progressing well enough that the highly touted rookie will be allowed to pick up a baseball this weekend and might be able to autograph a baseball by late next week, just as long as any fans asking for his signature hold the ball for him. ... C/1B Jesus Montero gained 3½ pounds between batting practice and the first pitch of Tuesday's game against the Dodgers. Montero gained another pound during the game and 6 ounces while taking a shower afterward.
ST. LOUIS: During the Cardinals' fundamental drills Tuesday, rookie second baseman Kolten Wong worked on his pickoff play.
FLORIDA: Marlins president David Samson was voted off "Survivor" at the end of the first episode, but not before he convinced the Philippines government to pay for the $350 million retractable roof on his little grass shack, traded most of his "Survivor" teammates to the Blue Jays and sent the show to the bottom of the Nielsen ratings by alienating every TV viewer with his smugness.
DETROIT: Torii Hunter likely will miss the first two months of the season after trying to kiss an alligator that did not have its jaws taped shut. ... Max Scherzer threw three scoreless innings and struck out five batters but did not get the win, thereby boosting his status with statheads. ... Ian Kinsler said his comments to ESPN The Magazine about hoping the Rangers "Go 0-162" were completely taken out of context. "I don't want them to go 0-162. I don't wish that on them at all. I want them to finish 26-136 because I want them to go undefeated in their 26 games against our AL Central rivals."
CHICAGO WHITE SOX: Adam Dunn caused a stir at the Academy Awards when he walked the red carpet wearing stirrup socks with his tuxedo.
SAN FRANCISCO: Team president Larry Baer said that the Giants would like to be "neighborly" to their East Bay rivals by allowing the Athletics to use their ballpark temporarily if needed. "Just so long," Baer emphasized, "as they do not try to infringe on our territorial rights by building a new stadium to the south, north, east or west of Oakland. They also would have to let us keep all ticket money to any of their games played in our stadium, along with all broadcast, parking and concession revenue. And they also would need to pay the first and last seasons' rent in advance, plus a nonrefundable security deposit. And finally, they would have to promise not to clog up our stadium sewer system."
CHICAGO CUBS: New mascot Clark the Bear reported to spring training 280 pounds overweight.
NY YANKEES: Masahiro Tanaka reportedly threw seven different types of pitches in his latest start, equaling the record set by Bugs Bunny in the 1946 cartoon "Baseball Bugs." ... ESPN, Fox Sports, CBS, NBC, ABC, TBS, CNN, PBS, Sirius, NHK, BBC, Bravo, Discovery Channel, OWN, Nickelodeon and HGTV have all blocked out the entire final week of September for their nonstop 168-hour tributes to retiring SS Derek Jeter. ... Former quarterback Joe Namath visited camp, called Jeter an angel and personally guaranteed that the Yankees will not win the World Series.
ANAHEIM: The Angels are considering offering Mike Trout a record-setting contract that will pay him one dollar for every dollar the team will have overspent on Albert Pujols and Josh Hamilton by the end of their multiyear deals.
CLEVELAND: Cleveland fans eagerly retweeted reliever John Axford's 18-for-18 Oscar predictions. They were not so excited when they learned he also predicted Cleveland will finish third behind the Tigers and Royals in the AL Central this season.
MINNESOTA: The renovated facilities at the Twins' spring training complex in Fort Myers, Fla., include therapy rooms where fans may receive treatment for depression related to top prospect Miguel Sano sitting out the entire season after Tommy John surgery.
MILWAUKEE: Returning from last season's suspension, Ryan Braun admitted that despite his prior statements to the contrary, he did take performance enhancers. "But I swear, cross my heart and hope to die, that they were limited to extra bowls of Wheaties and cans of spinach."
CSI: Box Score
Each week, I provide a fragment from an old box score and challenge you to determine what game it is from and why it's significant. I give this one a difficulty rating of 8.5. Answer below:
Baseball Card of the Week
Released 25 years ago this past week, this Ken Griffey Jr. rookie card (1989 Upper Deck, No. 1) was going to make everyone rich. Or so everyone assumed. Which was the problem.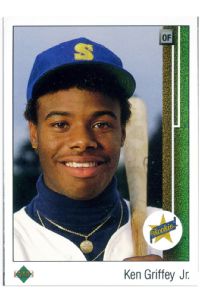 Everyone carefully held on to the card, meaning that of the million or so Griffey rookie cards that Upper Deck printed, a million or so still remain available. Plus, the card came out just as the card industry was about to peak ... and then collapse. So a card that was worth $4 a month into Junior's career and $150 when the Mariners traded him in 2000, could be purchased on eBay this week for as little as $20.
Worse, Upper Deck, which celebrates its 25th anniversary this week, does not have a license to produce baseball cards anymore, either.
Still, given Junior's career over the two decades that followed, it's not a bad card to own no matter its resale value. In fact, sometimes it is better to hold on to a card because of what the player means to you rather than how much you can sell it for later.
Yeah, Well, That's Like, Just Your Opinion, Man
Well, Both Are Overpaid Compared To The People Teaching Your Kids: Who is more underpaid? Is it Mike Trout, the best player in baseball, who will make $1 million this season -- which is $6.5 million less than teammate Joe Blanton and $22 million less than teammate Albert Pujols? Or is it Seahawks quarterback/one-day Ranger Russell Wilson, whose salary was just $527,000 for guiding Seattle to its first Super Bowl championship this past season and just $663,000 for next season? At least Trout stands to sign an obscene contract -- all guaranteed -- in the not too distant future, just as almost all baseball stars eventually sign because their health and careers last so much longer. Hmmm, perhaps Wilson might want to consider a moonlighting job in baseball.
A Little More Charlize Theron Wouldn't Be Bad, Either. Hey, I love the Oscars. But why is it that they can never fit the show into the planned three hours? Here's the obvious reason: They simply try to squeeze in too much content. We don't need the endless non-awards filler. More importantly, we don't need to see the presentation of awards we don't care about, let alone even understand. (What is the difference between sound editing and sound mixing, anyway?) And we don't need to watch awards for films that no one ever sees, not even the most devoted movie buffs. I'm talking best animated short, best documentary short, etc. Let the Academy give out those awards. Let the artists receive them. But don't make us sit through the presentation of those awards and the accompanying acceptance speeches. Here's a good rule of thumb: If ex-film student John Axford didn't bother to predict the category, don't bother televising it.
CSI: Box Score Answer
There are a couple of minor clues. The name (Goose) Goslin and all those sacrifices might have indicated to you that this game is from the 1920s or 1930s. That, in turn, might have clued you in that the Johnson pitching for Washington is Walter Johnson. That both he and (Eddie) Rommel went the distance in a 15-inning game is remarkable enough. But what makes it really noteworthy is that this was the 1926 season opener -- the season totals of (1) for Myer and Rice also might have given you an indication.
Keeping a pitcher in a game for 15 innings at any time would be unheard of today, but a manager doing so in a season opener would be grounds for a 20-year prison term.