AROLDIS CHAPMAN, HE of the 105 mph heater, might reign as baseball's velocity king, but several other young guns, including Trevor Rosenthal of the Cardinals and Kelvin Herrera of the Royals, are aiming to at least share the crown. Simply put, the 100 mph club isn't nearly as exclusive as it once was because pitchers are now larger, their arms are stronger and their fastballs are faster. "Guys are just throwing the dog crap out of the ball," says Cubs special assistant Tim Wilken. Bruce Rondon had a chance to top them all. In 2013, the Tigers reliever threw half as many pitches as Chapman did, but he fired an MLB-leading 33 percent of them above 100 mph, topping out at 102.8. Then he blew out his elbow this spring, revealing the often high price of throwing high heat. Here's a hard and fast look at hitting triple digits.
1. More pitchers are cranking it up ...
In 2003, then-Astros closer Billy Wagner was the only pitcher to hit 100 mph on at least 20 pitches that season. Last year that was a seven-man club. No reliable pitch-speed-tracking data go back more than a decade, but the eye test of scouts and execs will attest to the growth of the fireballer. "This is my 29th year in baseball," says Deric Ladnier, special assistant to the Nationals GM, "and I see more guys throwing 100 than I ever have." Many more pitchers are regularly reaching the mid-90s. A decade ago, just 37 pitchers threw 25 percent of their fastballs 95 mph or faster; last season, 149 guys lived in the 95-99 zone. Says Tigers GM Dave Dombrowski, "It's unusual now to face guys who don't throw in the mid-90s on a consistent basis."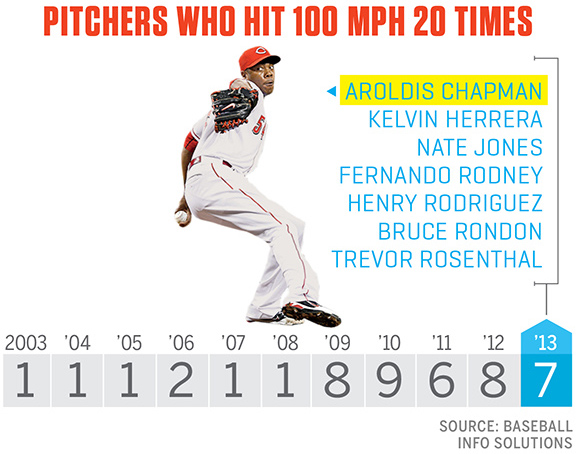 ---
2 ... Especially relievers, who can go all out
In the past decade, average fastball velocity for starters and relievers has crept up, but the triple-digit trend is almost exclusively a bullpen thing. That's because unlike starters, relievers tend to rely on one or two pitches -- and their out pitch is usually a plus-plus heater. As pens become more specialized, relievers are throwing more innings overall but averaging fewer per appearance. That means they can go full throttle for a few outs, unloading peak velocity.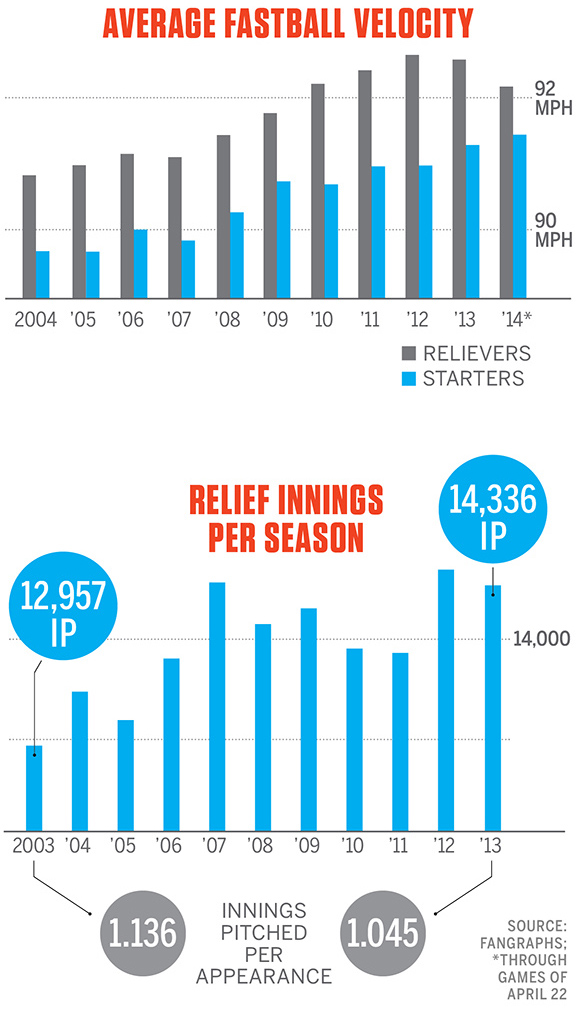 ---
3. Science is better, and pitchers are bigger ...
Why do pitchers throw harder? Many reasons: Better training has made them more fit and athletic. Sophisticated throwing programs have yielded stronger arms. Radar guns at every level, down to Little League, have created an obsession with velocity. Advancements in Tommy John surgery have given pitchers new ligaments and new life. (From 2000 to 2011, 304 major league pitchers had TJ; only 10 didn't make it back to the mound.) Finally, pitchers are just plain bigger, from an average of 6-foot-1 and 189 pounds in 1955 to nearly 6-3, 206 today. A taller pitcher has a longer stride, and a heavier pitcher can generate more force, so more size makes for more speed.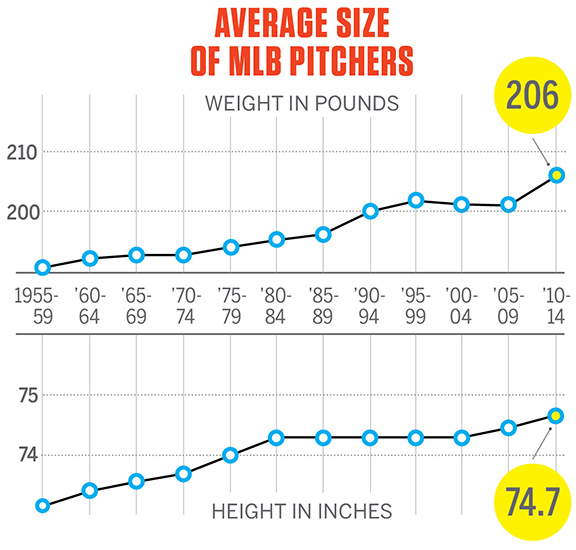 ---
4 ... But the heater can burn ...
According to Glenn Fleisig, a biomedical engineer at the American Sports Medicine Institute, when a pitcher cocks back to fire 100 mph, he subjects his elbow to 100 newton meters of torque. That's the equivalent of holding "five 12-pound bowling balls." A 2010 study by orthopedic surgeon Brandon D. Bushnell followed 23 pitchers over three seasons. Nine of them hurt their elbows. Bushnell concluded that "pitchers capable of throwing at a higher maximum velocity had higher risk of elbow injury" and "players throwing at the highest velocity had injuries requiring surgical reconstruction." Quite literally, the elbow can't handle the heat. As Fleisig says, "The highest-velocity guys have the highest chances of getting hurt."
5 ... As Rondon's story shows
In spring training, Dombrowski said of his right-hander, "This is hard for people to fathom: Rondon can throw 100 easily." When it was mentioned that studies show the hardest-throwing pitchers are at the most risk, Dombrowski responded, "There are a lot of exceptions in our game." A month later, Rondon walked into the trainer's office complaining of elbow pain. Two days later, he met with Dr. James Andrews. Two days after that, Dombrowski announced that Rondon needed Tommy John surgery to repair the torn UCL in his pitching elbow. It will cost Rondon the entire season. He'll have to wait until next year -- at least -- to catch up to Chapman.
Follow The Mag on Twitter (@ESPNmag) and like us on Facebook.