FOR MUCH OF the first 120 years of baseball, infielders treated nearly every batter the same, playing him straight up, ignoring whatever tendencies he might have to pull the ball. Then eight years ago, the Rays shifted the shortstop to the right side of the diamond when David Ortiz dug in. Now, employing advanced metrics that track every batted ball, every team uses the shift. "It's kind of like the IRS finding different ways to find dollars," says Pirates manager Clint Hurdle, whose club shifts more than most and ended a 20-year playoff drought last season. The shift mainly affects left-handed pull hitters like Ortiz, who often must feel like a taxpayer receiving an audit letter. But now some batters are fighting back as if their jobs depend on it. And they just might. Here's how the human chess match is being waged.
---
1. How we got here
It's remarkable to consider: During the entire 2011 season, just four teams repositioned their infielders on 100 or more balls in play. This year 19 clubs had topped that total by the end of May. More than 14,100 total shifts are projected this season, led by the Astros and Yankees, who've gone all-in on the defensive strategy. In his final season, Yanks shortstop Derek Jeter could play out of position more than in his previous 19 years combined.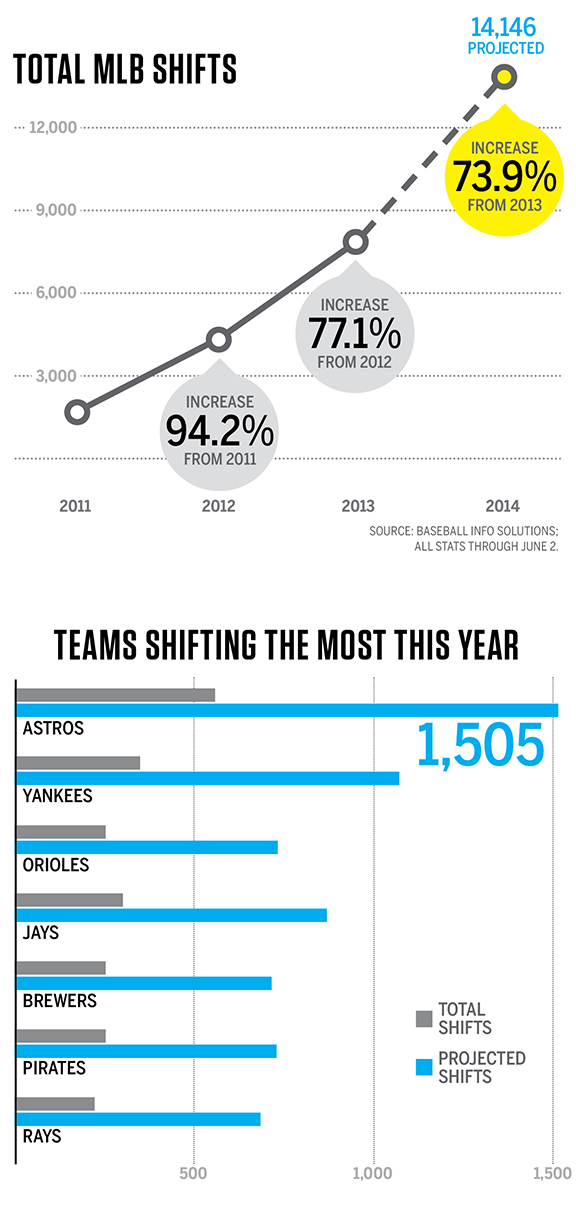 ---
2. Hitting back
Hall of Famer Wee Willie Keeler said the key to success was to "hit 'em where they ain't." That's sound advice for today's lefty pull hitters, who face plenty of shifts. Take Rockies slugger Carlos Gonzalez. Through June 2, 
70 percent of his 50 hits were either up the middle or to the opposite field, up from 55 percent last season. Gonzalez was hitting .333 on grounders and short liners against the shift, fourth among batters with at least 50 such plate appearances. Others performing well against a loaded right-side defense include the Pirates' Ike Davis (.619 BA on grounders/short liners against the shift), the Cardinals' Matt Adams (.390) and the Mets' Curtis Granderson (.381).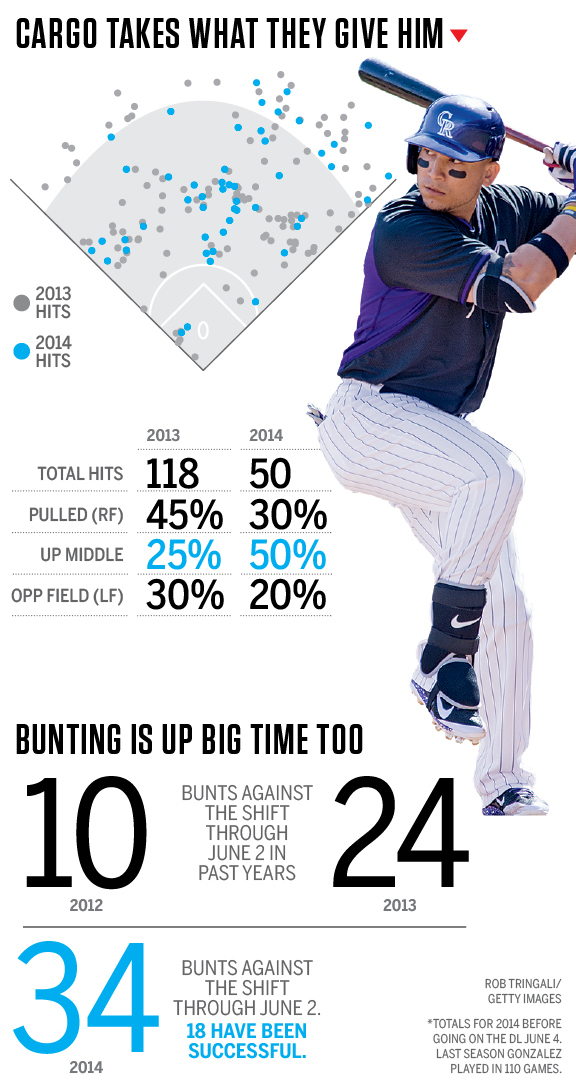 ---
3. Adapt or die
The more teams rely on the shift, the more it pays to hit well against it. Look at Cardinals 1B Matt Adams. His opposite-field hitting has improved his projected batting average on balls in play (BABIP) by about 10 points. According to ESPN Insider Dan Szymborski, that translates to an increase of about 3.5 wins in Adams' projected career WAR. So when he becomes arbitration-eligible after 2015, he stands to make an estimated $9M more, based on what one win is worth on the marketplace. On the flip side is Royals 3B Mike Moustakas, a onetime top prospect who did a stint in Triple-A in mid-May. He's hitting .033 against the shift this year. How much could that cost him? Well, possibly his career.

---
4. Shifting sands
Shift runs saved (SRS), a Baseball Info Solutions metric, estimates the number of runs a team has saved-or lost-with a shift. As this chart shows, some of the teams shifting often this year appear to be benefiting the least. Teams often keep their own proprietary shifting data and might take issue with SRS. But if it is to be trusted, the Yankees, using the shift to compensate for their aging infield, might be better off doing nothing at all. This is in part why the Tigers' Brad Ausmus, a sabermetric-savvy skipper, says the use of shifts has gone overboard. If more and more hitters learn to exploit it, as Adams has, teams might shift back the other way.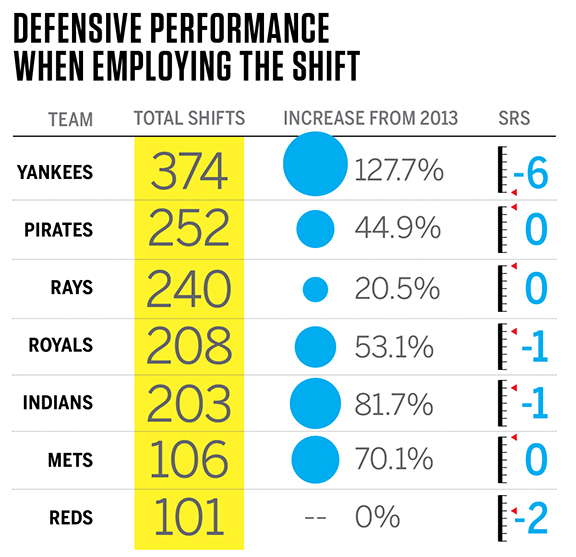 Follow The Mag on Twitter (@ESPNmag) and like us on Facebook.