With Yankees closer Mariano Rivera retired, the game's signature pitch, his cutter, must cede that designation to another option.
But which pitch rates best from a statistical perspective? We have a few candidates in mind to be the new standard by which other pitches are measured.
Felix Hernandez changeup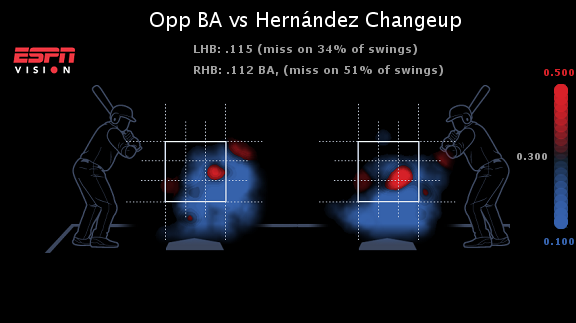 ESPN Stats & Information
The King has taken his best pitch to a new level this season, netting 106 strikeouts and 225 outs, while yielding only 36 hits and walks. What makes it so good is that while most changeups are effective only against opposite-handed hitters, his is devastating against both righties and lefties.
Aroldis Chapman fastball
ESPN Stats & Information
Nobody quite brings the heat like Chapman, who averages 100.3 mph on his fastball this season. When Chapman revs it up in triple digits, he gets opponents to miss on nearly half of their swings. He has thrown 321 fastballs this season that hit 100 mph on the radar gun. No one else is even to 100 yet.
Clayton Kershaw slider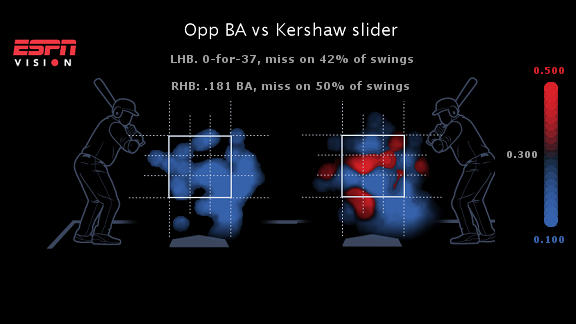 ESPN Stats & Information
Last year, it was Kershaw's curveball that was arguably the best in the majors. This year, his slider gets its place in the spotlight. No left-handed hitter has gotten a hit against it yet this season. And as you can see in the image above, right-handers have their fair share of trouble with it, as well.
Cole Hamels changeup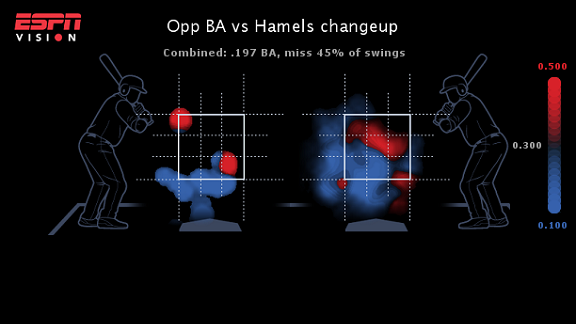 ESPN Stats & Information
The Hamels changeup is maybe a hair below Hernandez's, and it has a long run of success from which to draw upon. Though Hamels gives up hits with it on occasion, he has cut down on the home runs. Opponents have hit only three against his change the past two seasons after averaging eight per year against it in the four seasons prior to that.
Jose Fernandez breaking ball combo
ESPN Stats & Information
Marlins fans hold their breath that Fernandez's curveball and slider retain the same overwhelming dominance they had in his rookie of the year campaign in 2013 and the start of the season in 2014. Not only do opponents miss on their swings 37 percent of the time, but when they take one of them, it's called a strike 42 percent of the time, a rate topped by only two pitchers (Bronson Arroyo and Stephen Strasburg) who have thrown at least 800 breaking pitches the past two seasons.
Honorable mentions: Chris Sale slider; Yu Darvish slider; Masahiro Tanaka splitter; Corey Kluber curveball; Adam Wainwright curveball; Garrett Richards fastball; Craig Kimbrel fastball