CHICAGO -- Report cards are out, and the consensus is the Chicago Cubs had a very good year at school.
These grades are based on everything from expectations to role to experience/age to attitude in the clubhouse. The playoffs count, but they're only a small percent of the overall grade.
MANAGEMENT
Front Office (GM Jed Hoyer pictured left)


This might look like a harsh grade considering the 97-win season, but we're only talking about 2015 -- not the drafts and trades that preceded it. As it turns out, Dan Haren and Tommy Hunter were underwhelming trade-deadline acquisitions, though Austin Jackson was helpful. Considering Jason Hammel was injured just before the All-Star break, it gave the Cubs even more reason to make a bigger move. Still, most of this insight is in hindsight, so you can't come down too hard on them. Who knew they would need another starter for a best-of-seven series? Offseason acquisitions Jonathan Herrera and Chris Denorfia served roles, and the additions of Clayton Richard and Trevor Cahill were useful as well. Jon Lester and Dexter Fowler helped the Cubs to the playoffs, but Jason Motte had mixed results. It's that trade deadline that stands out.
---
Manager Joe Maddon

Navigating a young team into a seventh month of baseball with four rookies playing such a prominent role should win Joe Maddon the NL Manager of the Year Award. Forget the gimmicks, the man simply knows how to communicate and get the best out of players. That's No.1 on any manager's wish list.
STARTING PITCHERS

Lester's second-half performance improved, and so did his grade from midyear (C+), but that doesn't mean his was a stellar season. Forget the stolen base totals -- which did hurt him at times, including the postseason -- Lester's numbers from start to finish needed to be better. They were fine for the American League, but coming to the NL, he needed his ERA (3.34) to drop lower than his career average. But the biggest issue was putting his team behind too much with a 4.50 ERA in the first inning. He would even tell you: He didn't keep his team in enough games.
---

All right, the playoffs have to count for something, so instead of an A+, Arrieta gets an A. But let's face it -- Arrieta had the greatest second half of any pitcher we've ever seen. There's little doubt he hit a wall after the wild-card game, but that's not his fault, as he was in tip-top shape. The Cubs counted on him for so much, and he delivered.
---

His midseason A- takes a hit for obvious reasons: A 5.10 second-half ERA. Even if his hamstring injury suffered near the All-Star break was a factor, he still struggled all the way through the end of the season, which included a brutal four-out performance in the season's final game.
---

It's clear he's suited as a No. 5 on a good team but was pitching as a No. 4, so taken with everything else, he did all right. His ERA dipped below 4, raising his grade above a C. He was reliable down the stretch in the same way Hammel was not. That's worth something as well.
---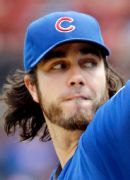 Haren's last few starts saved him, as he began his Cubs career giving up home runs all over the place. It didn't help that he was acquired right when the weather turned in the hitters' favor -- not exactly a benefit for a fly-ball pitcher. He's a class act all the way.
RELIEF PITCHERS

His second-half ERA (2.67) was more than twice as high as his first-half mark, but his grade didn't go down because he still got some big outs, striking out four in two clean innings in the playoffs. He had more walks in the second half despite fewer innings pitched, which left him as a question mark heading into the postseason, but he came through.
---

We can throw out his nine starts and just judge him on being a reliever, which means he was really good -- allowing just 43 hits in 58 innings pitched.
---

He gets overlooked. It's not easy to close games -- especially without nail-biting ninth innings. He didn't have many on his way to a 30-save season -- in 34 chances -- and a 1.67 ERA. It's early, but he's on his way to being one of the better Rule 5 picks in recent memory.
---

I would love to give him a higher grade -- some might think he deserves lower -- as he gave up only 39 hits in 68 innings, but 46 percent of inherited runners scored on him. That won't fly for a high-leverage reliever. He had a WHIP of 1.00 and an ERA of 2.91. He can't do worse than a C+ with those numbers, right?
---

His drop in production and then injury didn't do his second half any favors. If any two players' win/loss record was misleading its Strop's and Motte's. The former went 2-6, the latter 8-1 -- but Motte's ERA and WHIP were both considerably higher.
---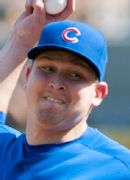 He was on his way to an A, but that third consecutive curveball in the dirt in Game 3 against the Mets was a killer, allowing the eventual winning run to cross the plate. He gave up seven hits in 5 1/3 innings in the playoffs but no walks. And his 11 appearances in the regular season for the Cubs were really good.
CATCHERS

A difficult player to grade, Montero ranked fourth in home runs in the NL and fifth in on-base percentage for catchers, but there were some underwhelming moments on defense, as runners stole successfully 80 percent of the time. And that was without catching Lester. He was middle of the pack in many other defensive metrics.
---

Say what you want about his batting average (.143); Ross wasn't signed to hit. If Maddon gets credit for bringing along the young players, why shouldn't Ross? He was a coach in a player's uniform. Think of him that way, and you won't spit out your coffee at a B-level grade. He also had only 159 at-bats -- hardly a large enough number to cause a ruckus.
INFIELDERS

If we're downgrading Arrieta from an A+ to an A because of the postseason, then I suppose I have to do the same with Rizzo, though his home run in Game 4 against the Cardinals was big. He hit .188 in 32 postseason at-bats, but he was fantastic in the regular season, where he'll finish in the top five of MVP voting.
---

That's about the best .265 year you'll see out of a hitter who raised his average nearly 20 points in the second half of the season. And seldom talked about was his ability not to strike out, as many around him put up huge whiff totals. His positive attitude after getting benched helped raise his midseason grade from a D.
---

His 29 doubles and 13 home runs get overlooked by his stellar defense and so-so on-base percentage (.307). The latter statistic can and will improve, but his midseason swing changes brought even more pop. Just think what those offensive numbers could look like with more seasoning.
---

Another player who faltered some in the playoffs, Bryant will win Rookie of the Year going away after a 26-home-run and 99-RBI campaign. If he improves just a little on defense, he can play third base or the outfield and not hurt you. He was reliable, clutch and mature. All expected traits, but still amazing for his age and experience.
---

He proved to be valuable as a pinch hitter and spot starter. And he provides something different than a home run bat. He was also the toughest to strikeout in limited at-bats after an oblique injury sidelined him for most of the season.
---

Considering where he was to begin the season -- banished to the minors -- Baez came a long way. He made much-needed adjustments at the plate while keeping his reputation as a slick fielder, though he had a moment or two in the postseason that weren't stellar. Still, he took to third base well and made more contact than anyone expected.
OUTFIELDERS
---

The fact that the ball found him in left field in the NLCS shouldn't be any sort of lasting memory for him, especially considering he became the Cubs' all-time postseason home run leader one year removed from college. It's not like people were complaining about his defense that much before the postseason. The team took off in the second half at the same time he was called up, and remember: He spent less time in the minors than Bryant, Russell or Soler. His bat is the real deal.
---

He improved big time in the second half, setting a career high in walks and home runs -- along with strikeouts. It was a strange year in that regard, as Fowler seemed to start every game with a base on balls or a strikeout. His .346 on-base percentage for the season was decent enough considering his first half but still well below his career average coming into the season.
---

He was on his way to a solid C, but then came the division playoffs, where he set a record by getting on base in his first nine plate appearances. His keen eye returned, as did his power. And his 34 percent line-drive percentage bodes well for the future even though he hit only .262 and got on base 32 percent of the time in 2015.
---

He faded some in the second half while his strikeout percentage increased, though he continued to take his walks while setting a career high in home runs and getting on base a respectable 34 percent of the time.
---

He hit .324 as a pinch hitter, which is probably the best way to judge him. He was adequate on defense while providing a clubhouse presence, which few outside the organization talked about.
---

He wasn't brought in to be an answer to any problem, though he helped the outfield defense late in games. His .304 on-base percentage and 29 strikeouts in 72 at-bats were nothing to write home about.