This year's National League Cy Young race features three pitchers who are all deserving: the Cubs' Jake Arrieta, and the Dodgers' Zack Greinke and Clayton Kershaw. The traditional pitcher statistics are stunning for Arrieta (22-6 record, 1.77 ERA), Greinke (19-3, 1.66) and Kershaw (16-7, 2.13), and ESPN's Cy Young predictor gives Arrieta the edge. But who holds up the best when we look deeper into the numbers in true pressure situations? We looked at opposing batters' OPS (on-base percentage plus slugging) in five categories that reflect a pitcher's toughness and ability. Here they are, along with what they show about each of the three pitchers:
Behind in the count: Effectiveness when forced to work in the strike zone
After 100 pitches: An indicator of stamina
RISP: How well they avoid giving up a crucial hit
Close/late: Performance in the latter innings of close games
Vs. teams .500+: How they fare against the toughest teams

Jake Arrieta
Arrieta saved the best for last, in more ways than one. Along with winning 12 of 13 decisions after the All-Star break, he also shined in pressure situations all season (.378 OPS against late in close games and .474 against teams .500 or better). He held his own in each category, finishing second-best of the three in two other metrics, but only performed markedly better than his two competitors in the close/late category.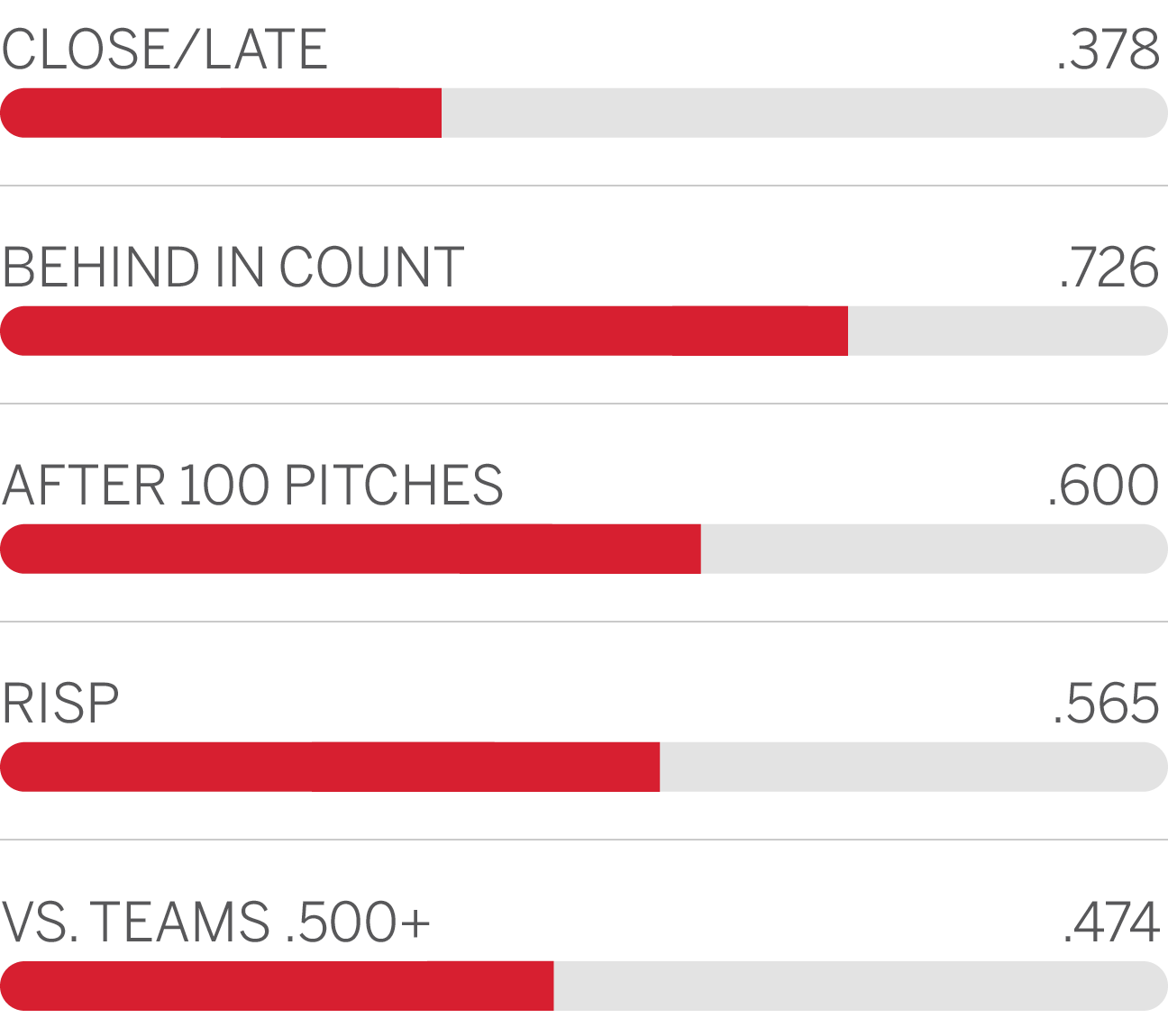 Zack Greinke
With runners in scoring position, Greinke held batters to a stingy .482 OPS, which helped explain his microscopic ERA and excellent win-loss record. On the flip side, Greinke was the worst of the three in close/late situations (.788) and when pitching behind in the count (.804).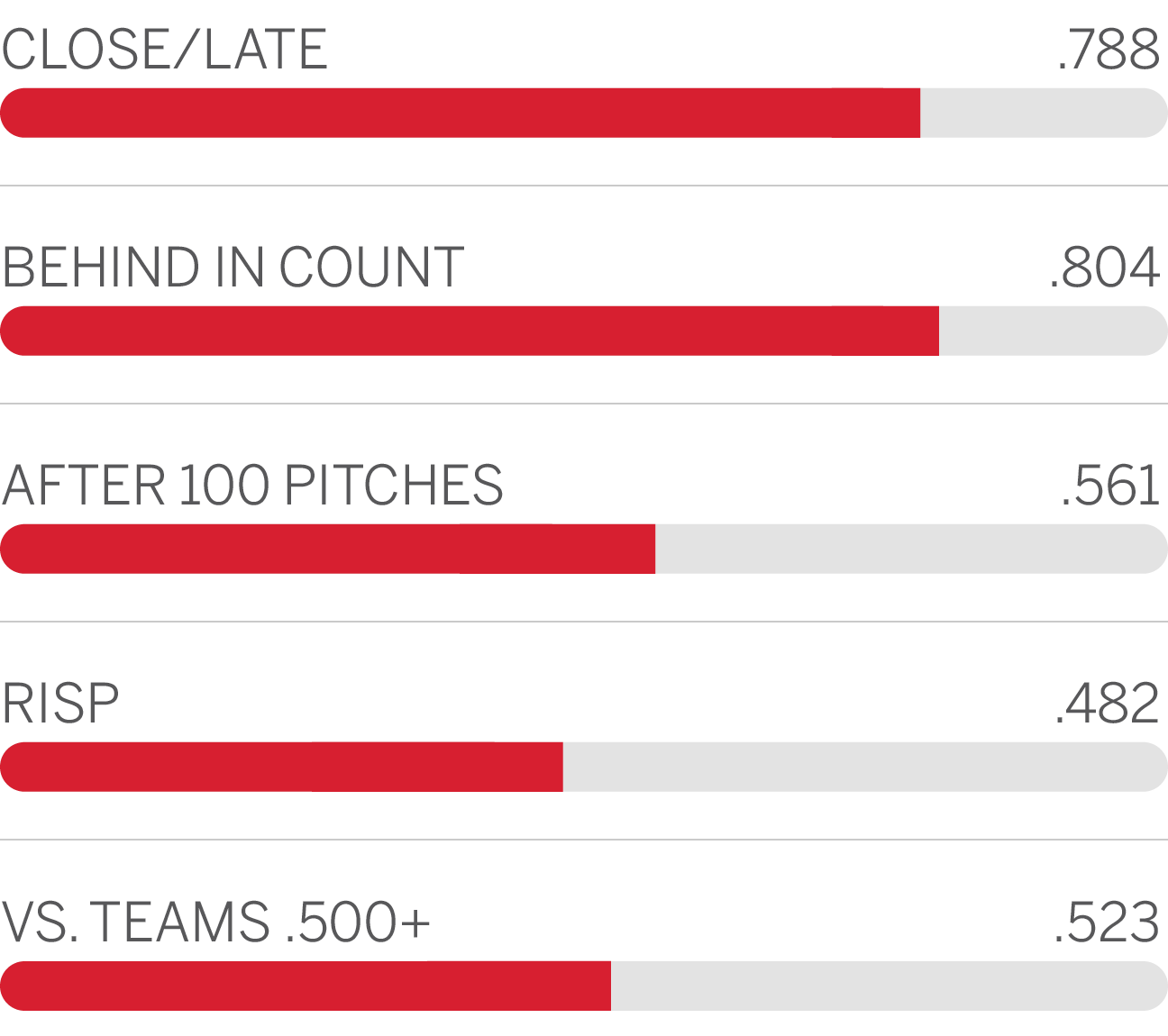 Clayton Kershaw
The three-time Cy Young Award winner has struggled in the postseason, but during the regular season he rises to the challenge against superior competition: his .455 OPS against teams that are .500 or better was the best of the three. He also had the best numbers when behind in the count (.714). One impressive stat for the workhorse lefty: after throwing 100 pitches, batters managed a paltry .361 OPS.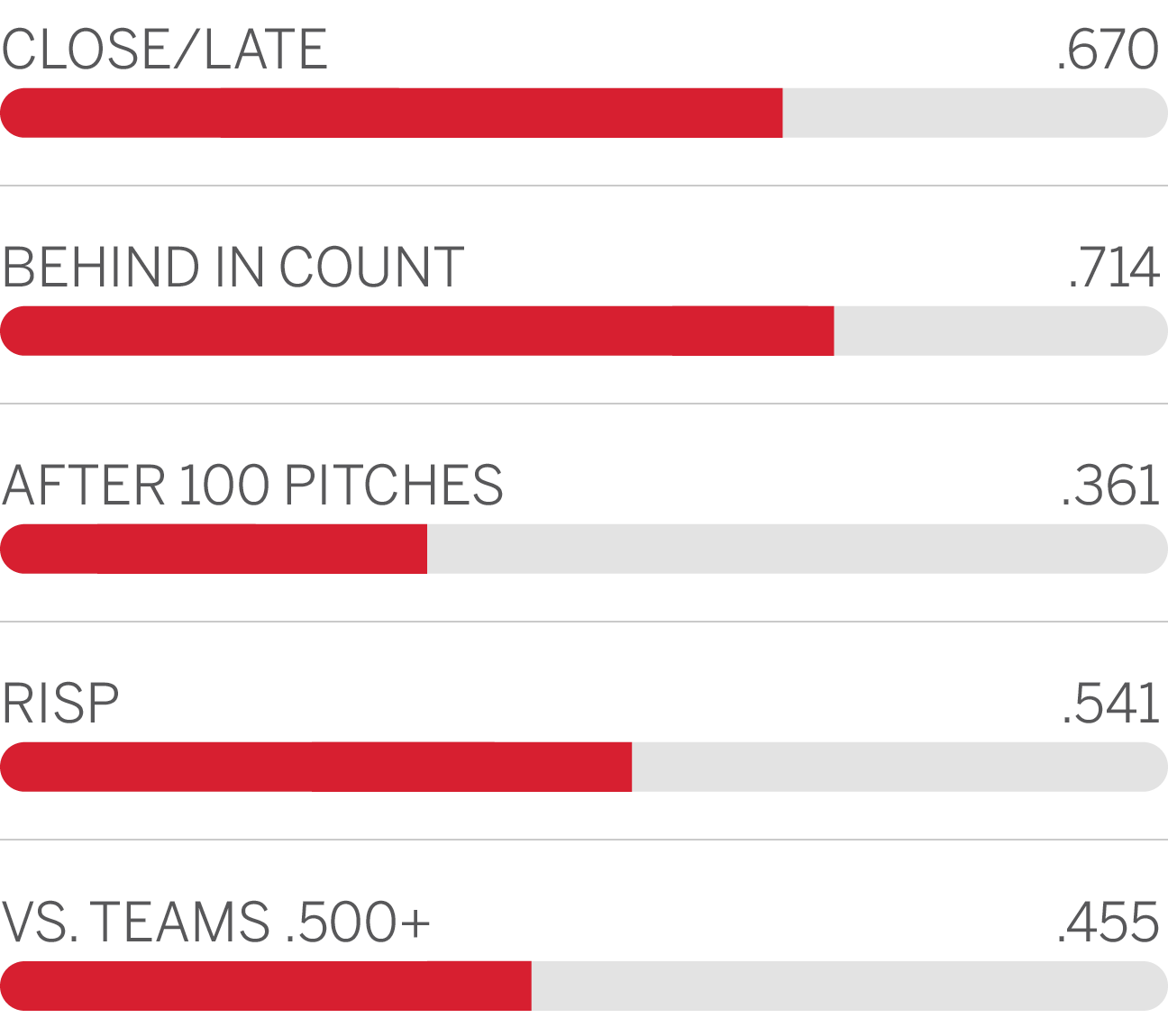 So in these categories, who stacks up the best? It's still a photo finish, but the (very) slight edge goes to Kershaw -- and it came down to the slimmest of margins when weighing each metric equally. Using the five units of measurement shown above, here are the average OPS numbers for each pitcher under pressure: