For decades, baseball has reaped the benefits of a profitable talent pipeline from Latin America.
Some of the biggest names in the game, such as Hall of Famers Luis Aparicio, Rod Carew and Juan Marichal and current stars Miguel Cabrera, Robinson Cano and David Ortiz, come from Latin America.
This season, Latin Americans made up 21.8 percent of MLB rosters on Opening Day -- and another 6.7 percent are Puerto Rican or Americans of Hispanic descent. But despite that region's influence on the game, it doesn't have a franchise to call its own.
Yet.
MLB is working to expand its footprint in Mexico, and commissioner Rob Manfred has specifically mentioned Mexico City as a front-runner for an expansion franchise.
"The reason I have been interested in talking about Mexico is that maybe, of all the possible expansion sites, it has the greatest opportunities for synergies in the rest of our business," Manfred told ESPN's Jayson Stark.
To be clear, such a move isn't imminent. Manfred has said the league needs to negotiate a new collective bargaining agreement with the players' union and resolve stadium issues in Oakland and Tampa Bay before considering expansion. The union also must sign off on any plan to add teams, but it likely would be open to discussions about balancing the leagues through expansion, according to a union representative.
When the topic of expansion does move to the forefront in the coming years, Mexico City will be considered as a candidate.
"No. 1, a team in Mexico opens up the Mexican television market, which is significant in ways that are much broader than the arrangements that we have there now," Manfred told Stark. "No. 2, I think that a team in Mexico would help us continue the process -- it's not an absolute necessity -- but it would help us continue the process of improving our relationship with the Mexican leagues.
"I think making a full-time commitment in Mexico would be very important. It would help us improve our relationship professionally. That would in turn help us improve the flow of Mexican players into Major League Baseball. The combination of those two factors, that is the media in Mexico and the flow of players, I believe would help us in the Hispanic market in the United States."
Money: Can it work financially?
Baseball author and historian Adrian Burgos believes placing an MLB franchise in Mexico City would be a huge gamble for myriad reasons.
The biggest issue is whether there are enough fans to support a franchise. Baseball is popular in northern Mexico and along the Pacific and Gulf coasts, but those areas lack the population base that makes Mexico City a realistic expansion candidate. Although soccer and boxing clearly outrank baseball in popularity in Mexico City, its regional population of more than 20 million is one of the largest in the world. Still, in a area where economic disparity between classes is severe, it's fair to wonder how many residents with discretionary income would spend money on MLB.
"I think MLB ought to be leery of being fooled by the sheer number of people versus actual baseball fans," said Burgos, a professor of history and Latino studies at the University of Illinois. "When I think of Latin American cities that are baseball towns, I don't think Mexico City ranks in the top five."
"Understanding how passionate Mexicans are about soccer, will an advertiser shift their money from soccer to the baseball franchise in Mexico City? I would say that would be a really risky investment." Adrian Burgos, baseball author and historian
Only 12 players born in Mexico were on MLB rosters as of Opening Day 2016, and it's debatable whether fans would buy tickets specifically to see Latin players from other countries. The success of a franchise in Mexico City likely involves banking on the willingness of customers to root for the MLB product itself, even as its expansion team might struggle to compete on the field.
"I'm very dubious of that prospect," Burgos said. "The era of Fernando Valenzuela is well, well past."
Even if MLB believes a viable baseball fan base exists in Mexico City, an ownership group with deep pockets will be necessary for a franchise to succeed there. Given that 17 current MLB franchises are valued at $1 billion or more by Forbes, it's reasonable to expect that an expansion fee could be placed in that same range.
Having a prominent Mexican investor would be advantageous -- and perhaps necessary -- in helping to navigate local, national and international politics and provide legitimacy in the eyes of the public.
"Whether that would need to be a majority stake, I don't know that I would go that far," said David Carter, executive director of the University of Southern California's Sports Business Institute. "But I don't think they can simply have 3 percent of the team. I think that would not be deemed credible. That might be thought of as window dressing."
Then there is the significant matter of getting a stadium built -- a project likely to cost at least $500 million -- and who will pay for it.
Only one current MLB stadium constructed in the past 50 years -- AT&T Park in San Francisco -- was built without the aid of public funds. Unless an extremely benevolent owner is in place in Mexico City, it's reasonable to think the public will be expected to bear the brunt of expense. But considering where baseball ranks in the pecking order of sports in Mexico, that could be a tough sell, especially if residents perceive that the project will take priority over public works and other infrastructure.
"You're asking a city to finance a new, humongous stadium for a sport that's the third- or fourth-most popular sport in the area," Burgos said. "And then saying, 'Just trust us' [about the team's financial viability]."
A Mexico City franchise might have a significant economic advantage, though. Even if it doesn't bring in as much revenue from ticket sales, luxury suites and concessions as American franchises do, Manfred has said such a team could potentially claim most or all of Mexico as its broadcast territory. That could provide a revenue stream capable of offsetting other economic shortcomings. If the Toronto Blue Jays are any indication, an entire nation is willing to rally around a winning team. An estimated 16.8 million Canadians -- 48 percent of Canada's total population -- watched some part of the 2015 American League Championship Series between the Blue Jays and Kansas City Royals. The 2015 ALCS attracted an average audience of 3.8 million Canadians, a viewership increase of more than 700 percent from the 2014 ALCS between the Royals and Baltimore Orioles.
However, Burgos believes it's presumptuous to assume that massive media deals and national advertising earnings await a franchise in Mexico City. MLB would be competing with Liga MX soccer and Mexican League baseball for ad revenue, which in turn would directly correspond to broadcast rights fees.
"They might not be traditional economics that support a franchise here in the United States, where you have 30 franchises and everybody's got their home city and the surrounding market. But I'm sure there would be a creative way to figure out an economic platform that would work." Mike Dee, San Diego Padres president and CEO
"Understanding how passionate Mexicans are about soccer, will an advertiser shift their money from soccer to the baseball franchise in Mexico City?" Burgos said. "I would say that would be a really risky investment."
Further, Burgos suggests that if enough advertisers shift their support to an MLB franchise, it could be "the death knell" of the Mexican League, a 16-team association with a storied baseball history dating to 1925.
Another area of uncertainty is currency exchange. A franchise in Mexico would face the prospect of bringing in revenue in Mexican pesos but paying many of its expenses in American dollars. NHL teams in Canada have faced a similar dilemma recently, and the owners of an MLB team in Mexico would need enough risk tolerance to weather the ups and downs of exchange rates.
But if MLB is willing to think outside the box in an effort to grow the game, perhaps by allowing a Mexico City franchise to share less than the usual 48 percent of local revenue and media rights fees, it would go a long way toward the financial health of a team there.
"There are economics that could work there," said Mike Dee, the San Diego Padres' president and CEO. "They might not be traditional economics that support a franchise here in the United States, where you have 30 franchises and everybody's got their home city and the surrounding market. But I'm sure there would be a creative way to figure out an economic platform that would work."
Said Carter: "It requires the right combination of ownership, the proper stewardship of the league and overall patience from the other owners and those that are going to fund the team -- sponsors, broadcast networks and others -- to view it as an emerging market."
Team and player perspective
Dee has keen insight into the baseball market in Mexico. He worked in the Padres' front office when the team began aggressively establishing a footprint south of the border. The Padres were the first club to play host to regular-season games in Mexico when they faced the New York Mets in Monterrey for a three-game series in 1996. More recently, the Padres played the Houston Astros in two exhibition games in Mexico City this spring, and Dee said the club would be interested in playing a regular-season game or two annually in Tijuana.
"I think overall it would be very good to be able to annex an entire country, if that were to ever play out as being a realistic scenario," Dee said. "I think there's enormous opportunity in Mexico."
Dee said he doesn't believe a franchise in Mexico would hurt teams such as the Padres, Los Angeles Dodgers or Arizona Diamondbacks, who actively court Hispanic fan support.
"We would look at it as being additive," Dee said. "I think the rising tide would lift all ships. We certainly wouldn't view it as being a detriment at all. I would view it as a natural progression."
Dodgers first baseman Adrian Gonzalez was born and attended high school in the San Diego area, but he also lived in Tijuana as a youth and plays for Mexico in the World Baseball Classic. He knows there are hurdles to clear before Mexico can land a franchise, but he says the national pride for such a team would be significant.
"I think all of Mexico would travel to wherever the team is. It would be a team for the whole country." Adrian Gonzalez, Dodgers first baseman
"Of course it would be huge," Gonzalez said. "I think there are a lot of things they have to work through before they can start dreaming that up, but it's good if they're looking into it."
Gonzalez doesn't think a team in Mexico, with the opportunity to draw support from an entire nation, would have trouble selling tickets -- even over the course of an 81-game home schedule.
"I think all of Mexico would travel to wherever the team is," said Gonzalez, a five-time All-Star. "It would be a team for the whole country. I think for the most part, people from all over the country would make their way just for the games."
St. Louis Cardinals pitcher Jaime Garcia, a native of Reynosa, Mexico, thinks a franchise in Mexico would make the idea of reaching the major leagues more realistic for young players in that country.
"Being from there and knowing the people there, there are a lot of baseball fans and a lot of kids who look up to a lot of major league players and would like to play in the major leagues, but sometimes it seems too far," Garcia said. "For Major League Baseball to bring a team down there, I think, would be great, and I would definitely be really excited about that."
Living in Mexico City obviously would be a distinct cultural experience from any other city in the major leagues. The language difference might deter some athletes from wanting to play there, and public safety will be a concern for others.
Trying to accurately compare crime rates in Mexico City to those of American cities is a dicey proposition because of reporting inconsistencies. Mexico City doesn't appear on a widely cited list of the world's 50 most violent large cities compiled by the Citizens Council for Public Security advocacy group in Mexico. The list, based on 2015 homicide rates, includes five cities in Mexico and four U.S. cities: St. Louis, Baltimore, Detroit and New Orleans.
Still, reports of violent crime in Mexico are prevalent. Soccer star Alan Pulido was recently kidnapped in Ciudad Victoria, which is located eight hours north of Mexico City. The U.S. State Department updated its travel warning for Mexico on April 15. No advisory is in effect for Mexico City itself, also known as the Federal District. However, the State of Mexico, which includes the outer portions of the Mexico City metropolitan area, is included in the warning.
Regardless, Mexico can be perceived as a dangerous place by many Americans, and MLB must carefully consider the safety issue as part of any discussion about expanding there.
Conversely, some Hispanic players might prefer the opportunity to live in a Spanish-speaking environment, and the PGA Tour believes strongly enough in Mexico City's safety to move a tournament there in 2017.
"We all know how things are not the same as they are in the States," Garcia said. "In terms of [crime], it's not as bad as people see on TV, but there's still a little bit. It's getting better. Cities like Mexico City and Monterrey are big cities, and it's a lot different, so hopefully guys would want to go there. I know I would. It's my country."
Realignment and expanded playoffs
Expanding to 32 teams would allow MLB to strike a better competitive balance in terms of schedule and travel. Here is a scenario with eight divisions of four teams, imagining Mexico City and Montreal as expansion franchises: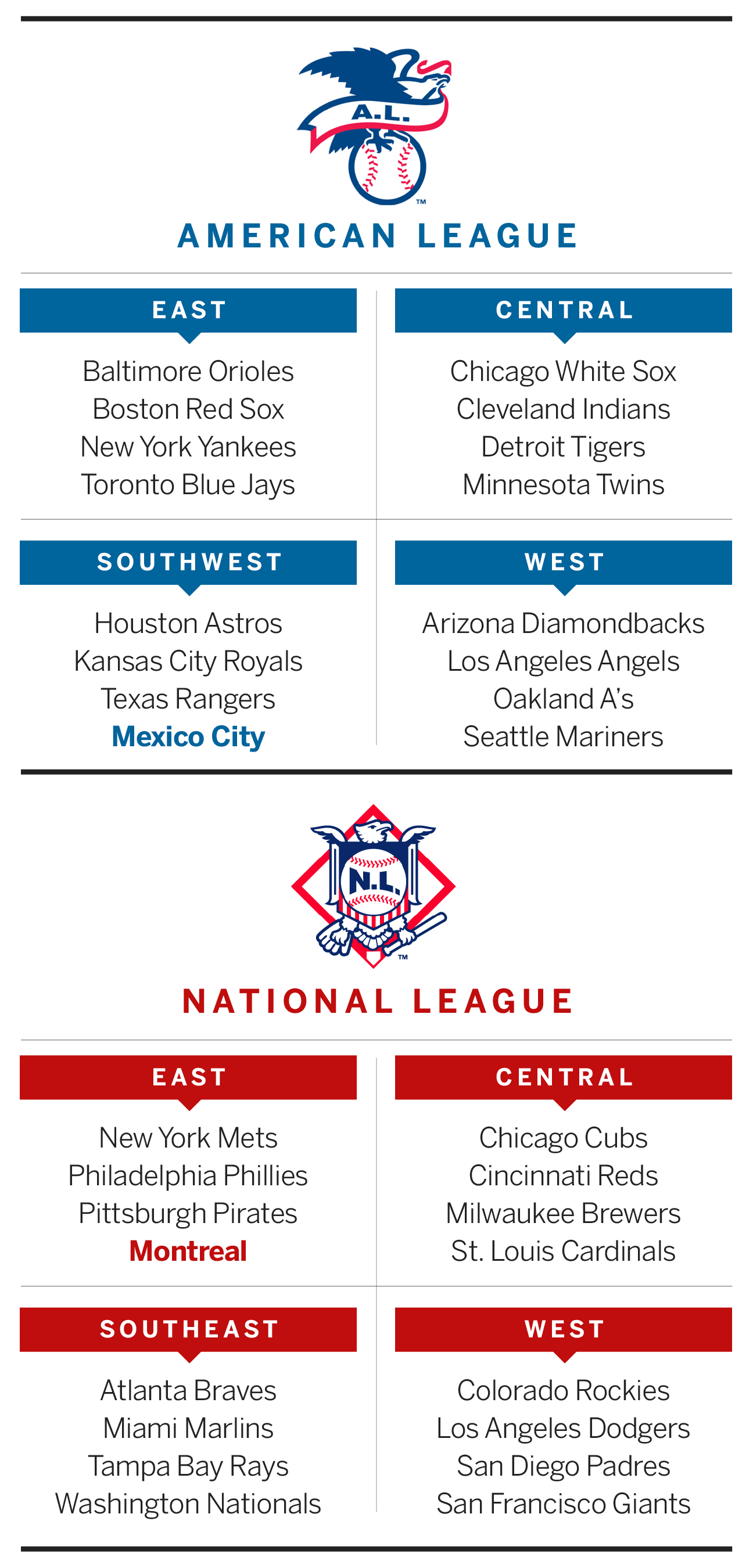 Much of the current structure and rivalries remain intact. Only two teams would be required to switch leagues -- 1998 expansion siblings Arizona and Tampa Bay. Travel becomes more reasonable for many teams, especially those in the current AL West. Most teams are aligned with opponents in the same time zone, and no teams are paired with opponents more than one time zone away.
A balanced schedule could be arranged like this:
Fourteen games versus each divisional opponent -- a four-game and three-game series at each site -- for a total of 42 games.

Six games versus each interdivisional opponent from the same league -- a three-game series at each site -- for a total of 72 games.

A three-game series versus each interleague opponent, with the site alternating annually -- for a total of 48 games.
A sampling of potential playoff systems:
Ten teams: Each division champion and one wild card per league qualify. Similar to the current format, except the division winner with the worst record replaces one of the wild-card spots in each league.

Twelve teams: Each division champion and two wild cards per league qualify. Two play-in games in each league. Only the top two division champs in each league are immune from a winner-take-all postseason opener.

Fourteen teams: The top seed in each league receives a first-round bye. The other six teams play best-of-three series to earn berths in the divisional round.

Sixteen teams: No play-in games. Four best-of-three series per league in the first round.
Travel
At first glance, travel to and from Mexico City over the course of an entire season might seem daunting.
A franchise based there would probably log more air miles than any other team, but the distance doesn't represent an insurmountable hurdle. Mexico City sits about 750 miles by air from Houston, which would be its closest neighbor in MLB. That's not much more of an isolation gap than the Seattle Mariners have dealt with since 1977.
Also, consider that Houston and Seattle currently play in the same division despite a distance of about 1,900 miles by air. That's only about 200 miles fewer than a flight from New York to Mexico City. Under the realignment scenario above, the longest divisional trip in MLB would be from Kansas City to Mexico City -- about 1,400 air miles. That pales in comparison to the Hawaii Islanders, who played in the Triple-A Pacific Coast League from 1961 to 1987 and operated more than 2,000 miles from their closest opponents.
Of course, teams would need to pass through customs when traveling to Mexico, but it's not unlike what MLB teams already experience regularly in Toronto.
"My personal opinion is that the logistics of it would be -- after you get a system in place -- easily managed," Dee said.
Altitude and climate
Mexico City sits about 7,200 feet above sea level, significantly higher than any MLB ballpark, which could be concerning from a competition standpoint.
Not only do baseballs fly farther at altitude, but breaking pitches are less effective. Coors Field in Denver has long been the worst ballpark for pitchers, even after the Rockies began storing game balls in a humidor in 2002. Mexico City is more humid than Denver, which could help mitigate the elevation effect somewhat.
Mexican League statistics might shed some light on the issue. The Mexico City Red Devils have predictably been offensive juggernauts in recent years, but their pitching has typically ranked in the middle of the league. Last season, los Diablos Rojos led the league in batting average (.320) and runs scored (6.3 per game), but their pitching staff also ranked third in ERA (4.11). Placing deep outfield fences in a Mexico City ballpark would reduce the number of home runs, but, like in Denver, the resulting spacious outfield would create more doubles and triples.
At least heat isn't a concern in Mexico City. Despite sitting at a tropical latitude, its altitude keeps summertime high temperatures in the range of 75-80 degrees. Pollution, however, is an ongoing issue, even though air quality is much improved from decades past. Mexico City recently issued its first air pollution alert since 2005, and officials ordered 40 percent of cars off the road to help alleviate the situation.
Bottom line
Mexico City is an outlier in terms of distance, elevation, economics and culture when compared to current major league markets. Expansion or relocation there would clearly represent a new frontier in many respects.
Will Mexico City get a team to call its own? Manfred told the San Diego Union-Tribune that the idea is a "great opportunity" and could happen within the next decade. Still, expansion must be collectively bargained between MLB and the players' union, and the support of three-quarters of the 30 current franchises is required to allow expansion or relocation.
Placing a franchise in Mexico City could benefit MLB in the long run by growing the game for future generations, but establishing a team there in the short term carries greater risk than most markets.
The only certainty is that MLB will carefully examine every angle of the situation before deciding whether such a move would be visionary or foolhardy.
ESPN MLB reporters Doug Padilla, Mark Saxon and Jayson Stark contributed to this report.