Andrew Benintendi's first few hours in the major leagues were filled with congratulatory phone calls and text messages, welcoming handshakes from his new Boston Red Sox teammates and a meeting with manager John Farrell to discuss his role on the team.
But as Benintendi prepared to make his debut Aug. 2 in Seattle, utility man Brock Holt asked the rookie left fielder the most pertinent question of all.
"Do you know how to do it?" Holt said. "Because if you're going to be out there, man, you're going to have to do it."
Yes, Benintendi reassured, he knew all about "Win, Dance, Repeat," the Red Sox outfielders' celebration after every victory, a ritual that had evolved into a choreographed social media sensation. And no, they need not worry about him blending in.
It didn't take long for Benintendi to prove it.
---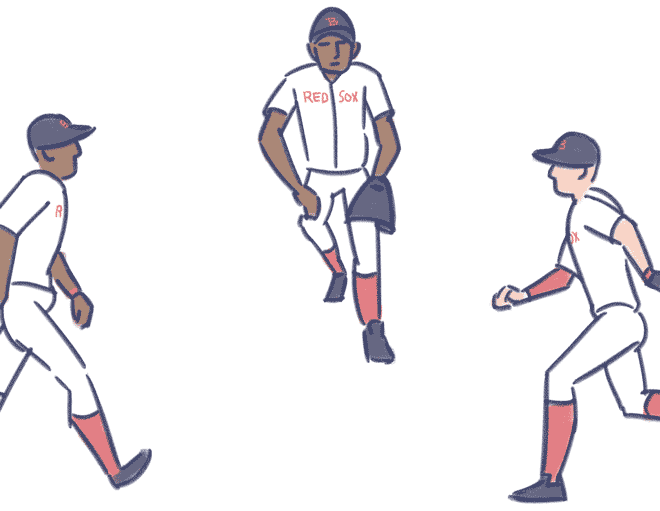 Nobody knows exactly who came up with the idea, although Red Sox outfielders agree it was at some point during last spring training.
"We've got a lot of downtime down here," center fielder Jackie Bradley Jr. says. "We've got to come up with something to keep us occupied."
Across baseball, outfielders often mark a victory by coming together for a brief acknowledgment before joining their teammates in a handshake line near the mound. Chris Young -- at 33, the older brother in a Red Sox outfield that featured Bradley (26) and superstar right fielder Mookie Betts (24) before 22-year-old Benintendi got called up directly from Double-A -- mentioned he had been part of outfields in Arizona and Oakland that engaged in the usual glove taps and leaping hip bumps.
"But not to the extent that we did," Young says. "We definitely took it to another level last year."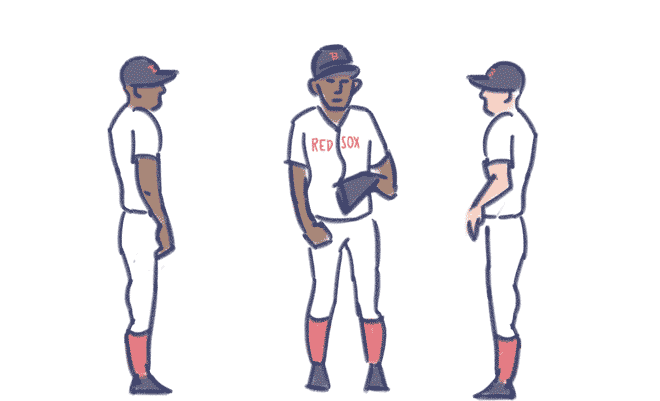 It began innocently enough, the three outfielders converging for a rehearsed bow and handshake, "just something to have fun and be original," according to Betts. Within a few weeks, that grew into what Bradley describes as "a game within the game," with the outfielder who made the biggest contribution to the victory getting his imaginary picture taken by the other two.
"A glamour shot, so to speak," Bradley says. "You had the outfielders competing against each other, making each other better by trying to see who could have the best game, which, in the end, helps the team."
Betts and Bradley, in particular, were having breakthrough seasons. And the Red Sox were winning -- a lot. They had 49 victories by the All-Star break and reeled off 11 in a row in September en route to 93 wins overall and a division title. Over time, the glamour shots were beginning to feel, well, unoriginal.
The outfielders stepped up their celebration game. The camera clicks and freeze-frame poses turned into rolling video and dance moves. And with help from the Red Sox's official Twitter account, "Win, Dance, Repeat" became a thing.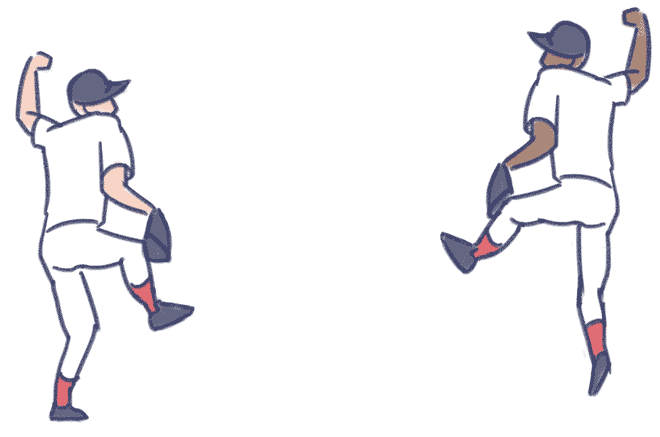 "I don't think we thought it would be as big as it was," Holt says. "It's just something that we thought would be good to do just to have a little bit more fun out there together, kind of like a bonding thing. But it took off. People enjoyed it, and we ended up enjoying ourselves as well."
Says Betts: "I didn't think that many people paid attention to what's going on after the game. I just thought it would be our thing that we had fun with."
A favorite move? Like flavors of ice cream, it's a matter of personal taste. Here are five of the Red Sox outfielders' favorites:
---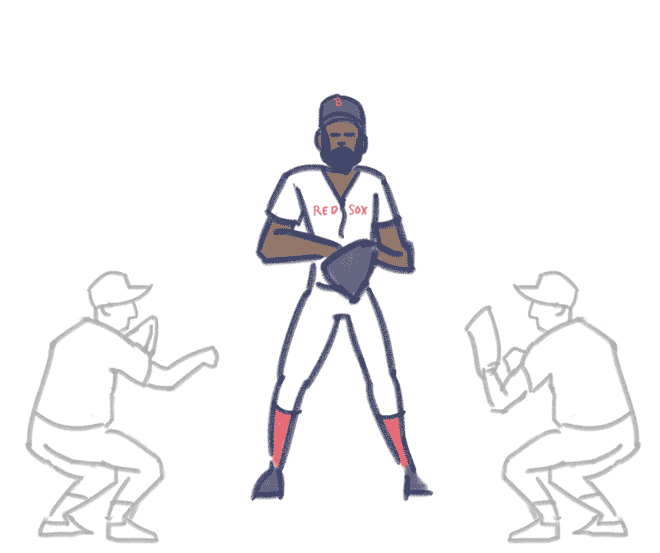 "The Ski Jump"
Player: Bradley
Date/game: Sept. 9 at Toronto
Sensing fans were enjoying "Win, Dance, Repeat," the Sox shot a commercial in which the outfielders sat in a conference room and brainstormed comical dance moves: "The Worm" and "The Running Man," to name two.
Bradley's contribution: "The Ski Jump."
But after a 13-3 rout in a series opener against the Blue Jays in which he went 2-for-4 and scored three runs, Bradley broke out "The Ski Jump" for real. Flanked by Holt and Betts, Bradley motioned his arms to his right and left before putting some air between his feet and the Rogers Centre turf.
"He did it in the commercial and we were like, 'No way we could do that on the field.' And then he did it," Young says. "It was hilarious."
---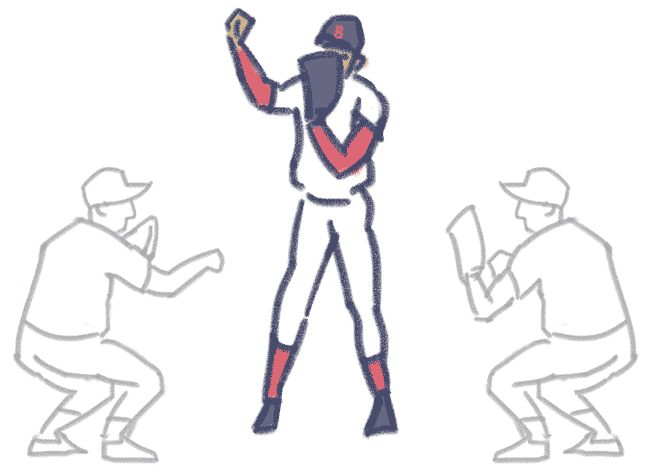 "The Carlton"
Player: Betts
Date/game: Sept. 23 at Tampa Bay
As the wins piled up, the dances became more creative. The outfielders got more competitive, too.
"It was like, 'OK, what you got now?' " Bradley says. "It's almost like we were pushing each other."
Betts, in the midst of an MVP-caliber season in every which way, took things to another level when he unveiled "The Carlton," a jig popularized by actor Alfonso Ribeiro's character of the same name on the 1990s sitcom "The Fresh Prince of Bel-Air."
After going 3-for-4 in a 2-1 victory over the Rays, Betts swung his arms from side to side, a la Carlton Banks in a dance that was based largely on Courteney Cox's stage dance in Bruce Springsteen's "Dancing in the Dark" video.
"That game, I was going back and forth between a couple different dances," Betts says. "I got to two outs [in the ninth inning] and didn't exactly know what I was going to do, and I just said, 'Whatever. I'll roll with The Carlton,' and it ended up being pretty good."
After the game, Betts even took to Twitter to solicit dance requests from fans, some of whom forgot he isn't Fred Astaire.
"I got some good ideas, nothing too crazy," Betts says. "It's just, some of the stuff you just can't do because you have spikes on."
---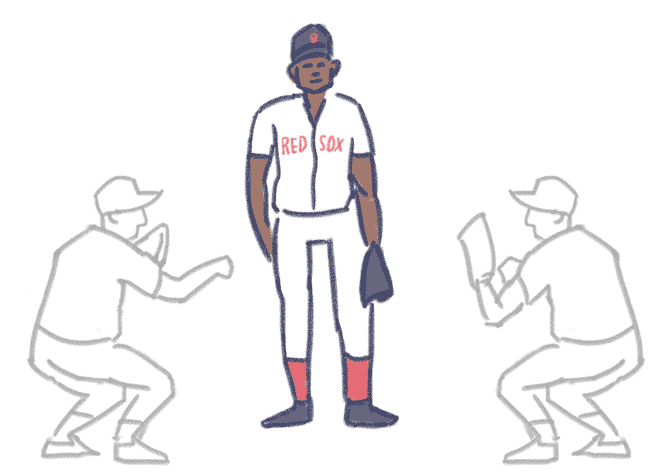 "The Stanky Leg"
Player: Young
Date/game: Sept. 6 at San Diego
Bradley and Young powered a 5-1 victory over the Padres. They both homered and drove in two runs apiece, as the Red Sox snapped a two-game losing streak.
Time for a partner dance?
"In that case, the [third] guy would be the arbitrator," Young says. "There was a couple times when it was close, but even if it was close, you're not going to be wrong going either way."
Young said the outfielders would gesture to one another in the ninth inning to avoid a postgame miscommunication. And if there was disagreement?
"If one guy hadn't won in a while," Young says, "you probably let him have it."
Young had recently returned from a two-month stint on the disabled list. Given the chance, he debuted a simple dance in which he straightened his right leg, stuck it out and moved it in a circle.
The way Young sees it, his move started a trend.
"I think that was the first solo [dance] act of all the solo acts," Young says.
---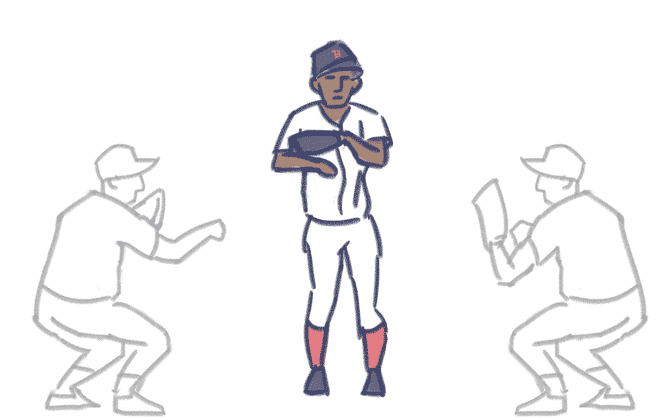 "The Freeze-Frame"
Player: Multiple
Date/game: Multiple
Bradley and Betts played all but a handful of games in center and right field, respectively. But injuries forced the Red Sox to cycle through seven left fielders, from Holt on Opening Day through Benintendi down the stretch.
"Just because you just got in there, it wasn't an excuse," Bradley says. "You had to know what was up. You had to be able to fill right in and be able to do it because everybody's watching."
Converted catcher Blake Swihart (13 games) and Triple-A call-up Bryce Brentz (17 games) were in the mix while "Win, Dance, Repeat" still consisted mainly of the "freeze-frame" photo. Ryan LaMarre and Rusney Castillo started one game apiece, both losses, and didn't get to participate.
Holt, meanwhile, continued to display his versatility by playing five positions. But he spent 64 games in left field and saw the routine evolve throughout the season.
"Toward the end of the year, it got a little bit more crazy," Holt says. "Mookie was doing something different every time, and Jackie broke out his ski jump. I think guys' personalities kind of came out a little bit. I know I'm not a very good dancer. But it was something fun for us to talk about throughout the game and then at the end see what whoever won came up with."
---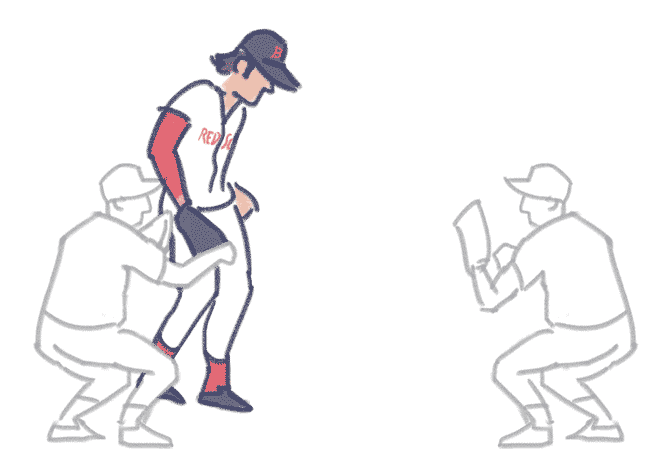 "The Michael Jackson"
Player: Benintendi
Date/game: Sept. 21 at Baltimore
After homering like Reggie Jackson, Benintendi moved like Michael Jackson.
"When I was little, I would watch Michael Jackson dance videos and try to dance like him," Benintendi says. "That was the first thing that popped in my mind."
And so, after sparking a 5-1 victory with a three-run homer in the fifth inning against Orioles reliever Brad Brach, Benintendi met up with Bradley and Betts in center field for the traditional bow and fist pump. Then, as the others knelt to roll the video camera, Benintendi shuffled forward three steps, kicked his right leg, stuck out his left hip and struck a pose.
It was vintage King of Pop, straight out of the "Billie Jean" era.
"I had seen previews of it beforehand," Bradley says. "But I was very much looking forward to seeing him break it out. We just needed him to be the player of the game."
Says Holt: "Beni's MJ was sick. That was probably my favorite one."
---
A three-game division series sweep by the Cleveland Indians prevented the Red Sox outfielders from a grand postseason finale. Now, with Opening Day approaching, they must decide whether to reprise their dance steps.
Young suggests perhaps retiring "Win, Dance, Repeat" and coming up with a new ritual for a new year, something that evolves organically as the season goes along.
Then again, Betts says he plans to poll fans again for dance requests.
"We shall see," Bradley says. "I don't know what the season holds."
Says Young: "I have no idea what's going to come of it this year. I'm not putting too much pressure on it. Whatever happens, happens. We just like to have fun with it."
---
Animations by Andrew Colin Beck