In 1997, the Boston Red Sox traded Carl Pavano and Tony Armas Jr. to the Montreal Expos for Pedro Martinez.
The franchise-altering deal was a lopsided win for Boston. In seven seasons, Martinez delivered a World Series championship to the starved franchise and won two American League Cy Young Awards -- finishing second in voting two other times.
Since then, a host of big-name trades and acquisitions have followed and none have prospered in Boston like Martinez did. Some take as long as a full season to adjust to the spotlight. Some don't ever adjust and end up elsewhere.
Chris Sale, acquired by the Red Sox in December from the Chicago White Sox, is flirting with Martinez-like expectations. Coming out of the All-Star break, Sale is 11-4 with a 2.75 ERA and a league-leading 178 strikeouts. In 12 of his 18 starts, he's struck out more than 10 opponents, including doing so in eight consecutive starts earlier this season.
After Sale struck out 11 Baltimore Orioles batters on May 2, then his fifth consecutive start with double-digit strikeouts, Martinez heaped praise on Boston's new ace in 53 characters.
"Chris Sale is already surpassing everything I've done," Martinez tweeted.
---
AL ranks in first season with Red Sox: Martinez vs. Sale
*Stats from Martinez's first season with Boston, 1998, pre-All-Star break
---
Running strikeout totals, first season in Boston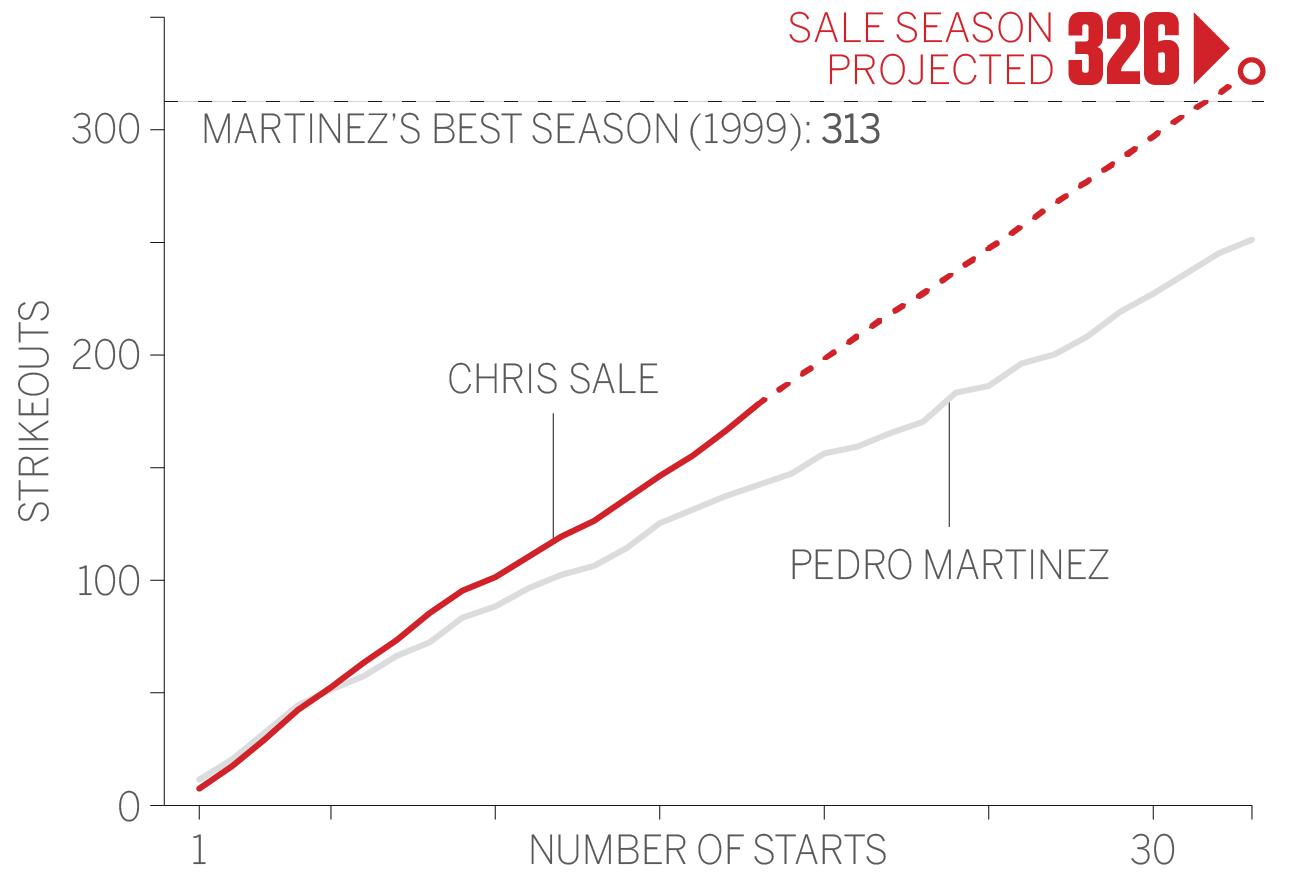 ---
The one-sided Pedro deal
The Red Sox gave up prospects Luis Alexander Basabe, Victor Diaz, Michael Kopech and Yoan Moncada for Sale. Can Boston win this deal as emphatically as it won the trade for Martinez?


Sale came to the Red Sox as a left-handed ace who could elevate Boston's chances of competing for a championship. He also came with a past of odd outbursts, like when he was sent home before a scheduled start after he cut up the White Sox's throwback jerseys, which he deemed uncomfortable to pitch in.
So perhaps more notable than Sale's hot start is how he's fit into the Red Sox clubhouse and been well received by the fan base.
"I think certainly there can be a lot of expectations attached to an acquisition, particularly a big-contract acquisition," Red Sox manager John Farrell said earlier this year. "Human nature has it you come into a new environment, you come to impress and the same reason you acquire those individuals, they might try to do a little bit more at times and that doesn't necessarily work for them. Chris has blended in very well in our clubhouse and it's just a matter of going out and doing the things he does so well as a pitcher and that starts with throwing strikes."
---
Monster acquisitions
The Red Sox have picked up six stars in the past 20 seasons who were top 15 in MVP or Cy Young voting the previous season. Big expectations followed them to Boston, but not all delivered.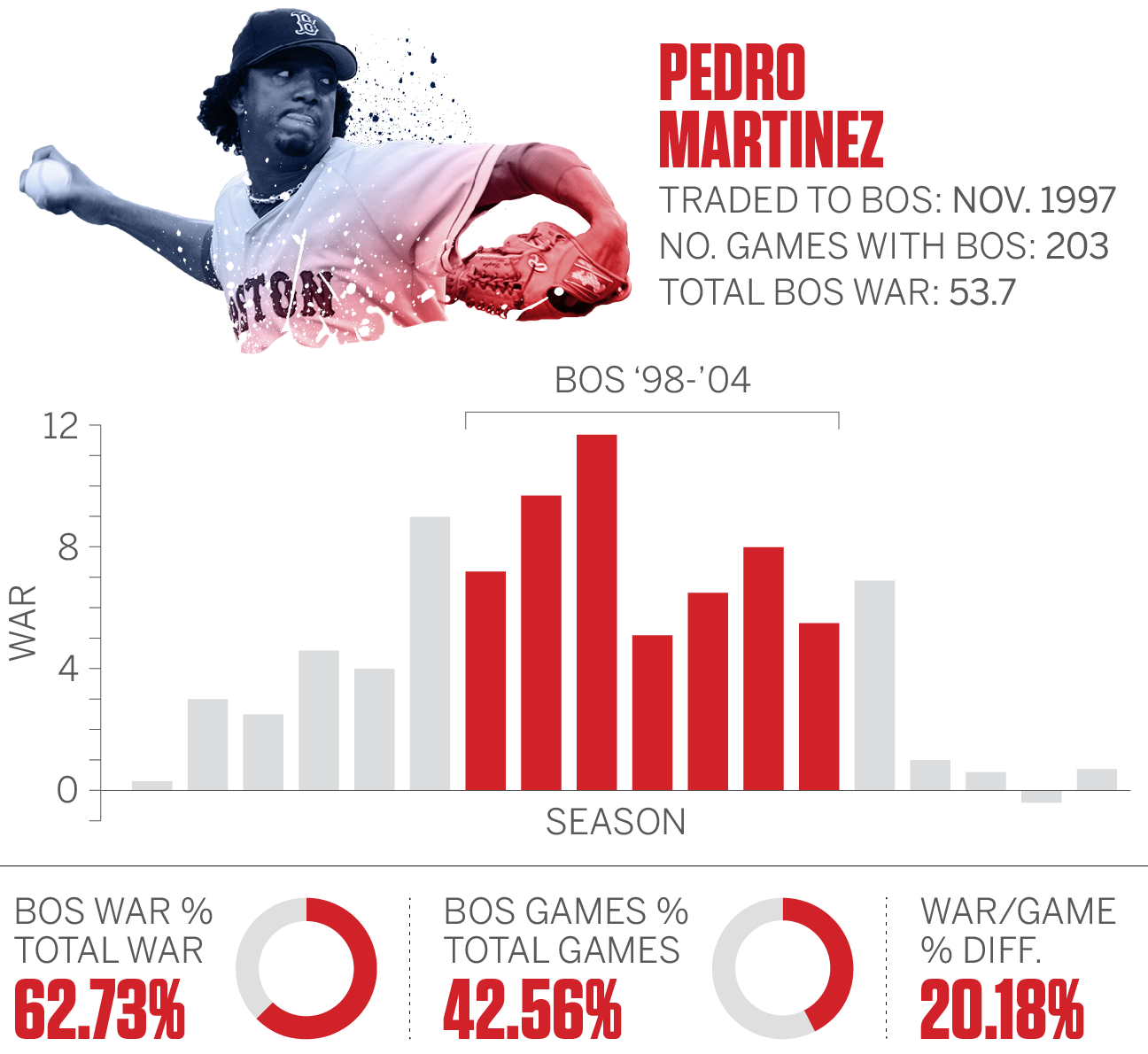 ---
Martinez was acquired from Montreal after he won the National League Cy Young Award for the 1997 season.
He won 19 games in his first season in Boston and 23 games in his second season. During his seven seasons with the Red Sox, he made four All-Star teams, finished in the top four in Cy Young voting six times and finished second in MVP voting in 1999.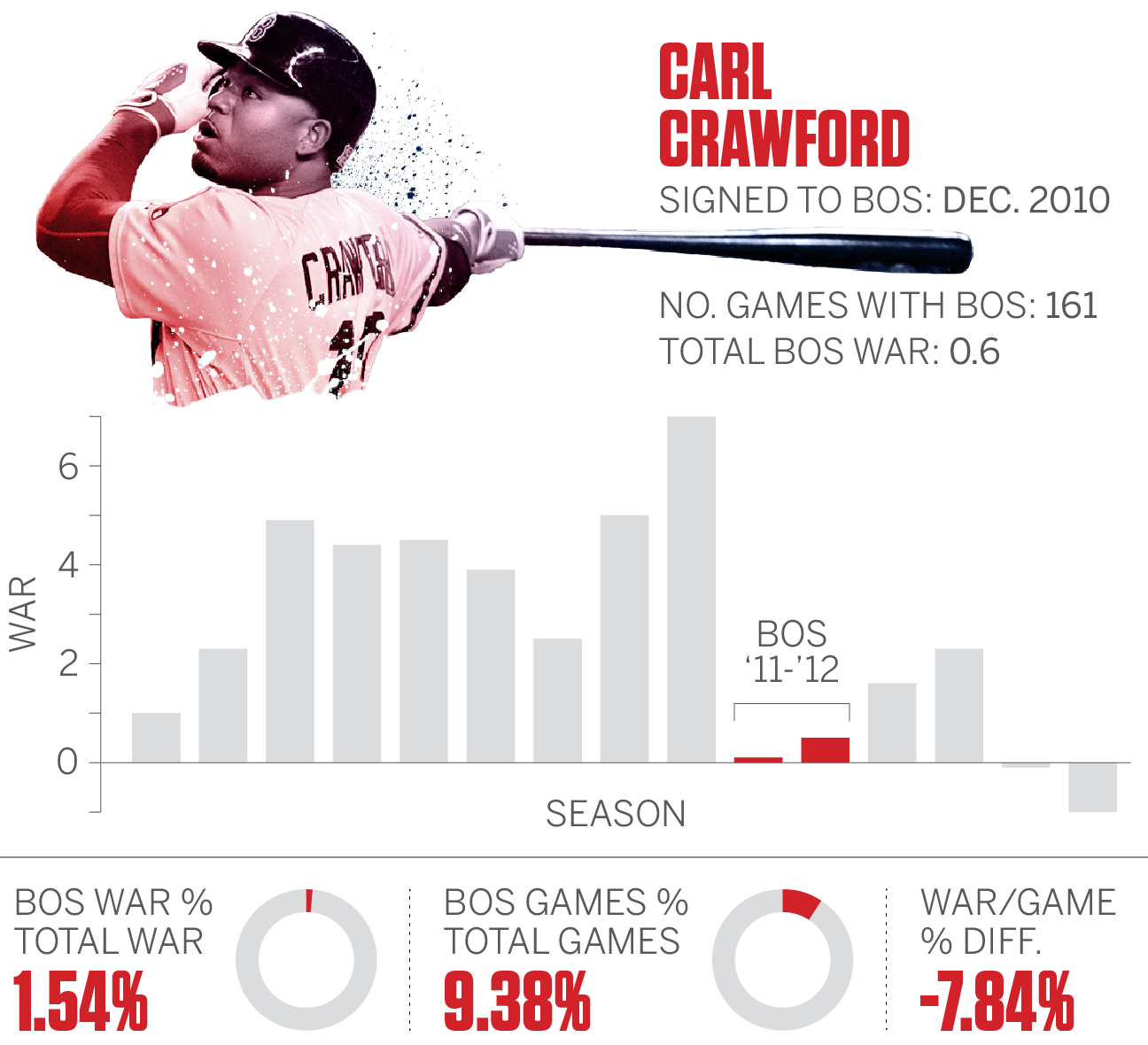 ---
Carl Crawford signed a seven-year, $142 million monster contract in Dec. 2010 at age 29. In his nine previous seasons with Tampa Bay, he hit 100 career triples and stole 400 bases -- Ty Cobb was the only other player to accomplish that before age 30.
Crawford's .255 average in 2011 was 52 points lower than the previous season, and he drove in 34 fewer runs and stole 29 fewer bases. The following year, he battled injuries and was part of the blockbuster trade and salary dump that sent Adrian Gonzalez, Josh Beckett, Nick Punto and cash to the Dodgers.
"That smile turned upside down quick," Crawford said on CBS Radio in March 2013. "I think they want to see that in Boston. They love it when you're miserable.
"Burying people in the media, they think that makes a person play better. That media was the worst thing I've ever experienced in my life."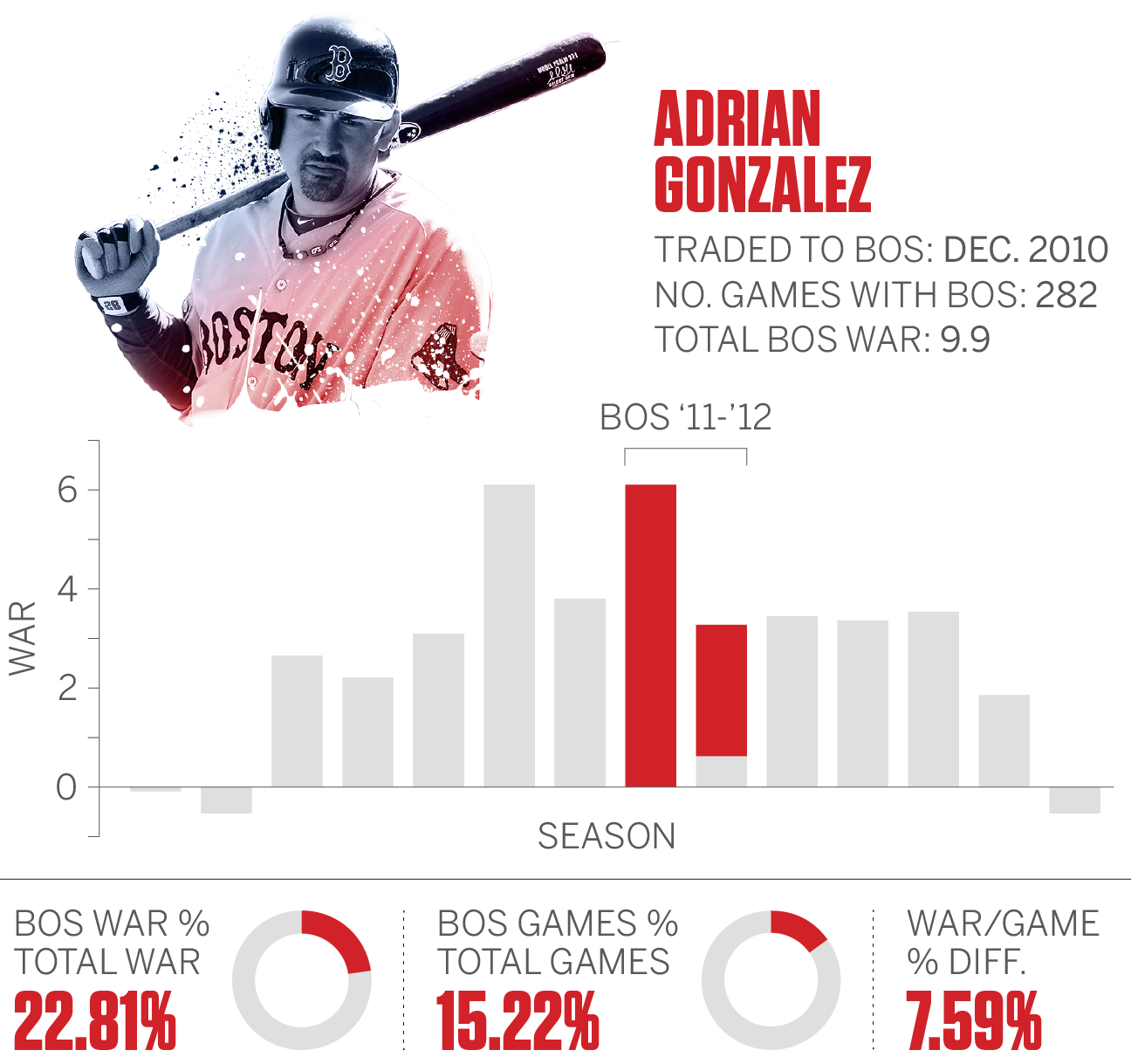 ---
Gonzalez thrived offensively in Boston, hitting .338 his first season with the Red Sox after hitting .298 in San Diego the previous season.
Yet his personality made him an odd fit. He often complained about scheduling, playing too many night games and challenging travel.
"Gonzalez thrived on the field," said the Boston Globe's Chad Finn. "But he was a clubhouse lawyer. He could find something wrong with every situation and that'll get you ousted in Boston."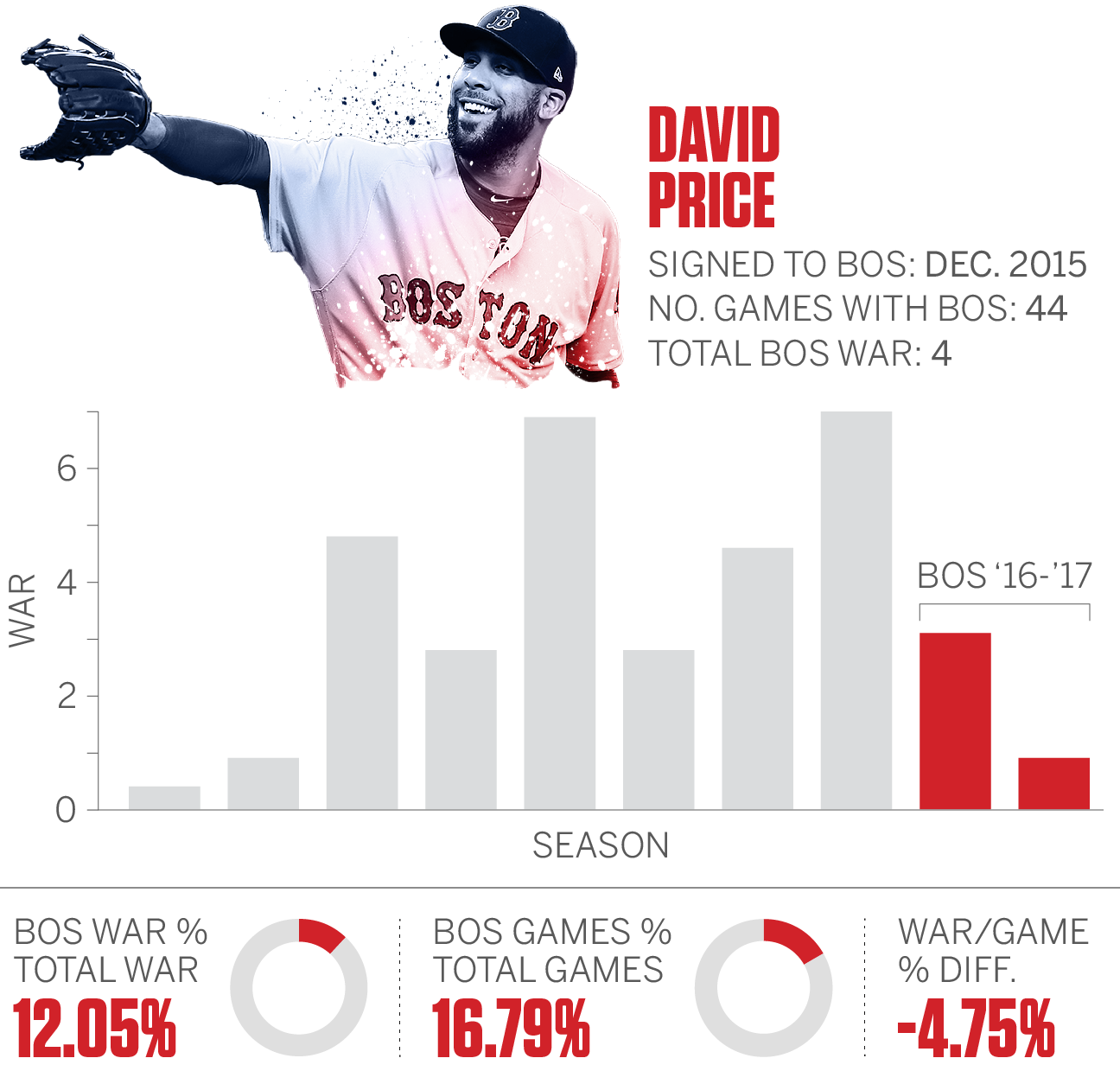 ---
David Price signed a seven-year, $217 million contract with the Red Sox in Dec. 2015. After going 17-9 with a 3.99 ERA in his first season with the Red Sox, Price missed the first two months of the 2017 season with a left elbow injury. Since returning, he's 4-2 with a 4.02 ERA.
What's garnered just as much attention, though, is how he's interacted with the media. He told the Boston Globe's Dan Shaughnessy in a June 7 article that he was limiting his speaking availability to the days he pitches and no longer conducts personal interviews. That night, he lashed out at several reporters after a game against the Yankees.
Most recently, Price had a verbal confrontation with NESN analyst and former pitcher Dennis Eckersley on a team flight to Boston after their June 29 game in Toronto.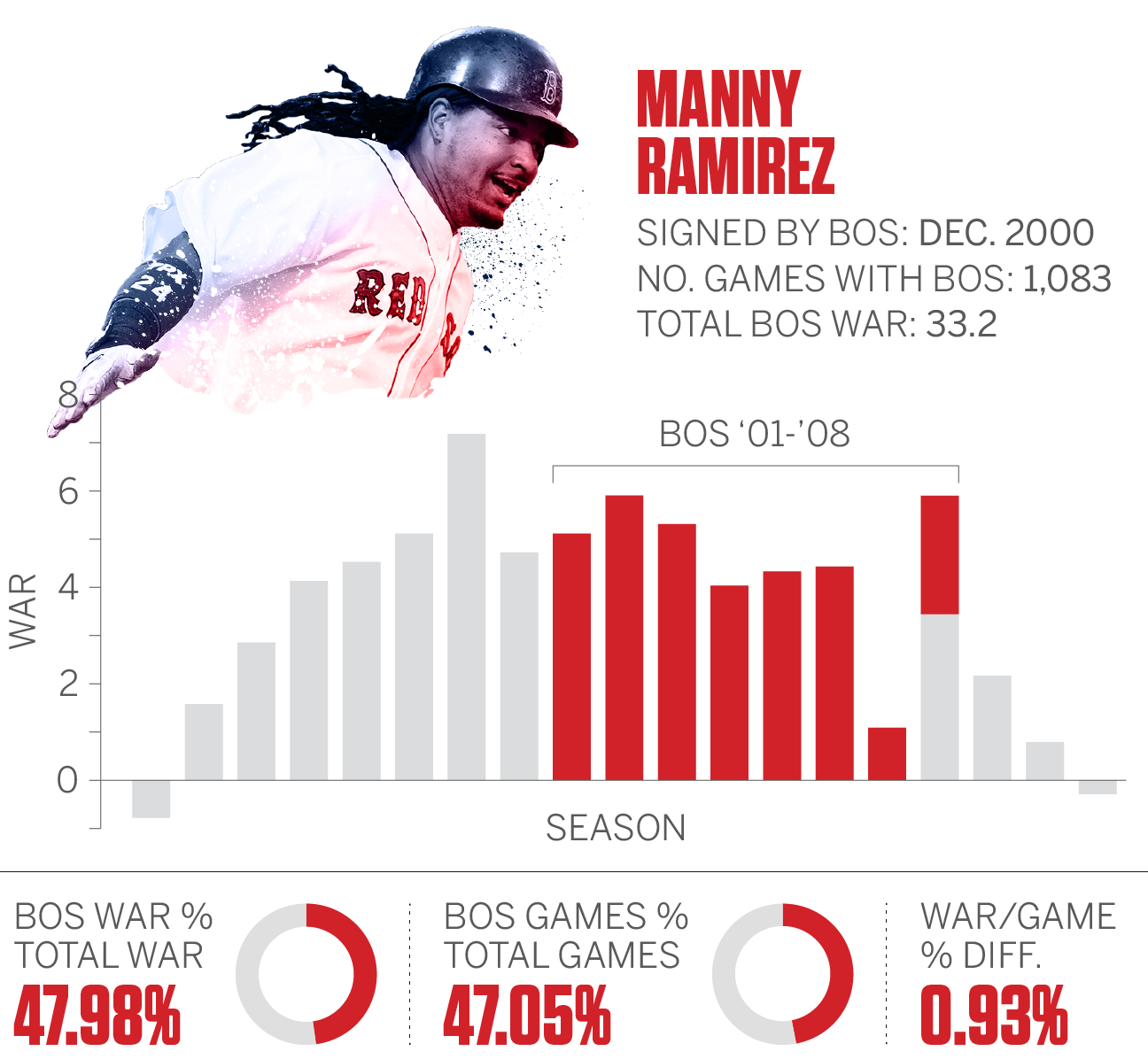 ---
Manny Ramirez's tenure is more complicated. He signed with the Red Sox after finishing sixth in the AL MVP race for the 2000 season. His average dipped from .351 in 2000 to .306 in 2001, but he was very much still a frightful sight for opposing pitchers.
In eight years in Boston, he hit .312 with 274 home runs and drove in 868 runs. He was a stalwart in the Red Sox lineup paired with David Ortiz. Like Martinez, he injected life into the Red Sox franchise and played a pivotal role in delivering two championships to Boston.
His positive tests for performance-enhancing drugs cloud his reputation, and the Red Sox often had to put up with his "Manny-being-Manny" antics. Yet the way Ramirez produced, it's impossible to deny his place in Red Sox history as one of the best.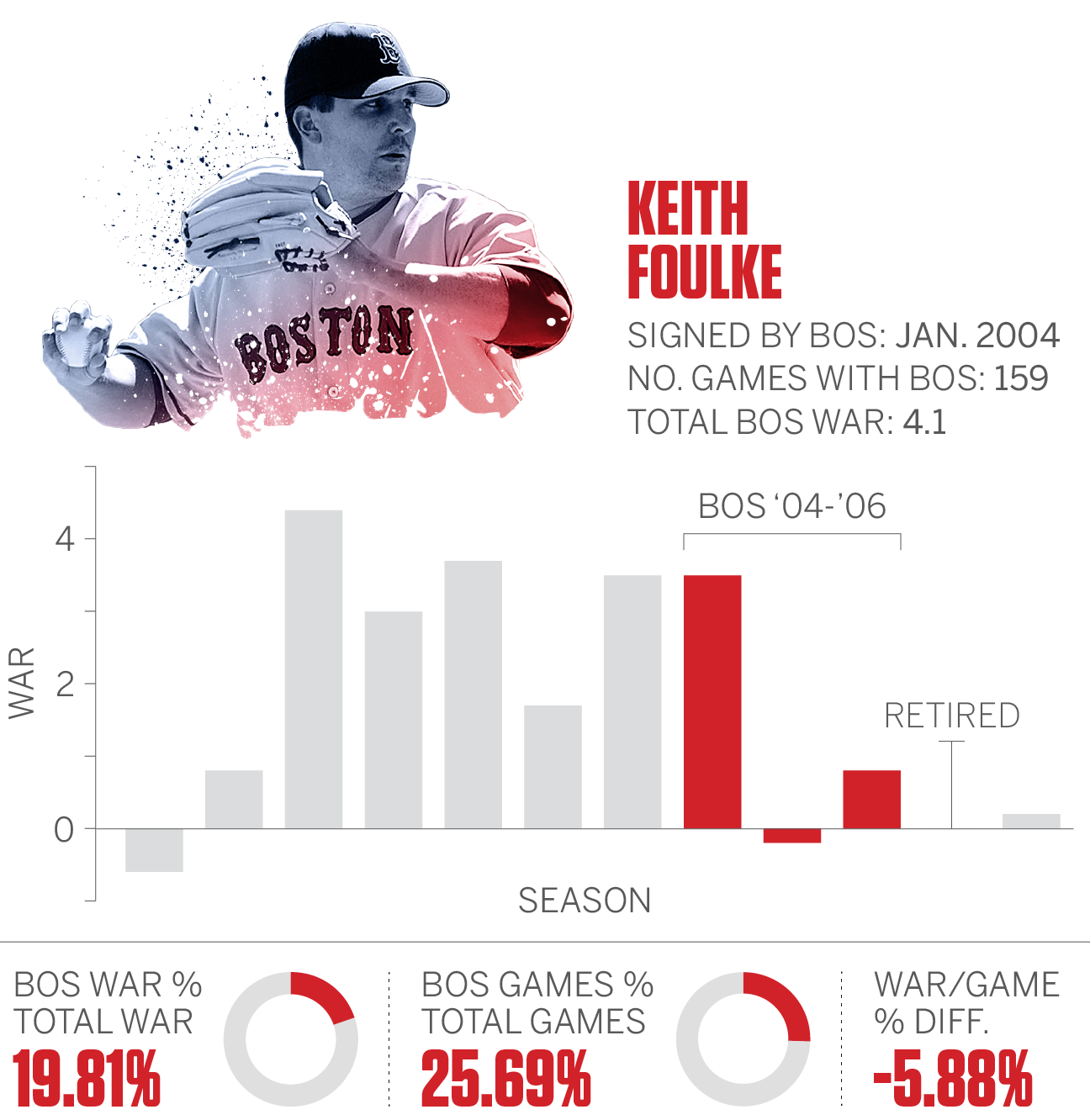 ---
Keith Foulke's first season in Boston was a success, as he had 32 saves in 83 innings pitched as the Red Sox closer. But injuries limited him the following season and he even was booed by Boston fans near the end of his career.

All stats as of July 10, 2017