In the history of MLB's All-Star Game, there has never been a slugger the size of New York Yankees rookie Aaron Judge.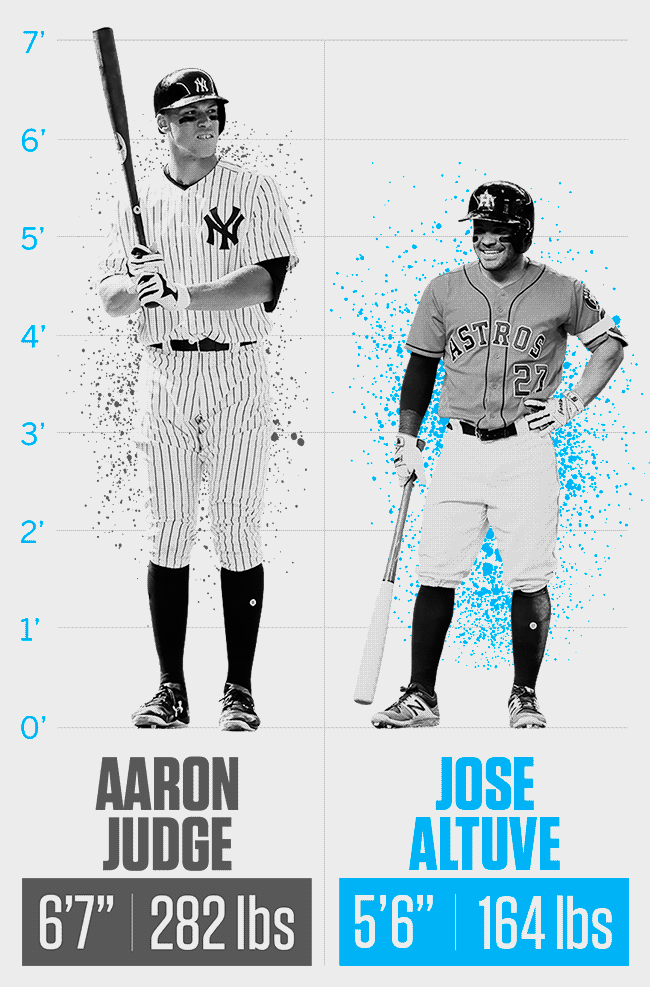 Among those chosen for the 88 Midsummer Classics played since 1933, some have been as tall or even taller. Some have been as heavy or even heavier. But not a single one selected has ever been both taller and heavier than the 6-foot-7, 282-pound Home Run Derby champion, according to ESPN Stats & Information.
In fact, according to ESPN Stats & Info, no position player -- All-Star or not -- has ever been both taller and heavier than Judge. Only two pitchers -- Jon Rauch (6-11, 290) and Jeff Niemann (6-9, 285) -- can claim that distinction.
Former Detroit Tigers first baseman (and current Players Association executive director) Tony Clark -- all 6-8 of him -- made his lone All-Star appearance in 2001, enough to give him an inch advantage over Judge, who this year ties Frank Howard and Richie Sexson for second place among non-pitchers in baseball's midseason showcase.
Another ex-Tiger, Dmitri Young, made two Midsummer Classics listed at 295 pounds. Only he and Adam Dunn -- at 285 pounds -- outweigh Judge among position players on the all-time All-Star list.
Randy Johnson and Chris Young, at 6-10, are the tallest All-Star pitchers ever, and, at an even 300 pounds, Judge's Bronx Bombers teammate, CC Sabathia, is the heaviest.
Additionally, Judge is more than a foot taller than the shortest All-Star selections ever -- shortstop Freddie Patek, outfielder Albie Pearson and pitcher Connie Marrero, who were all 5-5 -- and nearly 150 pounds heavier than the lightest -- pitcher Bobby Shantz, who weighed in at just 139 pounds.
With all that in mind, we wanted to see how some of this year's All-Stars -- as well as some recognizable names from the NFL and NBA, plus a surprise guest at the end -- stack up against him. (See above!)
GIF by Mike Facciolo, ESPN.com