It's official: 2017 was the Year of the Home Run.
Alex Gordon's blast in the eighth inning of Kansas City's game at Toronto on Sept. 20 sealed the deal: More sluggers went yard this season than at any time in the history of the game. Gordon's homer was the 5,694th of the season, breaking the previous record set in 2000. But this year's total didn't stop until hitters had mashed more than 6,000 home runs.
For those who love offense, it's a thrilling development. The haters? They can blame juiced baseballs or lament the new generation of all-or-nothing hitters taking their swings at fences across Major League Baseball.
Love it or hate it, here are some of the most remarkable numbers behind a remarkable new record.
(All numbers are through Sunday, Oct. 1, 2017.)
Total HRs by year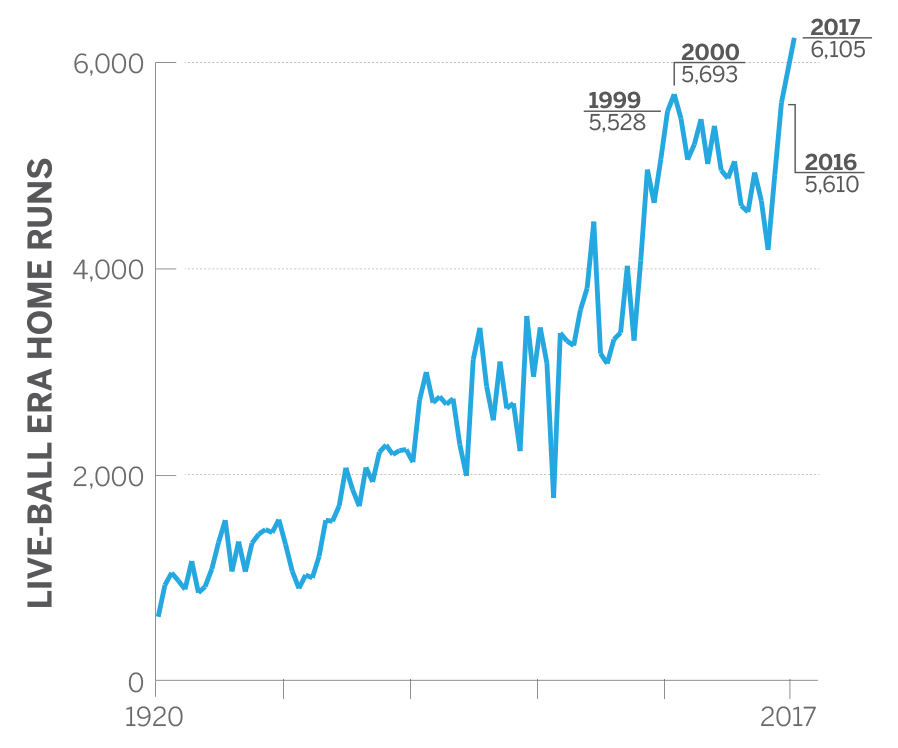 Just three years ago, home runs in baseball were down, and pitchers ruled the game. But things have changed in a hurry. Last season, hitters cracked the 5,000 home run mark, and this year hitters blew by 6,000. No season going back to the beginning of the live ball era (1920) comes close.
Who did the most?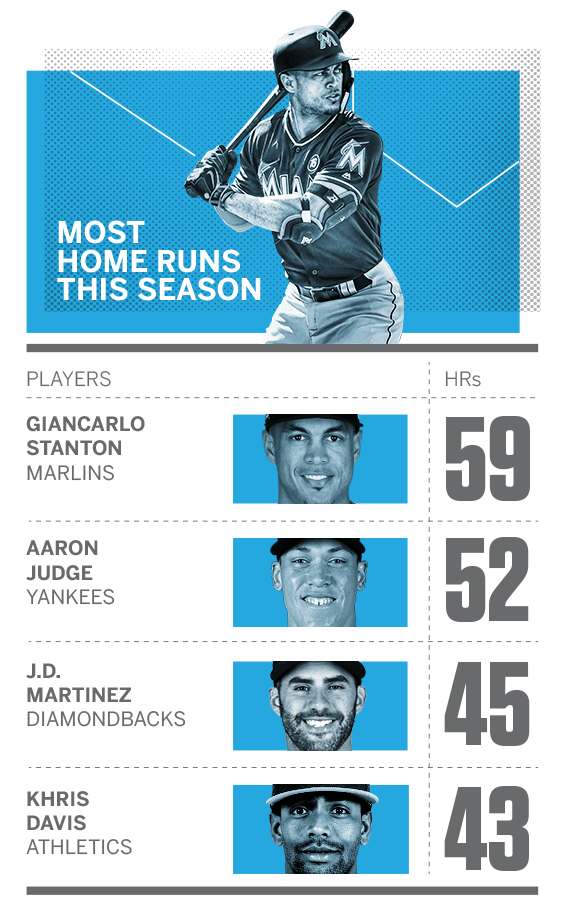 Two giant power hitters -- 6-foot-6 Marlins slugger Giancarlo Stanton and the Yankees' 6-foot-7, 282-pound rookie sensation Aaron Judge -- have turned heads throughout the season, but they aren't the only sluggers who put up big home run totals.
How they stack up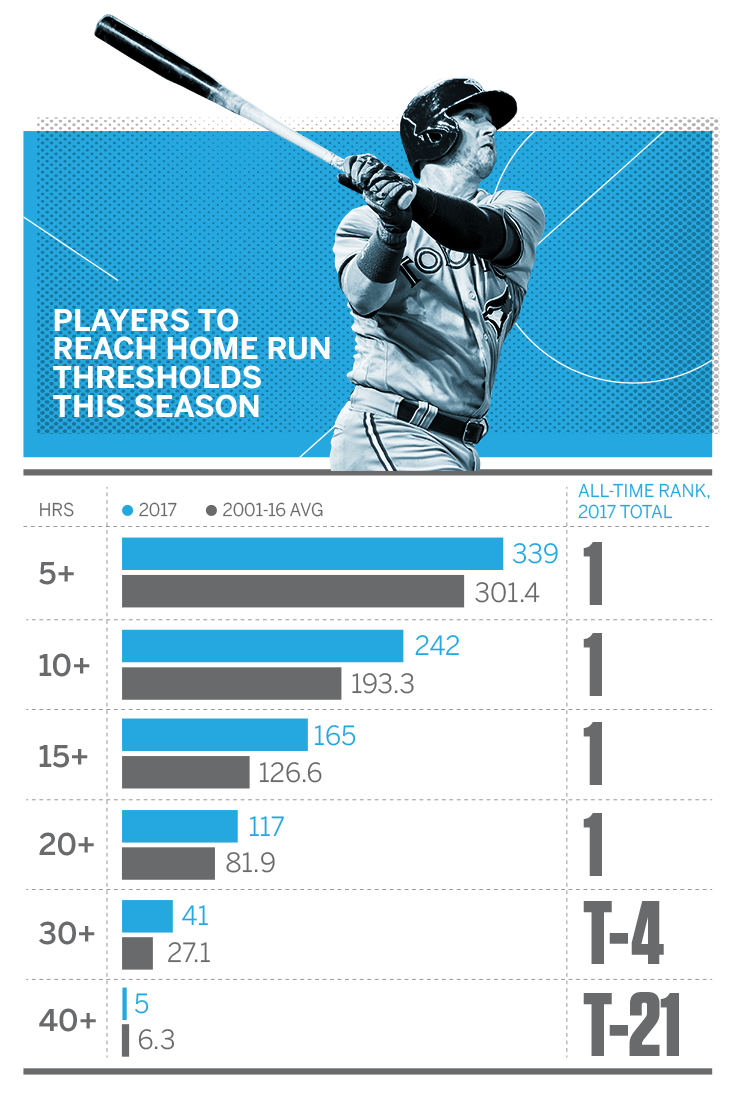 Call it the shrinking gap between the haves and have-nots. Instead of baseball's leaderboard swelling with individuals putting up all-time tater totals like it did during the steroid era, these days it's all about the little guy. More players are swatting five-, 10- and 15-plus home runs than ever before.
Rookie contributions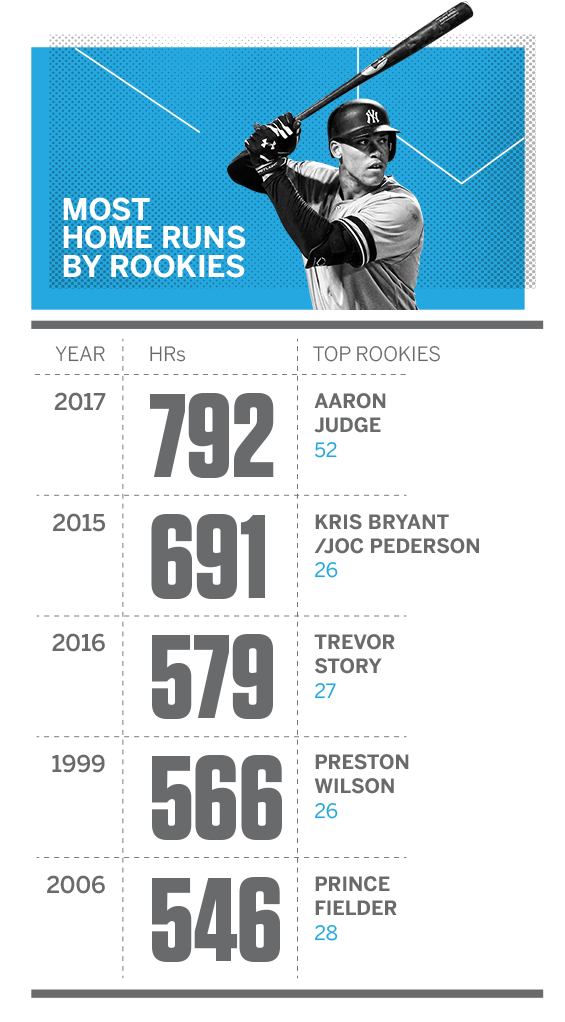 The next generation of sluggers has arrived, and they hit home runs in bunches. Never before have rookies dominated like they are today, led by 25-year-old Judge in the American League and 22-year-old Dodger Cody Bellinger in the Senior Circuit. There have been 1,090 home runs hit by players under age 25 this year, the most ever.
Biggest increases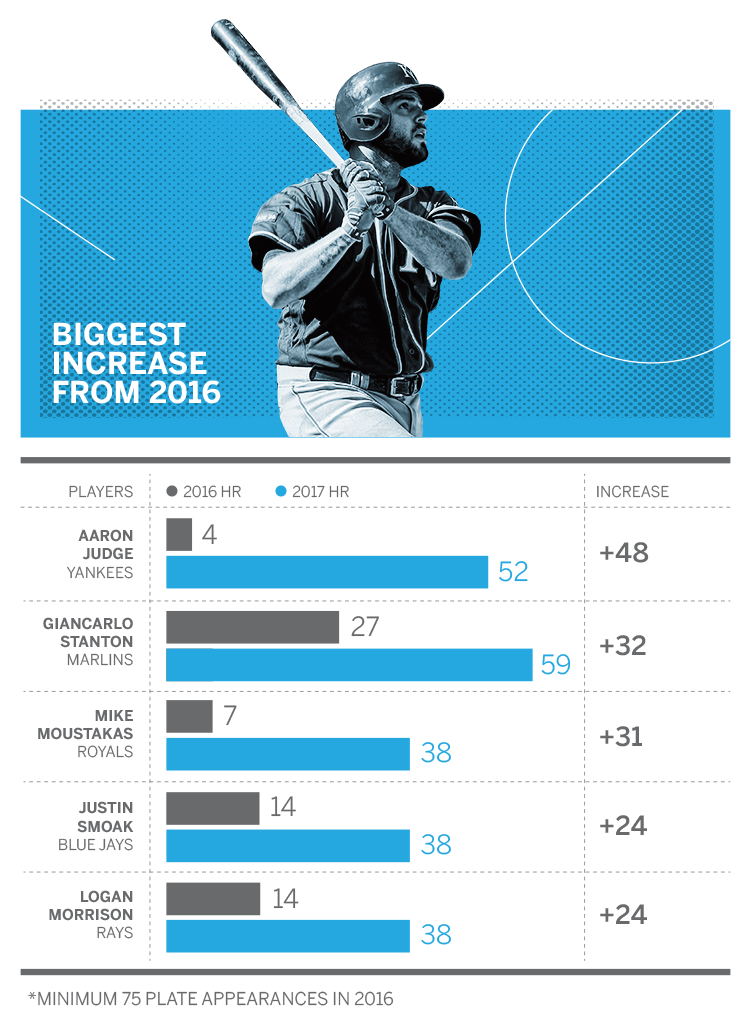 Stanton is the poster child for players who have seen huge increases in their home run totals this season. Finally healthy, Stanton has more than doubled his 2016 homer output, en route to a major league-leading 55.