January promises to be an action-packed month in baseball, as prominent free agents scramble for jobs, Chipper Jones, Jim Thome and some friends await the call from Cooperstown, and the commissioner's office and players' association try to find common ground on the nettlesome issue of pace of play.
A lot of intriguing individual storylines will begin to unfold, as well, over the coming weeks and months. With six weeks left until pitchers and catchers report to Florida and Arizona, here's a look at ESPN.com's 18 most interesting people of 2018: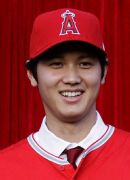 1. Shohei Ohtani
He made his priorities clear when he left the Hokkaido Nippon Ham Fighters at age 23 and sacrificed a likely nine-figure payday in two years. Ohtani's two-way skill set prompted the vast majority of teams to fill out questionnaires and seven clubs to make personal sales pitches in an attempt to sign him.
Ohtani's arrival in the Cactus League will match the frenzy in 2013, when Josh Hamilton, Mike Trout and Albert Pujols appeared together at their first news conference at Tempe Diablo Stadium. Once the introductions are complete, Ohtani, manager Mike Scioscia and the Angels will navigate a wide range of challenges as he tries to do something unprecedented in a foreign land.
The Angels promise to be one of baseball's most interesting teams now that general manager Billy Eppler has reshaped the infield with the additions of Zack Cozart and Ian Kinsler and signed Justin Upton to a five-year extension. If the Angels continue to waste Trout's prime, it won't be for lack of effort.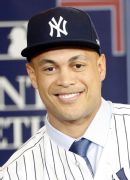 2. Giancarlo Stanton
When the money quote from an introductory news conference is, "I feel sorry for the baseballs," the bar of expectations has been set high.
Stanton has spent eight years dealing with a suboptimal ownership dynamic and playing before small crowds in Miami. Now he wakes up in New York in the same batting order as Aaron Judge, who staked his claim to the "future face of baseball" designation with 52 home runs as a rookie. Stanton goes from the 25th-most-generous home run park in the majors to the No. 2 yard. The only way this could be more entertaining is if he hit left-handed.
As an aside, I asked one veteran scout for his over/under on the combined home run total for Stanton and Judge this season. The scout predicted Stanton will hit 53, Judge 48, Gary Sanchez 35 and Greg Bird 33. That's 171 total for four players -- or three more than the entire Boston Red Sox team launched in 2017.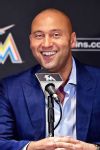 3. Derek Jeter
Jeter's first three months as an owner have been an awakening. He has made several PR missteps and was recently besieged by Marlins Man and other angry season-ticket holders at a town hall. Jeter and his ownership partner, Bruce Sherman, can't be blamed for shedding some of the massive contracts they inherited from the Jeffrey Loria regime. But when competing ownership groups say they didn't plan to rip things down to this extent in Miami, it calls into question whether MLB sacrificed viability for a flashy name and a $1.2 billion payout.
Jeter grew accustomed to fawning news coverage during his playing career, and he's learning (or at least, he should be learning) that the same rules don't apply in the owners' suite. He's a target for criticism now, whether he's sitting in a booth watching a Dolphins game during the winter meetings or enlisting someone else to do the dirty work and fire holdovers from the previous administration. Until the Marlins turn the corner, he better get used to it.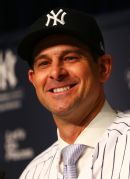 4. Aaron Boone
The Yankees took some shots at manager Joe Girardi after parting ways with him in October. Owner Hal Steinbrenner shared an amazing revelation when he said the organization would have moved on from Girardi even if the Yankees had won the World Series.
Boone blew away the Yankees during the interview process, and he makes a valid point when he says his cumulative experience as a major leaguer, broadcaster and the product of a baseball family give him a novel and wide-ranging perspective. Still, he'll arrive in Tampa in February with zero experience as a manager or a coach, and he's taking over a team with massive expectations in a market in which minor missteps can escalate in a hurry. He'll be forced to learn quickly.
5. Clayton Kershaw
Kershaw is destined to be in the Cy Young Award conversation as long as he remains healthy. He has a 144-64 win-loss record with a career 161 ERA+, seven All-Star Games and three strikeout titles on his résumé. He could retire tomorrow and be in the Hall of Fame debate.
Sometime between now and the end of the year, we'll have a much better idea where he'll be spending the second half of his career.
Kershaw's contract with the Dodgers gives him the choice of opting out this winter or sticking around for two more years and $65 million. At the very least, he should be able to parlay his leverage into an extension. If he opts out, it will have a seismic impact on the National League West.
6. Bryce Harper
He is 25 years old and has 150 home runs, five All-Star Game appearances, a Rookie of the Year and a Most Valuable Player Award on his résumé, but he has played 140 or more games only twice in six seasons. Whether it's a product of his aggressive style of play or simply bad luck, Harper has found it a challenge to stay on the field from April through September.
Free agency beckons next winter, and Harper can expect a barrage of questions upon arrival at spring training. Amid talk of the potential $400 million-plus windfall that awaits, he will focus on leading the Nationals to another playoff appearance and the team's first postseason series victory after four October flameouts in six years.
7. Jose Altuve
Carlos Correa and George Springer are talented enough to win the MVP Award this season, but no Astro is more charismatic or productive than Altuve. He has accumulated 1,250 career hits and three batting titles at age 27 and is building a foundation for a run at Cooperstown.
All Altuve did in 2017 was win the AP Male Athlete of the Year Award and the Sports Illustrated Co-Sportsman of the Year honor with J.J. Watt. What other surprises does he have left in that dynamic 5-foot-6, 165-pound package?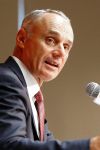 8. Rob Manfred
Manfred has received generally positive reviews in two years on the commissioner job, but he hasn't been immune from criticism. In 2017, he incurred some blowback for going light on the Red Sox in the Apple Watch investigation, letting Yuli Gurriel play in the World Series after a racially insensitive gesture and being unaware of Derek Jeter's plan to slash the Marlins' payroll.
Manfred continues to oversee changes on the field, and the 2018 calendar unfolds with a sense of urgency surrounding one of his pet issues. Manfred wants to address the game's lagging pace of play through an agreement with the players union, but MLB has the option of acting unilaterally if a settlement can't be reached. Either way, get ready for a pitch clock and a limitation on mound visits in 2018.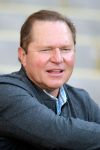 9. Scott Boras
Boras is poised to be the prime power broker in two hot stove seasons. He represents more than 15 current free agents -- including Jake Arrieta, J.D. Martinez, Eric Hosmer, Mike Moustakas, Greg Holland and Carlos Gonzalez -- and not a single one has signed. Can Boras find them all comfortable landing spots at the desired prices, or are a few destined to fall through the cracks and be out there looking for work in February and March?
Next year will be equally suspenseful. Boras represents Harper, and he recently added Astros Dallas Keuchel and Marwin Gonzalez to his clientele. If Martinez earned the moniker "King Kong of Slug" and Hosmer is "Playoffville, Federal Express," lord knows what catchy phraseology Boras will trot out to describe Harper.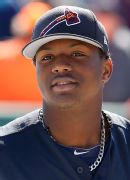 10. Ronald Acuna
The Braves cleared a path for Acuna when they traded left fielder Matt Kemp to the Dodgers in one of the most imaginative salary dumps in memory. Now Acuna heads to spring training with an opportunity to make the big club's roster and take a run at the Rookie of the Year Award at age 20.
One scout who saw Acuna in the Arizona Fall League describes him as a "generational talent" with multiple All-Star Games in his future. Another characterized him as "an impact five tool" talent with outfield skills reminiscent of a young Andruw Jones.
"He has some hot dog in him," said a talent evaluator. "But it's a big league swagger. He knows he's really good."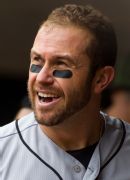 11. Evan Longoria
The Giants are desperate for a lift after going 64-98 in 2017, and Longoria will try to provide it 2,900 miles from the organization that's been his big-league home since 2008.
Longoria, a California native, is 32 years old and a few months removed from logging a .737 OPS -- second lowest in his career. As beloved as he was in Tampa-St. Petersburg, he hasn't made an All-Star team since 2010. So is he on the downside of his career, or will he be reinvigorated by the change of scenery and combine with Buster Posey to give the Giants a new middle-of-the-order synergy?
"He'll probably get an adrenaline lift playing on the West Coast in front of big crowds, and he has some more protection there than he had in Tampa Bay," said a scout. The Giants have a lot of money invested in Longoria and several other players on the wrong side of 30, so they better hope this move pays off -- and quickly.
12. Manny Machado
Will Machado be in Baltimore on Opening Day, or will Orioles general manager Dan Duquette bite on a deal and send him elsewhere? And if Machado shifts from third base to shortstop, as he has expressed a desire to do, will the transition be as seamless as most talent evaluators expect?
Machado, who turns 26 in July, is three months older than Harper. The combination of 30-homer power, defensive wizardry and youth ensure he will hit the mother lode in free agency regardless of what uniform he's wearing in his platform year.
13. David Price
Things went south for Price in Boston last year when he clashed with the media, became enmeshed in an ugly incident with broadcaster Dennis Eckersley and seemed ill at ease with everything about life in Red Sox Nation.
Can Price put it together and combine with Chris Sale to give the Sox one of baseball's elite 1-2 pitching combinations? If so, will he stay in Boston or opt out of the four years and $127 million left on his contract to chase a fresh start in a market more in his comfort zone?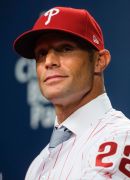 14. Gabe Kapler
First-time managers Boone, Alex Cora, Davey Martinez and Mickey Callaway will be the focus of considerable scrutiny in demanding East Coast markets with big media presences. But the most entertaining culture clash looms in Philadelphia, where Kapler, a California guy, arrives on the scene as a new-age thinker in the quintessential old-school sports town.
Philadelphia fans trusted the process with the 76ers. Will it give the same courtesy to a health-conscious, conditioning-obsessed, sabermetrically oriented manager who's learning on the job with a young, evolving roster? The Phillies might not win the NL East, but they'll make for a heck of a reality show.
15. Andrew McCutchen
For a player of his stature, McCutchen has been through the wringer in Pittsburgh. He has been the focus of persistent trade rumors, lost the center-field job at the behest of management and was perceived as washed-up by some observers after getting off to a terrible start in 2017. He admirably kept his head down and his mouth shut, went on a tear and put up some stellar numbers at age 30.
Where do the Pirates go from here? McCutchen, Gerrit Cole and Josh Harrison remain prominent in trade rumors as GM Neal Huntington tries to thread the needle between contention and long-term viability. McCutchen could be moved before Opening Day, get flipped at the trade deadline or spend the entire season in Pittsburgh and hit the open market in November. Whatever the scenario, it's going to be a seminal year for the Pirates' resident icon.
16. Yu Darvish
Darvish showed admirable class amid the Gurriel controversy only to allow eight earned runs over 3 1/3 innings against the Astros during back-to-back duds in the World Series. Is he a top-of-the-rotation talent who has been victimized by an unfortunate tendency to tip his pitches, or a pitcher with dominant stuff who puts up huge strikeout numbers only to fade on the biggest stage?
Before Darvish can answer either of those questions, he has to find a place to pitch. The offseason rumor mill has linked him to a collection of suitors ranging from the Minnesota Twins to his former employers, the Texas Rangers.
17. Kyle Schwarber
Spring training is replete with stories of players who have "reshaped their bodies" during the offseason. Few arrivals will elicit more double-takes than Schwarber, who has dropped 20 pounds while taking part in a maniacal work ethic this winter.
"I want to be an MVP. I want to be a Gold Glover. I want to set my standards really high," Schwarber said in a recent interview with ESPN's Jesse Rogers.
For all the hype Schwarber has received, he's a .222 hitter in 658 big-league at-bats. If his training regimen sets him on a more productive path, it will go a long way toward helping Chicago fend off the Cardinals and Brewers in a contentious NL Central.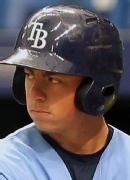 18. Brendan McKay
The Rays vowed to keep an open mind on McKay and his two-way aspirations when they selected him out of Louisville with the No. 4 pick in the 2017 draft. McKay went 1-0 with a 1.80 ERA as a pitcher and hit .232 with four homers in 36 games as a first baseman/DH for the Hudson Valley Renegades in the short-season New York-Penn League, and he'll continue to experiment in the minors this season while Ohtani is attracting national attention as a dual threat in Anaheim.
Others to watch
Bruce Maxwell: The Oakland catcher took a stand by taking a knee during the national anthem in late September to protest social injustice. A month later, Maxwell was arrested when a female food-delivery person alleged he pointed a gun at her. A potential trial has been scheduled for April in Arizona.
Joey Votto: He displayed his sense of humor when he bought then-teammate Cozart a donkey as a reward for making the All-Star team, then showed his compassionate side several months later through his outreach to a young cancer victim in Cincinnati. Votto is always thoughtful and self-aware while churning out .450 on base percentages as a sabermetric darling. He truly is The Most Interesting Man in Baseball.
Dave Dombrowski: Now that Brian Cashman has gone all-in with the Stanton acquisition, will Dealin' Dave find a way to counter?
Ned Yost: He suffered life-threatening injuries after falling from a tree stand while hunting. Managing is a physical and mental grind, and Yost will be entrusted with overseeing a rebuild in Kansas City while coming back from a truly harrowing experience.
Logan Morrison (and Justin Smoak and Yonder Alonso): They combined for 104 home runs and were the poster boys for baseball's launch-angle-happy, juiced-ball-conspiracy-laden long-ball surge in 2017. Can they come close to replicating those numbers in 2018, or was it a one-year aberration?
Sonny Gray (and Alex Cobb and Masahiro Tanaka): Along with Darvish, they were the slowest-working pitchers in baseball this year, according to FanGraph's "pace" rankings. How will they and others adapt if baseball introduces a pitch clock?
Haley Alvarez: She's 24 and just got hired as the Athletics' scouting coordinator. We might be looking at a front-office star on the rise.