An unusual thing happened Monday night in Seattle: Miami Marlins second baseman Luis Arraez failed to get a hit.
It was an occurrence that hadn't happened in more than a week. In fact, it was one of just 11 contests all year in which the 26-year-old hasn't dropped one into the outfield grass, which helps explain why he heads to the midpoint of the season in the rarest of territories: with a batting average hovering near .400.
It's been 82 years since Ted Williams was the last hitter to accomplish the feat for an entire season and 20 years since any player hit better than .400 through his team's first 64 games (Chipper Jones did it in 2008).
"This is big for me," Arraez said last weekend after a four-hit series against the Chicago White Sox. "I'm hitting .400 right now. It's June. I want to continue to play like that and help my team because we're playing good baseball right now.
"It's fun because everyone is talking about me."
They're talking about him because from the time Arraez went 2-for-4 on Opening Day he's been a hit machine. His batting average didn't drop below .400 until early May and has never fallen below .371 this season. Though batting average is not the all-encompassing mark of success it perhaps once was -- it has taken a backseat to other more revealing statistics about a hitter -- and that hasn't stopped anyone in the Marlins' dugout from celebrating it.
"Batting average still matters to the players," Marlins manager Skip Schumaker said. "When I went to the field, I wanted a 3 in front of my name. That was special when I saw that. OPS is trendy but the players know exactly what their batting average is. They also know what Luis is hitting."
Said Marlins infielder Jon Berti: "Every day, it's more hits, more hits, more hits. The other day when we played, it dropped below, then it went above, then below then above again. It's been crazy. And fun."
After a hitless game on June 2, his teammates were all over him.
"We're in hitters' meetings and ... we'll say things like, 'Only one hit today? Are you OK?'" catcher Jacob Stallings said. "He went hitless the other day and [shortstop] Joey Wendle said to him, 'So are you going to get five hits today?' He said no, probably four. He ended up getting five."
The five hits on June 3 were followed by nine more over the following four games, pushing his average over .400 for the first time since early May. A 1-for-5 day against the White Sox last weekend dropped him just below the magic mark again, but that's not likely to keep the attention off Arraez for long. He knows what .400 means.
"The social media is the worst," Arraez said with a smile. "They send me a lot of texts and DMs. I don't want to see my numbers, but they put it there every time, so that's why I know.
"I just try to put the ball in play every time. I practice that during batting practice, then I take that to the game."
Arraez won the American League batting title in 2022, hitting .316 with the Minnesota Twins before an offseason trade to the Marlins. In some ways, his batting average success should come as no surprise. With this year's shift restrictions in place, batting averages are up across the league. In April, the league's overall batting average was up by as many as 16 points higher than the first month of the 2022 season.
But Arraez's .400 flirtation isn't just about the shift rule change. He works at it. A lot. Batting practice begins way earlier -- and is way different -- than perhaps anyone else in the league.
"He does a routine at the hotel before he comes to the field," Stallings said. "He always travels with his bat, doing dry swings in his room. His attention to detail is unbelievable."
Said Schumaker: "The kid literally wakes up and hits. No, he literally does. Then he gets to the field and hits. He's just so different than the guys that slug and have high batting averages. He's literally looking at the defense and picking a hole where he's trying to hit it. I've never seen that."
Arraez's bat-to-ball skills are becoming the talk of baseball and the secret to his success is in many ways simple: being able to place the ball where he wants to. His spray chart looks like a Jackson Pollock painting.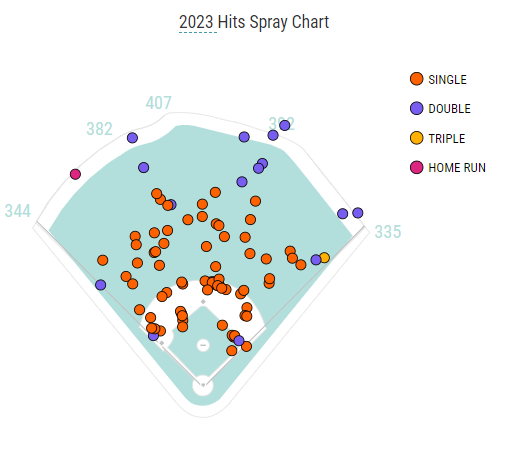 "During BP, if I'm standing at third or shortstop," Berti said, "he'll look at me for a round and he'll hit me 4-5 line drives, 4-5 ground balls, right where I'm standing. Even though it's BP, it's still impressive."
That's where another side effect of the banned shift could come into play: More hard hit balls should get through the infield, and infielders being required to start on the dirt could increase bloop hits, if they're placed as well as Arraez is able to place them. On balls hit between 150 and 300 feet, he is hitting .657.
What seems impossible for other players is the norm for Arraez.
"There's no weakness," White Sox outfielder Gavin Sheets said. "There's no certain way to pitch him. There's no certain way to play defense against him because he's hitting it everywhere. He's like a softball player. It's pretty cool to watch. It's something special right now."
Most unusual might be his abnormally low hard-hit rate. Usually, a high hard-hit rate correlates with more hits. And yet 98% of qualified MLB hitters hit the ball harder than Arraez. According to ESPN Stats & Information, only seven players since 2015 hit .300 or better with a hard-hit rate under 25%. Arraez -- whose rate is 23% -- is sitting at .391 after Monday's 0-for-4 against the Mariners.
White Sox pitcher Mike Clevinger didn't pitch against the Marlins this weekend but faced Arraez many times while both were in the AL Central. He knows firsthand how difficult it is to get Arraez out.
"He doesn't swing and miss," Clevinger said. "So you're hoping he mishits the ball. He's a pest. It's never living in one spot. With him, you throw out the scouting report. Just try to trick him with what I'm throwing and in what part of the zone."
Though the importance of batting average might have changed since Williams' famous chase in 1941, Marlins general manager Kim Ng still believes Arraez's play speaks for itself.
"It's never good to look at just one statistic," she said. "We've pulled back the layers on that. [But] as far as hitting .400 -- over the hood, under the hood, it's still pretty impressive."
If Arraez stays in the vicinity of that seemingly unattainable threshold as the year progresses, the chase will get only more attention. Arraez knows it. So do his teammates. There's a long way to go in the season, but there's nothing wrong with dreaming of history.
"If I'm healthy, I can do a lot of good things," Arraez said, with another smile. "Let's see what happens."