Players have had baseball cards with such unflattering photos you wouldn't recognize them. They also have had cards where they were literally unrecognizable because, well, the photo is of someone else -- Aurelio Rodriguez's 1969 card was really the Angels batboy Leonard Garcia while, worse, Dick Ellsworth's 1966 card was actually ex-teammate Ken Hubbs, who died two years earlier.
But at least the photos were of someone's face. Not so with Skip Schumaker's card in the new 2012 Topps set that goes on sale this week. Schumaker's card shows only the St. Louis utility player's lower leg. The rest of the card is devoted to the Rally Squirrel, seen scampering across the batter's box during last year's postseason.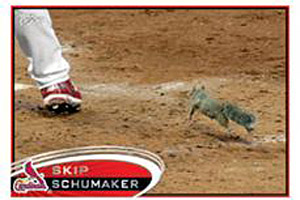 Topps says the Rally Squirrel card is a rare version of Schumaker's card and that Schumaker has another card in the set that shows him sliding into home plate. That's good but this squirrel card still has to be considered among the strangest baseball cards of all-time. As others have pointed out, there are a lot of contenders. Here are 20 notable cards in the ever-growing Off-Base collection of "The Weird, The Bad and The Ugly."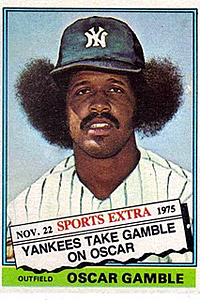 Oscar Gamble, 1976 Topps Traded, 74T
Can there be any doubt what era this card is from? "It takes you back to the '70s when everyone was wearing their hair like that," Gamble told me on the phone. "I get a lot of them in the mail to autograph. That's the one card I get the most."
The card comes with an interesting backstory. Yankees owner George Steinbrenner had this thing about long hair. During the national anthem on his first Opening Day as owner, he even jotted down the numbers of the players whose hair he considered too long, then ordered them to cut it. So when the Yankees traded for him, Gamble knew what was coming. "They wanted me to cut my hair before I got my uniform." Gamble, however, says he also had a deal with Afro Sheen and was supposed to make a commercial for the company. He said he tried to do the commercial before his haircut, but Steinbrenner's barber was too quick.
By the way, Gamble said his famous Afro was so bountiful that he went from wearing a size 8 cap down to a size 7½ after the haircut, setting the record for the greatest cap size change by a player (later broken by Barry Bonds).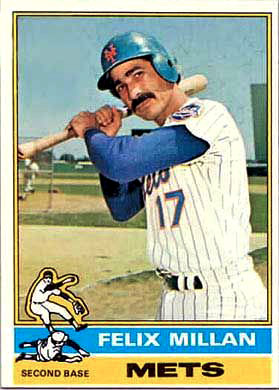 Felix Millan, 1976 Topps, No. 245
I coached a Little League team when I was 17 years old. We had a big kid on the team who had just moved to town from New York. He was one of those guys who matured a couple of years early and was a half-foot taller and 40 pounds heavier than everyone else. Naturally, he could hit the ball a mile. But he had an odd grip, and I tried to get him to change it to the grip I had learned from the local college coach (the legendary Ed Cheff). I probably should have just left the kid alone, but I insisted he change and his father got upset. He was from New York and he wasn't going to take any grief from a junior in high school in a little town in Washington. We argued batting grips for a couple of minutes until he finally said, "You know who my son holds the bat like? Felix Millan. That's the way Felix Millan holds the bat." That's when I came to my senses and let it go. As this card shows all too well, there is no reasoning with a man who cites Felix Millan as an example for how to hold a baseball bat.
Frankly, there is no way anyone could look less menacing at the plate.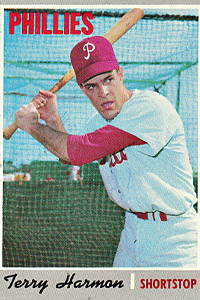 Terry Harmon, 1970 Topps, No. 486
I stand corrected.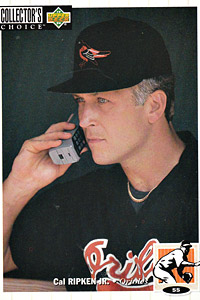 Cal Ripken Jr., 1994 Upper Deck, No. 240
Who is Ripken calling in this card? His agent or Soviet premier Dmitri Kisov?
"I do remember that card mostly because it was the strangest baseball card I ever had," Ripken said. "If I remember correctly, that was Roland Hemond's cellphone and a few of us were having some fun with the fact that it was so gigantic and just screwing around when someone took my picture. I don't know what is funnier, the technology back then or the fact that it became a baseball card."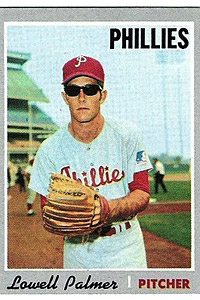 Lowell Palmer, 1970 Topps, No. 252
To paraphrase one commenter, is this a major league pitcher or is the mystery of D.B. Cooper solved?
Palmer really did wear dark glasses while pitching due to eyes that were extremely sensitive to light (not surprisingly, he threw 14 wild pitches in 1970). He also has one of the most amazing backstories in baseball card history (among other things, he trained pigeons, worked as a private detective and was traded for Mike Kekich after that pitcher's famed wife-swapping with Fritz Peterson. Check out the details here.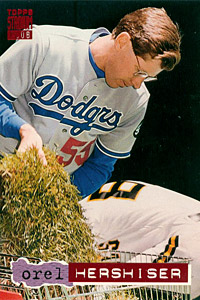 Orel Hershiser, 1994 Topps Stadium Club, No. 400 What the hell is Orel Hershiser doing in this card? Glad you asked. That's not hay he's feeding to a Pirate, it's a lump of sod the team brought with it on the road for good luck.
"It started because we could not win on the road, and especially on turf," Hershiser recalled. "So we asked the ground crew for Dodger Stadium turf. We packed it up and took it on the road with us. We kept it alive in the bullpen and carried it with us until the grass died. We had it in the dugout during games and guys would put their gloves on it in between innings or just touch it before they took the field. It worked for a while."
Hershiser had some interesting cards, including this one that shows him juggling three baseballs. "I always tried to help the guys doing the photos not get bored."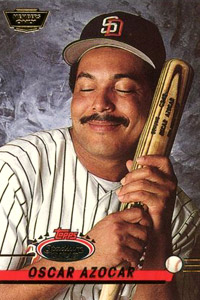 Oscar Azocar, 1993 Topps Stadium Club, No. 257
Oscar really liked his bats.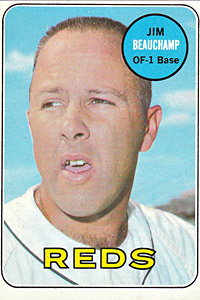 Jim Beauchamp, 1969 Topps, No. 613
You think your old high school yearbook photo is embarrassing? At least it wasn't packaged and sold nationwide so that every kid in the country could get a personal copy (or more likely, four or five). Poor Beauchamp. This photo is so unflattering even the DMV would reject it for a driver's license.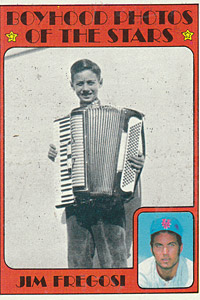 Jim Fregosi, 1972 Topps, No. 346
In 1972, Topps started a feature called "Boyhood Photos of the Stars" which gave us many embarrassing images, including this one of Fregosi playing the accordion.
"My mother, God rest her soul, sent that in," Fregosi said. "She got a letter or something asking for pictures of me and that's the one she picked. I played the accordion for a long time." Fregosi said he was pretty good on the accordion -- he played all the standards: "Lady of Spain," "Beer Barrel Polka" -- but gave it up in high school when he got more involved in sports. "Years ago, when I came back home to visit, my mother would take the accordion out and say, 'Play for me.' But I could hardly play it by then."
And what did Fregosi's teammates say about the card? "Oh, they just made fun of it."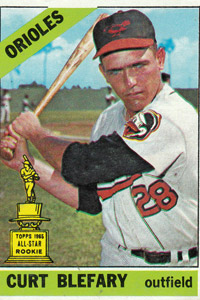 Curt Blefary, 1966 Topps, No. 460
Blefary's nickname, by the way, was Buffalo.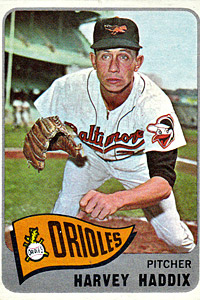 Harvey Haddix, 1965 Topps, No. 67
I believe this is the precise expression Harvey had when he threw the pitch that ended his 12-inning perfect game.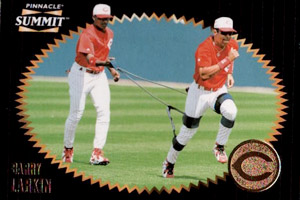 Barry Larkin, 1996 Summit, No. 108
You know the most amazing thing about this card? Larkin doesn't find it that ugly.
"I didn't think anything weird about that card," Larkin said. "A lot of my offseason was spent trying to get better, stronger, faster, and that harness was just one way more to train. I had a lot of guys using that harness."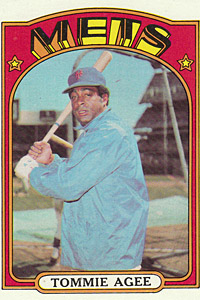 Tommie Agee, 1972 Topps, No. 245
"No, don't bother taking off the jacket, Tommie. It looks fine."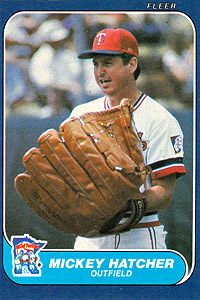 Mickey Hatcher, 1986 Fleer, No. 396
Hatcher says some company had the glove at a spring training game for a promotion of some sort. "I picked it up and the card guy just happened to shoot it when I was out there playing for fun. I said, 'Get a picture of me with this glove, because I need all the help I can get.'"
Now if only we could find someone holding a giant bat. But who would have such a card?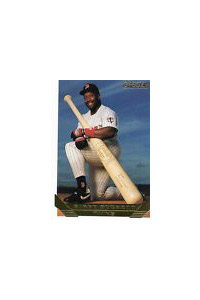 Kirby Puckett, 1993 Topps, No. 200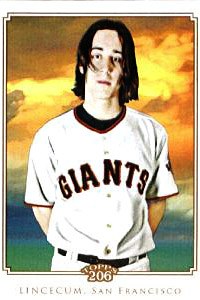 Tim Lincecum, 2010 Topps, No. 206
In addition to being a two-time Cy Young winner, apparently Timmy also plays in the Cullen vampire baseball league in Forks, Wash.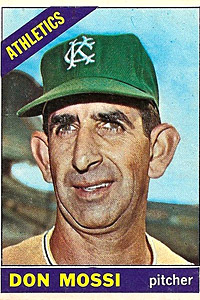 Don Mossi, 1966 Topps, No. 74
I would like to say that this is just a bad photo of Mossi, but I'm not sure that it is.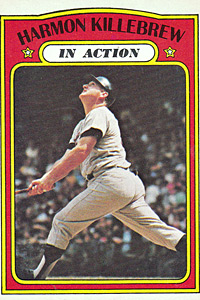 Harmon Killebrew, 1972 Topps, No. 52
Back before action sports photography had progressed to its current standard, Topps decided to experiment with some game photos on its cards. Billed as "IN ACTION,'' these cards left a lot to be desired. For instance, Harmon Killebrew hit 573 home runs in his career, fourth-most all-time when he retired. So what's his "IN ACTION'' shot? This picture of him popping out.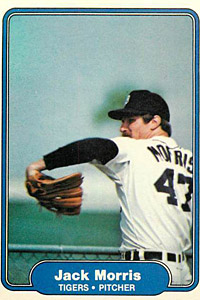 Jack Morris, 1982 Fleer, No. 274
This card is a fine example of how not to crop a photo.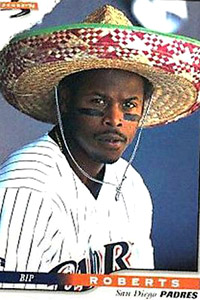 Bip Roberts, 1996 Score, No. 36
There was a great commercial for baseball in the mid-90s that showed Bip Roberts in the dugout boasting that his 1986 rookie card was a great investment because it already was worth $275, so who knew what it would be worth in 10 years. "A thousand dollars?" he suggests. "Two thousand dollars?" Teammate Tony Gwynn, however, notices a mistake Roberts made while scanning the baseball card price guide. "You were looking at Robin Roberts, not Bip Roberts," Gwynn corrects him. "Says here yours is worth four cents." Roberts looks at the guide, realizes his mistake but doesn't give up. "Yo, T!" he calls out to Gwynn. "Four cents if it's in excellent condition but 10 cents if it's totally mint."
This Bip Roberts card, however, is priceless. As are all of these.
CSI: Box Score
You know the drill. Each week I provide a fragment from an old box score and challenge you to determine what game it is from and why it's significant. I give this one a difficulty rating of 7.0. Answer below.
Yeah, well, that's just like your opinion, man
An Astro By Any Other Name Would Still Not Have A World Championship Pennant
After saying that he was considering a name change, new Houston owner Jim Crane announced this week that due to strong fan reaction, the team will remain the Astros. Good. Name changes are nothing new in baseball -- the Astros played as the Colt 45s for their first three years before changing when they moved into the Astrodome, and some of the game's grandest teams also began with different nicknames. The Red Sox were known as the Americans up until 1908 and the Yankees were known as the Highlanders until 1912. These were particularly good name changes, otherwise we'd be forced to listen to obnoxious chants of "Americans suck!" during games at Highlanders Stadium. The Dodgers were known (in order) as the Atlantics, the Grays, the Bridegrooms, the Grooms, the Superbas, the Dodgers (for two years) and the Robins before changing their name to the Dodgers for good in 1932. In one of the sillier name changes, Cincinnati changed its name from the Reds to the Redlegs in 1953 due to the McCarthy "Red Scare" of that era. The team came to its senses in 1960. And most recently, Tampa Bay tweaked its name slightly by dropping the Devil from Rays.
I'm glad Houston is staying with the Astros. It's a distinctive name tied to NASA, Mission Control and all those bad "Houston, we have a problem" wisecracks. Now, if only Crane would go back to this fabulous old logo …
And You Thought Steak Was Expensive?
Did the Tigers overspend for Prince Fielder? We'll see. But look at it this way: At $214 million over nine years, Detroit will pay Fielder just under $24 million a season. If his 275-pound listed weight is accurate, that works out to about $88,000 per pound. Meanwhile, the Giants will pay Tim Lincecum about $120,000 a pound to pitch each of the next two years. By the way, at the end of Prince's new contract, the Fielder family will have earned $296 million in baseball. That's a lot, but the Alex Rodriguez family has already brought in that amount -- and A-Rod still has $143 million left on his contract …
Moonshots
If Newt Gingrich was to gain the Republican nomination and if he was to win the presidential election (and if the Cubs were to win the World Series) and if he was to somehow cut taxes and find enough money to open a base on the moon, how big a humidifier would be necessary to compensate for the moon's 1/6-weaker gravity when the Rays move there for a better stadium and a larger fan base? …
Answer -- CSI: Box Score
There was only one clue here -- the name Williams among the Boston pitchers. After that, it was up to you to know (or guess) that this was Ted Williams. Yes, Ted Williams pitched in a game. It was the first game of a doubleheader on Aug. 24, 1940, and with the Red Sox trailing 11-1, manager Joe Cronin sent Williams to the mound. It was the only time Williams ever pitched.
But that's not the weird thing. The weird thing is that Joe Glenn was behind the plate for the Red Sox that afternoon, giving him the distinction of being the only player to catch both Babe Ruth and Ted Williams. Glenn caught Ruth's last game as a pitcher, Oct. 1, 1933, meaning he caught the last pitch thrown by both Hall of Famers as well.

Jim Caple is a senior writer for ESPN.com. You can follow him on Twitter at jimcaple.