Kilimanjaro is a snow-covered mountain 19,710 feet high, and is said to be the highest mountain in Africa. Its western summit is called the Masai "Ngaje Ngai," the House of God. Close to the western summit there is the dried and frozen carcass of a leopard. No one has explained what the leopard was seeking at that altitude.
-- from "The Snows of Kilimanjaro" by Ernest Hemingway
As most pitchers would tell you, climbing atop a big league mound is difficult enough. Mets pitcher R.A. Dickey, however, found an even more challenging climb this winter: Mount Kilimanjaro.
"The idea originally appealed to me when I read 'The Snows of Kilimanjaro' when I was in seventh grade. Which is bizarre because the short story is not about the mountain at all," said Dickey, who finished the climb last month. "But there is a line about finding the body of a leopard on the mountain's slope and how it was a mystery what it was doing there. And that stuck with me. I started to consider that mountain as a mystical place.
"As I grew older and older, the goal was to climb it. The opportune moment finally presented itself this year and I said, 'If I'm ever going to do it, I'll have to do it now."
That opportunity was a chance to climb the mountain with former teammate Kevin Slowey and Mets bullpen catcher Dave Racaniello in January while raising money for Bombay Teen Challenge, a charity that helps women who had been forced into prostitution in Mumbai.
Bombay Teen Challenge provides an avenue of escape for these women, training them to find work elsewhere and helping them to better, healthier lives. Because many of the women suffer from HIV and AIDS, Dickey says that sometimes, the only thing the charity can do is provide them with a haven for a dignified death. "It's pretty sobering," Dickey said. "… I've got two daughters myself, and the thought of them being exposed to those atrocities is horrifying."
So Dickey committed himself to the climb, even when the Mets sent him a letter discouraging him from going and informing him that he was putting his $4.5 million contract at risk. Dickey has dealt with losing a contract before -- as a 1996 first-round draft pick, he lost an $800,000 signing bonus when the Rangers discovered he was missing the ulnar collateral ligament in his pitching arm -- and he didn't worry much about this one. He understood the Mets were simply covering their financial bases, the same as any other club would. In fact, he says team CEO Jeff Wilpon congratulated him after the climb and made a large donation to Bombay Teen Challenge. (Dickey says they raised more than $100,000 overall.)
Plus, after thoroughly researching the trip, Dickey felt very confident he would return safely, unlike the main character in "The Snows of Kilimanjaro," who dies from gangrene. "I didn't get gangrene. I didn't get a scratch on me," Dickey said. "About the only thing I suffered from was mild hallucinations at 18,000 feet."
Dickey didn't specify what those hallucinations were, although perhaps they were visions of the Mets winning the NL East this season.
What Dickey did return with were some awesome memories. "To see the sun rise from the highest point in Africa, it's hard to put into words," he said. "I was writing a diary of the trip for The New York Times, but I was having trouble expressing it adequately. I was limited by my lexicon."
This is why I'm such a fan of Dickey. He majored in English literature at Tennessee and remains an avid reader who uses words such as lexicon. He also has a book coming out March 29, "Wherever I Wind Up: My Quest For Truth, Authenticity and the Perfect Knuckleball." I'm looking forward to its publication even more than Opening Day.
Hemingway might have inspired Dickey originally, but he relied more on J.R.R. Tolkien to describe his most excellent African adventure. "The metaphor I used was I felt like Bilbo Baggins when he went up the Lonely Mountain," Dickey said. "I finally experienced what a hobbit felt. If you can do that at any point in your life, you're doing pretty well."
The climb was not "Into Thin Air," but Dickey did find it grueling, particularly the lengthy descent when his muscles reached the breaking point and he fell down several times. "Kilimanjaro is not really a technically challenging climb," Dickey said. "It's more like mountain hiking than mountain climbing." Despite wearing two pairs of gloves, he also briefly lost feeling in his right fingers when the temperatures fell below zero high on the mountain: not a good thing for any pitcher, but especially a knuckleballer. Frostbite, he said, "would be the end of me." He placed the hand inside his jacket to warm it up and says the hand is fine and that he's been pitching normally in workouts. "I've been knuckling up," he said.
So the Mets need not worry this season or any other he pitches for them. Having summited Kilimanjaro, Dickey says he has no plans to climb Everest or K2 or anything much higher in elevation than the 10 inches of the pitcher's mound. "I think I'll concentrate on being a full-time father and husband," he said. "I've got four kids. I'm 37. And with writing the book and Kilimanjaro, they've been without a full-time father for about a year and a half."
There were probably fans who considered Dickey's presence on Kilimanjaro as mystifying as the leopard in Hemingway's short story. But Dickey knows that to see all life has to offer, sometimes you have to push yourself to a higher perspective.
Baseball Card of the Week
The Skip Schumaker Rally Squirrel card (pictured here) in the new Topps set got a lot of attention last week, but as Keith Olbermann points out in his Baseball Nerd blog, this card of Mike Morse (2012 Topps, No. 165) is another gem.
I just hope that's actually Gatorade he's pouring on his teammate.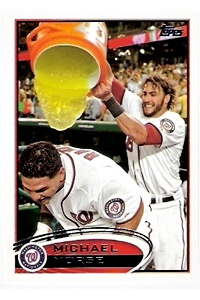 CSI: Box Score
You know the drill. Each week I provide a fragment from an old box score and challenge you to determine what game it is from and why it's significant. I give this one a difficulty rating of 4. Answer below.
Yeah, Well, That's Just, Like, Your Opinion, Man

Our long national nightmare is nearly over: Although most fans are counting down the days until pitchers and catchers report late next week, please note that spring training actually begins this weekend, when the Mariners open their camp a full week earlier than anyone else. Why so early? It's not to get extra swings in the batting cage (although given the Mariners' offense in recent years, that would be a good idea). Rather, it's because Seattle also opens the regular season a week early when it plays Oakland in Japan on March 28 and 29. Oddly, the Athletics (who played their opener in Japan in 2008) open their camp the same time as everyone else. What do they know that the Mariners don't? It should be exciting to see which is greater at those games at the Tokyo Dome: the number of fans or the number of Japanese media covering Ichiro's every move. "Breaking news! There is a 1-1 count on Ichiro!"
Does this mean I have to turn in my man card?: When the media run stories about the "record" Super Bowl viewers, what they usually leave out is that much of the "record" is due to an increasing U.S. population. So although this year's game drew a "record" 111.3 million viewers -- 300,000 more than last year -- there also were more people not watching the Super Bowl than last year because the U.S. population is estimated to have grown about 2 million since then. (At roughly 313 million people, we're the world's third-largest country behind China and India.) As amazing as it sounds, roughly two-thirds of the country does NOT watch the Super Bowl each year. I was among those Sunday, taking advantage of ticket cancelations for the Broadway hit, "The Book of Mormon." I feel for the Giants fan who turned back his tickets to see the game instead because the show is superb. I highly recommend "The Book of Mormon" as well as wearing Depends in case you urinate in your pants because you're laughing so hard. Best yet, the show ended in time to catch Eli Manning's final drive at a nearby bar.

Staub
Jack Morris didn't get elected to this one, either: The Canadian Baseball Hall of Fame announced this week it will induct Rusty Staub, Doug Melvin and Rheal Cormier this summer, along with the Canadian national team that won last year's Pan-Am Games. Staub is an American, but he gets in for being one of the Montreal Expos' first stars. Which makes him at least as much a Hall of Famer as Cormier (five winning seasons and a career 4.03 ERA).
CSI: Box Score Answer
The big clue was the name Minnie Minoso listed as the pinch hitter, which is a strong indication that this was one of those games Minoso appeared in to extend his streak of decades played. But was this the time he did it in the 1970s or 1980s? Dickie Thon's name should indicate the latter, and indeed, this box score fragment is from the game Minoso pinch hit for the White Sox on the penultimate day of the 1980 season, which gave him major league appearances in the 1940s, '50s, '60s, '70s and '80s. Batting against Frank Tanana, Minoso fouled out to the catcher in the game, then grounded out in a final pinch-hit appearance the next day.
Those were Minoso's last games in the majors but not his last day in pro ball. The independent league St. Paul Saints brought him back to bat in 1993 and 2003 (he was hitless both times), giving him pro games in seven different decades. That's one shy of the record held, of course, by Jamie Moyer. (Ha! Just kidding!) By the way, Minoso, 86, has yet to play this decade.
What is also interesting about those 1980 games is that the White Sox's manager was Tony La Russa. Imagine Tony taking part in such a thing near the end of his career. Then again, he probably would welcome the chance to send up Minoso to pinch-hit just so that the opposing manager would change relievers to a right-hander, allowing La Russa to send up a left-handed pinch hitter, thereby adding at least five minutes to the game.

Jim Caple is a senior writer for ESPN.com. You can follow him on Twitter at jimcaple.