GLENDALE, Ariz. -- This spring, there are more major league sons in the Los Angeles Dodgers' clubhouse than you might find at even a Steve Garvey family reunion.
Seven, to be specific. Outfielder Tony Gwynn Jr. is the son of the legendary Hall of Famer. Shortstop Dee Gordon is the son of longtime pitcher Tom Gordon. Outfielder Scott Van Slyke is the son of former outfielder Andy Van Slyke. Second baseman Ivan De Jesus Jr. is the son of 15-year veteran Ivan De Jesus. Catcher Matt Wallach is the son of 17-year-year veteran Tim Wallach. Infielder Justin Sellers is the son of former Boston Red Sox pitcher Jeff Sellers. And infielder Jerry Hairston Jr. is not only the son of former Chicago White Sox infielder Jerry Sr. but also the grandson of ex-major leaguer Sam Hairston, the nephew of John Hairston and the brother of Scott Hairston (the Hairston name has been around baseball almost as long as Rawlings).
"My grandpa played in the Negro Leagues, and I remember him talking about Jackie Robinson, Josh Gibson and Cool Papa Bell," Hairston said. "Especially around Thanksgiving, I would hear those stories and my dad would tell stories about when he was playing. And, when I was a kid, I wanted to have stories of my own and experience what they experienced."
And the Dodgers could have had one more big league son had Los Angeles not traded manager Don Mattingly's son, Preston, two years ago. How many of the remaining players will stick with the team remains to be seen, but one thing is certain: Right now, they could field one hell of a father-son game.
"If you took our fathers in their prime, I think we'd be in trouble," said Gwynn, 29. "We've got some really good ballplayers here who are the sons of former big leaguers. You just try to keep getting better every day, and I think that's the mindset of everybody here.
"You hope it's a trend we continue to see as long as baseball is around. … When you start hanging out with your father in the big leagues, it's hard not to fall in love with the life."
What's not to love? What with all the free goodies available in a major league clubhouse, being a big league son is almost literally like being a kid in a candy shop, except the players are breathing, three-dimensional people instead of just photos on cardboard baseball cards. "As a kid, it's pretty cool," said Van Slyke, 25. "You can have free gum and seeds anytime you want."
"The food is the first thing that sticks out in a kid's mind. The free food," Gwynn said. "You didn't know your dad was paying for it on the side, but it was as much food as you want, any type of food you wanted."
Thanks to his father, Van Slyke has the rare distinction of being a player who can recall what the Pittsburgh clubhouse was like when the Pirates actually were a first-place team 20 long years ago. "Barry Bonds had three lockers to himself. He was the guy you knew was special," Van Slyke said. "He was actually really nice to the kids. He hung out with us, and, when we played in the tunnel after the game, he would stop and play with us."
"I still can remember the smell of old Comiskey Park," said Hairston, 35. "The cigar smoke, the beer and the hamburgers," he said. "When school was out, my dad would take us to the ballpark and shag. I would be standing there next to Harold Baines and lo and behold, years later, I wound up playing with Harold Baines."
The downside of being a big league son? Having a father who is on the road much of the year. "He was gone at least 81 games," Gordon said. "Eighty-one games." More than that if you count spring training and the postseason. Van Slyke said his family minimized his father's absence by bringing the kids to spring training and enrolling them in a school there for six weeks.
Of course, big leaguers aren't the only fathers whose careers send them on the road a lot, although there is a major difference: "I always knew where my dad was," Hairston said."'Where's Daddy?' 'He's on TV.'"
Gwynn saw his father on TV a lot, more so when his dad was home. It was a ritual for the two to study video together when Tony Sr. returned home from the ballpark, even though he often didn't get home until 11 or midnight.
"Really the only time I got to hang out with him was when he came home from the field. And it was usually spent watching videos," he said. "That's how I learned a lot about hitting -- by watching him watch his videos. He would come home and have two different recorders. He would put his at-bats on one tape and just his hits on another tape. During that process, you're getting to see a lot of different pitches and how he's reacting and breaking it down. I learned a lot."
The Wallachs' age gap (28 years) allowed Tim to coach Matt's travel team after his retirement. "It was funny because you would see kids coming up and asking him for autographs after the game." Hairston, on the other hand, says his father didn't provide much coaching until he was about 16. "He said, 'Do you really want to do this?' And I said, 'Yeah,' and he said, 'All right. I'll start helping you.'" Hairston recalled. "He let me develop that love for baseball first and then he helped me. And I think that was the best way to approach it."
The fathers were major leaguers, but they also were minor leaguers at some point. So, although other players must rely on "Bull Durham" for advice on the minor league life, Sellers says, "I could just ask my dad. He was always one call away, one text away -- he was there to help me."
Sellers, 26, says his father was crucial in his development as a player, particularly the mental aspect. "My dad helped me with what I can expect down the road," Sellers said. "Travel. Interacting with the media. What to say and what not to say. Anything. Everything. He played a big role in this. He's given me an edge in every way."
Gordon, 23, said hanging around with his father and seeing him interact with Derek Jeter, Bo Jackson, Jimmy Rollins et al., made adjusting to the majors easier. "It knocks some of the nerves down, seeing your father do it. That definitely helps."
"That's the advantage these guys have. Most of them have been in locker rooms," Don Mattingly said. "They're hanging out with guys in their underwear and talking trash, so they're comfortable with the locker room atmosphere."
Still, walking into the clubhouse as a major leaguer is vastly different from walking in as a 7-year-old looking for free licorice. "It's not old hat," Hairston said. "It's one thing to experience it as a kid being around your dad, but it's another thing to experience it as a player yourself because you're trying to make a name for yourself and make it to the big leagues and stay."
And although these big league sons might have seen the playful side of Barry Bonds, heard champagne spray in the White Sox and Pirates clubhouses, smelled some very bad odors, and chewed all the free sunflower seeds they could stuff in their mouths, in at least one respect, their childhoods were like those of everyone else.
"You know what, the weird thing is, he was just 'Dad,'" Gordon said. "It wasn't like, 'Ohhh, he's a major leaguer.' It wasn't weird. He was always just Dad."
CSI: Box Score
You know the drill. Each week I provide a fragment from an old box score and challenge you to determine what game it is from and why it's significant. I give this one a difficulty rating of 6. Answer below.
Baseball Card of the Week
There are bubblegum cards and then there are bubblegum cards. Count this one (1976 Topps, No. 564) among the latter. But what made this card so great was the back that showed the entire 22-player bracket from the 1975 bubblegum blowing championship. Kurt Bevacqua had to overcome the likes of George Brett, Johnny Bench, Bert Blyleven and Gary Carter to take home the crown.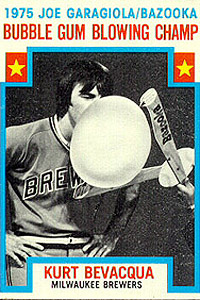 Man, wouldn't you love to be in that office pool?
Box Score Line of the Week
Angels starter Dan Haren struck out a dazzling seven batters in just three innings Tuesday (3 IP, 1 H, 0 R, 0 ER, 0 BB, 7 K), and Yu Darvish walked four in three innings (3 IP, 3 H, 2 R, 2 ER, 4 BB, 3 K).
The line of the week, however, goes to the one Sunday afternoon that provoked five magic words guaranteed to make everyone feel at least five years younger:
Today's winning pitcher: Jamie Moyer.
In his first start of the Cactus League, 49-year-old Moyer looked the same as he has for more than a decade, frustrating hitters with his impeccable control and mix of 80 mph fastballs and occasional changeups in the 60s. It was the first W next to Moyer's name since he underwent Tommy John surgery two seasons ago, and it helped strengthen his case that he deserves a spot on the Rockies' staff. His line:
3 IP, 1 H, 1 R, 1 ER, 0 BB, 2 K
"Why should I retire if I enjoy doing what I'm doing, and I can compete with my teammates in a winning effort and we win a lot of baseball games?" he said. "It's the same thing I was doing when I was 23. Or 28. Or 35. … Even in the last couple years, people come up to me and say, 'It's really cool what you're doing at your age.' And I'm like, the age thing really doesn't matter."
"He's an inspiration for all of us," said 41-year-old teammate Jason Giambi. "He makes me feel young."
CSI: Box Score Answer
This was a bigger fragment than normal so it stands to reason there were several clues here. The first one is the shutout line next to Don Drysdale's name. Next is the four at-bats for the Giants' catcher, Dick Dietz. And finally, the biggest clue is the name Wendelstedt as the plate umpire. From all that, studious baseball fans might have guessed this fragment was from May 31, 1968, when Drysdale was able to keep his scoreless streak alive despite hitting Dietz with a pitch with the bases loaded in the ninth inning.
But why did that not result in a run for the Giants? Why no HBP in the box score? Because umpire Harry Wendelstedt ruled that Dietz made no attempt to get out of the way of the pitch and did not award him first base. The rulebook allows for that, but you almost never see it called. After an argument, Dietz got back in the box and flied out and Drysdale completed his fifth consecutive shutout. He went on to pitch six in a row and a then-record 58 consecutive scoreless innings.
Sadly, Wendelstedt died last week at age 73. But his umpiring legacy lives on, through his son, Hunter, and through all the graduates of the Wendelstedt Umpire School. Rest in peace, Harry.