Why do knuckleballers write such good books? That's easy. Because they have such good material.
No one sets out to be a knuckleball pitcher, after all. You become one only after you lose your fastball or can't catch up with someone else's. Then you are forced to reinvent yourself, return to the minors and struggle for years against the game's preconceptions that knuckleballers are weird and unreliable. It takes strength to follow your instincts rather than the herd. It builds character and provides unique insight. Best of all for a writer, your career arc follows the unpredictable, fickle and often frustrating trajectory of the very pitch you throw.
And if you happen to have majored in English literature, love Hemingway, read "Life of Pi" in the clubhouse and name your bat after a character from "Beowulf," as Mets starter R.A. Dickey has, well, so much the better.
The most famous book by a knuckleballer, of course, is Jim Bouton's "Ball Four: My Life and Hard Times Throwing the Knuckleball in the Big Leagues." The finest sports book ever written, "Ball Four" is as much a time capsule of late-1960s America as it is a diary of Bouton's 1969 season with the Seattle Pilots and Houston Astros. Named by the New York Public Library as one of the 100 most influential books of the 20th century, "Ball Four" remains so popular and relevant 42 years after it was published that a new e-book edition reached No. 1 on Kindle last week. It is also damn funny.
Fittingly, Dickey mentions leafing through a copy of "Ball Four" on the fourth page of his wonderful and powerful new memoir, "Wherever I Wind Up: My Quest For Truth, Authenticity and the Perfect Knuckleball" (written with sportswriter Wayne Coffey).
Dickey and Bouton cover similar territory about the difficulties mastering the knuckleball and surviving life on the fringes of the majors -- the book jacket of each even features a close up of the author's grip while throwing the pitch. "Wherever I Wind Up," however, is a much different and frequently darker book than "Ball Four." Bouton infamously alienated the baseball establishment by opening the doors to reveal what really goes on in a big league clubhouse (and hotels), but Dickey does something even braver: He opens the door to his own painful life and truly hard times.
"Wherever I Wind Up" begins with a superb prologue in which Dickey recalls the game he allowed a record six home runs. This prologue is titled, "The Worst Night I Ever Had," but as quickly becomes clear, this isn't close to Dickey's worst night. He soon reveals he was the victim of sexual abuse, first by a female babysitter when he was just eight, then by a teenage boy when he was in fourth grade. Dickey also describes his family's relative poverty, his father's absence and his mother's decline into alcoholism. He writes about his own infidelity to his wife and failings as a father before refocusing his life.
While waiting for the book to be published, Dickey told me he wondered what his teammates would think. He need not have worried. Unlike Bouton, he does not name names other than himself or the teammates he singles out for praise. The only players of whom Dickey is uncomplimentary are an unnamed teammate who went way, way out of his way to be rude, and Alex Rodriguez, who tossed the game ball from R.A.'s first major league game into the stands and later took credit for his first major league shutout.
Bouton wasn't shy about recording the R-rated dialogue of ballplayers (how else could you do justice to manager Joe "Old S--- F---" Schultz?), but Dickey keeps the language clean enough for the Nickelodeon channel. He purposely does not go into graphic detail about the sexual abuse, though the trauma and lingering effects are clear and painful enough.
This is understandable because in addition to being a book about baseball, this is also a book about Dickey's deep Christian faith. Readers who are not religious will find these passages repetitive and the book's weak point. I would have welcomed a little less religion and a little more clubhouse banter, but Christianity is an important part of Dickey's life and he is simply being honest about his feelings.
And personal honesty is the book's strength. My favorite example is the chapter titled "Into the Missouri," a gripping 12-page account of Dickey's outlandishly foolhardy attempt to swim across the Missouri river while his minor league team was staying in Council Bluffs, Iowa. The story begins humorously before turning genuinely frightening. It becomes nearly life-ending before becoming life-changing and spiritually uplifting. It is both a ridiculous hour in one minor league afternoon and also a metaphor for Dickey's career -- swimming against strong currents and nearly drowning before finding salvation.
An excerpt in Sports Illustrated overplays Dickey's discovery of a syringe in the Rangers clubhouse and his speculation it was used to inject steroids. That brief passage is the only mention of PEDs in "Wherever I Wind Up." Bouton wrote and revealed far more about the use of PEDs (amphetamines) in "Ball Four," famously writing that "if you had a pill that would guarantee a pitcher 20 wins but might take five years off his life, he'd take it." But revealing what goes on backstage in baseball is not Dickey's intent. He is interested in revealing more personal things.
Bouton occasionally refers to "Ball Four" as a "tell-some" book because he purposely left out much from his diary. Dickey, however, doesn't flinch when it comes to honestly telling all about his most intensely personal and private life. In that respect, "Wherever I Wind Up" is far more of a "tell-all" book than "Ball Four" ever was.
CSI: Box Score
You know the drill. Each week I provide a fragment from an old box score and challenge you to determine which game it is from and why it's significant. I give this one a difficulty rating of 5. Answer below.
Baseball Card of the Week
The word "grizzled" comes to mind whenever I look at this card (1966 Topps, No. 249). Based on his expression, it appears that Bill Rigney had been transported to the year 2012 and had just seen a player who is covered with tattoos, wearing an earring and uniform pants low enough to cover up his stirrup socks and is also texting his agent during batting practice. But the most amazing thing about this card is Rigney was only 47 -- two years younger than Jamie Moyer is -- when this photo was taken.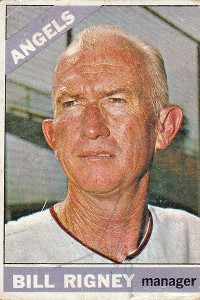 Box Score Line of the Week
There were some dazzling lines in baseball's first week. First, there was the Cubs relief duo of Kerry Wood and Carlos Marmol.
In Chicago's opener, Wood blew a lead with this nifty line: 1/3 IP, 0 H, 0 R, 0 ER, 3 BB, 0 K. He and Marmol combined for this atrocious line in blowing another lead the next day: 2/3 IP, 5 H, 5 R, 5 ER, 2 BB, 1 K.
Then there was Tampa Bay's Burke Badenhop and San Francisco's Javier Lopez, who each threw exactly one pitch that resulted in an error and this line for both: 0 IP, 0 H, 0 R, 0 ER, 0 BB, 0 K. Toronto's Colby Rasmus, meanwhile, went hitless in seven at-bats (7 AB, 0 R, 0 H, 0 RBI) in the Blue Jays' record-setting 16-inning opener. And Barry Zito threw the first shutout of the season and his first in nine years (9 IP, 4 H, 0 R, 0 ER, 0 BB, 4 K).

Aceves
But this week's winner is Boston reliever Alfredo Aceves, who didn't retire a single batter his first two games. His first game was in Boston's opener, when he hit the first batter he faced and gave up a game-losing single to the next (0 IP, 1 H, 0 R, 0 ER, 0 BB, 0 K, 1 HBP). His second was Sunday, when he gave up a three-run homer without recording an out and blew the save with this line:
0 IP, 3 H, 3 R, 3 ER, 0 BB, 0 K
Oh, well. At least Red Sox fans are patient and understanding.
Yeah, Well, That's Just, Like, Your Opinion, Man
He should probably stick to ripping Cubs fans: Ozzie Guillen's comments about loving Fidel Castro were wrong, but I also fear the remarks will handicap any attempts to end the U.S. embargo of Cuba. As I've written before, the U.S. has relations with other repressive regimes, including Saudi Arabia, which so violates basic human rights it bans half its population from driving or even playing sports on many levels. The Cuban embargo is 50 years old and it has not had its desired effect. It hurts the Cuban people most, but it also hurts Americans who would benefit from open relations. It has gone on long enough.
On the other hand, his letter likely will reduce traffic congestion at Safeco Field: Mariners CEO Howard Lincoln angered Seattle fans again when he sent a letter to the city last week opposing a proposed basketball/hockey arena in the same neighborhood on the grounds that if an NBA or NHL moves to the area, traffic would be a major problem. This was poorly thought out. I would bet against such an arena actually being built, and the letter only upset local fans, who equated Lincoln's stance with opposition to the possible return of an NBA team. Also, if an NBA or NHL team did move to Seattle, there would be very few dates those teams would actually be playing on the same night as the Mariners. Even then, the combined attendance would be only about the same as what the Mariners were drawing almost every game a decade ago when they were a winning team. Somehow, the neighborhood was able to handle that traffic.
Lincoln's arrogance and poor management has severely hurt the team for a decade, but as long as Japanese owner Hiroshi Yamauchi doesn't care enough to even go see the team play when they're in his own country, Seattle fans shouldn't expect him to get worked up enough now to demand a change.
Parents, however, may not approve of this for bedtime story hour: As I mentioned above, "Ball Four" is out in a new e-book edition, available on Kindle. It also is available as an audio book, read by Bouton himself, through audible.com. The only thing better than reading "Ball Four" again might be listening to Bouton read it to you.
CSI: Box Score Answer
The biggest clues were the 15 innings in the linescore and the name of only one pitcher in either lineup. Put those two together with the hint that this month's boxes are related to Opening Day, and you might have correctly guessed this was the longest Opening Day game in baseball history -- the April 13, 1926 opener between the Senators and Athletics. Or at least it was tied for that distinction with a 1960 Tigers game until last Thursday, when the Blue Jays and Cleveland played their record 16-inning opener.
But Walter Johnson's six-hit, 15-inning shutout still stands as the longest Opening Day shutout in major league history -- and I'm willing to bet it will remain the record.
That's it for this week. Get well soon, Vin!