Oakland infielder Eric Sogard is one of my new favorite players. That's because he wears glasses.
I'm not talking sunglasses. I'm not talking Oakley thumps with ear buds and iTunes. I'm talking regular prescription eyeglasses. The kind you or I get from our optometrist, but we never see on a position player anymore. Or almost never see.
"I'm probably one of the last players to wear them, but they work for me," said Sogard, whose vision is minus 2.5. "I've tried contacts, but I just don't see as well with them. I've been wearing them since high school and I've never had a problem with them. I've always seen better with glasses than contacts so I've just stuck with them.''
There are many pitchers who have worn glasses, including current Nationals reliever Tyler Clippard. But you can list the number of famous bespectacled hitters in big league history on a single eye chart while using the largest letters. There was Chick Hafey, the first player who wore glasses to make the Hall of Fame (though Mel Ott reportedly wore them late in his career). And there was Dom DiMaggio (.298 career average), whose famous brother with perfect vision was called Joltin' Joe and the Yankee Clipper. Thanks to his glasses, Dom was called "The Little Professor.''
Minnesota shortstop Zoilo Versalles won the 1965 American League MVP while wearing glasses, but the 1970s were the heyday for frames. Dick Allen wore glasses so large they required windshield wipers, but won the American League MVP in 1972. Reggie Jackson won the MVP the next year and Jeff Burroughs won the award in 1974. It was an unprecedented run as they gave new meaning to the power of corrective lens. No one dared call those guys "four-eyes.''
Some hitters continued to wear glasses into the 1980s (Leon Durham, Ron Kittle, Glenn Wilson, Jim Gantner), but that minority grew even smaller as players switched to ever-improving contact lenses. Among the last position players who famously wore glasses was Chris Sabo in the early 90s, though his were more often goggles. Catcher Jason Phillips wore glasses with the Mets and Jays from 2001 to 2007.
And now, of course, players not only wear contacts, they undergo Lasik surgery that improves their vision beyond 20/20 (and yet that's NOT a performance enhancer?), allowing them to see whether the buxom blonde woman in section 312 has a wedding ring on her finger.
Which is why it's refreshing to see a player correct his vision the old-fashioned way, with a pair of glasses.
"You saw guys [with glasses] back in the day but now, I don't see anyone with regular prescription glasses,'' Sogard said. "You see guys with Oakleys and I've tried those, too, but I feel most comfortable with these. I've never had a problem. They've never fallen off.''
My vision is minus 6.00 in one eye and minus 5.50 in the other, which basically means that without corrective lenses, I can't tell the difference between CC Sabathia and the Philly Phanatic. The only role I could fill on a field is umpire.
(Ha, just joking about the umpires. After my taste of umpire school, I know how those guys deserve more respect. The first two umps to wear glasses, by the way, were Ed Rommel and Frank Umont in 1956. You think they caught any grief?)>
I usually wear contacts now, but I remember when I started wearing glasses my last year of Little League. My batting average soared more than 100 points and I caught everything hit my way. It's amazing how being able to see helps.
On the other hand, glasses later helped doom my baseball career in high school. Already limited by my body size (I was so small Ichiro would have given me a wedgie and Tim Lincecum would have stuffed me into a locker), I was trying desperately to prove myself. Unfortunately, during practice one day, the coach hit a low fly ball toward me in left field. I ran in a few steps, dove full-out, reached out for the liner and … the ball clanked off my glove.
Worse, my glasses flew off. Worst of all, my vision was so bad that I could not find them.
I'm not kidding. While my coach steamed and my teammates laughed, I crawled pathetically around the field, looking for my glasses in the grass. I searched and searched, but could not find them. I was like Ralphie in "A Christmas Story'' after the air rifle kicks back and knocks off his glasses. Eventually, a teammate took mercy, walked over, picked up my glasses and handed them to me. I'm not sure whether he pointed to the baseball or not.
Naturally, I did not play the next game. Or the next. Or the next. In fact, I think I sat on the bench the rest of the season with the only job our coach trusted to a guy who couldn't keep his glasses on his face. I kept score.
So I'm happy to see that Sogard's glasses did not hold him back. He not only reached the majors, he hit his third career home run Sunday, leaving him just 560 behind Reggie's all-time record for homers by a bespectacled player. I'm rooting for his continued success, so that his glasses will one day be even more famous than Joe Maddon's and he can join this list of glasses-wearing All-Stars.
P: Denny McClain
C: Darrell Porter
1B: Leon Durham
2B: Jim Gantner
SS: Zoilo Versalles
3B: Dick Allen
LF: Chick Hafey
CF: Dom DiMaggio
RF: Reggie Jackson
Rel: Rick Vaughn
Sogard says he hasn't had any endorsement offers yet, but some fan has set up a fake Twitter account. It's Eric Sogard's Glasses @sogardspecs36 and the Twitter bio says. "I sit on the face of the Harry Potter of baseball, Eric Sogard.''
"You should see Eric without me,'' one tweet read. "He is blind as a bat and constantly running into everything.''
CSI: Box Score
You know the drill. Each week, I provide a fragment from an old box score and challenge you to determine what game it is from and why it's significant. I give this one a difficulty rating of 8. Answer below.
Baseball Card of the Week
The truly frightening thing about this Brian Downing card (1977 Topps, No. 344)? It looks suspiciously like my high school yearbook photo from roughly the same era.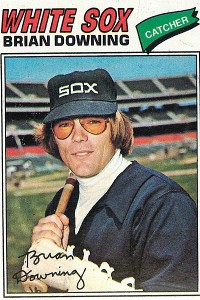 Box Score Line of the Week
Dodgers starter Aaron Harang struck out nine batters in a row and piled up 13 strikeouts in less than seven innings last Friday (6 1/3 IP, 4 H, 4 R, 4 ER, 2 BB, 13 K) while the White Sox's Zach Stewart gave up six runs in one inning, but only one earned run Monday (1 IP, 5 H, 6 R, 1 ER, 1 BB, 1 K). Boston's Daniel Bard walked seven and struck out seven Monday (6 2/3 IP, 4 H, 1 R, 1 ER, 7 BB, 7 K) while the Angels' Kendrys Morales hit his first home run in nearly two years: HR-Morales (1). Seattle's Brendan Ryan walked four times Tuesday, once with the bases loaded to drive in a run (1 AB, 2 R, 0 H, 1 RBI). And San Francisco's Matt Cain bounced back from a rough first start with a brilliant one-hitter Friday (9 IP, 1 H, 0 R, 0 ER, 0 BB, 11 K).
Most weeks, Cain would have won with that line but not this one. That's because one week after losing to a pitcher 27 years younger than he is (Madison Bumgarner), 49-year-old Jamie Moyer pitched seven solid innings Tuesday to become the oldest pitcher in history to win a game. His record-setting line:
7 IP, 6 H, 2 R, 0 ER, 2 BB, 1 K
As I wrote in spring training, Moyer is older than Wilford Brimley was when he starred as Pop Fisher in "The Natural,'' made his big league debut the same week "Ferris Bueller's Day Off'' opened and pitched at Wrigley Field before the park had lights. He has now won 234 games since turning 30.
When I asked him why he's still pitching, Moyer replied, "Because I can. I feel like I can. This is not a publicity stunt. I don't need the publicity. I'm not here to get away from my family. This is my livelihood. This is what I've done my whole life. If I didn't come back I think I would always wonder, 'Could I have played?'
"Half of this is mind over matter. I want to play.''
Congratulations, Jamie. I feel 10 years younger. Does that mean I can put off that colonoscopy?
Yeah, well, that's just like your opinion, man
And Light the Candles for Omar, Too: While I'm on the subject of older players, let me wish an early happy birthday to Omar Vizquel, who turns 45 next Tuesday but is still playing in the majors. He played left field and first base for Toronto last week and will become the oldest shortstop in major league history when he takes his old position at some point. Omar made his debut April 3, 1989, the same day Ken Griffey Jr. did and four days before "Major League'' was released. In other words, Vizquel's major league career goes back longer than Wesley Snipes, Tom Berenger and Corbin Bernsen. But not Charlie Sheen, who played White Sox outfielder Happy Felsch in "Eight Men Out,'' which was released in 1988. Vizquel's debut also was three weeks before "Field of Dreams'' was released. Considering his career and longevity -- Omar will get my Hall of Fame vote if he ever retires -- Vizquel running out to his position has proved as timeless as ballplayers walking out of an Iowa cornfield. …
Speaking of Offensive: Now that Ozzie Guillen is back in the dugout, perhaps the Marlins can apologize for the awful Home Run Sculpture owner Jeffrey Loria had erected in the outfield. That thing would have to shoot $100 bills into the air after home runs to compensate for its atrociously tacky design.
CSI: Box Score Answer
There weren't many clues here. This clearly involved a game with Boston, though if you recognized the names O'Brien and Hall as 1912 era Red Sox pitchers, I want you on my baseball Jeopardy team. So with a little knowledge, a fair amount of guesswork and a lot of hype about this week's 100th anniversary of Fenway Park, you might have correctly determined this box score fragment comes from the first game played at Boston's beloved lyric little bandbox of a ballpark on April 20, 1912.
(Note: The earned runs for Hall is an estimate based on the written accounts I could find of the game.)