Fenway Park's 100th birthday was marked by more than 200 returning Red Sox players and 37,000 fans, the Yankees and Red Sox wearing 1912-era uniforms, at least a dozen books dedicated to the stadium, a commemorative magazine published by the Hall of Fame, a national broadcast and a special musical theme scored by famed composer John Williams.
Tiger Stadium's 100th anniversary that same day, however, was commemorated by 200 or so loyal fans gathering over the course of the day at what remains of the beloved old park -- the field, the flagpole, an entry gate -- at the corner of Michigan and Trumbull. Volunteer groundskeepers mowed the grass, fans ran the bases, played catch and ate grilled hot dogs, and they all watched a newly raised commemorative flag flap in the breeze on the 125-foot center-field flagpole that used to be in play.
"One Field of Dreams," the flag reads. "Celebrating a century of memories, 1912-2012."
The celebration should have and could have been grander had the Tigers gotten involved. But for some reason, a team that pays loving tribute to Tiger Stadium throughout its current stadium didn't bother to lift a finger to celebrate the 100th birthday of a field where it played for 88 years. Vice president of communications Ron Colangelo said Tiger Stadium is well-remembered at the current park and that the old field is city property, so it was up to the city to do something.
Peter Comstock Riley of the Tiger Stadium Historical Society said the Tigers simply don't care about their old home, or about preserving it. Talking to him, it was easy to feel his disappointment that the Tigers did so little for their old home the day the Red Sox did so much for Fenway.
"It's a crime, but it's the reality of the matter," Riley said. "Even to me, somebody who has been watching this play out for a long time, I can't say I'm the least surprised. It's a shame and hurtful to those who still remain and everyone who remembers what used to be."
Riley loved Tiger Stadium, so much so that after the Tigers moved to their new stadium, he took a job across the street from the old park at Brooks Lumber to keep an eye on things. He saw the stadium decay for nearly a decade as various ideas for its future were floated, rejected and ignored. The city kept the stadium locked so tight and off limits that when I was given a very rare tour in 2006, Ray Formosa at Brooks Lumber told me, "I figured they must have Osama bin Laden in there."
The city tore down the stadium structure in 2008-09, but the field was left, albeit still behind a locked fence. Riley is the son of a late state Supreme Court justice, but he took it upon himself to cut the locks off and open the field two years ago. He also raised a U.S. flag on the old pole in center (he also was responsible for the commemorative flag).
"I decided what we needed for the start of the 2010 season was a symbol of not only hope for the Tigers at Comerica Park, but a symbol of hope for their former home," he told me. "So myself and a couple friends who are now part of Tiger Stadium Historical Society got the flag up there. And we've improved it since then. We got a new flag cord, got a bigger flag, 20 by 30. And we service it, give or take every three months, with a checkup and always a new flag."
Volunteers maintain the field as best they can, allowing fans to visit and remember. When I stopped at the field during last year's ALCS between Texas and Detroit to shoot the video that accompanies this column, I found an assortment of fans, including two visiting Rangers scouts and a couple of families. They took windups on the mound where Jack Morris and Mickey Lolich pitched, swings at the plate where Hank Greenberg and Ty Cobb batted or turned imaginary double plays at second, where Alan Trammell and Lou Whitaker did so many times.
"I guess I'm surprised how awesome this place is," Tigers fan Mike Thomas told me that day. "How well kept it is, given that it's just people who love this place that are volunteering their time. It's really great.
"This was the ballpark where I've got a lot of memories. I can remember a lot of particular games with family and friends. And now I get to bring my 9-year-old daughter out here. … I really hope the city of Detroit does the right thing and keeps this place in at least this kind of condition so we can show our kids where the Tigers played when we were kids."
Yeah, well, good luck with that. The city hasn't done much and the Tigers even less. It's a shame. They played nine decades at Tiger Stadium, where they won all their world championships. They should have recognized that great history on the site's 100-year anniversary.
"If I had all the money and the influence and power of the Tigers and the backing of the city, I would have brought in temporary stands," Riley said, "We would have made a great one-day event, with seating for 4,000 people and food kiosks from the neighborhood and an old-timers' game of former players who had played in both Tiger Stadium and Fenway Park."
That would have been wonderful. At the very least, Riley says the Tigers could have sent over a player or two for Friday's anniversary.
"Why wouldn't you say to Prince Fielder, 'Why don't we go back to where your father was a black, right-handed Babe Ruth in a black city where he made a name for himself?"' Riley said. "Where he hit 50 home runs a season when no one was doing that. Where he hit a home run over the left-field roof and where Prince hit home runs into the upper deck as a 12-year-old during batting practice.
"You take him back and say, 'We may be where we are now, but this is where it started."'
Instead, the Tigers couldn't be bothered to do anything on what should have been a memorable anniversary. Ignoring what remains of Tiger Stadium is like ignoring ancestors' graves.
Do the right thing, Tigers. Help preserve the memories. Just as we stop at a relative's grave to leave flowers or pay respects for all they made possible for us, you should help maintain the field. Provide some grass, topsoil and fertilizer. Send over a groundskeeper or two so the work isn't totally left to volunteers.
This field was your home. Help keep it alive so more generations can appreciate it.
CSI: Box Score
You know the drill. Each week I provide a fragment from an old box score and challenge you to determine what game it is from and why it's significant. I give this one a difficulty rating of 9. Answer below.
Baseball Card of the Week
Larry Stone, the Seattle Times' excellent baseball writer, told me I forgot about Frank Howard in last week's column on Eric Sogard and players who wore glasses. He's right, but at least it gives me a great excuse to run this card (1967 Topps, No. 255).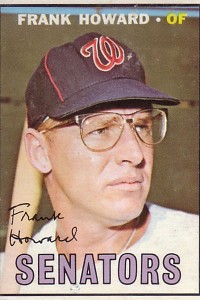 Box Score Line of the Week
Evan Longoria made three errors in a game (E-Longoria 3), leading to this line for Tampa Bay starter Jeff Niemann (5 IP, 3 H, 5 R, 2 ER, 1 BB, 5 K).
Bartolo Colon threw 82 of his 108 pitches for strikes, including an astounding 38 in a row (8 IP, 4 H, 0 R, 0 ER, 0 BB, 5 K).
Boston's Alfredo Aceves had his third game in which he did not retire a batter (0 IP, 2 H, 5 R, 5 ER, 4 BB, 0 K) when the Red Sox blew a nine-run lead Saturday.
Detroit's Rick Porcello allowed 10 hits in one inning (1 IP, 10 H, 9 R, 8 ER, 1 BB, 1 K).
And San Francisco's Matt Cain followed up a one-hitter with another scoreless effort (9 IP, 2H, 0 R, 0 ER, 0 BB, 5K) but got a no-decision because opponent Cliff Lee pitched 10 scoreless inning that game (10 IP, 7 H, 0 R, 0 ER, 1 BB, 7 K).
Lee was the seventh pitcher to throw 10 innings in a game since Jack Morris did it in Game 7 of the 1991 World Series, but he didn't get a win and also went on the disabled list a couple of days later. He didn't even win this week's award because Philip Humber pitched the 21st perfect game in major league history Saturday. Humber's beautiful line:
9 IP, 0 H, 0 R, 0 ER, 0 BB, 9 K
Despite a career mark of 11-10 with a 4.06 ERA entering that day, Humber joined Cy Young, Sandy Koufax, Randy Johnson and Roy Halladay behind the velvet rope at the very exclusive Perfect Game Club. "I don't know what to say," he said. "I don't know what Phil Humber is doing in this list. I have no idea what my name is doing there, but I'm thankful it's there."
(His perfect game also led to one of my more awkward moments in the clubhouse.)
Yeah, Well, That's Just Like Your Opinion, Man
See you in Cooperstown, Pudge: According to ESPN research, the recently retired Ivan Rodriguez, Jorge Posada and Jason Varitek combined to catch 5,489 major league games. Pudge, who officially retired over the weekend, made his debut at age 19 in 1991 and caught Nolan Ryan, who was 25 years older than he was that season. He also caught Stephen Strasburg, who is 17 years younger, last season.
Ichiro dreams of 3,000 hits: One of the best movies I've seen in a while is the Japanese documentary "Jiro Dreams of Sushi." The engrossing 84-minute film tells the story of 85-year-old and three-Michelin-star sushi chef Jiro Ono, son Yoshikazu and their small restaurant in the Tokyo subway station in the Ginza. Despite the title and subject, the movie is really about a lifelong quest for excellence -- Jiro's goal for more than half a century is that every item he prepares is better than the previous one -- and it reminded me a bit of Ichiro's consistent approach to baseball as well. But with more references to octopus and raw tuna.
He could tell the other historians what it was like to pitch for Connie Mack: Press Release of the Week -- After Jamie Moyer said he wished "I was a baseball historian" while trying to sum up his record victory at age 49 last week, the Baseball Hall of Fame offered him a historian internship "if he ever chooses to retire."
CSI: Box Score Answer
This was not an easy one, but there are just enough clues to figure it out. One, the names Lonborg, Petrocelli and Conigliaro give you a pretty good idea of the mid- to late '60s era. That I've been running box scores related to Opening Day this month should be another big clue. But the most important clue is the attendance of just 8,324. Got it yet? Or give up? Whichever the case, this fragment is from the Red Sox's 1967 home opener, before Boston recaptured its fan base with its Impossible Dream season that turned around the franchise.
So the next time a Sox fan brags about how Boston fans have always supported their team through thick and thin, just lay that attendance on them.