When the House of Commons debated how to rebuild its bomb-ravaged chamber in 1943, Winston Churchill famously said, "We shape our buildings; thereafter they shape us."
Which is another way of saying, if you're going to play in Yankee Stadium, you better have some left-handed pitching.

What ballpark is baseball's best? I've written many times on that subject, but now you have a chance to weigh in with your opinion. Over the coming week, you'll get a chance to cast your vote in our Battle of Ballparks bracket. We begin with 14 matchups between 28 seeded venues (Pittsburgh's PNC Park and Boston's Fenway Park get first-round byes) and the winner of each will move on to the next day. Come Friday, you'll vote for the champion between the top two remaining ballparks.
Before you cast your ballot, though, consider this your voter's guide to what makes a good ballpark:
Enough with that. You know what you like in a ballpark. So let us know. Start filling out your bracket. And may the best stadium win.
(16) Turner Field vs. (17) Progressive Field
---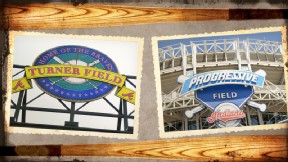 This battle matches a park where Maddux, Glavine and Smoltz pitched, Chipper homered and Carl Lewis leaped to gold against a stadium where three levels of foul line-to-foul line luxury suites dominate the stadium.
(9) Angel Stadium vs. (24) Miller Park
---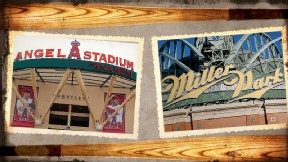 The Big A not only has a SoCal vibe, it has SoCal weather. It shouldn't need the Rally Monkey for a win over Milwaukee's stadium, where the best asset is outside in the parking lot, where there is the best tailgating in baseball.
(8) Dodger Stadium vs. (25) Great American Ball Park
---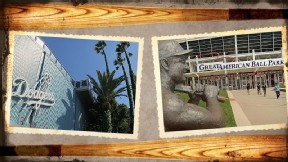 You can hang with Magic and Hollywood stars while listening to Vin and gazing out at the palm trees and San Gabriel mountains. Or you can enjoy a chili dog on the Ohio River and pine for the Big Red Machine.
(4) Camden Yards vs. (29) Rogers Centre
---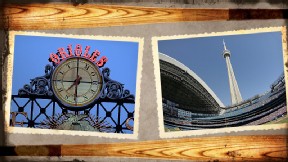 A complete mismatch between the sublime stadium that ushered in the age of retro ballparks and the stadium that should have closed out the futuristic, artificial turf era. Baltimore's warehouse alone is enough to win this one.
(13) Citizens Bank Park vs. (20) Minute Maid Park
---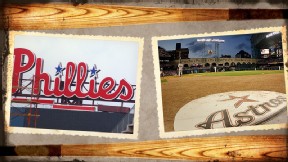 13, Citizen's Bank Park (Philadelphia) vs. 20, Minute Maid Park (Houston): A duel between two very nice stadiums that deserve way better names. But at least Minute Maid is better than Enron (and I wouldn't mind seeing Jeffrey Skilling tied to the railroad track).
(12) Kauffman Stadium vs. (21) Rangers Ballpark
---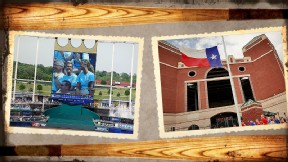 The Royals' 40-year-old and always underrated stadium gives you a view of the spectacular water fountains in center field. Arlington gives you a view of a few office windows. Big edge to Kauffman.
(5) Target Field vs. (28) O.co Coliseum
---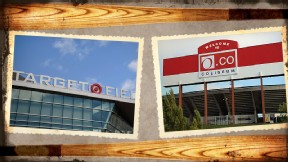 The Twins' park is such a piece of Minnesota, you can practically hear Garrison Keillor saying, "It was a quiet inning at Target Field." The Raiders turned the once-fine Coliseum into such a travesty, you can almost hear the late Al Davis saying, "Add more luxury suites -- or else."
(15) U.S. Cellular Field vs. (18) Busch Stadium
---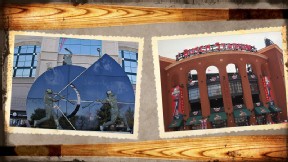 Comiskey (which I will always call it, damn the naming rights) got a bad rap when it opened, but improvements have turned it into one of the better ballparks. Better, certainly, than Busch, where the team violated a cardinal rule of new design by having the concourses block large sections of the field.
(10) Safeco Field vs. (23) Chase Field
---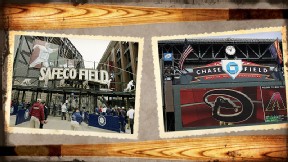 The only drawback to ultra-fan-friendly Safeco is the poor view it provides of one of the most beautiful cities in the world. But that's still better than a stadium where the most notable feature is a swimming pool.
(7) Comerica Park vs. (26) Marlins Park
---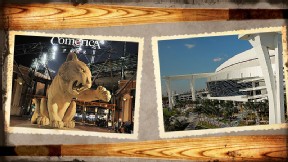 Tiger Stadium is still much missed, but Comerica is a colorful, delightful replacement as welcoming as a state fair. As for the Marlins' new stadium? What is the point of a retractable roof if you don't retract it? And don't bring up that awful home run sculpture.
(3) AT&T Park vs. (30) Tropicana Field
---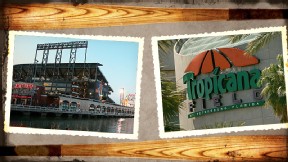 Not only does San Francisco's ballpark provide distinctive dimensions with gorgeous architecture and views, the Giants built it the old-fashioned way -- they paid for it themselves. As for Tropicana, well, at least the team provides good reason to venture inside. Hard to believe Tampa Bay once used this place in an attempt to lure teams away from other cities.
(14) Petco Park vs. (19) Citi Field
---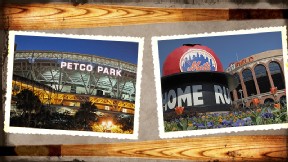 Hard to top a summer evening in San Diego when you have the game in front of you, a view of the warehouse in left field and a fish taco in your hand. The most recent New York stadium is a significant improvement over Shea (what wouldn't have been?) but was it built for the Mets or the Brooklyn Dodgers?
(11) Coors Field vs. (22) Yankee Stadium
---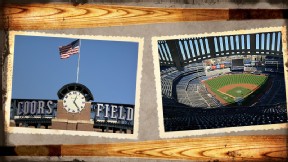 Coors is a lovely park with an even better brew pub to drown your sorrows when the Rockies' pitching gets rocked. Yankee Stadium is like the Yankees themselves -- massive, grand, bloated and so obviously built for the 1 percenters that only the players can afford season tickets.
(6) Wrigley Field vs. (27) Nationals Park
---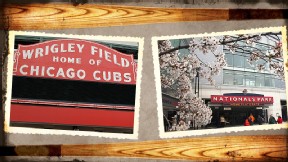 Wrigley is still beloved by fans, but it's time for the Cubs to show some love and invest some money into upgrading the deteriorating 98-year-old ballpark. There's nothing wrong with the Nationals' park but there's nothing special, either, aside from the prices that are designed for a lobbyist's expense account.