They've been playing the World Series since 1903, when the Boston Pilgrims beat the Pittsburgh Pirates five games to three in a best-of-nine format. Which makes last year's playoffs the … what? 109th postseason in Major League Baseball history?
That's a lot of history, whether our math is right or wrong. That's a lot of spectacular single-game individual performances from which to assemble a list of the top 25 best ever.
Still, that was our charge; so assemble, we did. We put together a panel of our baseball experts to peruse baseball's annals and call out the players who produced the very best single games when those single games counted the most. We went back back back back back to those thrilling days of yesteryear, yesterdecade … OK, yestercentury for some of our choices. For others, we just had to look eighth months or so into the past -- a measure of just how splendid last year's MLB playoffs were. But man, it was hard.
What did we find? Read on. But here's a hint or two: In general, our experts seemed to gravitate to outstanding pitching performances more often than they did to exceptional days or nights at the plate by hitters (though the bats are well-represented). Look closely enough and you'll find a couple of defensive specialists on the list, too. And our panel didn't limit itself to World Series games. The list includes a healthy dose of league championship series and division-round spectacles, too.
How'd we do? Let us know. Help us mend the error of our ways.
Here we go, starting at No. 25 and working up (down?) to No. 1 …
25. Dave McNally, Orioles: 1969 ALCS, Game 2
Result: Orioles 1, Twins 0 Series: Baltimore wins in 3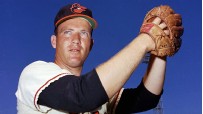 Through 10 innings of shutout baseball, McNally matched the Twins' late Dave Boswell pitch for pitch. And through those 10 innings, McNally gave up only three hits and none after the fourth inning; but Boswell was just as effective. In the top of the 11th, McNally walked Harmon Killebrew and Tony Oliva with two outs. Would Orioles manager Earl Weaver stick with him? Yes, for good reason. McNally induced a lineout to left from Bob Allison to complete his 11-inning shutout. Boswell wasn't as fortunate. In the bottom of the 11th, with two on and two out, Minnesota manager Billy Martin replaced him with Ron Perranoski, who promptly gave up a game-winning single to pinch-hitter Curt Motton.
---
23. (tie) Mickey Lolich, Tigers: 1968 World Series, Game 7
Result: Tigers 4, Cardinals 1 Series: Detroit wins in 7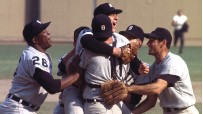 Lolich already had thrown two complete-game victories (Games 2 and 5) in the 1968 World Series. And here he was again, facing the great Bob Gibson in Game 7 on just two days' rest because Detroit's 31-game winner, Denny McLain, had been less than effective in his starts in the first and the fourth games, losing both. Lolich had given up only a total of four runs in his earlier Series games, and he was even better in Game 7. The only run he allowed in the Tigers' 4-1 victory was a ninth-inning solo home run by Mike Shannon.
---
23. (tie) Tom Glavine, Braves: 1995 World Series, Game 6
Result: Braves 1, Indians 0 Series: Atlanta wins in 6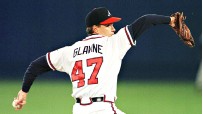 Glavine's mastery of his off-speed pitches kept the Indians' heavy-hitting lineup -- featuring, among others, Eddie Murray, Manny Ramirez, Albert Belle and Jim Thome -- off-balance through eight innings to give the Braves their first World Series title since 1957. Eight Cleveland starters brought regular-season batting averages of at least .300 into the Series, but Glavine allowed only a bloop single to catcher Tony Pena in the sixth inning of his 1-0 gem.
---
22. Pedro Martinez, Red Sox: 1999 ALDS, Game 5
Result: Red Sox 12, Indians 8 Series: Boston wins in 5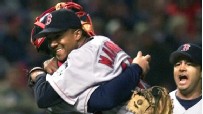 In Game 1 five days earlier, Martinez left the mound after only four innings, fighting back pain. His next start was to be Game 5, the series decider against the Indians, but Boston manager Jimy Williams, unsure of his ace's health, was forced to put Derek Lowe on the mound instead. After three innings of slugfest baseball and an 8-8 tie, though, Williams turned to Pedro in relief. The back issue made both the fastball and changeup problematic, but Martinez relied almost exclusively on his curve to pitch six hitless innings, striking out eight in the 12-8 victory.
---
21. Tim Lincecum, Giants: 2010 NLDS, Game 1
Result: Giants 1, Braves 0 Series: San Francisco wins in 4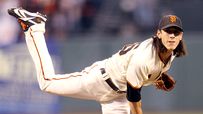 Omar Infante doubled to lead off the game; he stayed on second. Jason Heyward walked to lead off the fourth; he stayed on first. Brian McCann doubled with one out in the seventh; he made it to third on a groundout before that inning ended. That's it. Those were the only baserunners Lincecum allowed in a 119-pitch, 14-strikeout, 1-0 win over Atlanta, an absolutely masterful start to the 2010 postseason.
---
19. (tie) Josh Beckett, Marlins: 2003 World Series, Game 6
Result: Marlins 2, Yankees 0 Series: Florida wins in 6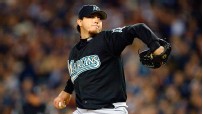 With a five-hit shutout of the Yankees in Yankee Stadium, Beckett led the Marlins to an unlikely championship with this Series-clinching 2-0 victory. At 23 years old, he had never started a major league game on three days' rest … until Game 6, when he became the first pitcher since Jack Morris in 1991 to pitch a complete-game shutout in the deciding game of the World Series. The Yankees had opportunities, but Beckett never broke stride. New York was 0-for-7 with runners in scoring position.
---
19. (tie) Curt Schilling, Red Sox: 2004 ALCS, Game 6
Result: Red Sox 4, Yankees 2 Series: Boston wins in 7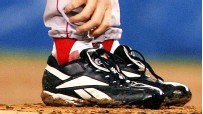 The famous bloody sock game. Battling a torn tendon sheath sutured together in his right ankle -- an injury serious enough to warrant an operation as soon as the postseason ended -- Schilling gutted out seven strong innings and 99 pitches for a 4-2 Red Sox win over the Yankees on the way to Boston's historic comeback from a three-games-to-none deficit. As the game wore on, the wound bled through his sanitary socks and the sole of his shoe, yet Schilling continued to pitch, allowing only one run on a Bernie Williams home run in the seventh inning. It was as courageous a performance as the playoffs have ever seen.
---
18. George Brett, Royals: 1985 ALCS, Game 3
Result: Royals 6, Blue Jays 5 Series: Kansas City wins in 7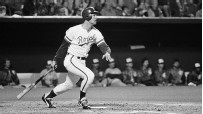 Kansas City won a seven-game World Series in 1985, but the Royals nearly didn't have the opportunity. Down two games to none against Toronto in the ALCS (the first year the league championship series were in a best-of-seven format) Brett took it upon himself to make sure he and his teammates could keep playing. His solo home run in the first inning started it off. He doubled and scored in the third. He tied the game at 5-5 with a two-run home run in the sixth. And he scored the winning run after a single in the eighth. It wasn't an elimination game for the Royals, but it gave them life they hadn't shown in the first two losses.
---
17. Brooks Robinson, Orioles: 1970 World Series, Game 3
Result: Orioles 9, Reds 3 Series: Baltimore wins in 5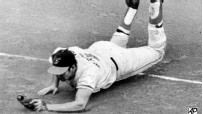 Let's see … there was the snag of a Tony Perez high chopper over the third base bag to start a double play in the first inning; there was a charging pickup of Tommy Helms' slow ground ball in the second inning; and there was a diving stop on Johnny Bench's line drive in the sixth inning. (See photo at right!) The World Series in general, and Game 3 in particular, was a defensive tour de force for Robinson. Never mind his two doubles, his run scored and his two RBIs in Baltimore's 9-3 win over Cincinnati.
---
15. (tie) Tommie Agee, Mets: 1969 World Series, Game 3
Result: Mets 5, Orioles 0 Series: New York Mets win in 5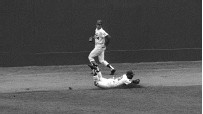 What a way to start a World Series game: a lead-off solo home run off the great Jim Palmer in the bottom of the first. But that isn't what made Agee's performance so memorable. (In fact, the home run was his only hit that day.) Agee's most remarkable contributions in this game came on defense. He made a fabulous backhanded catch of an Elrod Hendricks line drive in the fourth inning when the Orioles had runners on first and third, and a diving one-handed snag on a Paul Blair shot to right-center with the bases loaded and two outs in the seventh. Those two plays likely saved five runs for the Mets, and that was the margin of difference in their 5-0 win.
---
15. (tie) Steve Garvey, Padres: 1984 NLCS, Game 4
Result: Padres 7, Cubs 5 Series: San Diego wins in 5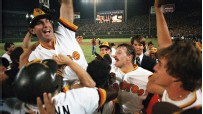 Lee Smith, one of the most imposing relievers in the game, on the mound for the Cubs. Tony Gwynn, who'd singled, on first. Bottom of the ninth in a 5-5 game. Garvey at the plate. A stage set for drama. And Garvey delivered it. His home run to right-center won the game for the Padres and kept them alive in the five-game championship series. (They won the next game, too, to advance to the World Series.) The home run was Garvey's fourth hit of the game, adding to a double and pair of singles, and it gave him five RBIs.
---
14. David Freese, Cardinals: 2011 World Series, Game 6
Result: Cardinals 10, Rangers 9 Series: St. Louis wins in 7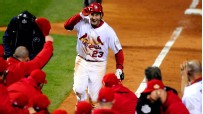 Has anyone ever been as "clutch" as Freese was while the Cardinals were clinging to World Series life late in Game 6? One pitch away from elimination (the Rangers were up three games to two and led Game 6 by a 7-5 score with two outs and two strikes on Freese in the bottom of the ninth), he hit a two-run triple just beyond the reach of right fielder Nelson Cruz to send it to extra innings. Clutch. Then, in the bottom of the 11th with the score 9-9, he led off with a 428-foot home run to center. Clutch. See you in Game 7.
---
13. Roger Clemens, Yankees: 2000 ALCS, Game 4
Result: Yankees 5, Mariners 0 Series: New York Yankees win in 6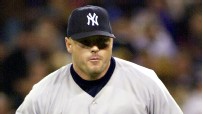 Look up "overpower" in your dictionary. If the definition is accurate, it will include a photo and description of what Clemens did to the Mariners in a 15-strikeout, one-hit shutout. Only an Al Martin double to lead off the sixth inning stood between Clemens and a no-hitter in this 5-0 Yankees win. He walked two -- Alex Rodriguez and John Olerud -- but no one, Martin included, reached third base. Clemens struck out Stan Javier three times and A-Rod twice among his 15 K's and threw 138 pitches in the complete-game performance. Yes, he was overpowering.
---
12. Babe Ruth, Yankees: 1926 World Series, Game 4
Result: Yankees 10, Cardinals 5 Series: St. Louis wins in 7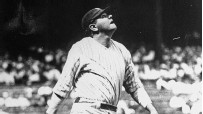 It's been done a handful of times since, but Ruth -- who else? -- was the first. Against the Cardinals at Sportsman's Park III in St. Louis, he became the first player to hit three home runs in a World Series game. First inning: a solo shot to right off Flint Rhem. Second inning: another solo home run, this one to center, also off Rhem. And in the sixth inning: a two-run blast to center off Hi Bell. For good measure, he walked twice, too, in the Yankees' 10-5 win. Oh, almost forgot: Ruth also had an outfield assist, throwing out St. Louis leadoff hitter Taylor Douthit at home.
---
11. Lew Burdette, Braves: 1957 World Series, Game 7
Result: Braves 5, Yankees 0 Series: Milwaukee wins in 7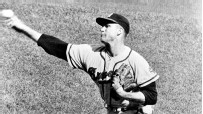 On two days' rest after a 1-0 complete-game shutout win in Game 5 (which itself was hard on the heels of a 4-2 complete-game win in Game 2), Burdette shut down Mickey Mantle, Yogi Berra, Gil McDougald and the rest of Yankees for the third straight time -- another shutout, this one by a 5-0 score -- to give the Milwaukee Braves their first world championship. Whom did he beat in the Game 7 pitching matchup? None other than Mr. Perfect-Game-In-The-World-Series-A-Year-Earlier, Don Larsen.
---
10. Edgar Martinez, Mariners: 1995 ALDS, Game 4
Result: Mariners 11, Yankees 8 Series: Seattle wins in 5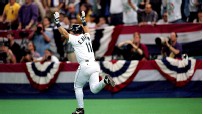 Sometimes it's more than just the stats -- the cold hard numbers -- that tell the tale. Sometimes the tale is told by the timing of those cold hard numbers, too. That was the case for the Mariners and Martinez during their magical drive to the playoffs over the last six weeks of the regular season and into the franchise's first-ever postseason series against the Yankees. Already down 5-0 in the third inning of Game 4, an elimination game for Seattle, Martinez brought the M's back with sudden gusto: a three-run home run off Scott Kamieniecki. Then, with the score tied 6-6 in the bottom of the eighth, he sent a John Wetteland fastball over the center-field fence for a grand slam that kept the Mariners alive again. (They won Game 5 and went on to the ALCS.) Martinez's seven RBIs tied a postseason record.
---
9. Babe Ruth, Red Sox: 1916 World Series, Game 2
Result: Red Sox 2, Brooklyn Robins (Dodgers) 1 Series: Boston wins in 5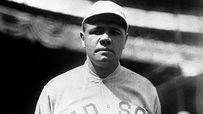 You figured the Sultan of Swat was going to show up on this list more than once, didn't you? Only this time, Ruth should be called the Pharaoh of Fastballs or something like that. In 1916, he was still a member of the Red Sox and hadn't made the move to the outfield yet. So he took the mound as Boston's starting pitcher in Game 2, and he was still there on the mound at the end of the 14th inning. That's right: a 14-inning complete game, a 2-1 Red Sox win over the Brooklyn Robins (Dodgers). The only run he allowed was an inside-the-park home run to Hy Myers in the first inning. (By the way, Ruth was hitless in five at-bats that afternoon, though he drove in the first Red Sox run on a groundout in the third inning.)
---
8. Albert Pujols, Cardinals: 2011 World Series, Game 3
Result: Cardinals 16, Rangers 7 Series: St. Louis wins in 7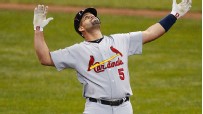 Pujols didn't even need the whole game to make this list. He did it in four short innings. (Short, that is, unless you're a Rangers fan. If you follow Texas, those four innings must've seemed like forever.) From Inning No. 6 through Inning No. 9, Pujols hit three home runs good for six RBIs -- a three-run drive in the sixth, a two-run shot in the seventh and a solo home run in the ninth for good measure. But wait! There's more! Albert played the first five innings, too, during which he added a couple of singles to his collection. By the time he'd finished in the Cardinals' 16-7 rout, he'd set a World Series record with 14 total bases and tied another with five hits.
---
7. Sandy Koufax, Dodgers: 1965 World Series, Game 7
Result: Dodgers 2, Twins 0 Series: Los Angeles Dodgers win in 7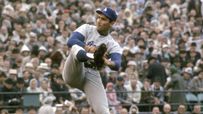 He was pitching on just two days' rest, but then, so was his counterpart on the Twins, Jim Kaat. He'd already lost a game in this World Series, but then, so had Kaat, who matched up with him in Game 2 (a 5-1 Minnesota victory) and Game 5 (a 7-0 Dodgers win). But Koufax had one disadvantage in Game 7 that Kaat didn't have to work through: arthritis. In other games through his too-short (12 years) career, Koufax might have been more dominant, more effective, than he was in this one -- including a then-record 15-strikeout dazzler in Game 1 of the 1963 World Series against the Yankees. But this performance stands out as perhaps his most glorious moment, as he battled through the sore arm and the fatigue to keep the Twins scoreless in a complete-game, 10-strikeout, 2-0 shutout. He still had the remarkable fastball at the end, striking out Earl Battey and Bob Allison to end the game.
---
6. Roy Halladay, Phillies: 2010 NLDS, Game 1
Result: Phillies 4, Reds 0 Series: Philadelphia wins in 3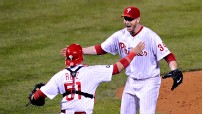 Halladay already was established as perhaps the game's best pitcher. He'd won the AL Cy Young Award in 2003 and was on his way to a unanimous selection for the 2010 NL award (partly on the strength of a late-May perfect game) when he took the mound to open the playoffs for the Phillies. But until that early-October Wednesday, he'd never pitched in the postseason. The team he matched up against in his playoff debut, the Reds, had led the league in batting average, runs scored and home runs during the regular season. But they never had a chance on this day. Halladay faced 28 Cincinnati hitters (he walked Jay Bruce with two outs in the fifth inning) and threw 25 first-pitch strikes in the 4-0 win, only the second postseason no-hitter in MLB history.
---
5. Reggie Jackson, Yankees: 1977 World Series, Game 6
Result: Yankees 8, Dodgers 4 Series: New York Yankees win in 6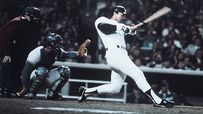 A tour de force for Mr. October (the nickname that was cemented by his performance in this game). Jackson hit three straight pitches thrown by three different Dodgers pitchers (Burt Hooton, Elias Sosa and Charlie Hough) out of the park in the Yankees' series-clinching 8-4 win in Yankee Stadium. In his first at-bat in the second inning, he walked on four straight pitches. In his next plate appearance (against Hooton in the fourth inning), he hit a low line drive into the right-field stands for a two-run homer on his first swing. In the fifth, this time against Sosa, he smacked the first pitch to roughly the same place. And in the eighth inning, he walloped Hough's first knuckleball some 475 feet deep over the center-field fence. Worth noting: In his last plate appearance in Game 5, he homered off Don Sutton. So over two games, Mr. October hit home runs on four straight swings. Simply remarkable.
---
4. Bob Gibson, Cardinals: 1968 World Series, Game 1
Result: Cardinals 4, Tigers 0 Series: Detroit wins in 7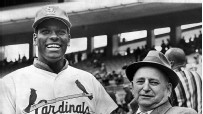 Strong at the start? Sure. It was the first game in the World Series. All that adrenaline, all that excitement, all that hoopla over a matchup with 31-game winner Denny McLain. Gibson used 17 pitches to get through the first inning and his first two strikeouts. But just as strong at the end? That's a little tougher. After all, he'd thrown 144 pitches by the time it was over. (Try to imagine that happening today!) You figure maybe he'd have slowed down a little. Hah! The last three batters he faced were Al Kaline, Norm Cash and Willie Horton, and he struck out all three. When Gibson was done, he had 17 strikeouts, breaking Sandy Koufax's World Series record, and a 4-0 win.
---
3. Kirby Puckett, Twins: 1991 World Series, Game 6
Result: Twins 4, Braves 3 Series: Minnesota wins in 7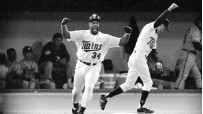 What didn't Puckett do that night in the Metrodome? Well, he didn't turn an unassisted triple play, skip the light fandango or sail across the ocean blue. But everything else? Yep. Did it. He won the game with a walk-off, 11th-inning home run against Charlie Leibrandt in Minnesota's 4-3 win over the Braves to force a Game 7. He tripled in a run and then scored himself in the first inning. His sacrifice fly put the Twins up 3-2 in the fifth. He stole a base. And he made a sensational catch on a Ron Gant drive to center in the third inning.
---
2. Jack Morris, Twins: 1991 World Series, Game 7
Result: Twins 1, Braves 0 Series: Minnesota wins in 7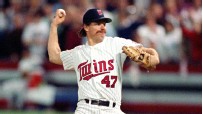 Morris versus John Smoltz, mano a mano through scoreless inning after scoreless inning in the game to decide the world championship. Who was going to flinch? Smoltz finally left in the bottom of the eighth after giving up no runs on only six hits. But Morris pitched on, turning away several suggestions from Twins manager Tom Kelly to the effect that, seeing as how this was his third start in the Series, maybe it was time to take a seat and let the bullpen finish it up. Morris insisted on pitching the 10th inning, too, and retired Jeff Blauser, Lonnie Smith and Terry Pendleton in order. Finally, little-used Gene Larkin singled in the winning run in the bottom of the 10th to make a winner of Morris in one of the best World Series games ever played.
---
1. Don Larsen, Yankees: 1956 World Series, Game 5
Result: Yankees 2, Brooklyn Dodgers 0 Series: New York Yankees win in 7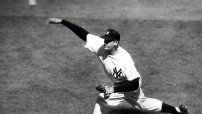 How do you top perfection? You can't. And you don't -- not on this list. There have been only 22 perfect games thrown in the history of Major League Baseball, so when one happens in the World Series? End of discussion. Larsen, who'd been … well, something less than impressive (four runs, four walks in 1 2/3 innings) in his Game 2 start earlier in the 1956 World Series, set down 27 straight Brooklyn Dodgers the afternoon of Monday, Oct. 8, in Yankee Stadium. Dale Mitchell, pinch hitting for Sal Maglie with two outs in the ninth, struck out on a 1-and-2 count for the last one. (So what if Dodgers fans still insist plate umpire Babe Pinelli's called strike three was high, or outside?)