Once again, Milwaukee's Miller Park pulled off an upset, beating Dodger Stadium one day after whipping Angel Stadium. Do SoCal fans have social media, or has all the sunscreen rendered their digital devices unworkable?

Milwaukee fans have their work cut out for them in the third round, though, with a matchup against our No. 1 seed -- Pittsburgh's gorgeous PNC Park, which routed Turner Field with 83 percent of the vote. Can Brewers fans pull off another upset, or have they had so much to drink while tailgating that they can no longer work a mobile device/keyboard to vote?
Not to say some of the other matchups are close, but Bartman and Ferris Bueller better vote to get Wrigley to the Final Four. Your favorite remaining ballpark needs your vote as well, because the battles are getting personal.
(1) PNC Park vs. (24) Miller Park
---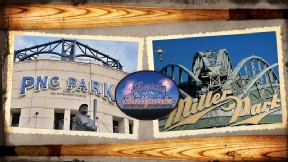 Milwaukee fans have upset both the Big A in Anaheim and Dodger Stadium, but they face their toughest test yet. We've got brats and stadium mustard/sauce going against Primanti Bros. sandwiches and the ballpark with the biggest "most beautiful to worst history" ratio in baseball.
(4) Camden Yards vs. (5) Target Field
---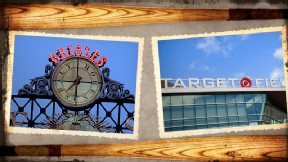 This one pits the first retro park against the most recently built retro park. Both are absolutely gorgeous and fit harmoniously into their cities. This vote should be as close as Minnie and Paul in the old Twins logo.
(2) Fenway Park vs. (10) Safeco Field
---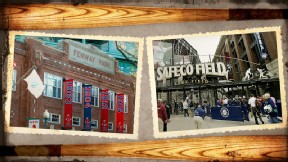 The Safeco parking lot leads immediately to Interstate 90. At the other end of I-90 is Fenway Park (and the Ted Williams Tunnel). That's a distance 3,085 miles, or roughly 3,084 miles and 5,000 feet farther than a Mariners fly ball travels at Safeco.
(3) AT&T Park vs. (6) Wrigley Field
---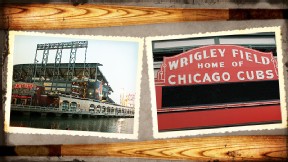 Boy, this is a tough one. Do you prefer your home runs landing amid kayakers in McCovey Cove or ball hawks on Waveland Avenue? A view of San Francisco Bay or Wrigleyville rooftop terraces? The aroma of garlic fries or the smell of sunscreen in the bleachers?