Last week, I wrote that the additional wild card is unnecessary and cheapens the regular season. Two weeks ago, I wrote that baseball should return to Montreal. So this week, I offer a solution that addresses both of those concerns, along with the matters of the Yankees' evil empire and just about every other baseball issue aside from walk-up music and Stephen Strasburg's innings limit.
My plan? Drop the extra wild card and expand the majors by two teams, turning baseball into a 32-team league with eight divisions.
Expansion would eliminate the current concerns and logistical issues surrounding the added wild card, primarily because it would eliminate the wild card entirely.
One of the reasons, supposedly, for adding the extra wild cards this year is because some people complained that the previous single-wild-card system didn't provide a big enough advantage for teams finishing in first place in their divisions. Well, under my system, there would be plenty of incentive to finish first because only first-place teams get into the postseason. The playoffs would still include eight teams, though, because there would be eight division champs -- four from each league. Rings and snow cones for everyone!
That would appease money-hungry owners, ratings-focused networks and postseason-starved fans in tough markets everywhere.
Well, postseason-starved fans in tough markets everywhere except Kansas City. I can't solve everything, though this plan comes close.
(I could possibly be talked into a single wild card for each league, but I really don't see any need for letting the 10th-best team have a crack at the postseason. After all, the extra wild card this season hasn't exactly added a lot of true contenders to the September mix. If we still had only the one wild card in each league, 14 teams could very easily be within five games of a postseason berth by the end of Wednesday's games, which seems like plenty. Why reward mediocrity?)
Another benefit to expansion is that each league would have an equal, even number of teams (16). That means next year's clumsy daily interleague game would not be necessary. The Astros, meanwhile, could be placed in either the American League or National League, wherever they prefer. Or the International League, if their talent level doesn't improve.
Next: Where should baseball expand? The first city is obvious. As I wrote, Montreal is one of North America's biggest markets and a city that embraced the game in the past. (There were stretches when the Expos outdrew the Yankees and Mets.) Baseball is looking to grow abroad, which is good, but while doing so, the league should not forget its first international major league city.
The second expansion city? This is where my plan gets interesting and, potentially, game-changing. Because the other city that would get a team is Brooklyn.
There was a time, remember, when New York had three baseball teams: the Yankees, Giants and Dodgers. The East Coast Media refers to part of that time as baseball's "Golden Age," though very few fans ever saw it that way in Cleveland, Cincinnati, Philadelphia, Detroit, Pittsburgh, Chicago, St. Louis, Baltimore, D.C., Boston or anywhere else beyond staggering distance of Billy Martin's neighborhood bars.
With a population base nearly twice that of Pittsburgh, Milwaukee and Cincinnati combined, New York could easily support a third team. And Brooklyn, which already is adding the NBA's Nets, would be the perfect spot. Just imagine the excitement generated by building a replica of Ebbets Field named Jackie Robinson Park. Mets CEO Fred Wilpon would have to take a cold shower before the home opener.
Even better, you could finally shut up all those annoying old Brooklyn Dodgers fans who go on and on pining for the Boys of Summer.
That in itself is incentive enough to expand to Brooklyn, but there is an even better reason. By putting a third team back in New York, you might significantly handicap the Yankees. You won't eliminate their financial edge -- the Yankees are far too rich -- but you mitigate their unfair advantage by making them share the lucrative New York broadcast market with more than just the Mets.
Not only would the Yankees miss the occasional postseason -- which would be far more effective in leveling the competitive playing field than two wild cards in each league does -- they might be strapped enough for cash that they won't be able to sign Bryce Harper as a free agent in 2018.
What would eight four-team divisions look like if baseball expanded to 32 teams? Here's one possibility broken down by geography and time zones as much as possible, with a little realignment as well.
NATIONAL LEAGUE
NL East: Mets, Brooklyn, Expos, Phillies
NL South: Braves, Nationals, Marlins, Astros
NL Central: Cubs, Cardinals, Pirates, Reds
NL West: Giants, Dodgers, Padres, Diamondbacks
AMERICAN LEAGUE
AL East: Yankees, Blue Jays, Red Sox, Tigers
AL South: Rays, Orioles, Rangers, Royals
AL Central: Twins, White Sox, Brewers, Indians
AL West: Mariners, Athletics, Angels, Rockies
Obviously, the Yankees and Mets would have to sign off on another team moving into their market, which is probably a deal-killer. But every effort should be made to get them on board -- perhaps Wilpon could trade the Mets for the Brooklyn team -- because expansion is so clearly a winning solution for everyone.
• Baseball-hungry fans in Montreal and overly nostalgic fans in Brooklyn get a team back.
• Fans who love the expanded playoffs still get an eight-team (and possibly 10-team) postseason, without the logistical nightmares.
• Traditionalists wouldn't have to worry about the World Series being won by a third-place team.
• Small-market teams get more equitable divisions with fewer competitive rivals.
• Current owners probably receive $50 million apiece (and maybe more) in expansion fees.
• The networks gain another large-market team to help postseason ratings.
• The league grows revenue through more replica jersey and cap sales.
• The players' union gains more members.
• The New York tabloids get such an intense three-team rivalry that they would be printing two back pages each day.
• Schedule-makers catch a needed break without the hassle of figuring out daily interleague play.
• Fans get more home runs again because offense always goes up in expansion years.
• And best of all, Roger Clemens likely would find an expansion team willing to sign him when he makes his fourth comeback at age 55.
CSI: Box Score
Each week, I provide a fragment from an old box score and challenge you to determine what game it's from and why it's significant. I give this one a difficulty rating of 7. Answer below:
Baseball Card of the Week
Fortunately, this Kent Tekulve card (1985 Topps, No. 125) does not reflect what Pittsburgh players dressed and looked like the last time the Pirates had a winning record. But it is disturbingly close.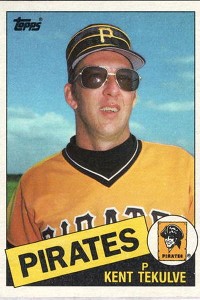 Box Score Line of the Week
Tim Lincecum has been pitching much better since the All-Star break, but his control was off again Friday when he walked seven batters yet still managed a quality start (6.1 IP, 4 H, 2 R, 2 ER, 7 BB, 7 K). St. Louis pitcher Jaime Garcia also did a bit of juggling Tuesday when he allowed nine hits but no earned runs (7 1/3 IP, 9 H, 1 R, 0 ER, 0 BB, 5 K).
This week's award, however, goes to Stephen Strasburg, whose final game of the season was not his best. His line:
3 IP, 6 H, 5 R, 5 ER, 5 BB, 6 K
Should the Nationals have shut Strasburg down? The answer is yes, absolutely. Overcautious teams might nurse young pitchers too much -- despite lowered pitch counts, pitchers still seem to get hurt as much as ever (and perhaps more so) -- but Strasburg is still young and is coming off major arm surgery. Pitching in the postseason not only would have added innings, it would have added high-leverage innings pitched under extreme pressure.
The Nationals made the right decision. The Mariners were careful with Felix Hernandez when he was younger, and he now is one of the most dominant warhorses in the game. And Strasburg is not the main reason Washington has the best record in baseball. The Nationals have a lot of young talent, and the team will be back in another postseason. He can pitch for them then.
And if not, well, he can always pitch in the postseason after he signs with the Yankees in a couple of years.
Yeah, Well, That's Like, Just Your Opinion, Man
But Would He Wear A Red Sox, Yankees, Astros Or Sugar Land Skeeters Cap On His Plaque? I agree wholeheartedly with my colleague, Dave Schoenfield: I want to see Roger Clemens pitch for the Astros. I also agree that, in addition to just wanting to pitch and compete, another reason Clemens might attempt a comeback is the Hall of Fame. Clemens is scheduled to go on the Hall of Fame ballot this winter. But if he pitches for the Astros this season, his Hall of Fame eligibility clock would restart, and he won't go on the ballot until 2018 at the earliest. Or, if he pitches next season, he would go off the ballot next winter and then wouldn't go back on again until five years after his final game.
So why might that be appealing to Clemens? Because right now, many baseball writers are so dead set against steroid users that they simply will not vote Clemens into the Hall, despite his seven Cy Youngs and 354 wins -- and despite the fact that it hasn't been proved he took performance-enhancing drugs. But attitudes change, particularly in sports. After all, the same baseball writers who vehemently oppose steroid use now didn't seem to have much of an issue with performance enhancers 14 years ago when they were mythologizing the obviously bulked-up Mark McGwire and Sammy Sosa. In fact, I think attitudes toward performance enhancers will change eventually. And the longer Clemens can delay his 15-year maximum stay on the ballot, the better his odds of being judged during a more understanding future time frame.
I Just Hope None Of These Candidates Ever Took Throat Lozenges Or Other Voice Performance Enhancers Speaking of Cooperstown, an amazing 41 broadcasters have a chance to win the Ford Frick Award that honors announcers with a spot in the Hall of Fame. You can have a say in who wins. Just go to www.facebook.com/baseballhall, where you can place your vote for this year's winner. The top three vote-getters will advance to the final ballot, which will be determined by a Hall committee.
CSI: Box Score Answer
There are two important clues here. The first is the Cleveland starting pitcher -- Score -- who doesn't have an at-bat. The second clue is the name of the pitcher who replaced him -- Lemon -- and that he batted three times and finished out the game. Put those two together and you have the May 7, 1957, game in which Herb Score was hit by a line drive in the head in the first inning, a blow that temporarily blinded and nearly killed him. (Bob Lemon replaced him.) It also virtually ruined Score's career. Pitching in just his third season, Score was a career 38-20 with a 2.63 ERA and two AL season strikeout crowns when he was hit by that line drive. He was 17-26 with a 4.43 ERA for the rest of his career, and his major league career was over before age 30.
I picked this game, of course, because of the line drive that hit Oakland starter Brandon McCarthy in the head last week, a life-threatening blow that required brain surgery. McCarthy is one of the smartest and nicest guys in the majors. The good news is he left the hospital Tuesday. Best wishes for a continued and complete recovery.