What do you do with an old baseball stadium? The best solution, of course, is to simply maintain and update it so teams can continue playing there year after year, and century after century, as the Red Sox have done with Fenway Park.
A worse solution is to tear down the stadium and pave over the field for a parking lot, as was the case with the old Comiskey Park in Chicago. Or turn it into a shopping mall, such as they did to Minnesota's old Metropolitan Stadium.
And then there is what they did with old Yankee Stadium. Instead of an ugly concrete lot charging $50 a parking space, or a mall filled with Foot Lockers instead of locker rooms, the site is now home to Heritage Field.
Heritage Field is a 10-acre park that is home to three youth sandlot diamonds, along with an adjoining track and soccer field. One of the ball fields is approximately where the old Yankee Stadium diamond was. This is where Babe Ruth, Mickey Mantle and Derek Jeter played; and on a lovely, sunny October Sunday afternoon last weekend, while fans hurried across the street to see the Yankees play the Tigers in Game 2 of the ALCS in the new stadium, this is where several groups of players of many ages were fielding ground balls, chasing fly balls, taking swings and dreaming of baseball futures.
One of them is a 16-year-old third baseman named Carnegie Calazo. What a great name! Carnegie Calazo. Imagine how heavenly that would sound if spoken by Bob Sheppard over the Yankee Stadium loudspeakers. Now batting. The third baseman, No. 34, Carnegie Calazo. No. 34.
The problem is, Calazo is a Red Sox fan, an impressive show of strength of character for a kid in the Bronx.
"Everybody's a Yankee fan here. Why not change it up?" he explains.
Carrying the name of one of the world's famous music halls, it just seems appropriate that Carnegie should be playing on the site of the world's most famous stadium.
"It feels good playing here," Calazo says. "It gives you motivation, just looking at the [new] stadium."
He wasn't alone in those feelings. Playing on the same field where Joe DiMaggio once said, "I want to thank the good Lord for making me a Yankee," you can't be anything but inspired to make yourself a major leaguer … though, of course, some of us might prefer a major league dream of becoming a Giant, Twin, Mariner, Athletic, Blue Jay, Oriole, Padre, etc.
"I feel like I'm playing in Yankee Stadium. This is where history was made," Francisco Peguero says, proudly wearing a Yankees cap. "It's truly an inspiration to be playing here. A lot of memories come to my mind when I play here. Every day when I train here, it feels good. It's great. They made this really nice for the community. I'm really proud of it. I feel good they made that decision. Now we have the whole field to use to our advantage to become the next Derek Jeter."
Or the next Robinson Cano. Peguero is a second baseman.
While I was never a big fan of the old Yankee Stadium (longtime "Off Base" readers will not be shocked by that revelation), I opposed its demolition. Any park where Ruth played should be preserved as a historic landmark. That said, I was delighted to see kids playing at the too-long-delayed Heritage Field last weekend. It's sad enough to bulldoze ballparks that were home to so many great players of the past. The least we can do is preserve them in some way that might help create great players for the future.
Earlier this year, I wrote about what has become of Tiger Stadium, where the vacant field has been shamefully ignored by the team but is being stubbornly maintained by a group of very dedicated, loving fans. It would be wonderful if the Tigers pitched in just a little money to help turn their old home into a place for future generations of players to pursue their baseball dreams.
After all, we can't have all our young players growing up to be Yankees.
CSI: Box Score
Each week, I provide a fragment from an old box score and challenge you to determine what game it is from and why it's significant. I give this one a difficulty rating of 6. Answer below:
Baseball Card of the Week
This Don Denkinger card (2012 Topps Allen and Ginter #51) must be a very popular at shops in St. Louis.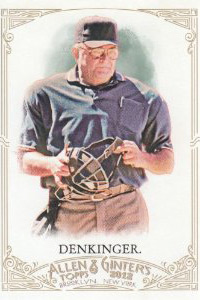 Box Score Line of the Week
Detroit's Jose Valverde had a rough night against Oakland last Wednesday when he blew a two-run lead in the ninth (⅔ IP, 4 H, 3 R, 3 ER, 0 BB, 1 K), and then had an even worse night Saturday against the Yankees when he blew a four-run lead (⅔ IP, 3 H, 4 R, 4 ER, 1 BB, 2 K, 2 HR). Which is one reason that in between those games, the Tigers left Justin Verlander in to finish out a division series-clinching gem last Thursday: (9 IP, 4 H, 0 R, 0 ER, 1 BB, 11 K).
This week's award, however, goes to Raul Ibanez, for his dramatic performance in Game 3 of the division series against Baltimore when he pinch hit for Alex Rodriguez and hit a game-tying home run in the ninth, and then stayed in the game long enough to hit a game-winning home run in the 12th. His line:
2 AB, 2 R, 2 H, 2 RBI, 2 HR
As colleague David Schoenfield tweeted, Ibanez was immediately declared a True Yankee.
Yeah, Well, That's Like, That's Just Your Opinion, Man
Speaking Of Blown Calls, Perhaps The Yankees Would Also Like To Review The Last Contract They Gave A-Rod. I ripped Joe Girardi for whining about an umpire's blown call in Sunday's Game 2 of the ALCS because the Yankees are the last team that should be complaining about postseason umpiring, what with all the bad calls that have gone in their favor over the years. But I also acknowledged that there should be more replay. And instead of resisting this, umpires should embrace it. Rather than forever live with the guilt, embarrassment and fan anger resulting from a bad call, an umpire would get a mulligan from baseball and its fans by having a mistake instantly erased. We all know umpires generally do a great job. We also all know they're human and make the occasional mistake. Being able to correct that mistake wouldn't make us think any less of an umpire. It would just satisfy us that the final call was right.
To make the process as simple and quick as possible, during the postseason there should be an umpire in a booth who checks the replay whenever the manager rushes onto the field to argue a call. When the call is obviously wrong, the replay umpire reverses it and the game resumes while the manager is still hollering at the ump and kicking dirt on his pants. A replay umpire would be a whole lot more valuable than stationing Rich Garcia down the right field line to miss the Jeffrey Maier home run call, or stationing Phil Cuzzi down the left field line to rule a Joe Mauer double was a foul ball. (Not that I'm bitter or anything.)
In the meantime, I'm still waiting for a manager to run onto the field with a smartphone to show the ump a replay.
He's As Much A Part of Minnesota Baseball As The TC Logo.Best wishes to Minnesota's Jim Rantz, who announced this week he will retire as the Twins' farm director at the end of the year. Rantz has been with the Twins for 52 years, signing with the franchise when it was still the Washington Senators, and working for them at all three Minnesota stadiums -- the old Met, the Metrodome and Target Field. He "discovered" Kirby Puckett, oversaw the development of hundreds of other prospects and was as valuable to the Twins as any of those players. He will be missed.
CSI: Box Score Answer
There was one big clue and a couple of smaller ones. The smaller ones were the names of early '70s-era Reds. The other was the wild pitch listed for Moose. That would be Pittsburgh's Bob Moose, who ended the 1972 NLCS by throwing a wild pitch that scored George Foster and completed the Reds' comeback after they'd trailed 3-2 in the ninth.
Alas, Pittsburgh fans' misery did not start with Sid Bream. Nor, unfortunately, did the misery end then.