These are our post-World Series traditions:
• The winning city holds a parade in which a player shouts a profanity.
• The losing team sheds a tear and says wait until next year.
• Players file for free agency and swear money is not the important factor in the choice of their next teams.
• And the media reports that television ratings for the World Series fell again.
The final game of the 2012 World Series on Sunday night finished seventh in the Nielsen ratings, just behind "The Big Bang Theory'' Halloween episode. But the low ratings likely were a result of yet another short series (five games or fewer) rather than a declining interest in baseball. This was the seventh short series in the past nine years. A seven-game series generally gets good ratings. A four-game series usually gets ratings that would make a PBS station consider adding soft-core porn to pledge week.
So baseball should find a way to ensure more seven-game series. How? That's easy. The two clubs in the World Series should play all seven games regardless of whether a team has clinched the series.
This is a win-win solution for everyone. Teams won't have to refund tickets for un-played games, and can also reap further concession sales. Networks will get to fill their prime-time schedules with coveted sports programming. And fans will get to watch more games before the long winter sets in, when Scott Boras will demand more money for their favorite players.
You're telling me that Giants fans wouldn't have filled up their ballpark to see their champions play two more games in San Francisco this week? Or that Tigers fans stuck with tickets to Game 5 wouldn't have headed out to their stadium for one last chance to see Justin Verlander pitch?
Sustaining national interest after a team has clinched the championship would be simple, as well. You just mix in elements from other popular TV shows.
"The Bachelor" -- You know how tiresome those in-game interviews can be, when the manager/player/coach clearly wants to be involved with the game instead of answering questions? Replace them with this in-game reality show. Alex Rodriguez sits in the dugout and hands baseballs to single women competing to become his future wife. In each game, another Australian bikini model is eliminated until Game 7, when A-Rod makes his decision: He sends all the women away and declares that he is the love of his life, then kisses himself in the mirror.
The best thing about this? A-Rod would make himself available for it even when he's playing in the series.
"Hardball" -- Rather than letting the president just throw out the first pitch, the show puts some juice into the ceremony by having his opponent bat off him. Instead of answering softball questions from debate moderators, the candidates must show whether they can hit (or throw) a real curveball. And since a new round of presidential campaigns now begins roughly at the same time the polls close, you can easily do this at every World Series. (I can't wait to see Newt Gingrich charge the mound after a brushback pitch.)
"American Idol" -- Instead of making viewers listen to another tired rendition of "God Bless America," this show will turn the seventh-inning stretch into an exciting contest in which competitors sing the most patriotic anthems of all: "Gangnam Style," "Y-M-C-A," "Cotton-Eye Joe," "Who Let the Dogs Out" and "Sweet Caroline." Viewers vote off a singer each game, with the Game 7 winner receiving the grand prize: He/she gets to sing the entrance music for the closer in the ninth inning.
"Top Chef" -- Between innings, we see a group of award-winning chefs prepare dishes to be served in the clubhouse as part of the postgame spread. Then we stick around after the game to see whose menu was the favorite. Each game, at least one chef is eliminated -- and possibly all of them if the losing manager kicks over the spread table in anger. The winner receives $100,000, but also has to feed Pablo Sandoval and Prince Fielder, so it's kind of a wash.
"NCIS: World Series" -- Everyone wants instant replay for controversial calls. But no one wants to make games even longer than they already are. "NCIS: World Series" satisfies everyone by having Mark Harmon and his team of investigators review every disputed play. Yes, the delays could be lengthy and filled with all sorts of criminal and romantic subplots completely unrelated to baseball; but in the end, you get both the right call and the week's top-rated show.
CSI: Box Score
Each week, I provide a fragment from an old box score and challenge you to determine what game it is from and why it's significant. I give this one a difficulty rating of 5. Answer below:
Baseball Card of the Week
I live in Washington state, which is "Twilight" country, so I fully expect to be visited by trick-or-treaters wearing Wally Moon masks (1963 Topps, No. 279). Moon played five years for the Cardinals, seven seasons for the Dodgers and, based on that uni-brow, apparently six years for Team Jacob.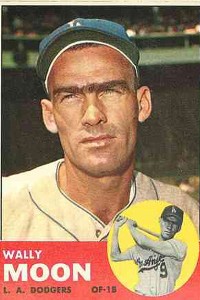 Box Score Line of the Week
San Francisco's Sergio Romo and Detroit's Phil Coke each struck out the side (1 IP, 0 H, 0 R, 0 ER, 0 BB, 3 K) in World Series games, while Giants reliever Jeremy Affeldt struck out four batters in relief in Game 4 (1 2/3 IP, 0 H, 0 R, 0 ER, 1 BB, 4 K). But this week's award has to go to series MVP Pablo Sandoval for his three-homer feat in Game 1. His line:
4 AB, 3 R, 4 H, 4 RBI, 3 HR
Sandoval is the fourth player to homer three times in a World Series game, but just the second player to hit three home runs in any game at San Francisco's AT&T Park. The previous player to do so was Kevin Elster in the very first game played there in 2000. (No, Barry Bonds never did it.) But to really appreciate how astounding Panda's game was, consider that the Giants hit only 31 home runs at home this year as a team, and only three players -- Sandoval, Buster Posey and Brandon Belt -- hit as many as three home runs in the park the entire season.
And yet the Giants won the World Series for the second time in three years despite playing in a stadium where home runs are hard to hit. Hmmmm. Perhaps there is a lesson here for the Mariners and Padres, two last-place teams who are moving in their fences so that they can lose games by scores of 7-4 instead of 3-1 next season.
Yeah, Well, That's Like, Just Your Opinion, Man
But Seriously … I joked about ways to improve World Series ratings in my lead here, but the proliferation of short series (five games or fewer) is a serious issue. In addition to seven short series in the past nine years, we've had twice as many four-game sweeps during the 18 years of expanded playoffs (six) as we had during the 25 years of the two-round playoffs (three). We've had as many World Series sweeps in the wild-card era as there were in the previous 43 postseasons. Now, it's risky to draw too many conclusions from a relatively narrow window of records. After all, we had a seven-game series just last year. And there have been stretches of uncompetitive World Series in the past. (From 1937-43, only one series lasted longer than five games.) Still, I can't help thinking that the increased round of playoffs might be having an effect on the quality of the World Series. Perhaps the key to October ratings is fewer teams and fewer games but better series. …
CSI: Box Score Answer
There were six errors in this game, and the big clue was this one: "E-Snodgrass." That would be Fred Snodgrass, who dropped a routine fly ball in the bottom of the 10th of the final game of the 1912 World Series after his Giants had taken a 2-1 lead in the top of the inning. Snodgrass made a brilliant catch a couple batters later, but the damage was done. Boston scored two runs to win the game and the series, and Snodgrass went down in baseball infamy. He was such a series goat that when he died 62 years later, the New York Times headline for his obituary read: "Fred Snodgrass, 86, Dead; Ball Player Muffed 1912 Fly."