The World Series ended just over two weeks ago, but plenty of baseball news remains on the 2012 calendar. Peer into the Off Base crystal ball to learn what the rest of the year holds. …
Nov. 15: After the BBWAA announces its final award winners for the 2012 season -- National League MVP Buster Posey and American League MVP Miguel Cabrera -- former baseball analyst and current FiveThirtyEight blogger Nate Silver announces the 2013 winners, including National League and World Series MVP Andrew McCutchen.
Nov. 16: Free agent Josh Hamilton drops Michael Moye as his agent and says he will instead simply listen to God and go wherever He tells him to sign. In a related move, free agent Zack Greinke drops John Courtright as his agent and replaces him with the Great Satan, aka Beelzebub, the Devil, Lucifer, Old Scratch, the Lord of Darkness, or as he is best known, Scott Boras.
Nov. 17: God holds a news conference to announce that Hamilton wants a seven-year, $175 million deal. Questioned about Matthew 19:24, the Scripture that says, "It is easier for a camel to pass through the eye of a needle than for a rich man to enter the kingdom of heaven," God nods and replies: "Yes, but it's even harder for a team to enter the postseason without a five-time All-Star and former MVP who averages 30 homers and 100 RBIs per season plus a .921 OPS and 7.5 WAR-added."
Nov. 19: Alex Rodriguez strikes out again when Paula Broadwell turns down his offer to let her go "all in" and write his biography, too.
Nov. 20: With the combination of a powerful nor'easter and another unseasonably large tropical storm forecast to flood much of the Eastern seaboard again, New York shuts down its subway system, Boston shuts down the T, Philadelphia shuts down all public transportation and Washington, D.C., shuts down Stephen Strasburg.
Nov. 21: Following a disturbing trend, Marlins owner Jeffrey Loria and team president David Samson announce their Black Friday sale will begin even earlier, at 7 p.m. Thanksgiving Day, so they can finish in time to lay off the front office by Saturday morning.
Thanksgiving Day: World Series MVP Pablo Sandoval tests positive for too much pumpkin pie.
Nov. 23: Loria and Samson declare Black Friday a huge success when they give away the Marlins' remaining major league roster, the entire farm system and the scouting department. Alas, they cannot find anyone who wants the Marlins Stadium home run sculpture. In the one bit of good news for Marlins fans, Loria and Samson turn down the Yankees' offer to give them Alex Rodriguez in exchange for a Tickle Me Elmo.
Nov. 27: After Fox News airs a live broadcast of President Obama welcoming the Giants to the Rose Garden in honor of their World Series victory, analyst Karl Rove says he is eagerly looking forward to president-elect Mitt Romney hosting the world champion Tigers at the White House after his inauguration.
Dec. 1: An 8-year-old girl named Virginia writes a letter to the New York Sun, asking the newspaper whether the Yankees' offense really exists.
Dec. 3: The annual winter meetings officially open in Nashville when baseball writers and bloggers send 36,928 tweets in a five-minute span that say Hamilton is "very close" to signing with the Rangers, Dodgers, Giants, Yankees, Red Sox, Cubs, Mariners, Angels, Tigers, Blue Jays, Orioles, Mets, Phillies, Braves, Cardinals, Reds, White Sox, Marlins, Rays and, oddly, Real Madrid.
Dec. 4: Commissioner Bud Selig announces baseball will expand replay by making it retroactive, then determines that Don Denkinger did indeed miss the call on Jorge Orta in the 1985 World Series and that the Cardinals are therefore the 1985 world champions. St. Louis fans attribute their victory to the Rally Betamax.
Dec. 5: The Yankees place A-Rod on Craigslist.
Dec. 7: The Astros unveil their new uniforms, which feature a star and "H" on the cap, a rainbow pattern across the front of the jersey and "Chico's Bail Bonds" on the back.
Dec. 8: Minutes before the BBWAA mails the 2013 Hall of Fame ballots to its members, Nate Silver calls Jack Morris to congratulate him on winning the election with 77.8 percent of the vote.
Dec. 11: The Yankees donate $1 million, several thousand winter coats and A-Rod to the Salvation Army.
Dec. 14: Saying that he wants to avoid any temptation of products that have sidetracked his career, such as alcohol, cocaine, marijuana, chewing tobacco and caffeine, Hamilton signs a five-year, $100 million deal with the Mormon Tabernacle Choir.
Dec. 18: Loria and Samson lay off Bob Cratchit. In a related development, Houston's Jose Altuve stars in a local production of "A Christmas Carol" as Tiny Tim.
Dec. 21: After the world does not end, a more careful reading of the Mayan calendar reveals that the Mayans did not predict the end of the world in 2012 but when the Cubs finally will win another World Series.
Dec. 24: The Yankees' latest attempt to find a new home for A-Rod fails when King Moonracer, Charlie-in-the-Box, Spotted Elephant and the cowboy who rides an ostrich vote him off the Island of Misfit Toys.
Dec. 25: The few remaining Marlins employees look in their Christmas stockings and find pink slips from Loria and Samson.
Dec. 27: In an attempt to score more runs, the Mariners announce they are moving third base closer to home plate.
Dec. 30: Kerry Wood finds Jimmy Hoffa's body in the Wrigley Field ivy.
Dec. 31: Jamie Moyer, dressed in a white robe and carrying an hourglass, joins the thousands gathered in New York to watch Josh Hamilton drop the Times Square ball. Also, Nate Silver tells Ryan Seacrest that the 2013 baby in the traditional top hat will finish second to Prince Fielder's son, Archduke Fielder, by six first-place votes for the 2035 National League Rookie of the Year award.<.p>
And finally, A-Rod ends 2012 by striking out again after an Australian bikini model turns him down for a New Year's Eve date and chooses Raul Ibanez instead.
CSI: Box Score
Each week, I provide a fragment from an old box score and challenge you to determine what game it is from and why it's significant. I give this one a difficulty rating of 7. Answer below:
Baseball Card of the Week
While waiting to hear who the 2012 American League MVP will be (the announcement is Wednesday evening), let us pause to reflect on how Fred Lynn was rookie of the year and MVP back in 1975 but still had to share this rookie card (1975 Topps, No. 622) with not one, not two but three other players. (Imagine Mike Trout sharing a card this year with, say, Chris Parmelee, Jarrod Dyson and Alexi Amarista.)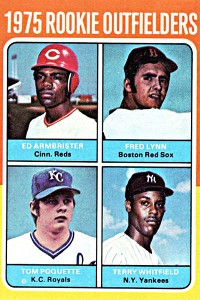 Yeah, Well, That's Like, That's Just Your Opinion, Man.
Then Again, Cubs Fans Might Not Feel So Sympathetic For A Team With Two World Championships Since 1997. Tuesday's fire sale is further evidence that Jeffrey Loria, who salted the earth in Montreal, is baseball's worst owner. (And that's saying something.) I'm happy for Blue Jays fans, whose team is suddenly a major player again thanks to the trade, but sad for Marlins fans who deserve far better. Not only will they not be able to watch some of their best players next season, they still will have to see that atrocious home run sculpture in a mediocre ballpark for which they will be paying for decades to come.
Why Couldn't He Have Sued To Have The Marlins Home Run Sculpture Removed Instead? Last week, former batting champ John Olerud won a case to force a neighbor to cut down two trees that block the view from Olerud's $4 million home near Seattle. Olerud won the dispute even though the trees were already there when he bought the home. I've known Olerud since he was 18, and he is one of the nicest, most genuine athletes I've ever dealt with. So this tree thing shocks me; it's so unlike him. I also wonder how a community can force someone to cut down trees that were there when the offended homeowner bought the house. It sets a horrible precedent. Think of all the cases this ruling might inspire. Why, A-Rod could sue his neighbors to make them replace the aluminum siding on their homes with full-length mirrors so he can stare at himself at all times.
Good Thing The Mariners Fired This Bum In 2004. Granted, Buck Showalter did a superb job this season managing the Orioles to their first postseason appearance in 15 years. But the BBWAA got it right: Oakland's Bob Melvin was more deserving of the manager of the year award after guiding the A's to the AL West title. Back in spring training, many picked the Athletics not only to finish last but also to lose 100 games or more. Oakland lost starter Bartolo Colon to a PED suspension and ace Brandon McCarthy to a concussion and brain surgery, and finished the season with an all-rookie starting rotation, yet Melvin still took the A's to 94 victories. He did more to improve what had been a young, struggling team than any manager since Walter Matthau. Perhaps Melvin's only failing was not managing a team in the East Coast media market.
This Bond Prefers His Martinis Shaken, Stirred And Dripping Blood. I was disappointed by the new James Bond movie, "Skyfall." I really liked Daniel Craig in "Casino Royale" a few years ago, and the new movie starts off promisingly enough. (Javier Bardem is an even more entertaining villain here than he was in "No Country For Old Men.") Unfortunately, the film eventually descends into a bleak, overly violent and far too long mess. I counted at least 50 people killed. Not even a Red Sox fan in the Yankee Stadium bleachers could provoke such carnage. By the end, you're rooting for Bardem to kill off M (Judi Dench) so we can all go home.
CSI: Box Score Answer
Did you spot the biggest clue? It was this: HBP-Hadley (Cochrane). Knowledgeable fans might have known this was the 1937 game in which Detroit catcher Mickey Cochrane was hit in the head by a pitch from Bump Hadley. The pitch fractured Cochrane's skull and ended his career. Some teams started using batting helmets a few years later, but it wasn't until 1971 that helmets became mandatory throughout baseball. As organ music amply demonstrates, the game progresses slowly.
Should headgear protection be mandatory for pitchers? After McCarthy's injury, general managers discussed this issue last week at their meetings, with protective Kevlar cap liners suggested as one possibility.