The free agency season can be nerve-wracking. You constantly check news stories, blogs, twitter feeds, Facebook accounts and other assorted tea leaves for any and all rumors about whether your team might sign Josh Hamilton, Zack Greinke or some other marquee free agent who could lead it to a World Series next fall. We all do this, maybe even Pirates fans.
But if you think you're stressed over possible free-agent moves, place yourself in the shoes of Keizo Konishi.
Like the rest of us, Konishi is eager to see where a certain high-profile free agent signs. Unlike us, he has a little more at stake than the hope that he can add a 2013 World Champions souvenir T-shirt to his closet.
Like, where he's going to live next year.
Konishi is a baseball writer for Japan's Kyodo News. His job is to cover Ichiro Suzuki, and he did it in Seattle for a dozen seasons. When Ichiro was traded from the Mariners to the Yankees in late July, Konishi was effectively traded to the Bronx as well (as were other Japanese reporters). He spent the rest of the season in New York and wherever the Yankees traveled.
Ichiro is a free agent this winter, so Konishi is back in Seattle, waiting to see where the outfielder signs -- and where he will work next year. "If Ichiro signs one more year with the Yankees, I will be in New York," he said.
New York appears to be the most likely destination, but if Ichiro signs somewhere else, such as San Francisco or Anaheim or Miami (well, OK, we know he's not going to sign with Miami), that is where Konishi will live. Most baseball writers cover the 25-plus players who come to their cities. Konishi goes to whatever city his one player does.
He isn't complaining, though. After all, this year was the first time Ichiro has changed major league cities. Think of all the security deposits Konishi would have lost had he been covering reliever Octavio Dotel, who has pitched for 12 teams just since 2004.
In fact, Konishi says his situation is much better this winter than that of many Japanese baseball writers in the U.S.
"For somebody who doesn't cover Ichiro or Yu Darvish, they don't really know where they will be," he said. "So it's not just my situation. My situation is clearer than it is for other writers. Eighty or 90 percent of the Japanese media don't know where they'll be yet.
"They can't really tell where they are going to be at this point in the season. I'm the guy who is assigned for Ichiro. It's really simple for me. Wherever he goes, I go."
Indeed. Next year will be the 20th season Konishi has covered Ichiro. He began writing about him in 1994, Ichiro's first full season with the Orix Blue Wave in Kobe, when the outfielder won the first of three consecutive Pacific League MVPs and the first of seven consecutive batting titles. By 2000, Ichiro was so enormously popular in Japan that when he chose to become the first Japanese position player in Major League Baseball, several dozen Japanese correspondents traveled to Seattle to cover him full time.
Konishi was among them, serving as the pool reporter who occasionally was the only Japanese writer allowed to ask Ichiro a question.
I would dread covering only one player full time for so long, unless it was a resurrected Babe Ruth, and only then if Babe paid for all the beer and the hot dogs. Ichiro? I found him fascinating his first couple seasons, but he became something of a pain as the years passed. When he deigned to grant an interview at all, he purposely sat facing his locker as often as not, providing me with bland quotes and a very good view of his back.
Konishi, though, finds Ichiro compelling.
"He's not the typical player," he said. "He's just a unique athlete, the way he goes about his preparation and his performance."
True. Not many players keep their bats in a humidor or take it back to the hotel to make up for throwing it to the ground in frustration after an at-bat.
And Ichiro has certainly provided Konishi and the other Ichiro writers with many stories: His rookie-of-the-year and MVP season in 2001 when the Mariners won an American League-record 116 games. Several batting titles. The single-season hit record. Ten All-Star Games. Ten Gold Gloves. The trade to the Yankees.
That trade rejuvenated Ichiro, who hit .322 with five home runs in New York, including the one day he had seven hits and four stolen bases. After looking old and slow with the Mariners, Ichiro, who turns 40 next year, looked like he might have more quality seasons left in him.
"I never imagined when I first covered him when he was 20 years old that I would be covering him when he was 40," Konishi said.
Konishi will likely be writing about Ichiro after age 40 -- or whenever he retires -- as well. Ichiro will almost certainly become the first Japanese player elected to the Hall of Fame. So while Konishi waits and wonders where he'll be writing his stories about Ichiro next season, he does know that one day he'll be writing about him in Cooperstown.
CSI: Box Score
Each week, I provide a fragment from an old box score and challenge you to determine what game it is from and why it's significant. I give this one a difficulty rating of 7. Answer below:
Baseball Card of the Week
As you gather 'round for your Thanksgiving Day meal, pause a moment in memory of baseball's Turkeys, including Hall of Famer Turkey Stearnes, Turkey Tyson, Turkey Gross and Turkey Mike Donlin. Pictured in this card (1909 Piedmont and Sweet Caporal White Borders, No. 132), Donlin batted .333 over a dozen seasons and won a World Series. He also had an interesting life off the field. He married actress Rita Ross, took two years off to pursue a stage career and acted with Buster Keaton and John Barrymore. He also was a notorious alcoholic who died at age 55 in Hollywood.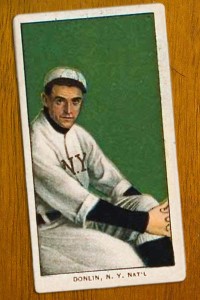 I'm thinking a very interesting book could be written about this guy. Instead, we'll probably get another book on what a managerial genius Tony La Russa was.
Yeah, Well, That's Like, That's Just Your Opinion, Man
It Should At Least Be A Better Signing Than B.J. Ryan. So should the Blue Jays have signed Melky Cabrera? The first part of the answer is yes, definitely. Baseball's rules on PEDs state that a player caught juicing once must serve a 50-game suspension, not a lifetime ban. (That comes with a third positive test.) Cabrera did his time, which included missing a World Series, and a team should not be criticized for signing him. The second part of that answer is whether Cabrera is worth such an investment now that he won't be juicing (or at least we assume he won't be juicing). We'll just have to find out how good he will be; but these days, $16 million over two years isn't that horribly risky an amount. And it's high time the Jays invested in becoming a winner again.
Munenori Kawasaki, However, May Be Available.While we don't know yet which team Ichiro will play for in 2013, we do know what team he will NOT play for. And that's Japan in the World Baseball Classic. Ichiro's announcement this week that he won't play in the WBC came shortly after Yu Darvish announced he won't pitch in it, either. Hiroki Kuroda says he will pass up the WBC next spring, too. That means the two-time WBC champs will have quite the challenge defending their title without three of their best players, including the team leader for both those titles (Ichiro).
Meanwhile, congratulations to Barry Larkin, who added another milestone to his year. In addition to entering the Hall of Fame in July, he managed Brazil to two upset victories over Panama in this week's WBC qualifier to earn the country its first spot in the WBC next spring.
The Best Acting Performance Since Barry Bonds Testified Before The Grand Jury. With three months to go before the Oscars, Daniel Day-Lewis has a roughly 30-game lead in the Best Actor category for his compelling, entertaining and wondrously human portrayal of Abraham Lincoln in "Lincoln." Day-Lewis doesn't make many movies, he just delivers incredible performances. "Lincoln" is only his 11th movie since he won the Oscar for "My Left Foot" in 1989, but this will be his fifth Best Actor nomination in that span and likely his third win. He's a little like Josh Hamilton in that regard. He doesn't perform quite as often as you would like, but when he does, he's awesome.
CSI: Box Score Answer
Did you spot the clues? First, the Rangers pitcher allowed seven runs while the Tigers hit seven home runs. Connect the dots and you get the April 2006 game in which R.A. Dickey tied the major league record for most home runs allowed in a single game (six). The Rangers sent Dickey to the minors the next day. And his career as a knuckleball pitcher began in earnest.
Last week, Dickey won the National League Cy Young Award to cap the greatest story in baseball this year -- and perhaps any year. Dickey climbed Mount Kilimanjaro, wrote a breathtakingly honest best-seller, pitched two consecutive one-hitters, won 20 games, pitched in the All-Star Game and struck out a league-leading 230 batters. And by doing that, the former Olympian was an inspiration to everyone with the message that no matter how many times you get knocked down, you can rise up again and even climb your way to the literal and figurative top.
Congratulations, R.A.. You were the pitcher of the year on multiple levels.
And maybe, just maybe, this Cy Young Award will mean that more teams will try to develop knuckleballers.