Pssst. Want the winning numbers to this week's record Powerball? Then keep reading. I've got them below.
Like most baseball fans, whenever I see a number, I associate it with the ballplayers who wear/wore it. Number 34? Some fans instantly think David Ortiz, Felix Hernandez or Bryce Harper, but for me, 34 will always be Kirby Puckett or Nolan Ryan. (Yes, I'm old.) No. 4 is Lou Gehrig or Paul Molitor. No. 51? Ichiro or Randy Johnson. No. 48? Torii Hunter.
Player numbers are such a superb mnemonic device for memorizing any series of numbers -- I still remember the combination to a padlock I bought 20-plus years ago while covering the Twins as Puckett (34), Junior Ortiz (0) and Kent Hrbek (14) -- that they ought to be used for teaching math.
Bryce Harper minus Mike Trout equals Mickey Mantle. Mickey Mantle times Stan Musial equals Jackie Robinson. Stan Musial divided by Torii Hunter equals Eddie Gaedel. The square root of Ted Williams is Babe Ruth.
Player numbers also come in very handy when it's time to buy a lottery ticket.
This week is a potentially historic time to buy a Powerball ticket because the jackpot is expected to be worth at least $500 million. That not only would be the largest prize in the Powerball's history, it would be a free-agent offer large enough that even Scott Boras might think twice before also demanding incentive clauses in the contract.
True, the odds against winning the Powerball are even worse than the Cubs playing the Mariners in a World Series that actually ends before November. But you can at least enjoy the entire losing lottery process more by choosing your numbers based on the players who wear/wore them.
This way, you're not just hoping to get lucky with six randomly-spit-out numbers. Instead, your ticket takes on a personal meaning via the memories of the players you associate with those numbers. You're not just relying on sheer chance; you'll have players working their juju on your behalf as well. (Just don't tell the commissioner.)
But which player numbers should you pick to win the record Powerball payoff? Begin first with the numbers to avoid: 52, 54, 56, 57, 58, 59. Few players wear numbers in the 50s, so it's no surprise those particular numbers have yet to be retired by any major league team. No team has retired No. 55, either, but the Giants might do it for Tim Lincecum some day.
Also avoid No. 14. True, Ernie Banks and Jim Rice wore this number, but so did Pete Rose, and it's best to avoid Pete Rose in any gambling-related affair. You just never know. Bud Selig might ban you from baseball. Worse, Charlie Hustle will probably demand a share.
And, of course, do not pick No. 13. For obvious reasons. This number is considered so unlucky that hotels won't label the 13th floor and Friday the 13th is considered an ominous day. Fear of the number 13 is so widespread it even has a name (triskaidekaphobia). Worse, A-Rod wears it.
Next, you must carefully evaluate each of the remaining numbers by weighing how many great players are associated with it. Basically, we're talking iconic meaning of a number and the sheer volume of players who wore/wear it.
This isn't cut and dried. For instance, Babe Ruth is the greatest player of all time and he wore No. 3, but he only wore it for six seasons because teams did not start wearing numbers until late in his career. Reggie Jackson wore No. 9 during the first half of his career but is better associated with No. 44, which he wore in New York. Roger Clemens wore 12 and 22 in his later years; but I always picture him with the number 21, which he wore back when he only had two ears.
So, obviously, a lot of this is subjective. WAR simply does not tell us how to balance a number identified with one baseball immortal against a number associated with several merely great players. The way I see it, though, these are the six greatest jersey numbers in baseball history.
5: This number has been retired to honor eight players, including Hall of Famers Joe DiMaggio, Johnny Bench, George Brett and Brooks Robinson, plus deserving Hall of Famer Jeff Bagwell. Albert Pujols wears it as well, though I'm not certain how the Cardinals feel about retiring his number at this particular time.
8: It has been retired for seven players: Cal Ripken Jr., Yogi Berra, Carl Yastrzemski, Joe Morgan, Bill Dickey, Gary Carter and Willie Stargell, all of whom are in the Hall of Fame. It's currently worn by Ryan Braun, though whether you consider that a plus or a minus depends on your view about last year's PED mess.
21: Warren Spahn, Bob Lemon, Sammy Sosa and Clemens all wore this number, but the biggest reason I'm picking it is because of Roberto Clemente and his meaning to Latin players.

42: The only number officially retired by all of baseball (to honor Jackie Robinson), this would be the Powerball number except that Powerball numbers are only from 1 to 35 (or from Ozzie Smith to Justin Verlander).

44: Boy, this was a tough one. At first, I was going to go with 44 because it was worn by Hank Aaron, as well as Willie McCovey and Reggie. But then I was going to switch to No. 20, because it was worn by the underrated Frank Robinson plus fellow Hall of Famers Mike Schmidt, Lou Brock, Monte Irvin and Don Sutton. But it goes back to the earlier question about balancing a baseball immortal against all-time greats. And finally, I decided that Hank gives the number a resonance that 20 can't match.

24: This was an easy call because Willie Mays wore it for 22 seasons, three other greats wore it for much of their careers -- Barry Bonds (in Pittsburgh), Ken Griffey Jr. and Rickey Henderson -- and Miguel Cabrera currently wears it. Hall of Famer Tony Perez wore it as well, as did one of my favorite all-time players, Dwight Evans. And when you talk resonance, the image of Mays with his back turned and his number 24 on full display as he chases down Vic Wertz's long fly ball is perhaps the most iconic in baseball history.

So there you have it. You've got your numbers, now buy your Powerball ticket. And if these numbers win, you are legally obligated to share the winnings with me. Personally, I never waste my money on lottery tickets. Call me crazy, but I don't like foolishly throwing away my money when it can be better spent on baseball cards.
CSI: Box Score
Each week, I provide a fragment from an old box score and challenge you to determine what game it is from and why it's significant. I give this one a difficulty rating of 9. Answer below:
Baseball Card of the Week
This card (2005 Topps Fan Favorites No. 80) is a fitting tribute to Marvin Miller, who passed away at age 95 this week. When Miller took over the players' association, the players received $125 to appear on a baseball card. Miller quickly doubled that amount to $250 and also got players a cut of the card sales. Over time, he negotiated far better and more important rewards for the players, such as free agency. His role in baseball history is much greater than any owner or executive currently enshrined in the Hall of Fame. And unlike many of those owners, he played no part in the color barrier. If any executive belongs in Cooperstown, Miller does.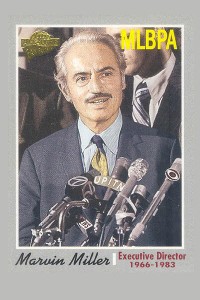 Rest in peace, Marvin.
Yeah, Well, That's Like, That's Just Your Opinion, Man
Meanwhile, Hall of Famer Gaylord Perry Threw Spitballs Half A Century After The Pitch Was Banned. This week's suspension of Carlos Ruiz for amphetamine use is a good reminder for fans who feel Roger Clemens, Barry Bonds and Sammy Sosa should not be on the Hall of Fame ballot that will be announced Wednesday. Many consider the three players to be cheaters because they are suspected of using steroids, but steroids weren't banned for the majority of their careers and we don't know they used them after they were banned. The same holds true for amphetamines, or greenies, which are generally believed to have been used by the vast majority of players during baseball's supposedly "clean" pre-steroids era. If we give a pass to players for amphetamine use, why view other players as morally corrupt for possibly using steroids before they were banned? It's simply an unjustified double standard.
One Foam Puffy Finger Up, Way Up. Add another movie to last month's piece about the World Series in popular culture. Although largely framed around the fortunes of the Eagles, the Philadelphia-based "Silver Linings Playbook" has a brief scene in which the female lead, Jennifer Lawrence, points out that she and male lead Bradley Cooper were together when the Phillies beat the Rays in a 2008 World Series game. That's just one of the many pleasures in this recommended movie. The other is seeing what happens to Robert DeNiro's psychotic Travis Bickle character from "Taxi Driver." He grows older, moves to Philadelphia, changes his name, gets banned from Eagles games for fighting and boozing, and becomes an obsessive-compulsive bookie who bets heavily on Philly. In other words, he gets even crazier.
CSI: Box Score Answer
In addition to the timing of this fragment -- the same week Marvin Miller passed away -- there were a couple of clues here. First, the two teams and some of the names in the box score mean it is from a game played between 1968 and 1971 when both Washington and Oakland had teams in the same league. But the important name is the Washington center fielder. That was Curt Flood, who made his return to baseball in this April 5, 1971 game after sitting out two years fighting baseball's right to trade him. Flood lost his case -- it went all the way to the Supreme Court -- but thanks to him and the work of Miller and others, baseball players now have the right to free agency. After six seasons, they can work where they want to. You know, like the rest of us. (Except, of course, we don't get nearly as much money. Or pregame spreads.)