Forget all the fuss about Barry Bonds, Roger Clemens and Sammy Sosa. What I want to know is whether Cleveland fans think Jose Mesa is a first-ballot Hall of Famer or if he should have to wait a year like Barry Larkin did.
Yes, Mesa is on this year's ballot, along with a staggering 23 other newcomers. Some, such as Bonds and Clemens, are among the greatest players of all time. And some … are not. An alphabetical look at all 24 players making their ballot debut in the annual Off Base Voters Guide to the First-Year Hall of Fame Candidates.
Sandy Alomar Jr.: Lloyd and Paul Waner are the only brothers in the Hall of Fame, and they will stay that way. Sandy's brother Robbie is in, but Sandy isn't going to join him even though he had a pretty good career. He played 20 seasons and was a rookie of the year, a Gold Glove catcher, a two-time .300 hitter and a six-time All-Star. Plus, he helped Cleveland to the postseason five times, which is almost Hall-worthy by itself. Actually, the Alomars might be a better brother pair. Maybe what he and Robbie needed were colorful nicknames like Big and Little Poison.
Craig Biggio: Fans complain that in the free-agency era, players rarely stay with one team for an entire career. That's true, but they rarely did so before free agency, either. (Babe Ruth and Willie Mays are two of many examples.) Biggio, however, played his entire career in Houston, even taking a pay cut to stay. Twice. So there will be no debate over what cap he'll eventually wear on his Hall of Fame plaque.
Biggio made an All-Star team once as a catcher, six times as a second baseman and got snubbed a whole bunch more times. He never won a batting title, hit .300 only four times and finished with a modest .281 career average. But when you throw in his 1,401 walks and the 285 times he was hit by a pitch, his on-base percentage (.363) was almost as high as George Brett's (.369). He also had 3,060 hits and scored 1,844 runs. And one season, he played all 162 games without grounding into a single double play!
My pal and colleague Jayson Stark calls Biggio the most underrated second baseman of all time, which is what happens when you play your entire career in Houston, where no fans have suffered so much for so long with so little recognition. It would be nice if both he and fellow Killer Bee Jeff Bagwell could go into the Hall together this summer, but I doubt Bagwell will get enough votes this year. And amazingly, Biggio might not, either.
Oh, well. Their induction probably would be ignored by the media focusing on the veterans committee's luminary inductee, umpire Hank O'Day.
Barry Bonds: In the likely event the writers don't vote in Barry this (or any) year, the Bonds family will have produced seven MVP awards, 11 Gold Gloves, 17 All-Star appearances, 975 stolen bases, 1,094 home runs, 3,020 RBIs, 3,485 runs, 4,821 hits, and 8,452 times reached base safely without having a representative in the Hall of Fame. That would be a shame, though I suspect Barry doesn't really give a damn how the writers vote.
Jeff Cirillo: Hmmm. I don't think Cirillo gets in this year, either, though I suspect PED allegations will not be the reason.
Royce Clayton: Along with the actual ballot, the Hall of Fame sends writers what amounts to a voters guide, though Cooperstown's tends to be more serious than mine. I always get a kick out of the way the Hall tries to make even the most undeserving candidates sound like they have a case. For example, the Hall guide points out that Clayton played 17 seasons for 11 teams and was named to one All-Star team. Convinced?
Roger Clemens: Let's see ... Should he go into the Hall with a Boston cap, a Yankees cap, an Astros cap or a Sugarland Skeeters cap? That's a moot question because I doubt the Rocket will get elected this year, either, despite his 354 wins, 4,672 strikeouts, two 20-strikeout games, one MVP and record seven Cy Young awards -- all because some writers suspect he's hiding a third ear somewhere. I think Clemens would be advised to make a comeback next season at age 50. With Houston's projected rotation, he could be the Astros' Opening Day starter -- which would remove him from the ballot for another five years, thereby extending his potential candidacy to 2032. And perhaps by then, views will change and enough writers will get off their high horses to put the greatest pitcher of our era in the Hall of Fame.
Although knowing my fellow writers, that's no given.
Jeff Conine: Conine won two World Series with the Marlins, once when they were owned by Jeffrey Loria. And Cubs fans will not feel the least bit sorry for him when he falls off the Hall of Fame this year.
Steve Finley: Finley is one of just eight members of the 300 HR-300 SB Club. He will not get past the writers/bouncers manning the velvet rope at the Hall of Fame, however.
Julio Franco: Franco played 30 professional seasons, and one of the last was in the International League. That's fitting, because he played everywhere from Rome (Georgia) to Daegu, Korea. He played 23 seasons in the majors, plus another two in Japan, two more in Mexico and one in Korea. (Many major leaguers own a Samsung; Franco was one of the few who played for Samsung.) He won a batting title at age 32, hit .300 eight times and stuck around long enough to become the oldest major leaguer to hit a home run (at age 48) before finally retiring at age 49. Whew. Capturing all that on a Hall of Fame plaque would extinguish the world's supply of brass.
Shawn Green: Green was a big star with 234 home runs before age 30. And then he turned 30 and aged quicker than Mickey Rourke.
Roberto Hernandez: Only a dozen pitchers appeared in more games than Hernandez (1,010). But there were hundreds who were more memorable.
Ryan Klesko: Yes, he belongs on the ballot. After all, he was a one-time All-Star and a third-place rookie of the year finalist!
Kenny Lofton: A six-time All-Star and four-time Gold Glove winner who scored 1,528 runs and stole 622 bases, Lofton finished with 2,428 career hits in 8,120 at-bats. He batted .299, and if he had just five more hits, he would have been a career .300 hitter (.2996 rounded up). In "Bull Durham," Crash Davis tells Nuke LaLoosh that the difference between hitting .250 and .300 is just one hit a week -- "one ground ball with eyes." Get just one more dying quail a week, he says, "And you're in Yankee Stadium." What would Crash have told Lofton? "Just drop down one more roller that stays fair every three years and you're in Cooperstown."
Jose Mesa: I flinched just seeing his name here. I don't think he's going to get many votes from the Cleveland precinct. Or the Seattle precinct. Or the Denver precinct. Or …
Mike Piazza: A career .308 hitter and 12-time All-Star, Piazza hit more home runs as a catcher (396) than anyone else in history. He gives hope to all players drafted in the 62nd round or lower. And if he were playing today, I have no doubt the Marlins would trade him again.
Reggie Sanders: Sanders played at least one full season for eight different teams in a nine-year stretch. And the puzzling thing is, he was a productive player during that span (averaging 21 home runs a season), as well as always being a likable, well-respected guy. I won't vote for him, but I always liked him and I hope his mail has finally caught up to him.
Curt Schilling: With a 216-146 lifetime record, 3.46 ERA and 3,116 strikeouts despite pitching in one of baseball's highest-scoring eras, plus a 11-2, 2.23 postseason mark, he's got a decent case. If he gets in, will he wear a Phillies cap, a Red Sox cap, a Diamondbacks cap or just his bloody sock?
Aaron Sele: As I explained, the Hall of Fame ballot bios generally make the best case possible for a candidate. But here's how Sele's final line reads: "Appeared in six postseason series over four seasons, posting an 0-6 record and a 4.46 ERA in seven starts." That's like a legislative candidate printing in a voters guide, "He promises to raise taxes, reduce services and outlaw ice cream."
Sammy Sosa: Has anyone gone from worshipped hero to hated villain without changing teams as rapidly as Sosa did in Chicago? The only fans I can remember who turned on a player so drastically might have been Boston fans with Nomar and Manny. If Sosa gets in (which he won't), he should lobby to wear a White Sox cap.
Mike Stanton: He pitched in 1,178 games, threw 1,114 innings and had 11 seasons with an ERA of 3.99 or higher. Yes, he was left-handed.
Todd Walker: I always liked Todd, so it is with some regret that I'm forced to give him the annual "What The @#% Is He Doing On the Ballot?" award. (Sorry, Todd, but you're still in your 30s. There's still time for a comeback to boost your case.)
David Wells: Boomer was kind of Jamie Moyer's fat, drunk, rude twin. He won almost as many games in his 40s (48) as he did in his 20s (51). He won more games (237) than Whitey Ford or Pedro Martinez. He twice was the starting pitcher in an All-Star Game and also twice started Game 1 of the World Series. He pitched in the postseason with the Blue Jays, Orioles, Reds, Padres, Red Sox and Yankees, going 10-5 with a 3.17 ERA. He tried pitching a game while wearing Babe Ruth's old cap, pitched a perfect game while half-drunk and hung over, missed games due to gout, went on the disabled list after tripping over a barstool and claimed he was misquoted in his own autobiography.
I'm tempted to vote for him, just to hear his acceptance speech.
Rondell White: I was comparing White to Todd Walker in the Hall bios and was amazed at how similar their production was. Same batting average. Same OBP. Same runs and doubles. And then I realized the Hall simply made a mistake and ran Walker's numbers underneath White's name. Not that White's real stats help his case any.
Woody Williams: He made his first and only All-Star team at age 37, retired at age 40 and yet still earned more than $50 million in his career. And people think Alex Rodriguez is overpaid?
And now that you've read the breakdown of the 24 new candidates, next week I'll reveal which of the 37 total candidates on the ballot are getting my vote. That is, if I can possibly narrow my list down to 10 players. (Grrrrr, my blood is boiling already.)
CSI: Box Score
Each week, I provide a fragment from an old box score and challenge you to determine what game it is from and why it's significant. I give this one a difficulty rating of 6. Answer below:
Baseball Card of the Week
I can only assume the photo for this card (1996 Score No. 101A) was taken after an opponent's line drive had de-clothed Mesa, a la Charlie Brown. And most likely, with the tying and winning runs on base.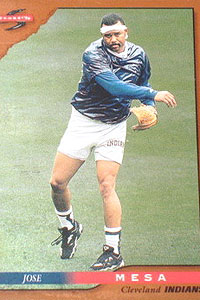 Yeah, Well, That's Like, That's Just Your Opinion, Man
If Only Baseball Was As Popular As, Say, Rhythmic Gymnastics.The International Baseball Federation and the International Softball Federation are combining their efforts to be reinstated to the Olympics for the 2020 Games. As part of those efforts, they named their new federation the World Baseball Softball Confederation. I wonder how long it took to come up with that one? Seriously, though, the confederation is in Lausanne, Switzerland, this week lobbying the International Olympic Committee, which will vote this summer on adding any sports. I wish it well. To have trampoline and badminton in the Olympics but not baseball is like inviting Michael Bay and Steven Seagal to your film festival but not Steven Spielberg.
What, No Grover Dill Replica Jersey?Looking for a great Christmas gift? Well, this isn't it. But that "hard to shop for'' baseball fan and "A Christmas Story" fan on your list might like it anyway.
But seriously ... If you want a present that will entertain and inspire, give David Sylvester's "Traveling at the Speed of Life." I met Big Dave during a 2007 road trip of sports along the Susquehanna River from Cooperstown and my ribs are still hurting, both from his crushing hug and his sense of humor. His book is filled with wonderful stories and lessons from his bike trips across the U.S., down through Africa and through Asia. The stories are funny, wild, sad, unusual and always inspiring. Read it straight through or just dip your toes into random chapters; it doesn't matter -- you'll catch Big Dave's infectious enthusiasm for life's possibilities. One of Big Dave's themes is Don't Be Afraid. Don't be afraid to try new things, don't be afraid to test yourself, don't be afraid to meet people, don't be afraid to help, just don't be afraid. In these days when the media keeps us scared and outraged 24/7, that's good advice. (Note: I wrote a brief foreword for his book, but don't let that stop you from buying it.)
CSI: Box Score Answer
Did you spot all the clues? The first was my top section on the new players on the Hall of Fame ballot. The next was the home run listed for Bonds. And the final clue was the Washington pitcher, Mike Bacsik. As fans might recall, Bacsik allowed Bonds' 756th home run that broke Hank Aaron's career record. Oddly, his father pitched to Aaron after Hank hit No. 755, prompting the younger Bacsik to say, "If my dad had been gracious enough to let Hank Aaron hit a home run, we both would have given up 756."