Voting for the Hall of Fame has become the equivalent of trying to pass a budget through Congress. That's partly because the Baseball Writers' Association of America has become as polarized as Congress.
On one side, we have writers who see suspected users of performance-enhancing drugs as cheats, and so they will never vote for them under any circumstances, regardless of their awards and accomplishments. Rachel Maddow might say these writers are the BBWAA equivalent of the Tea Party.
On the other side, we have writers who do not take possible PED use into consideration and vote for players based only on their performance, regardless of how that performance might have been aided. Bill O'Reilly might say these writers are the BBWAA equivalent of socialists who are ruining America by expanding a bloated government.
However you view either side, we have a partisan deadlock that will only get worse due to our own version of the fiscal cliff: the 10-player limit.
Since the Hall of Fame began, the maximum number of players for whom a writer can vote has been 10. The number of teams has almost doubled in that span, which means the number of potential Hall of Fame candidates has also nearly doubled. Actually, when you consider that African-American, Latino and other minority players weren't allowed to play when the Hall of Fame opened, Hall-caliber candidates have likely more than doubled.
And yet, the maximum remains 10. For no apparent reason. Is it any wonder so many writers have trouble with the game's advanced metrics?
The fallout of the 10-player maximum is that I no longer can simply vote for the players I think belong in the Hall of Fame. I now have to vote with an agenda, just like a politician.
For example, I believe Jack Morris belongs in the Hall of Fame even though his career numbers (3.90 ERA, no Cy Young awards) might be considered borderline. I covered Morris and I saw firsthand how people in the game -- the ones whose livelihoods depended on correctly determining who was good and who wasn't -- valued Morris very, very highly. I agree with Tom Verducci's recent blog that makes a good case for Morris based on his value as a workhorse.
This is the 14th of the 15 possible years of eligibility for Morris; and with 300-game-winners Greg Maddux and Tom Glavine reaching the ballot next year, this also effectively is his last shot at election. So I feel I must vote for him even though that means not voting for players who possibly are more deserving -- some of whom might fall off the ballot due to lack of support. In fact, I'm forced to drop a couple of players off my ballot for whom I voted last year.
This is a bad situation that will worsen as more players suspected of using PEDs go on the ballot. Because there is such a split between writers about those players, they likely will stay on the ballot, creating a backlog of candidates. They'll get enough votes to keep them eligible, but not enough votes for induction because many writers view them as cheaters.
I disagree with that view. Steroids weren't banned by baseball until after the players currently on the ballot played the bulk of their careers, if not their entire careers. If it wasn't against the rules, how can it be considered cheating?
I don't buy the argument that steroids were against the rules because they were illegal. "Illegal" does not mean "against the rules." For example, amphetamines have been illegal longer than steroids, yet we voted players from the 1970s through the 1990s into the Hall when we knew the majority of ballplayers used them. Cocaine also is illegal, but we have voted in known cocaine users. We also voted in Gaylord Perry, who DID break a specific rule that has been in the book for eight decades.
So that's why I intend to vote for Barry Bonds, Roger Clemens, Jeff Bagwell, Craig Biggio, Tim Raines, Alan Trammell, Mike Piazza, Edgar Martinez, Curt Schilling and, yes, Jack Morris. My mind isn't completely made up yet, though, because I'd also vote for Fred McGriff, Mark McGwire, Larry Walker, Sammy Sosa, Rafael Palmeiro and possibly Bernie Williams if not for the 10-player limit.
Don't agree? I don't expect you to. We all have different standards when it comes to what type of player belongs in the Hall of Fame. Some people have a high bar. Some people (such as myself) have a lower bar. Some people have an incomprehensible bar. (How could someone vote for Matt Williams but not Rickey Henderson?) But that's OK. It's why so many writers vote: to reach a reasonable consensus of who belongs in the Hall of Fame.
But with the 10-man limit, voters like me are effectively told that our standards are inadequate.
What happens if someone votes for more than 10 players? The ballot is rejected and not included in the overall percentage of votes needed for election. But if a writer submits a ballot with no players at all, it is considered a submission and DOES count against the percentage.
In other words, it's all right to NOT vote for Bonds or Clemens or ANYONE ELSE. But it's not all right to vote for those guys and everyone else who I think is worthy, including a player with 3,000 hits (Biggio), a Gold Glove first baseman with a higher OPS than Willie Mays (Bagwell), a career .308 hitter with more home runs than any other catcher in history (Piazza), one of the best leadoff hitters of all time (Raines), a pitcher regarded as among the best by his peers (Morris), a six-time All-Star and four-time Gold Glove shortstop who scored 1,200 runs and drove in 1,000 (Trammell), a career .312 hitter (Martinez), a career .313 hitter and seven-time Gold Glove-winning right fielder who led the league in hitting three times (Walker), a three-time 20-game winner who struck out more than 3,000 batters and has one of the game's finest postseason records (Schilling), and a first baseman with roughly the same average and about as many combined runs and RBIs plus 100 more home runs than Tony Perez (McGriff).
Oh no, we can't have votes for all those guys. That would ruin the Hall of Fame's credibility.
Again, you can say my standards are too low. Perhaps they are. I readily acknowledge some of those players might be borderline. Which is why players must receive votes from at least 75 percent of the writers. The only way any of the above players get in is if three-quarters of the voters agree with me.
So what's the harm in allowing us to vote the way we want?
There isn't any. But there is harm done when deserving candidates get dropped from the ballot simply because of an outdated, arbitrary rule that makes no sense. Even if you don't want PED suspects in the Hall of Fame, bear in mind that the 10-man limit is going to hurt the other players as well -- and probably more so.
And next year, Maddux, Glavine, Frank Thomas and Mike Mussina go on the ballot.
Sigh. At least I have a better understanding now about why our legislators seem to get so little accomplished.
CSI: Box Score
Each week, I provide a fragment from an old box score and challenge you to determine what game it is from and why it's significant. I give this one a difficulty rating of 4. Answer below:
Baseball Card of the Week
No, despite the beard, this (2007 Topps, No. 1) is not Brian Wilson's baseball card for the 2062 season.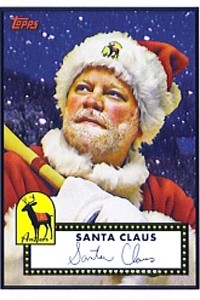 Yeah, Well, That's Just Like, Your Opinion, Man
Yeah, that Phil Niekro didn't last very long. A week later, I still am puzzled over why the Mets traded R.A. Dickey. He'll earn about half as much in Toronto the next two seasons as Zack Greinke will in Anaheim. When will teams accept that knuckleballers are not some strange breed of pitcher you can't rely on? More to the point, when will they appreciate that a knuckleballer can just about pitch forever? My bet: Even though he is nine years older, Dickey will still be winning games after Greinke is retired.
CSI: Box Score Answer
There was one good clue in this box score: The season-appropriate name "Christmas" in the home run listings. This was the 1984 game in which Steve Christmas hit his one and only major league home run. Hope you have a joyous holiday season and best wishes that 2013 will be more bountiful for you than the majors were for Christmas.