Boy, that's going to be some dramatic Hall of Fame induction ceremony in July.
Thanks to my baseball writer brethren deciding that no one from a list that included Barry Bonds, Roger Clemens, Craig Biggio, Mike Piazza, Tim Raines, Curt Schilling, Jack Morris and other stars deserves to be in the Hall of Fame, these are the people who will be inducted into Cooperstown this July:
• Former Yankees manager Jacob Ruppert, who gave Babe Ruth a pay cut and helped maintain the color barrier.
• Former infielder/catcher Deacon White, who played much of his career when batters could tell the pitcher where the pitch should be thrown.
• Former umpire Hank O'Day, who, well, was an umpire.
All of those "Hall of Famers" -- elected by something called the Pre-Integration Committee -- have been dead for more than 70 years. (The Frick Award winner, Tom Cheeks, a most deserving broadcaster, is deceased as well.)
Perhaps whoever they send up to the stage this summer will explain the Hall of Fame induction criteria this way: Well, it's OK to honor an owner who helped perpetuate racism. And a player who played most of his games when pitchers couldn't throw overhand. And, yeah, an umpire. But a ballplayer suspected of taking steroids? Nooooo way. The Hall has standards to uphold. Oh, and when we say 'suspected of using steroids,' we mean that he played in the 1990s.
The Hall has a serious problem, and if it doesn't change course, it will find itself as much an afterthought as the U.S. Hockey Hall of Fame.
As I mentioned last week, the six most recent Hall of Fame classes include more executives and umpires (10) than players born after Jackie Robinson broke the color barrier in 1947 (seven). Those executives don't include Marvin Miller, who had a more profound effect on the sport than any other nonuniformed player; they do include Bowie Kuhn, to whom Miller regularly gave wedgies and wet willies during contract negotiations.
I shudder to think about which executives and umpires the Hall will elect in the coming years while writers stubbornly refuse to vote for players they suspect took PEDs.
I mean, are these the sort of people we're going to honor with plaques on Cooperstown's walls rather than the players we cheered so lustily and who made us feel so good? Old owners who financially abused players and perpetuated racism (Ruppert, Charles Comiskey, Tom Yawkey)? Owners who moved teams 3,000 miles away from their fans (Walter O'Malley)? Owners who charged outrageous beer prices? Commissioners who were ineffective and stubbornly stuck in the past (Kuhn)? And umpires? I mean, I respect umpires, but c'mon.
Good grief. If those are the standards, is there any executive the Hall won't let in?
No one goes to the Hall of Fame to see dead owners or executives. Nor should we still be adding guys who played the game under vastly different rules and have been gone so long that no one alive today even has a grandparent with a memory of their play. The pre-1900 players already had their chances for election; let's move on to players we can at least see in highlight tapes.
Owner, executive and umpire accomplishments should be restricted to mentions elsewhere in the museum. Leave the plaques for players who actually take the field. It's fine to be a Hall of Famer if you wore a pinstriped uniform, but not a pinstripe suit.
We can't boot out the executives already in the Hall. Given the power structure, we probably can't ban others from receiving that honor, either. But at the very least, we can see to it that more players are inducted than the undeserving suits.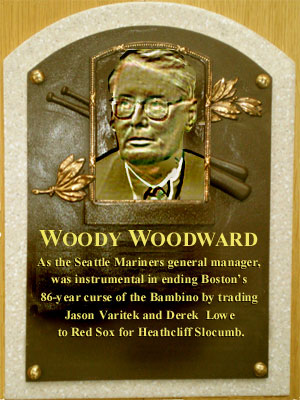 CSI: Box Score
Each week, I provide a fragment from an old box score and challenge you to determine what game it is from and why it's significant. I give this one a difficulty rating of 4. Answer below:
Baseball Card of the Week
Sure, getting hit by a pitch might not be exactly the photo you want on your baseball card (2005 Topps Chrome Update set, No. 216). But if you're Craig Biggio, it probably beats an image of taking a foul ball in the Lower House of Parliament when he was a catcher.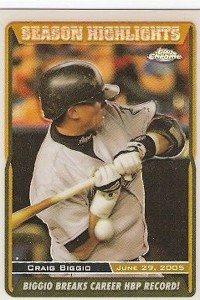 And some day -- cross fingers -- there will be a baseball card of Biggio's Hall of Fame plaque. Good luck next year, Craig.
Yeah, Well, That's Like, That's Just Your Opinion, Man
I Definitely Would Not Want Walter O'Malley Surgery, Where The Doc Cuts Out Your Heart … And Just Leaves It Behind. As I wrote above, I am opposed to honoring executives with induction into the Hall of Fame. The only exception would be Marvin Miller, and I only say that to help make up for all the awful owners and commissioners who are already represented despite the way they financially abused players and/or banned minorities. But one group does make an interesting case for Dr. Frank Jobe, the orthopedic surgeon whose landmark Tommy John surgery has saved the careers of innumerable players. Check out the website here. I'm not sure if the Hall should be inducting doctors, but Jobe definitely had a greater and more positive effect on baseball than O'Malley, Yawkey, Comiskey or most of the other owners already there.
The IBWAA Wants You. Unlike the BBWAA, the Internet Baseball Writers Association of America accepts web writers without subjecting them to individual review. If you write about baseball on the web, you can join -- even we old BBWAA members who recall when electric typewriters and pneumatic tubes were all the rage. I'm a member of both, and I definitely hope the IBWAA grows in membership and influence. Not that we're necessarily all that more welcoming when it comes to the Hall of Fame. Operating off the same names of players on the BBWAA Hall of Fame ballot, the IBWAA cast 75 percent of its votes in a straw poll for only one player, Mike Piazza.
If These Writers Were In Charge Of The Presidential Election, We Would Still Be Trying To Replace Eisenhower.Meanwhile, here are some past voting notes from the BBWAA: Twenty-eight writers didn't vote for Rickey Henderson, 23 didn't vote for Willie Mays, 23 didn't vote for Stan Musial, 20 didn't vote for Ted Williams and 33 didn't vote for Jim Palmer.
RIP. Richard Ben Cramer died this week. He never will win the Spink Award given to baseball writers, but his 1986 Esquire piece on Ted Williams remains one of the finest biographies ever about a baseball player (or anyone, for that matter). It's not only better than his biography of Joe DiMaggio, it's much better. Cramer's masterpiece, however, is "What It Takes," an 1,100-page opus on the 1988 presidential candidates, including Bob Dole. In his portrayal, Cramer writes about how Dole desperately wanted to play basketball for Kansas. That dream still was alive when Dole returned from World War II, paralyzed and in a full body cast. After three years in and out of hospitals and after losing more than 70 pounds, Dole eventually recovered the use of his legs, though he could not raise his right arm above his shoulder. Determined to straighten the arm so he could play hoops, Dole regularly strapped it to a beam in the family garage and hung there. One day, he hung there until his family found him unconscious, and he was forced to give up his dream.
"What It Takes" is a long book, but the Dole sections were later published in a separate edition when he ran for president in 1996. Find a copy of either, and read the much-shorter Williams bio. You won't be disappointed.
Les Miserables: The Epic Musical About The 1993-2012 Pirates. I saw "Les Miserables" last week, and it's a lot like the stage musical -- great story, great acting, four or five stirring songs, and a lot of very similar, draining music that makes you feels like you're sitting through an August doubleheader in Cleveland. Anne Hathaway probably locked up the Oscar for best supporting actress with her emotional version of "I Dreamed a Dream," which also breaks the record for most tears provoked by a film scene, a record previously held by Kevin Costner asking his father to play catch in "Field of Dreams." On the other hand, casting Russell Crowe in a musical is as misguided a personnel move as Seattle signing Chone Figgins to beef up the Mariners offense. I still prefer Jean-Paul Belmondo's 1996 nonmusical version of "Les Miserables" (with a World War II setting). Alas, it is available only on VHS or on European-compatible DVD.
CSI: Box Score Answer
There was only one clue necessary, and that was the top line that shows Biggio with five hits. What was so significant about that 5-for-6 game against the Rockies? It was the game in which Biggio reached the 3,000 career hit mark.