The Pittsburgh Pirates drafted Jasha Balcom out of high school, but he went to college and played for the University of Georgia, instead. The Chicago Cubs drafted him out of college, and he went on to play for the Arizona League Cubs, the Boise Hawks, the Peoria Chiefs and the South Georgia Peanuts (where he hit .304 and stole 34 bases in 2007).
And six years after his final pro game, Balcom has finally made it to the majors to play for … the Brooklyn Dodgers.
Or, at least, he made it with a film version of the Brooklyn Dodgers. Balcom is the stunt double for the action scenes in "42," the film biography of Jackie Robinson opening nationwide this weekend. That makes him the second-greatest player to ever portray Robinson in a biopic. The first-greatest? Jackie played himself in "The Jackie Robinson Story" in 1950.
"I'm humbled for the opportunity to wear that uniform and to portray my dad's childhood hero," says Balcom, 30, who owns a baseball instruction clinic in the Atlanta suburbs. "My dad passed away in 2005 when I was playing with the Cubs, so it's personal to be a part of this film, and with what I do every day, teaching kids and helping them become better ballplayers. Kids that I've worked with, and will work with, will have the opportunity to see this film because their coach is in it.
"I can say, 'Go see this film because this man Jackie Robinson -- not just for what he did for baseball and for the country but look what he went through. He persevered. And if he could do it, you can make it through the things you're going to go through, too.'"
Having retired as a player after the 2007 season, Balcom was running the Hitters Box, which provides private baseball instruction in Duluth, Ga., when a former teammate contacted him about working on "42" as one of the background players. With his baseball skills and body similarity to Chadwick Boseman, who portrays Jackie in the movie, Balcom was chosen to be the stunt double.
We've come a long way from the days when Hollywood flopped shots of the right-handed Gary Cooper to portray the left-handed Lou Gehrig in 1942's "The Pride of the Yankees." There is a fine attention to detail in "42," from the CGI backgrounds of the old ballparks to the way Jackie slid into a base only on his left side.
"I had a lot to work on because I hadn't played in a while," Balcom says. "I've been teaching so long that although I'm a natural left-hander, I learned to hit right-handed.
"I looked at film of Jackie on how he held the bat, and the way he had his hands up high and had to really take that swing to get to the ball and still have that good extension like you saw and get to the baseball and have that good finish. Those are some of the things I had to work on. Chad did as well. We were both working on the cuts. We did a lot of hitting in the cage."
It paid off. Jackie's swings in the film are the best I've seen in a baseball movie. In fact, they're as good as I've seen in many major league games. (Then again, I mostly see the Mariners during the regular season.)
Overall, I was a little disappointed in "42" because it feels a little too much like history lesson rather than a cinematic drama. I still recommend seeing it, though, because it's a history lesson we need.
Robinson broke baseball's color barrier 66 years ago, but there is a disturbingly low percentage of African-Americans in baseball today. About 8 percent of major leaguers were African-Americans last season, down from roughly 25 percent in the 1970s. The world champion Giants do not have an African-American on their roster, and they aren't alone. This week, MLB initiated a diversity task force to address the issue.
Balcom says there are great programs to develop players in the inner cities, but the problem is that baseball has become so expensive.
"The reality is that in the U.S., it can be tough financially because baseball is now a serious investment sport like hockey, golf or tennis because of the competition these days,'' he explains. "The average serious travel baseball parent may spend $15,000 per year towards elite travel teams, tournaments, a personal hitting coach, equipment, hotels and travel, etc. And they are starting young, too, at 8 years old. Just to compete for a scholarship. This can be a strain on any family, but especially in many African-American households."
According to Balcom, he was the only African-American on the team when he played at Georgia, and occasionally the only one on his minor league teams.
"There weren't a lot of us in college," he says. "The SEC teams we played against didn't have any, or maybe one or two. You just didn't see it. I had a lot of friends who would say to me when I was growing up that black guys didn't want to play baseball.
"But I looked up to Ken Griffey Jr. And I saw footage of Hank Aaron, and those were the guys I identified with when I was a kid. And Jackie paved the way to all those guys, and they led me to want to play baseball and go to college and get an education and start my business. And now I get to work with kids of all races and show them that if you have a goal you want to reach, you can make it."
Balcom wants to do more than just play Robinson's stunt double and re-create his swing, slide and fielding. Like Robinson, he also wants to inspire kids to play the game and bring more African-Americans into it.
CSI: Box Score
Each week, I provide a fragment from an old box score and challenge you to determine what game it is from and why it's significant. I give this one a difficulty rating of 4. Answer below:
Baseball Card of the Week
We continue our trip into the time capsule that is the 1988 Topps set …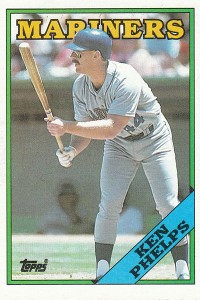 Ken Phelps appears to be preparing to lay down a bunt in this card (1988 Topps, No. 182), which is kind of odd because in 11 major league seasons and 2,877 plate appearances, Phelps had exactly one sacrifice bunt.
Phelps was what qualified as a power hitter in the late '80s, and his 27 home runs with Seattle in 1987 and another 14 before the All-Star break in 1988 prompted the Yankees to make one of their most infamous trades. On July 21 of that '88 season, New York acquired Phelps from Seattle in exchange for Jay Buhner. Phelps would hit just 19 home runs the rest of his career while Buhner would go on to hit 307 with the Mariners (including three 40-homer seasons), become one of the most beloved players in Seattle history and inspire one of the most famous scenes ever on "Seinfeld."
When George Steinbrenner breaks the news to the Costanzas that their son might be dead, Mr. Costanza interrupts by shouting, "What the hell did you trade Jay Buhner for?!?!?"
Responds Steinbrenner: "My baseball people loved Ken Phelps' bat. They kept saying, 'Ken Phelps, Ken Phelps.'"
Evidently, his baseball people never looked at this baseball card.
Box Score Line of the Week
What a week for box score lines. Trevor Bauer walked the first four batters he faced (5 IP, 2 H, 3 R, 3 ER, 7 BB, 2 K), while Tim Lincecum walked a career-high seven batters but did not allow an earned run (5 IP, 3 H, 2 R, 0 ER, 7 BB, 4 K). Meanwhile, Seattle reliever Carter Capps struck out two batters in just one-third of an inning (1/3 IP, 0 H, 0 R, 0 ER, 0 BB, 2 K).
What makes Capps' feat even more remarkable is he didn't do it against the Astros. Houston is striking out so often this year that even though Oakland's Dan Straily struck out 11 Astros in less than seven innings last Friday (6 2/3 IP, 5 H, 2 R, 2 ER, 0 BB, 11 K), the Athletics demoted him to the minors after the game. When Houston's Brett Wallace struck out four times in four at-bats Monday, it left him with an astounding 17 strikeouts in his first 21 at-bats.
Cleveland's Brett Myers allowed 11 hits in relief (5 1/3 IP, 11 H, 7 R, 7 ER, 0 BB, 4 K), while St. Louis reliever Mitchell Boggs allowed seven runs on just two hits (1/3 IP, 2 H, 7 R, 6 ER, 4 BB, 0 K). But this week's award goes to Houston's Xavier Cedeno, who allowed six runs on just one hit. His line:
0 IP, 1 H, 6 R, 3 ER, 3 BB, 0 K, 1 HBP
Too bad he didn't get to face his teammates.
Yeah, Well, That's Like, That's Just Your Opinion, Man
The Best Number In Baseball (Next To Free). Ballplayers throughout the majors wear 42 on Jackie Robinson Day, which is this coming Monday, but only one player can wear that number on other days. And after this season, when Mariano Rivera retires, no major leaguer will ever wear 42 again as his permanent jersey number. "It is significant that Mariano has been a wonderful last pallbearer to wear the number," says Jackie's daughter, Sharon Robinson. "We've been thrilled. He's been a very supportive member of the Robinson Foundation, and I think it does a great honor to have it be worn by such a great baseball player and great person."
Robinson says she loves that the title of the new movie about her father is simply his number. She also says that retiring that number has been important in carrying on his legacy. "I sit in the stands and I hear conversations when I sit in different parts of the ballpark. I have heard kids ask the adult with them why that number is out there. It does allow discussion. The fact that it is the only retired number in major league baseball, it allows you to get to the significance of the event and how it changed how the game is played and who is playing the game. It just gives so many great messages."
Shocking That Erik Bedard Would Leave A Game Early. Another contender for box score line could have been Houston's Paul Clemens, who allowed five runs in relief in his major league debut on Tuesday night yet still got the win (4 IP, 6 H, 5 R, 5 ER, 1 BB, 0 K). It was the first victory for a Clemens since Roger retired for the final time (well, maybe the final time). Despite the poor performance, Clemens got the win because he took over in the fifth inning with a 13-0 lead when starter Erik Bedard left because he had reached a 65-pitch limit. Now, I generally like the rule that requires a starting pitcher to go at least five innings to qualify for a victory. But why should a reliever who threw only four innings be eligible for the win when he was far less effective than the starter? Houston's other reliever that night, Hector Ambriz, was no better, allowing four runs in one inning. The rule should be changed so the official scorer can determine that if the starter was effective and no reliever was, then the starter can still get the victory.
Perhaps The Yankees Will Sign Him Next Year As Part Of A Youth Movement. We all should have felt a little younger this week when 50-year-old Jamie Moyer told reporters at the Mariners home opener that he hasn't ruled out a comeback. Moyer became the oldest pitcher to win a major league game last year at 49 with the Rockies, before Colorado released him. He pitched at Class AA for Baltimore and Toronto as well in 2012, but has not hooked on with anyone since the Jays let him go in July. Where is Brian Cashman when you need him?
CSI: Box Score Answer
The big clues were the names Abbott and Castillo, or, if you prefer, Abbott, Abbott and Castillo. This is the 75th anniversary of the first national performance of Abbott and Costello's classic "Who's on First" routine. This box score is from September of 1990, when Minnesota Twins rookie Paul Abbott faced California pitcher Jim Abbott in baseball's first Abbott and Abbott matchup.
Minnesota's Carmelo Castillo was announced as a pinch-hitter against Jim Abbott late in that game, but the Angels brought in Brian Harvey and the Twins substituted Kent Hrbek, depriving fans of an Abbott and Castillo matchup that day as well.