On yet another chilly Seattle night last week, King Felix threw two strikes past the Tigers' Miguel Cabrera, prompting the pitcher's loyal subjects in Sections 149 and 150 to stand as one. They raised their cards bearing the House of Hernandez coat of arms -- a blue, crowned "K" emblazoned across a field of yellow -- and chanted in unison.
"K! K! K! K! K! K!"
King Felix struck out Cabrera, showing last year's MVP and Triple Crown winner who wears the real crown in Seattle. His subjects erupted in cheers as if this were Game 7 of the American League Championship Series.
After Felix threw two more strikes past the next batter, Prince Fielder, his subjects rose to their feet, chanting again.
"K! K! K! K! K! K!"
The King threw a third strike past the Prince to end the inning and show the four-time All-Star which monarch rules in Seattle. As Felix strode to the dugout, his subjects roared with appreciation.
"He's really the one shining light as far as the Mariners go," says Riley Kennemer, sitting in the King's Court section of Safeco Field. "The offense is really struggling. Our pitching staff is a little weak. But he's that one thing everyone can point to and say, 'He's pitching.'"
We are less than a month into the 2013 season, and -- as should be the case in April -- even the most put-upon fans still have reason for optimism. The Rockies are in first place. The Pirates have a winning record. The Twins have a winning record. The Royals are in first place. How long will the winning continue? Hard to say. Just enjoy it while it lasts.
And then there is Seattle.
The Mariners have finished in last place in seven of the past nine seasons; and only this year's addition to the AL West, the awful Astros, is keeping them from last at the moment. Dustin Ackley, Justin Smoak and Jesus Montero, three core players who desperately need to finally develop into their oft-hyped offensive potential, were batting a combined .209 with one home run and six extra-base hits through Monday. The team struck out 170 times in its first 21 games.
But at least there is Felix. And for that, Seattle fans give thanks. And they do so in a special section at the stadium during each game he starts.
"I've always been a fan of high energy at the ballpark; and when Felix is pitching, there isn't a higher energy. And the cool part of it, I think he knows that," Kennemer said. "It's always good when a star is aware of the energy you're trying to bring and they try to give it back to you."
Fan sections devoted to a single player are nothing new. There were the Coneheads in New York for David Cone. Francoeur's Franks in Atlanta for Jeff Francoeur. The Boneyard in the Kingdome for Jay Buhner, who occasionally gave give buzz cuts to fans in the parking lot. And of course, all Dodger Stadium was a vast personal rooting section during the Fernando-mania and Nomo-mania days.
But the King's Court, now in its third season in Seattle, is the best. For $30, fans receive a ticket and the emperor's new clothes -- a bright yellow T-shirt that reads "Long Live The King." Some fans don an additional foam crown. They pose for photos in a red-velvet throne that sits at the top of the section. They hold up the "K" cards. A concessionaire hands out a meat drumstick enormous enough to choke Henry VIII.
The only things missing are Anne Boleyn and an executioner.
Last Wednesday's court attendees for the Tigers game ranged in age from children, to 20-somethings tipping back grog, to 82-year-old Ruth Snook. Some were regulars in the King's Court. Some were first-timers. They came from all over. Kennemer drove two hours from Bellingham, Wash. Rafael Ojeda, a retired Air Force pilot, drove 45 minutes from Tacoma. Rick Kimmel came in from Bozeman, Mont., roughly 700 miles away.
Kimmel says that when Felix signed his $175 million contract extension that will keep him with the Mariners through 2019, "I called my buddy in Vegas and said, 'We got him for seven more years. We're not losing him to the Yankees.'"
That's the thing. Speculation mounted for years that the Mariners absolutely had to trade Felix for prospects rather than eventually lose him to free agency for nothing more than a draft pick. That view made sense … unless you actually root for the Mariners and attend their games and want to see something in return for your money.
The past decade has taught Mariners fans to be very wary of prospects. So why give up the one star you have when fans need some reason to keep rooting?
"King Felix means so much to the city of Seattle and the Mariners franchise as a whole. It's nice to see an entire section devoted to him," Kennemer says. "It's rare to see an athlete [stay]. You had LeBron going to Miami and abandoning his city. I have nothing against that. But when a guy has a chance to leave his first city to go to some greener pastures but he stays here to stick it out with us, it means a lot.
"To have this whole section here for him, it's like the pulse of Seattle as far as the Mariners go."
The "K! K! K!" chants continued last Wednesday night until Felix left the game after 106 pitches and 12 strikeouts. His line: 8 IP, 4 H, 1 R, 0 ER, 0 BB, 12 K. But because the Mariners managed only one run of their own, he received another in a long line of no-decisions. Seattle struck out 19 times and lost 2-1 in 14 innings.
Felix may be king, but his kingdom is suffering another year of crop failure, blight, drought and famine. There are more than five months left in the season. Whether that is good news or bad news depends on whether the Mariners can muster any run support for the King. Or anyone else.
Five days after Felix's no-decision against Detroit, they did. Against (who else?) the Astros on Monday night, Ackley doubled and had three hits. Montero homered. Smoak had two hits and an actual RBI. The Mariners scored -- gasp! -- seven runs. And Felix pitched six more scoreless innings to earn his 100th career victory. His teammates celebrated by soaking him in a raucous beer shower.
Long live the King.
And may his knights of the round ball please score some more runs. It's still April. It's too damn soon to have to start looking ahead to next year.
CSI: Box Score
Each week, I provide a fragment from an old box score and challenge you to determine what game it is from and why it's significant. I give this one a difficulty rating of 8. Answer below:
Baseball Card of the Week
Continuing our trip through the time machine that is the 1988 Topps set …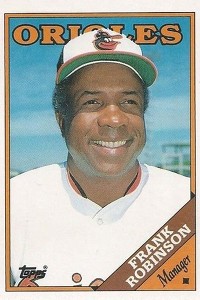 If Seattle, Houston, San Diego and Cubs fans think their teams are off to bad starts, they'd better not complain to Frank Robinson (1988 Topps, No. 96T). When the first cards in the 1988 set were released, Robinson was not the manager of the Orioles. Cal Ripken Sr. was. But when Baltimore lost its first six games, the Orioles fired Ripken and replaced him with Robinson ... who lost his first 15 games as Baltimore extended its season-opening losing streak to 21 games.
The Orioles finally won on April 30 that year to avoid going winless for the month. They went on to lose 107 games, giving Robinson the distinction of losing 101 games in a season he didn't start as a manager.
Box Score Line of the Week
The Tigers had some interesting lines last week. After going hitless with four strikeouts last Tuesday (5 AB, 0 H, 0 R, 0 RBI, 4 K), Prince Fielder followed it up the next night by going hitless with five strikeouts (7 AB, 0 R, 0 H, 0 RBI, 5 K). Three days later, starter Rick Porcello allowed nine runs and retired only two batters (2/3 IP, 9 H, 9 R, 9 ER, 1BB, 0 K) against the Angels.
But this week's award goes to Philip Humber. Last year, with the White Sox, he won this award for pitching a perfect game. Just one day short of the anniversary of that perfect game, Humber -- now with Houston -- retired only one batter and allowed eight runs against Cleveland on Saturday. His line:
1/3 IP, 8 H, 8 R, 8 ER, 1 BB, 0 K
Since last year's perfect game, Humber is 4-9 with a 7.26 ERA.
Yeah, Well, That's Like, That's Just Your Opinion, Man
The Bats Could Be Game Used AND Also Unblemished. King Felix can't pitch every night, so the Mariners have two interesting promotions this weekend designed to attract fans to Safeco. One is Beard Hat Night (yes, Beard Hat), followed by Dustin Ackley Bat Night. Aside from the issue of naming the giveaway after a guy hitting .200 with no home runs, the bat night is the return of a great promotion that is seldom seen these days. Bat Night used to be a common and welcome giveaway but has become rare in recent years due to the cost of the bats and safety concerns. Which is silly. As long as you don't combine Bat Night with 10 Cent Beer Night, everyone should go home happy.
CSI: Box Score Answer
There were a couple clues here, most of which were under "runs allowed" for each pitcher -- 49 runs in all. That's because this fragment is from the highest-scoring game in history, the Aug. 25, 1922, game when the Cubs beat the Phillies 26-23.
What else is interesting from this box score is that Cubs starting pitcher Tony Kaufmann received the victory despite pitching only four innings. How is that possible when Rule 10.17 (b) states that a starter must pitch at least five innings to be eligible for a victory?
Well, as Frank Vaccaro details in a very informative history of the Win for SABR's 2013 Spring Baseball Research Journal, the guidelines for awarding a victory to the pitcher evolved over time. Vaccaro writes that National League secretary John Heydler released a bulletin for official scorers in 1916 that included this comment: "Do not give the first pitcher credit for a game won even if [the] score is in his favor, unless he has pitched at least the first half of a game. A pitcher retired at close of [the] fourth inning, with the score 2–1 in his favor, has not won a game. If, however, he is taken out because of his team having secured a commanding and winning lead in a few innings, then he is entitled to the win."
According to Vaccaro, there were 205 games from 1918-49 in which the starter did not pitch five innings but got the win. The five inning rule went into effect in 1950.
Houston's Erik Bedard might have appreciated that rule two weeks ago when he left with a 13-0 lead after four innings.