When I was playing Little League and Babe Ruth baseball, I always had to wear a low number, like 1 or 2. That was because I was usually the shortest player on my team, and, back in those days, our numbers corresponded to the size of the jerseys we wore. The smaller the jersey, the lower the number.
It would have been a very simple matter to stencil (or sew) a higher number on my jersey; but no, that just wouldn't work. If you wore a size small, you got a low number. It felt demeaning -- I desperately wanted to wear a double-digit number like the big guys -- but that wasn't the only issue we short players faced. We also had to convince our coaches we were as good as the taller players; that wasn't always easy, especially when they coached the basketball team as well, and valued height.
The Astros Jose Altuve, from Maracay, Venezuela, knows this feeling all too well. At 5-foot-5, he is the shortest player in the majors in more than three decades. He's an inch shorter than David Eckstein was and 18 inches shorter than Jon Rauch. He makes Dustin Pedroia look like Sasquatch.
"Everywhere I go, I have to prove myself," Altuve, who will turn 23 next Monday, says. "I have to go a little harder than everybody else. But you know, I really like that, because that way I feel everyone's attention on me, so they can watch what I was doing. I just take it like a bonus and just ask God to help me."
Altuve is accustomed to the comments about his height by now. Are you a player or the batboy? Ha, ha, ha! "[People] ask me a lot of questions. How tall I am. How old I am. They say, 'You're really small to play baseball.' I just want to go out to the field and play hard and show people that short guys can play baseball, too."
Although he is the shortest player in the majors since Fred Patek, Altuve hit .290 with 33 steals and made the All-Star team in 2012, his first full season. And this season, he takes a .330 batting average into Wednesday night's game in New York against the Yankees. He slammed a home run in pitcher-friendly Safeco Field the second week of the season. He made a dazzling play at second base last week, diving to his left, smoothly pushing off his leg as he rose from the ground and firing to first for the out.
He's impressive.
Like the rest of the world's humans, ballplayers continue to grow taller. Baseball-reference.com lists 57 major leaguers since 1901 who were 5-foot-5 or shorter, but only four of whom played in the past 50 years. Of the 166 players who were 5-foot-6 or shorter, just 13 played in the past half-century.
Of course, players are not just getting taller. The game has been overwhelmed and damaged by the proliferation of steroids and other performance-enhancing drugs. I'm not saying shorter players never ,but in this day and age, I welcome seeing the occasional height-challenged guy make a big impact.
And Altuve is the latest in a short (sorry) but great lineage of little players dating back to Wee Willie Keeler. Short players are about more than just hustle and grit. There is real talent as well.
Altuve might be the shortest player in baseball right now, but given the disadvantage he's overcome, a lot of people look up to him regardless of their height. He says he receives many messages from shorter people who say he inspires them.
"That's something I really like because I was in the same situation when I was a little kid," he says. "I used to watch guys who were shorter and use them as inspiration, and now I feel really happy to be one of those guys and have people see me as an example. I have little guys tell me, 'Oh, if you can make it then I can make it.' I feel happy that way."
By the way, Altuve wears No. 27. He says that was just the number on the jersey waiting for him when he arrived in the clubhouse after the Astros called him up.
CSI: Box Score
Each week, I provide a fragment from an old box score and challenge you to determine what game it is from and why it's significant. I give this one a difficulty rating of 7. The answer is below:
Baseball Card of the Week
Because I wrote about Altuve this week, I interrupt my weekly trip through the time machine that is the 1988 Topps set to bring you this wonderful card of Fred Patek (1972 Topps No. 531).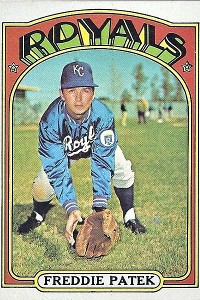 Nicknamed "The Flea" (aren't there any flattering nicknames for short players?), Patek was only 5-foot-5, but the photographer who snapped this picture made him look even shorter. Wearing an awful satin Royals jacket, he looks like he should be playing shortstop for the Munchkinland All-Stars.
Box Score Line of the Week
The New York Yankees' David Phelps struck out nine batters in relief (4 IP, 2 H, 1 R, 1 ER, 2 BB, 9 K) last Friday. The Pittsburgh Pirates' Jonathan Sanchez didn't retire anyone in his start Friday night, but he did give up two home runs and hit a batter (0 IP, 3 H, 2R,2 ER, 0 BB, 0 K, 2 HR, 1 HBP). And Josh Hamilton went 0-for-8 and struck out three more times in Monday's 19-inning marathon (8 AB, 0 R, 0 H, 1 RBI).
But this week's award goes to Anibal Sanchez, who struck out 17 Atlanta Braves batters in just eight innings Friday. His line:
8 IP, 5 H, 0 R, 0 ER, 1 BB, 17 K
Sanchez joins Randy Johnson as the only pitchers to strike out 17 batters in eight innings or less. (Johnson actually struck out 18 in eight innings in a 1992 game.) And the way hitters are striking out these days, I wouldn't be surprised if we someday see a pitcher strike out 17 batters in seven innings.
Yeah, Well, That's Like, That's Just Your Opinion, Man
It's A Lovely Night For Baseball Here On The Ice Planet Hoth. The game-time temperature at last Tuesday's Braves-Rockies game in Denver was 23 degrees -- and that was the first game of the doubleheader. Why were the two teams playing in such terrible weather? Because last week was the only trip Atlanta made to Denver this season, so the teams had to get the game in despite playing in weather normally reserved for Aspen in January. People talk about the difficulty of arranging makeup games when teams play only one series against opponents from the other league, but there is a bigger issue. Due to the unbalanced schedule and the additional interleague games, many opponents in the same league now play only one series in a city against each other. And that's an issue regardless of the weather. Losing a second home series against teams that fans have long enjoyed watching come to town is a concern, even if it means getting to see a team from the other league instead.
But At Least The Angels Have Only $350 Million Invested In These Guys. There are a couple teams off to poor starts, but none more disappointing than the Angels. Despite high expectations after spending heavily again over the winter ($125 million for Hamilton), Anaheim once again staggered through April, going 9-17 , and are barely ahead of the Astros. Hamilton is swinging (and often missing) at everything, while Albert Pujols, their big addition last year, is off to another slow start. He also is dealing with plantar fasciitis in his left foot, one of the more frustrating injuries you can have. Asked how the foot felt Sunday, Pujols said, "It's hurting so bad. It's killing me." When I asked a few moments later about when the doctors say it might get better, he got visibly irritated. "Can we just stop talking about my foot?" he said. "It's not about my foot here. I mean, I'm playing. As long as I'm playing, why do we keep talking about it? I mean, it seems like every day you guys want to make a big deal about it. Get over it. Let's move on."
Fifty Years Ago, He Stood Atop A Spot Almost As Cold And Forbidding As Coors Field In April. Wednesday marks the 50th anniversary of the day Jim Whittaker became the first American to successfully climb to the summit of 29,029-foot Mount Everest. Whittaker, 84, was honored for his achievement on Sunday when the Mariners had him throw out the ceremonial first pitch. Whittaker walked to the mound, sized up the situation carefully, then walked much closer to home plate to make his toss. When I asked whether climbing the mound or climbing Everest was more imposing, he replied, "Climbing on the mound wasn't so difficult. It was throwing that damn ball. I could have done it 10 years ago." Whittaker is in impressive shape, but he said his left shoulder has been bothering him.
Wilkommen! The world's best game continues to spread across the globe. Donald Lutz became the first German-developed player to play in the majors when he batted as a pinch-hitter for the Reds on Monday. Lutz was born in New York but he and his family moved to Germany when he was one. He grew up there and began playing baseball at age 15, developing his skills at a baseball academy in Regensburg, Germany (site of a WBC qualifier last year).
The Happiest Places On Earth. Somewhat less noteworthy than Whittaker's climb, this week marked the debut of my new monthly (or so) column about ballparks, "A Walk in the Park." As I write, the column is devoted to the joy ballparks bring, from city-rousing games to weddings on the field and everything in between (except for high beer prices). You're invited to join in with your own comments, opinions and images as well on Twitter and Instagram, using "#walkinpark."
CSI: Box Score Answer
There were two important clues in this fragment: LWaner and PWaner. That would be brothers Lloyd and Paul Waner, Little Poison and Big Poison. Their lines -- 5 AB, 1 R, 2 H, 2 RBIs and 5 AB, 2 R, 2 H, 2 RBIs -- were an indication they each had a big game, and indeed they did. On Sept. 15, 1938, the Waners became the first brothers in major league history to hit home runs in consecutive games.
And until last week, they were the only brothers to ever do that in the majors. Then B.J. and Justin Upton repeated the feat for Atlanta.